You know that lovely scent of apples and cinnamon when you smell a warm slice of apple pie. That's what these apple pancakes smell and taste like.
It's like cheating and having dessert for breakfast but the best part is these apple pancakes can be made dairy free, vegan and are low in fat too.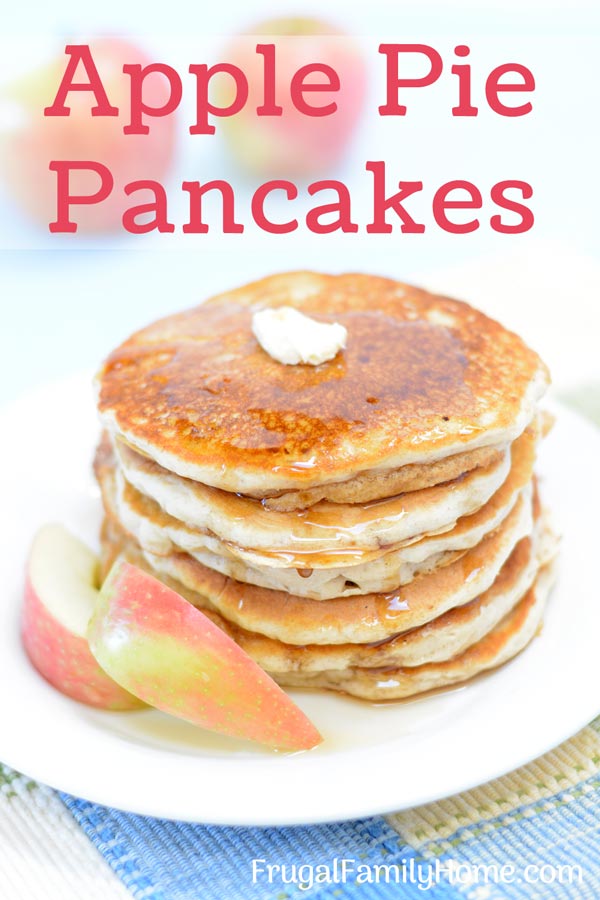 Easy Apple Pancake Recipe, A Perfect Fall Breakfast
This apple pancake recipe is a perfect fall breakfast. In the fall we have so many great fresh apple choices, you can use your favorite in this recipe.
When I made our batch of apple cinnamon pancakes I used a honey crisp apple. I found them on sale and I love the flavor.
You can use any apples you have on hand. I think these would be great with a tart apple, like granny smith. Or a nice sweet apple like golden delicious. Whatever apple you have will be the best one to try.
See how this apple pancake recipe is made in the video below…
How to Make Apple Cinnamon Pancakes
This recipe is simple to make but if you'd like to see how the apple pancakes are made watch the quick video below. If watching videos isn't for you keep scrolling for recipe tips and the printable recipe.
Apple Pancake Recipe Tips
Preparing the Apples
You can peel the apples or leave the skin on. If you have a thin-skinned apple, it won't make much difference to leave the peel on.
But if the apple skin is tough or thick, like many storing apples have, it will be best to peel the apple first.
Shredding the Apples
Once the apples are peeled, there is no need to cut them up. Just shred them on a box shredder.
It's quick and easy to do and you don't have to core them. Just watch for the seeds and stop grating when the core gets thin.
Making the Batter
To mix the dry ingredients easily and to avoid sifting them. Place all the dry ingredients in a bowl and then mix them with a wire whisk.
It really mixes the dry ingredients well. Whisking also breaks up any clumps of flour or other dry ingredients.
Adding the Wet Ingredients
I don't like to mix the wet ingredients in a separate bowl and then add them to the dry ingredients.
Instead, add the applesauce to the dry ingredients and measure the water and milk into a two cup measuring cup and pour in while whisking.
Mixing with a whisk will wet the dry ingredients quickly. Just be sure not to over mix.
Preheat the Skillet or Griddle
If you preheat the skillet or griddle, the pancakes will hit the hot skillet and cook quickly but also it will help the pancakes rise nicely too. So be sure to heat your skillet first.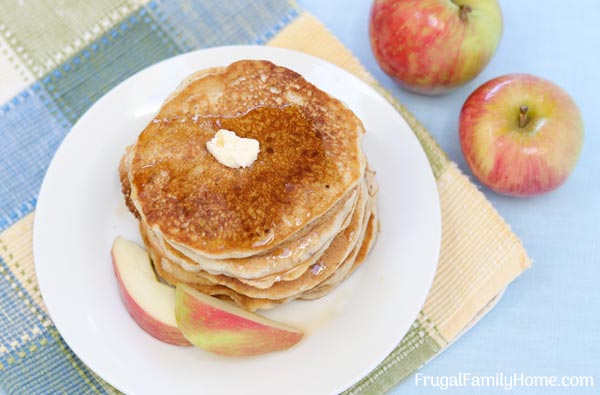 Grab the printable recipe…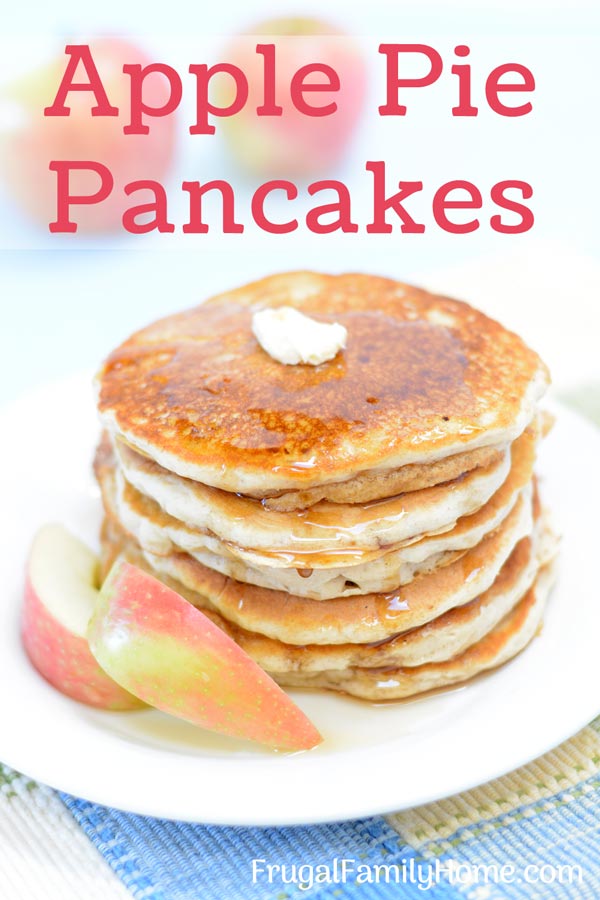 Apple Pancake Recipe
A yummy apple pancake recipe that can be made dairy free and vegan too. Less than $.50 a serving.
Ingredients
2

cups

Flour or Whole Wheat Pastry Flour

2

tablespoons

Sugar or Honey

1

medium

Apple

shredded

2

tablespoons

Baking Powder

1

teaspoon

Salt

2

tablespoons

Soy Flour or 2 Eggs

if not eating vegan

1

cup

Water

1

cup

Soy Milk or Milk

if you don't have to eat dairy free

1 1/2

teaspoon

Apple Pie Spice
Instructions
Peel and shred apple set aside.

In a large bowl, add the flour, sugar, baking powder, salt, soy flour, and apple pie spice. Whisk to mix well.

Add the shredded apples and stir to coat with flour.

In a 2 cup measuring cup, add 1 cup of water and 1 cup of milk or soy milk. If you are using eggs, add them to the milk mixture and break up with a fork.

Add applesauce to the dry mixture then add the milk mixture. Whisk briefly to wet all the dry ingredients. Be careful not to over mix or the pancakes will be tough.

Spoon onto a hot, greased griddle or skillet and cook on one side until the edges are set and bubbles form on the top of the pancake.

Flip the pancake and cook on the other side. And cook until golden and cooked through.

Serve with warm maple syrup and butter if desired.
Video
Notes
You can use apple sauce instead of shredded apple. Just reduce the liquid a bit too. 
Nutrition
Serving:
5
pancakes
Calories:
221
kcal
Carbohydrates:
46
g
Protein:
6.6
g
Fat:
1.4
g
Saturated Fat:
0.2
g
Sodium:
416
mg
Fiber:
2.6
g
Sugar:
10
g
Calcium:
190
mg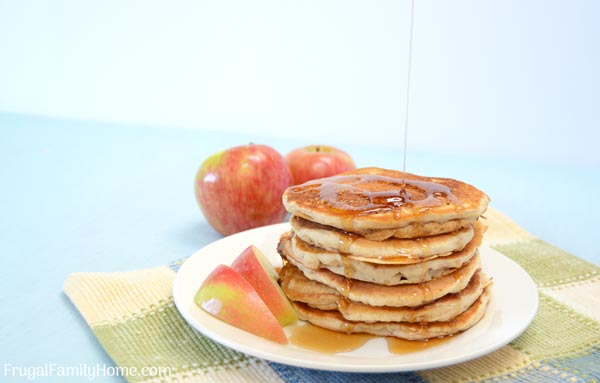 A Few Variations for this Apple Pancake Recipe
Instead of adding shredded apples, use more applesauce if you don't have fresh apples. Add about 1/4 of a cup more. You may need to reduce the liquid in the recipe too.
Don't have soy flour, use eggs instead. Or add an extra tablespoon of baking powder if you don't have eggs. I've done this in a pinch and it works.
If you want to make these even more healthy, use unbleached whole wheat pastry flour. You get the whole grain goodness of whole wheat without the heaviness of whole wheat flour.
Instead of apple pie spice, you can use nutmeg or cinnamon or a mix of the two. The apple pancakes will still taste great.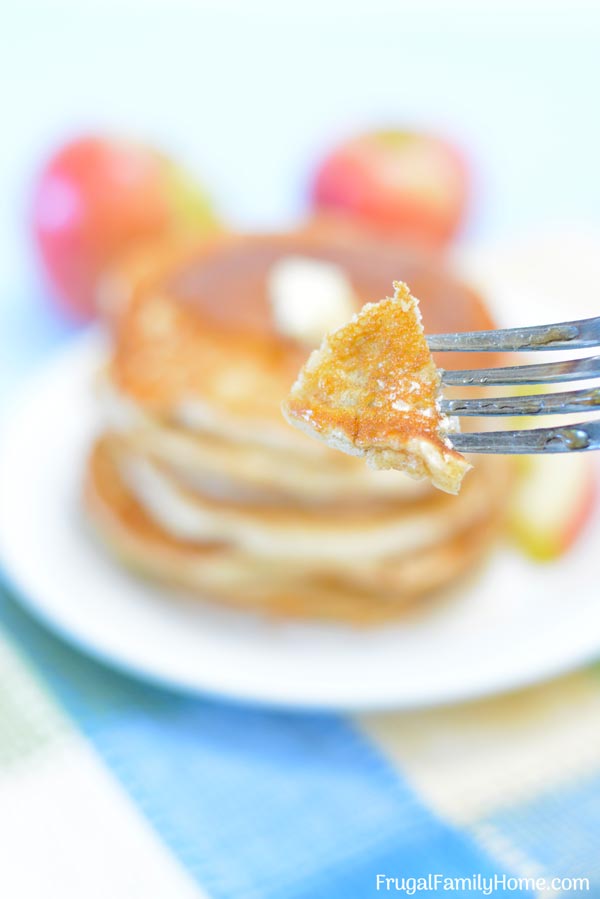 Cost Breakdown for This Apple Pancake Recipe
If you are curious how much it cost to make a batch of these apple cinnamon pancakes. I've got the breakdown below.
These are prices I see at our local grocery store, I didn't use sale prices. Your cost may vary depending on your local prices.
Flour $.22
Sugar $.05
Apple $.23
Applesauce $.05
Baking Powder, Salt, Apple Pie Spice $.20 (purchased in bulk section)
Milk $.18 or Soy Milk $.37
Soy Flour $.12 Or Eggs $.20
If you are making these pancakes vegan, they will cost $1.24 if you'll be making them with regular milk and eggs the total cost will be $1.13.
For between $1.13 to $1.24 you can make 4-5 servings of these apple cinnamon pancakes. Or just $.28 to $.31 per serving.
Now that's a yummy breakfast for less than $.50 a serving. Plus these are freezer friendly so you can make a big batch on the weekend. Then freeze the extras for a quick and yummy weekday breakfast.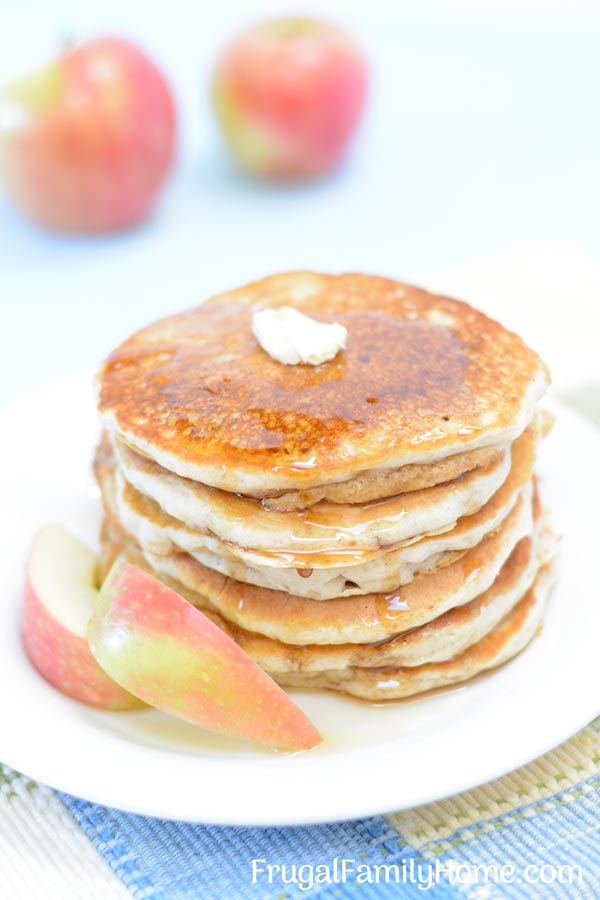 If you like to have a steady supply of new recipes, be sure to sign up below. When a new recipe is published, we will email it right to your inbox.
What your favorite way to enjoy apples at breakfast? Let me know in the comments below.
Want More Apple Recipes Now…
Apple Crumble Bars
How to Make Cinnamon Apples
Easy to Make Apple Fritters
See all the apple recipes, click here!
SaveSave
SaveSave
Subscribe and you'll get Recipes
sent right to your inbox!
Click the button below and fill out the form.