Summer is a great time to enjoy lots of fresh fruit. Whether it's from your garden, the farmer's market or the store, fruit tastes better when in season. This berry fruit salad takes advantage of all those berries and more that's in season right now.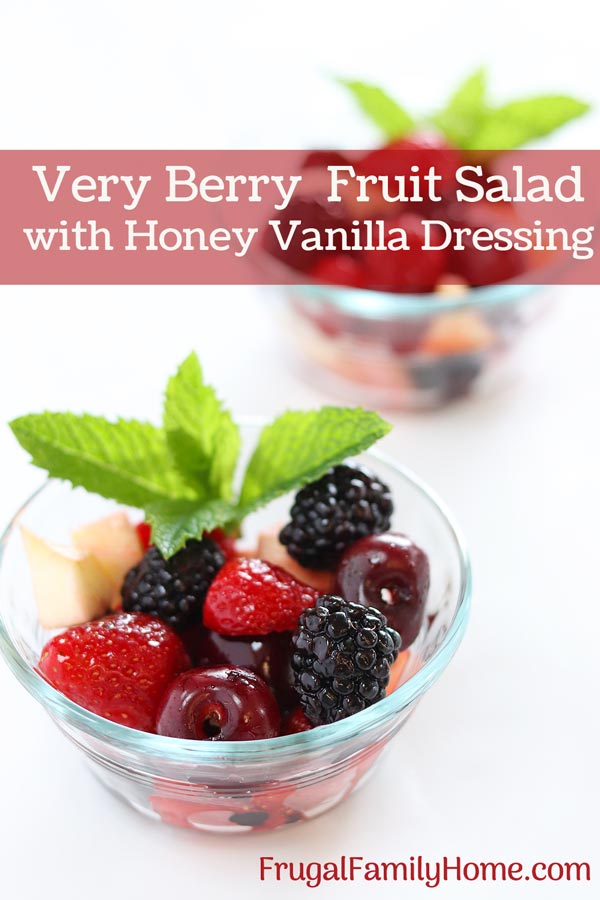 I don't know about your family but our whole family loves fruit. All kinds of fruit and put it together into a salad and they will gobble it up.
What You'll Need for this Very Berry Fruit Salad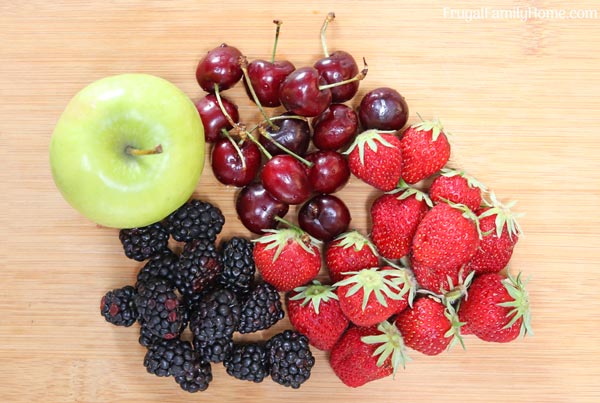 Berries, you'll need a variety of berries. Strawberries, blackberries, marionberries, blueberries, use what's in season and inexpensive to get. I used strawberries from our garden and blackberries I found at the store.
Cherries, we love cherries and they work well. But if they aren't in season when you have a craving for this salad, try grapes instead. I would cut them into slices so they aren't so big in this homemade fruit salad.
Apples, I included apples because they are available year round and they are inexpensive.
Honey, honey adds a touch of sweetness, just in case a few of the fruit pieces are a little less ripe than you'd like
Vanilla, vanilla adds a touch of flavor that makes this homemade fruit salad taste that much better.
How to Make this Berry Fruit Salad, video instructions
I made a quick video to show you how to put this berry fruit salad together. Also below the video, I added links to my favorite paring knife and my favorite cherry pitter too. These are two tools I wouldn't want to make this salad without.
Some links in this article are my referral links. When you purchase through them, I can make a little pocket change at no extra cost to you. Thanks! See my disclosure policy for more information.
Kitchen Tools that are helpful…
Small Paring Knife, I've owned a couple of these for years. They sharpen nicely and work great for so many food prep tasks. I wouldn't want to be without them.
Cherry Pitter, that works like a charm and is inexpensive too.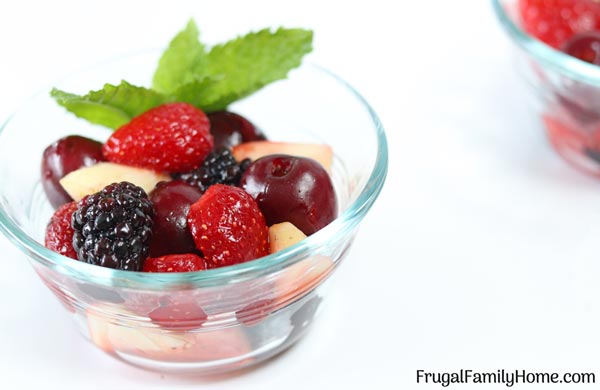 Get the printable recipe below or keep going tips and the cost breakdown of this healthy and delicious homemade fruit salad.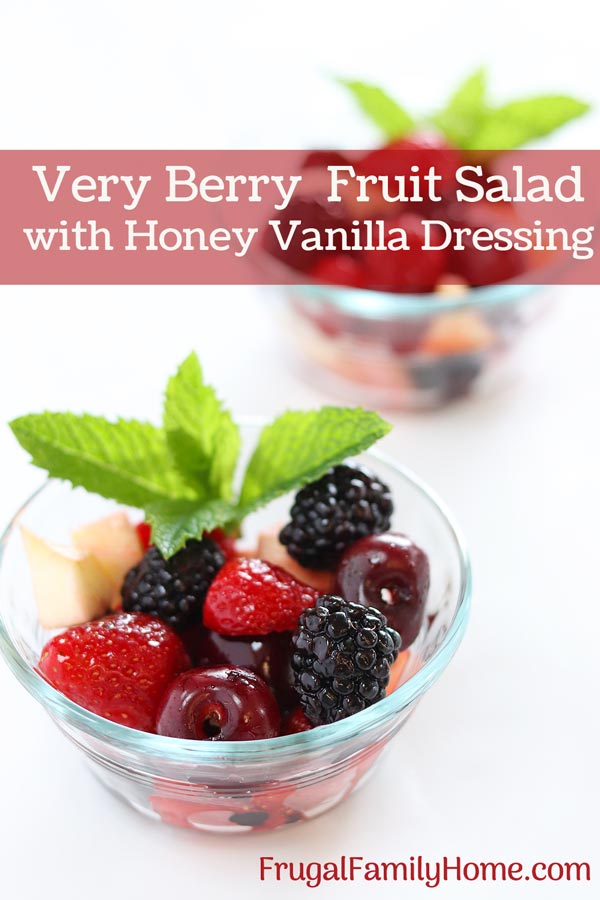 Berry Fruit Salad with Honey Vanilla Dressing
Ingredients
1

Apple

diced

1

cup

Blackberries

1

cup

Strawberries

halved

1

cup

Cherries

pitted

1 1/2

tablespoon

Honey

1

tablespoon

Water

2

teaspoons

Vanilla
Instructions
Wash, peel, and dice the apple.

Wash the blackberries

Wash, core, and halve the strawberries

Wash and pit the cherries

Place all the fruit into a large bowl.

In a small bowl mix honey, water, and vanilla.

Drizzle honey mixture over the fruit and stir.

Serve.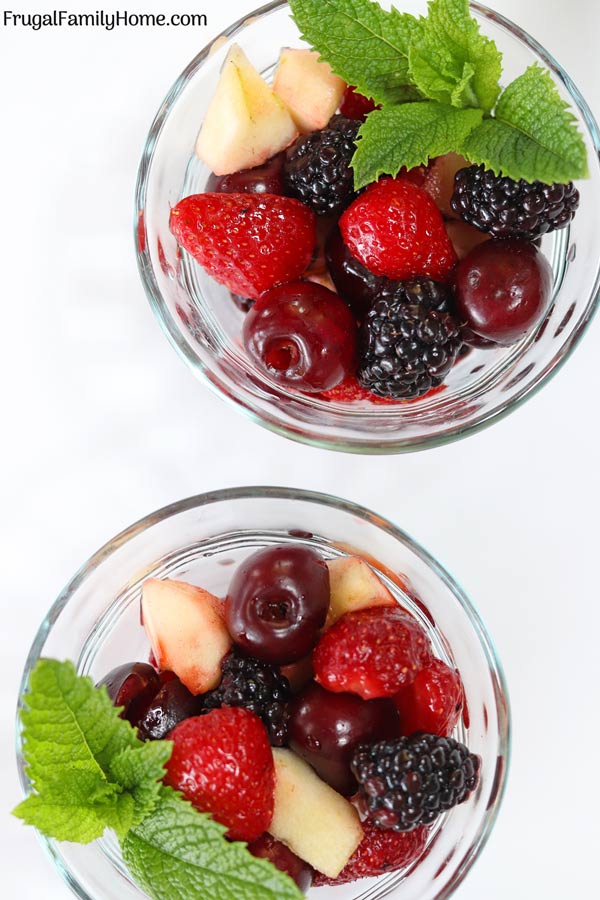 Tips for Making this Yummy Berry Fruit Salad
Make if Festive…
With the colors in this berry fruit salad, it would be perfect for a 4th of July celebration. You can use blueberries instead of the blackberries.
Also, you can use raspberries or a mix of raspberries and strawberries. For a very festive but healthy berry fruit salad.
Less Sugar…
Leave the honey out and mix the vanilla with a tablespoon of water. It will cut down on the sugar and still have a nice hint of vanilla too.
Use the Fruit You Have…
You don't have to use the fruit I have listed. Although I think it's a great combination. Use the fruit you have on hand or can get inexpensively. The honey vanilla dressing would be equally good on a melon salad or a mix of any fruit.
Tips in General…
If you'll be using bananas wait to add them until right before serving so they don't turn brown and mushy.
If using apples, I mix them into the dressing well to help keep them from turning brown. You could hold them out until ready to serve to be on the safe side.
If you want a thicker dressing, don't add the water to the honey. Instead, use the honey with the vanilla only.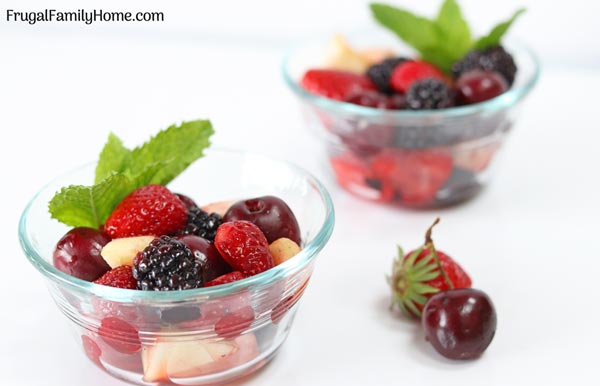 Cost Breakdown for this Berry Fruit Salad
The cost of this salad varies depending on the time of year you make it. I've included in season prices as that would be the best time to make this homemade fruit salad. These are prices I see in my area on these types of fruit when in season.
Strawberries $1.99/lb, 1 cup cost $.87
Blackberries $2.99/lb, 12 ounces 1 cup cost $.97
Cherries $2.99/lb, 1 cup cost $1.00
Apples $.99/lb, 1 apple cost $.34
Making the total cost for this recipe come to $3.18. This recipe makes 6 servings. Which brings the cost per serving to $.53. Not too bad.
Now if you are purchasing any of the fruit above out of season the cost could go up. Cherries out of season are $5.99 per pound and the same goes for blackberries they can go up at least $1 per pound when out of season.
The cost of this healthy berry fruit salad is reasonable to make.
What your favorite combination of fruit for a fruit salad?
More summer berry recipes to try…
Strawberry Freezer Jam
Red, White, and Blue Brownies
Raspberry Hand Pies
SaveSave
SaveSave
Subscribe and you'll get Recipes
sent right to your inbox!
Click the button below and fill out the form.