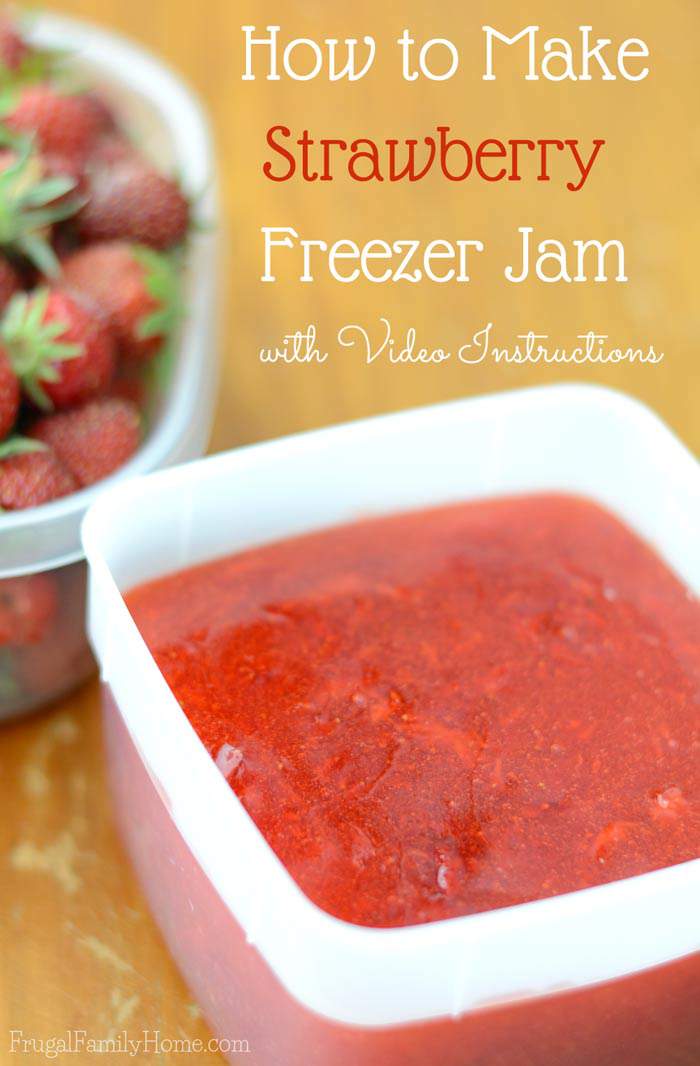 Last year, I made a batch of strawberry freezer jam with MCP gelatin. I didn't want to add the corn syrup in, so I changed the recipe just a little from what the box said and it turned out great. This year I opted to purchase my favorite brand of pectin, Sure-Jell.
I like Sure_Jell for two reasons. One, it always sets up. I have yet to have a batch not set up by following the directions in the box. My mom, grandma, and aunt have used it for years too. Two, it doesn't take anything extra, like corn syrup. Just berries, sugar and Sure-Jell.
If you have never tried making your own freezer jam, let me tell you it is super easy. I know making jam can be a little intimidating, if you've never done it before. I forget that, because I grew up canning, making jam, and putting up things in the freezer with my mom, since I was young. But let me assure you, if you've never made jam before, you can make this jam.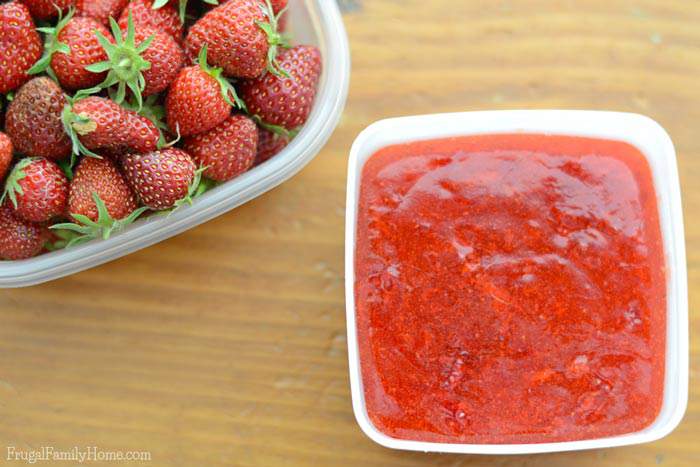 A Few Freezer Jam Tips,
Measure the sugar and the berries separately. I've often been interrupted while I was measuring and you need to have accurate measurements with jam making. If you measure them together and forget how much you put in, your stuck. If they are in separate bowls, just start again.
Mash the berries, one cup at a time. If you try to mash too many berries you'll end up with too big of pieces.
If you use a food processor to mash the berries, make sure to not overdo it. Jam should have chunks of fruit in it.
Follow the directions that come with your pectin. I like Sure-Jel, but maybe you want to use a different brand. Be sure to follow the directions to get the best set.
Use ripe but not overly ripe or underripe  fruit. If you use fruit that is underripe, you'll get a firm set and less flavor. Overripe fruit and you'll end up with a soft set.
Don't reduce the sugar in the recipe. This is really important. If you want a lower sugar jam, use the lower sugar pectin.
I made a quick video, so you could see just how easy it is to make your own homemade freezer jam.
Can't see the video? Try here
Here's the recipe that I use with Sure-Jel pectin. It's in the box too, but one year, there wasn't any recipe paper in any of the boxes I purchased. I've included it below just in case that happens to you too.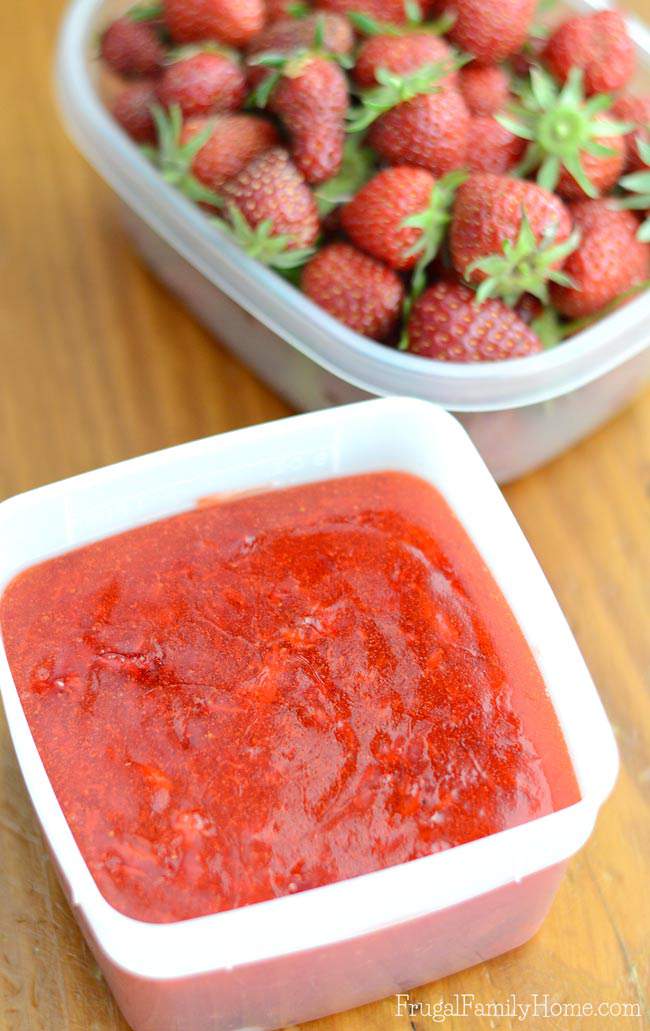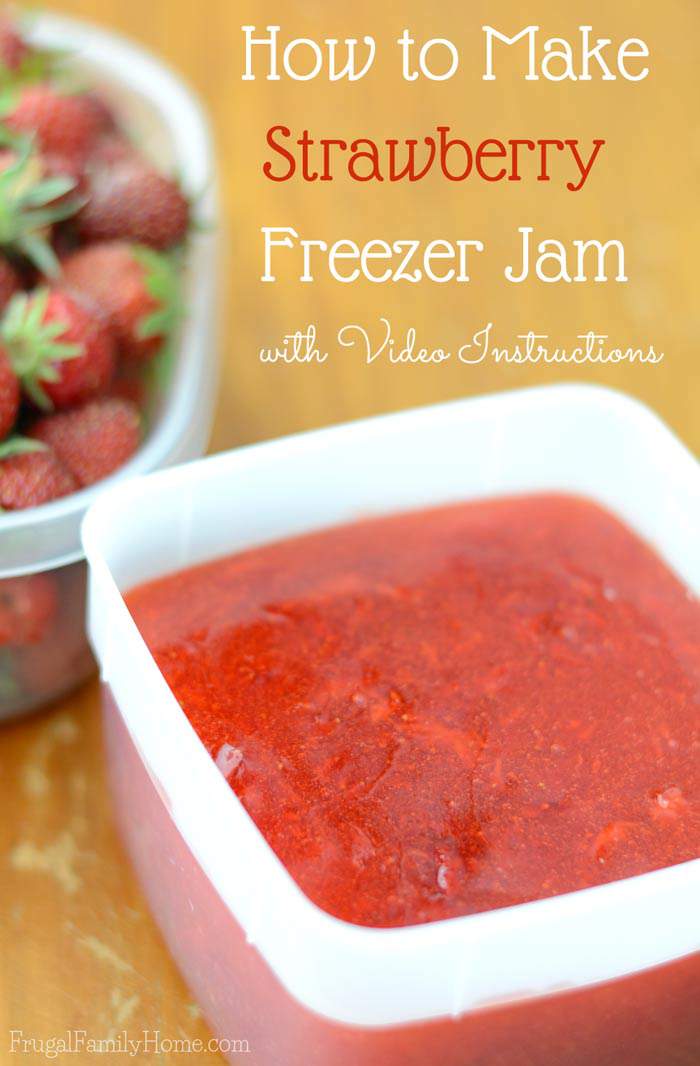 Strawberry Freezer Jam
Ingredients
2

cups

Crushed Strawberries

about 2 pints of Strawberries needed

4

cups

Sugar

1

box Sure-Jel Pectin

3/4

cup

Water
Instructions
Wash and crush the strawberries.

Measure out 2 cups of crushed berries into one bowl.

Measure out 4 cups of sugar into another bowl.

Mix the sugar and berries together well.

Let stand 10 minutes, stirring occasionally.

Add the water to a small saucepan. Stir in the Sure-Jel. Heat over high heat stirring the whole time until it boils.

Boil the pectin mixture for 1 minute.

Add the pectin to the berry mixture and stir until the sugar crystals are dissolved.

Place jam into freezer containers, add lids and let sit at room temperature for 24 hours.

Place the set jam into the freezer.
To Thaw
Place the frozen jam into the refrigerator to thaw overnight.

Enjoy!
Can't find the items you need to make jam locally, try these Amazon links below. Just so you know, when you purchase through these links, I may make a little money at no extra cost to you. Thanks for the support in this way.
Sure-Jell (this is a better price than at my local Winco Foods)
Freezer Jam Containers
If you give making your own freezer jam a try I would love to hear how it turned out. If you have any question leave them below in the comments. Be sure to subscribe to my YouTube channel so you'll be the first to know when I have a new video.
[signoff]
Other Jam Recipes to Try
Raspberry Freezer Jam
No Pectin Blueberry Jam
No Pectin Plum Jam