You've got lots of fresh strawberries. Whether you grew them yourself or found a killer deal at the store. You know those berries won't keep long in the refrigerator. So you'll need to freeze them. And here's how to freezer strawberries, three different ways. Including a lazy way too.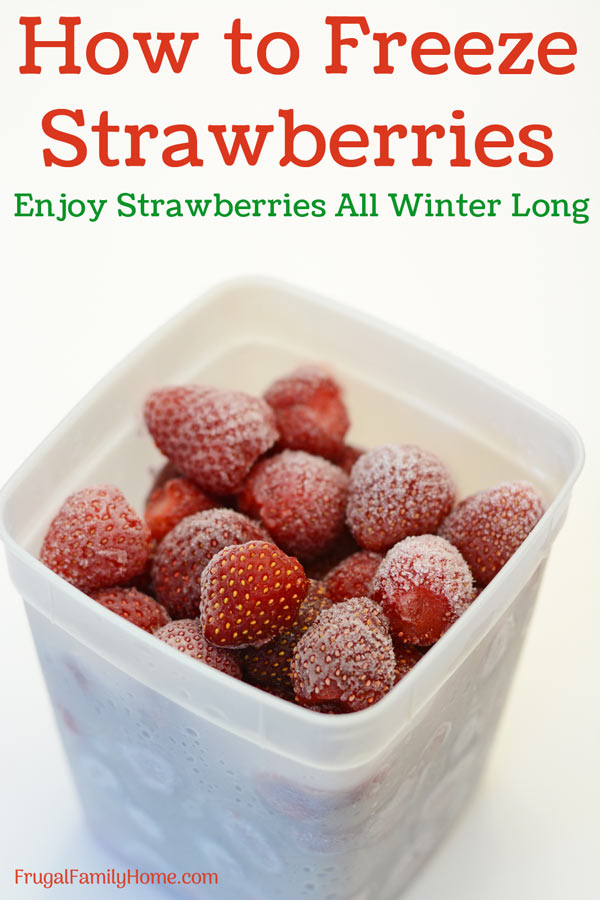 If you grow your own strawberries, you know those yummy home grown berries don't last long in the refrigerator.
If you find a great deal on strawberries at the store, they'll only keep up to 2 weeks in the refrigerator.
So instead of gobbling them all up in a couple of weeks, freeze them so you can enjoy the flavor of fresh delicious strawberries in the deal of winter.
It's easy to do with only a few steps. I've made a video to walk you through each method below. Be sure to keep going for strawberry freezing tips too. And the equipment you'll need.
How to Freeze Strawberries (video tutorial)
I've put together a full video of each of the three methods for freezing strawberries. But be sure to scroll down for strawberry freezing tips and how to defrost the strawberries too.
Don't like videos? Read on to get the 3 methods to freeze strawberries below in written form.
Some links in this post are my referral links, which means when you purchase through them I can make a little money at no extra cost to you. See my disclosure page for more information.
The Equipment You'll Need to Freeze Strawberries
A nice paring knife to help hull the berries.
A strainer to hold the berries while washing them.
A couple of sheet pans to dry and freeze the strawberries on as you prepare them for the freezer.
Paper towels or old dish towels to dry the strawberries on.
Waxed Paper or a Silicone baking sheet liner for freezings the berries.
Container to freeze the strawberries in.
I like these square containers. They fit nicely on the freezer shelf and leave little wasted space.
If you prefer bags, regular freezer bags will work or use these nice reusable freezer bags if you are trying for a zero waste kitchen.
Now you know what you need let's go through each method in writing. Just in case you didn't want to watch the video above.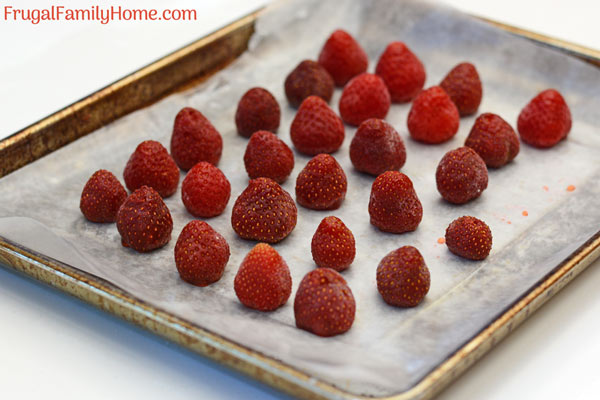 1. How to Freeze Strawberries without them Sticking Together
This first method for freezing strawberries is great because they won't stick together.
You'll need to wash and hull the strawberries. Then dry them on a paper towel. Once dry place them on a lined sheet pan. Then freeze for an hour or two.
Once the berries are fully frozen add them into a freezer bag and place in the freezer. This will keep your frozen strawberries from sticking together.
This method is great to use when you know you'll be using the strawberries for smoothies or want to take out just a couple at a time.
But it's more time consuming than the second method which I call the lazy way to freeze strawberries.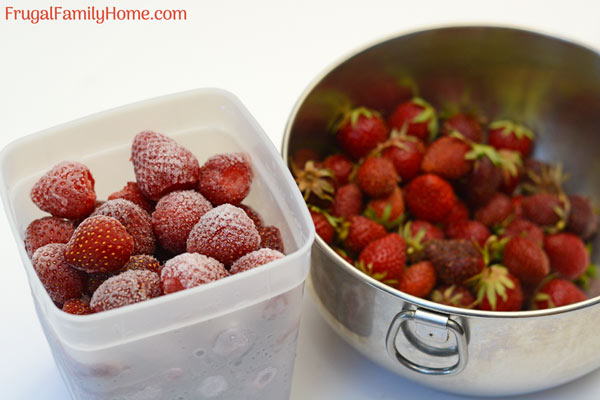 2. The Lazy Way to Freeze Strawberries
With this second method you can prep a lot of berries for the freezer quickly.
The only drawback is the frozen berries can stick together. But if you are planning on thawing a whole container at a time, then it won't be a problem.
You'll want to hull and wash the berries like the first method. Then place them on a paper towel or towel to drain most of the water off.
Placing a dish towel over a cookie sheet works great for this as long as you don't mind berry juice getting on the towel.
Once the berries are drained. Load them into the freezer container loosely. Then place the lid or zip the bag, label, and freeze.
So easy! But maybe you want to sweeten your berries first…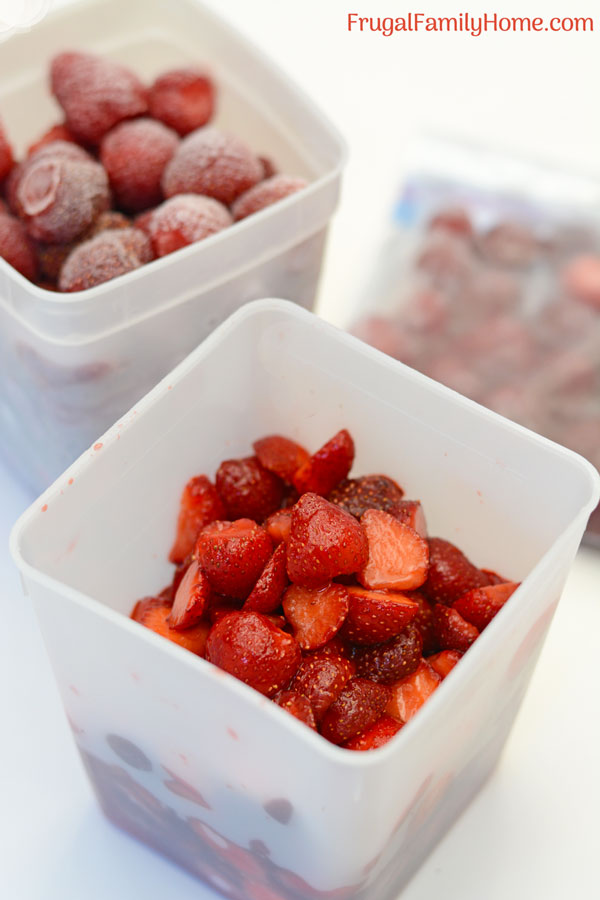 3. How to Prepare Strawberries for the Freezer with Sugar
To freeze your berries in sugar isn't difficult. In fact, it's nice to have a few quarts of berries frozen this way. They are great for making strawberry shortcake in the winter.
You'll need to hull and wash your berries first. Drain on a paper towel or towel. Like the other two methods.
Then for every quart of berries, stir in half a cup of sugar. Stir and let sit a minute or two for juice to form.
Spoon berries and juice into containers. Label and freeze. Now all you need to do is thaw the berries and spoon them over ice cream or shortcake for a quick dessert.
Now you know all three methods let's talk about strawberry freezing tips.
Freezing Strawberry Tips
How do you prepare strawberries for freezing…
Do you hull strawberries before freezing? Yes, you need to hull the strawberries before freezing. If you have home-grown berries, you might use your fingernail to remove the stem and take out the hull.
If you have store-bought berries, you can cut across the top to remove the hull or use the tip of the knife in a circular motion to remove the hull. Any of these ways can work. Want to see each one, take a peek at the video above.
Is it better to freeze strawberries whole or sliced? This all depends on how you'll be using them once thawed.
I mainly freeze the strawberries whole when I'll be using them in smoothies or for jam. Like this easy freezer strawberry jam.
But if you will use them for strawberry shortcake or in another recipe.
Slicing them might be best, since you don't have to thaw them first to use them in a recipe. Like this strawberry muffin recipe.
How to Store Your Strawberries in the Freezer
How do you store strawberries in the freezer? You need to use freezer containers of some sort. You can use a freezer containers or bags.
These freezer containers are ones I really like. They are square so they fit nicely into freezer with very little wasted space.
You can use zipper freezer bags or if you don't want to use disposable bags, try using silicone reusable bags instead.
Any container can work just make sure they are made for freezer storage so they will hold up and seal the ice crystals out too.
Keeping Strawberries
How long do strawberries last in the freezer? Strawberries will keep well in the freezer for about 12 months. Perfect timing so the freezer will have space for your next harvest or sale.
How to Defrost Strawberries
If you are wondering, can you freeze strawberries and then thaw them? The answer is yes. You can use them frozen but you can thaw them too.
Place the container of strawberries you want to defrost into the refrigerator and leave them until they are thawed. Then use them as you wish.
What about the Nutrients?
Are frozen strawberries as healthy as fresh? When you freeze strawberries without sugar, they have the same nutrients as fresh but you can enjoy them all year long. That's sound great to me. Who wouldn't love a nice sweet strawberry in the middle of winter?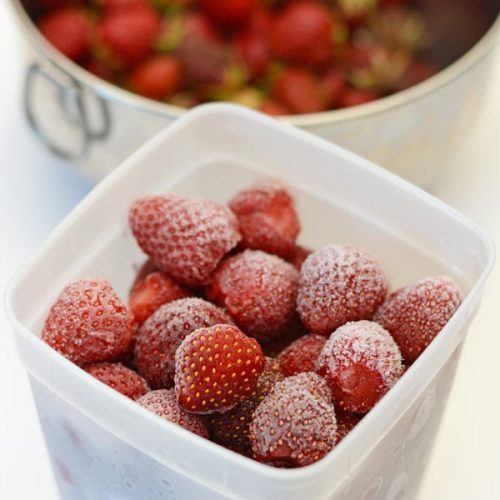 How to Freeze Strawberries
3 different ways to freeze strawberries including one easy lazy way.
Ingredients
1

quart

Fresh Strawberries

1/2

cup

Sugar

(if using sugar)
Instructions
For All Methods
Hull strawberries and wash to remove any dirt.

Place on a towel or paper towel lined cookie sheet with space between each berry and let drain.
Method 1 Freezing Strawberries without Sticking Together
Once your berries are on the towel lined cookie sheet let them sit until dry, a couple of hours.

Once the berries are dry transfer them to a wax paper or silicone lined cookie sheet. Make sure the strawberries are not touching.

Place the cookie sheet with berries on it in the freezer and freeze for 1-2 hours until berries are frozen and hard.

Transfer frozen berries into a freezer container or zipper freezer bag. Label and place in the freezer.
Method 2 The Easy Way to Freeze Strawberries
Take the strawberries that have been drained on the towel lined cookie sheet and place them loosely into a freezer container or zipper freezer bag.

Label the bag and place in the freezer.
Method 3 Freezing Strawberries with Sugar (great for strawberry shortcake)
Once your strawberries are drained. Cut them in half or in slices and place them into a bowl.

For every quart of strawberries, sprinkle 1/2 cup a sugar on top.

Stir the sugar to coat the berries and let sit a minute or two. Until some juices form.

Scoop berries and juice into a freezer container.

Label and place in the freezer.
Video
Notes
To use berries...
You can use the strawberries from frozen or thaw them.
With the individually frozen strawberries are great for smoothies or in recipes that call for whole berries.
The easy frozen berries are great when you need a bunch of strawberries at one time or a cup or two. You can squeeze the freezer container to break them up into smaller amounts and then thaw. Or thaw the whole container.
The berries with sugar added are great for strawberry shortcake any time of the year. Just thaw, stir, and serve over shortcake or even ice cream.
Nutrition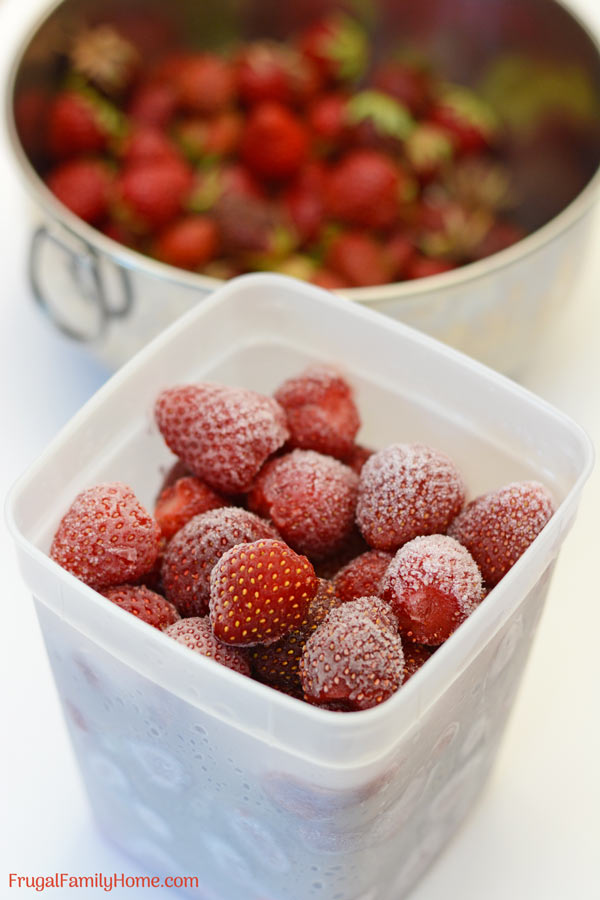 So that is how to freeze strawberries. I use these methods each year to have a variety of frozen strawberries on hand, all year long.
Have Questions? Leave me a comment below and I'll do my best to help.
More Strawberry Recipes and Growing Tips…
Strawberry Freezer Jam
Roasted Strawberry Rhubarb Jam
How to Grow Sweet Strawberries in Your Garden