If you saw my garden update about our raspberries then you know I love them. Growing up we didn't really have an inexpensive source for raspberries so I didn't get to have them much.
We had lots of strawberries but we usually didn't go raspberry picking. But now each year I go out with a friend to u-pick raspberries. (see how big the raspberries were this year)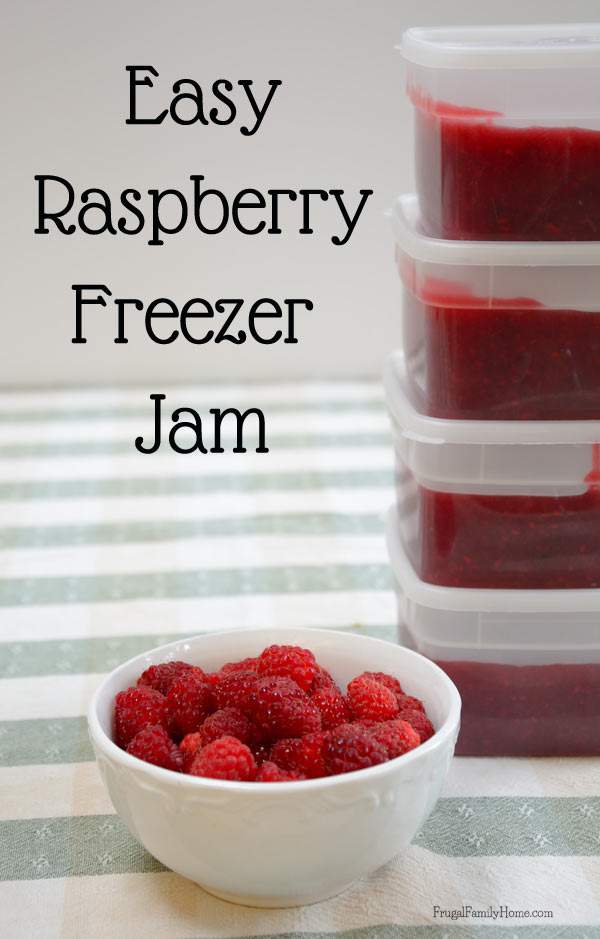 I will usually make some cooked raspberry jam each year. But if you have ever had freezer jam you know how fresh and bright the flavor is compared to the cooked jam. I made a batch strawberry freezer jam this year and I thought I would share how easy it is to make raspberry freezer jam too.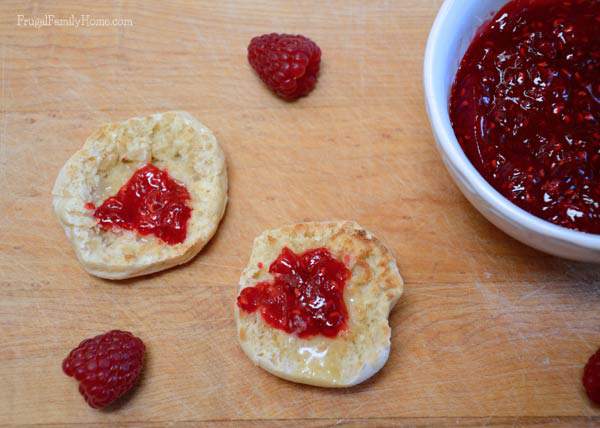 If you can stir, measure, and boil, then you can make this jam. I used the MCP pectin but didn't follow the directions that came with the package. Since I didn't want to add in the corn syrup they recommend. I instead used the same technique I used while making the strawberry freezer jam.
To make sure you don't end up with sugar crystal in the jam be sure to stir it well to dissolve the sugar before adding it to the freezer containers. I usually will use my finger to rub and back of the spoon to check for sugar crystals.
If you don't feel any grittiness then it's ready to go in the freezer containers.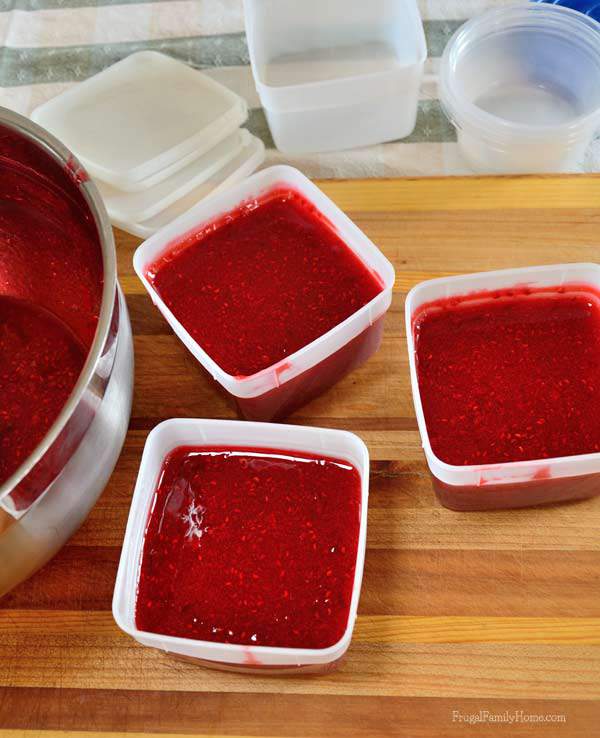 I ladle the jam into my freezer containers for less of a mess. Be sure to leave a little space at the top of the container as the jam will expand some when it freezes.
This jam turns out tasting so fresh and yummy. It's a real treat to enjoy in the middle of winter when good fresh berries are very far way. Much better than the store bought cooked stuff.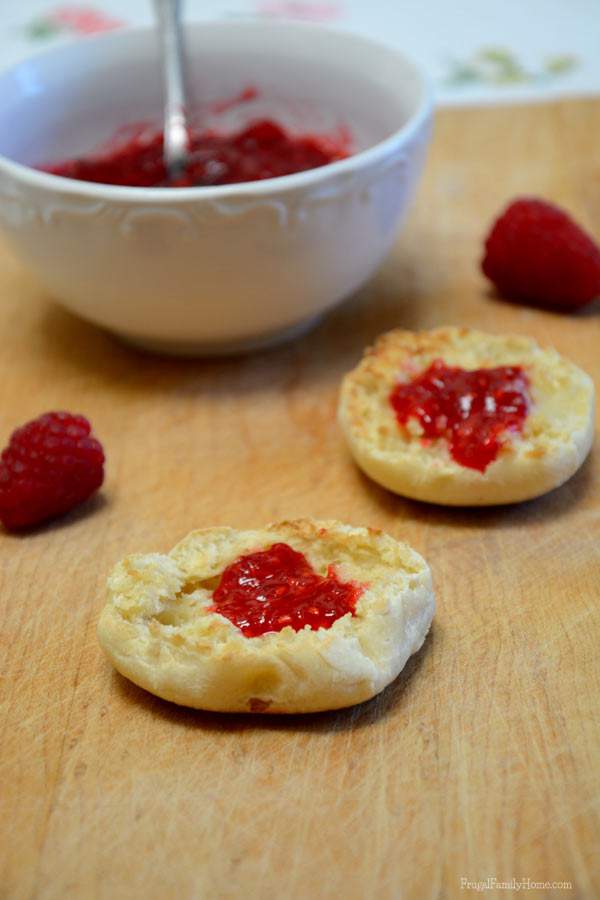 Raspberry Freezer Jam
Ingredients
3

pints

of Raspberries

2

tablespoons

Lemon Juice

5 1/4

cups

Sugar

1

package MCP Pectin

3/4

cup

Water
Instructions
Wash the raspberries and crush with a potato masher. If you want to remove some of the seeds run half of the crushed berries through a sieve. I usually don't but if you don't like too many seeds do this extra step.

Measure out 3 cups of crushed berries into a large bowl. Stir in the lemon juice.

In another bowl measure out the sugar.

Combine the berries and the sugar. Stir well and let sit for 10 minutes. Stirring occasionally during that time.

After the 10 minutes has past, mix the water and the pectin in a small sauce pan and heat over high heat to boiling, while stirring constantly. Boil 1 minute, continuing to stir, then remove from heat.

Immediately stir in the pectin to the berries.

Stir the berries for 3-5 minutes or until the sugar has dissolved.

Once the sugar is dissolved place the jam into freezer containers and top with lids.

Let the containers sit on the counter for 24 hours until set.

Store in the refrigerator for up to 3 week or up to a year in the freezer.
Have you ever tried making freezer jam?
Subscribe and you'll get Recipes
sent right to your inbox!
Click the button below and fill out the form.