This is an easy no pectin plum jam recipe that only takes 2 ingredients to make. You can make a big batch and can it. Or just keep it in the refrigerator to eat it right away. It's so yummy!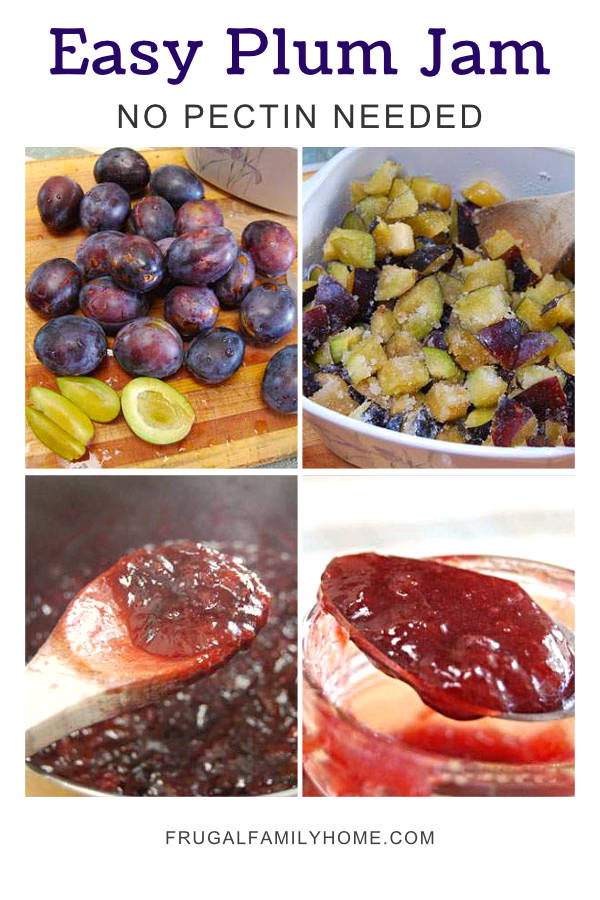 More Jam Recipes to Try: Raspberry Freezer Jam | Strawberry Jam | Pear Jam | Blueberry No Pectin Jam
Easy Plum Jam Recipe ~ No Pectin Needed
My aunt stopped by for a visit and she was bearing a gift. She had brought us a nice bucket of plums from her plum tree.
These plums were very plump, juicy and flavorful. But I knew we wouldn't be able to eat them all before they would go bad so I decided to make some jam.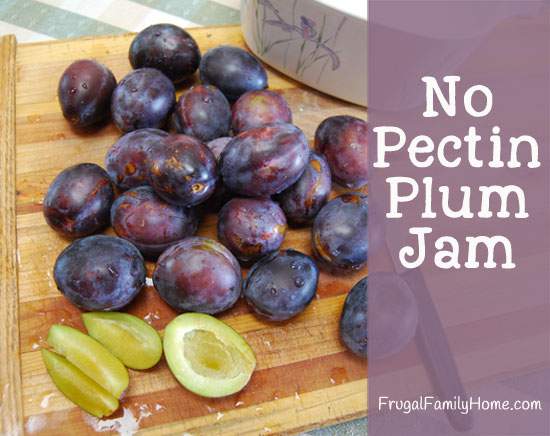 After I held a few out for eating I took the other three pounds to make the jam. And it turned out so good. Here's how to make a batch for yourself.
2 Ingredient No Pectin Plum Jam Recipe with Step by Step Photos
Step 1 Wash the Plums
Wash the plums really well. Place your plums in a bowl of water and scrub each one. I don't know why but plums always have this gritty, powdery substance on them, so I always scrubbed that off.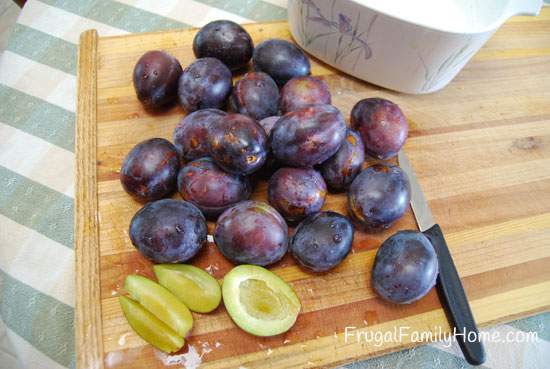 Step 2 Pit and Chop the Plums
After the plums are washed, sliced them in half to remove the pit. Once they are all pitted you want to chop them up a bit.
You don't want small pieces, big chucks are better.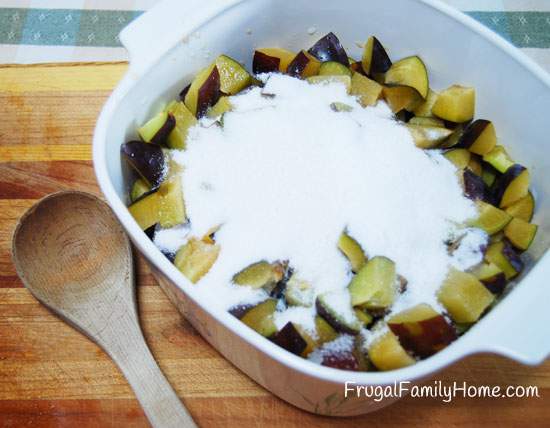 Step 3 Add Sugar to the Plums
Once you have all your plums chopped, add the sugar to them. Just sprinkle it all over the top of the plums.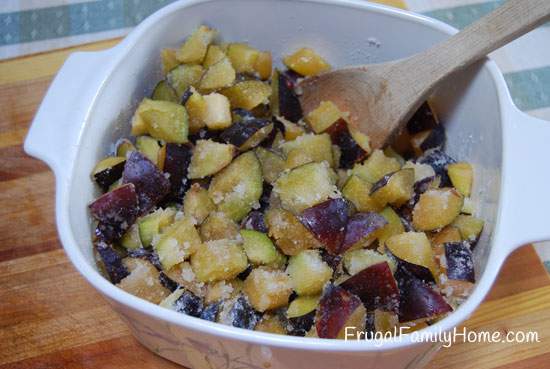 Step 4 Place Plum Mixture Overnight in the Refrigerator
Now place your plum mixture in the refrigerator overnight to make some nice juice to cook them in the next day.
This process called maceration and helps to bring the juice out of the fruit. And it makes for a better jam too. So worth the wait.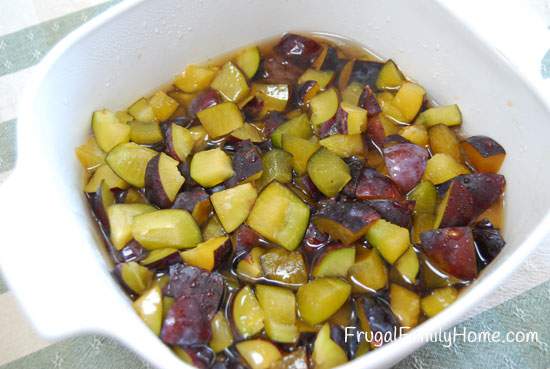 Step 5 Cook the Plums into Jam
The next day you'll have lots of juice in with the plums, now it's time to cook them.
At first, the mixture is just juice and chopped plums.
But as the cooking goes on the liquid boils off and the skins color the jam to a lovely dark purple.
You want to boil and constantly stir the mixture until you reach the gel point, which is 220 degrees.
How to Test You Have Reached the Gel Point
To test the gel point, place a small plate in the freezer and then when you are ready to test the jam, place a small amount of jam on to the plate.
Put the plate with the jam on it back into the freezer for a minute or two.
If the jam seems to be set, no longer runny, then it's time to stop the cooking process.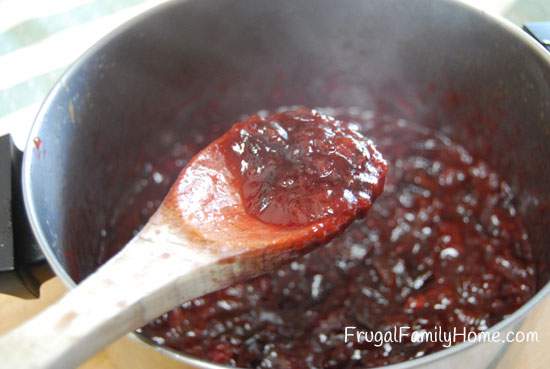 Step 6 Water Bath Can or Place in the Refrigerator
Once the jam is at the gel point you can processed it in a water bath canner.
For my batch, I ended up with three jars of plum jam. One jar was opened right away by my husband, to use as a topping for his ice cream.
The rest were put away for eating later.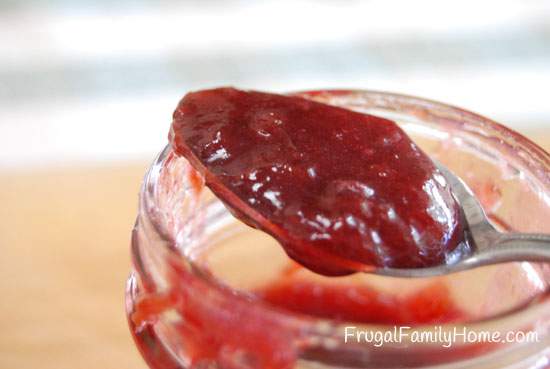 Here's the printable recipe for No Pectin Plum Jam…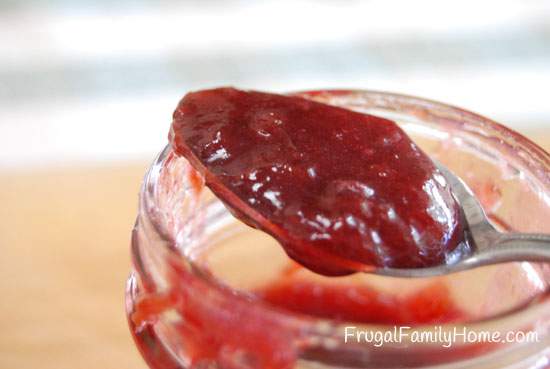 No Pectin Plum Jam
Ingredients
3

pounds

of Plums

washed, pitted and chopped

1

cup

of sugar
Instructions
Mix the plums with the sugar and let sit overnight in the refrigerator.

Place the plums and any liquid into a large pot and cook over high heat to the gelling point (220 degrees) stirring constantly.

Cool and store in the refrigerator or you can process it in a water bath canner.
This was my first try at making plum jam and it turned out so well I am sure I will be adding it to my canning list for next year.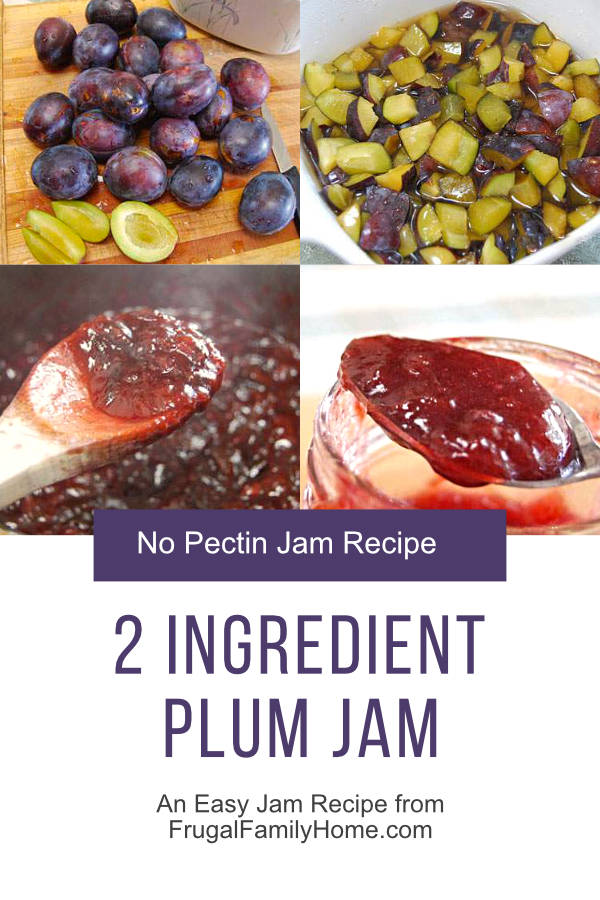 What kind of jam is your favorite? Leave me a comment below and let me know.

This post is part of the Make it from Scratch Challenge hosted by Crystal of Money Saving Mom This post was originally publish in September of 2013 but was updated with new photos and content on June 17, 2020.
Subscribe and you'll get Recipes
sent right to your inbox!
Click the button below and fill out the form.