Fall is the perfect time to enjoy pumpkin recipes and these yummy crumb cake muffins made with pumpkin are a quick and easy dessert or breakfast idea.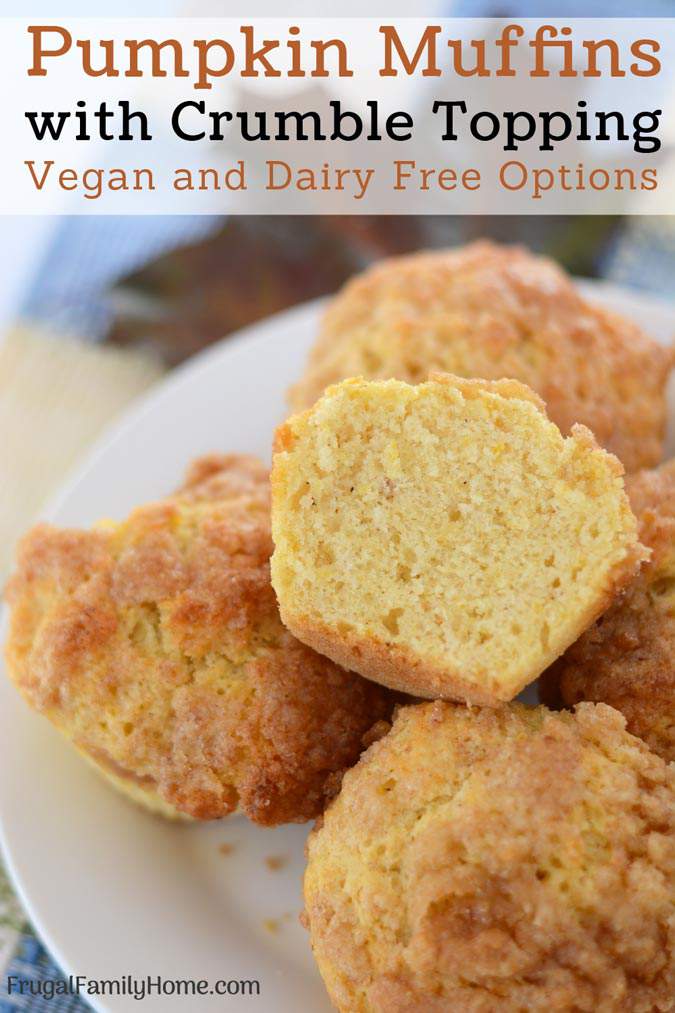 It's pumpkin time!
Time to enjoy all things pumpkin. From pumpkin creamer in your coffee to pumpkin pie at Thanksgiving. There are so many ways to enjoy pumpkin this time of year.
I know I needed more pumpkin ideas since this year my garden produced 5 pie pumpkin for me. Just in time too since I had used the last of my pumpkin puree from the freezer.
But you don't have to make your own pumpkin puree or grow your own pie pumpkins to make these delicious and easy crumb cake muffins with pumpkin.
No, you can get help from the grocery store and grab a can of pumpkin puree and make these any time you get a craving for pumpkin.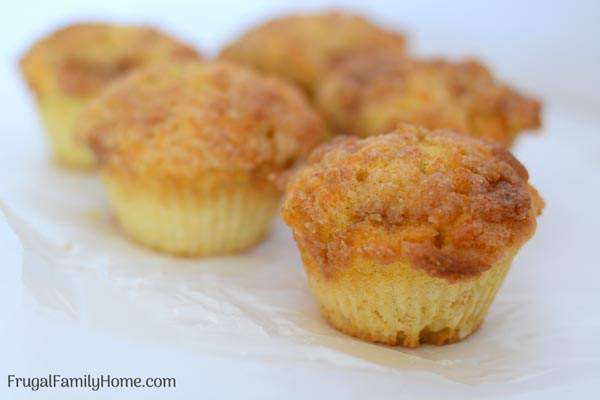 What You'll Need to Make this Pumpkin Muffin Recipe
I made this pumpkin muffin recipe without eggs, and you can use a milk substitute too. I wanted it to be allergy friendly. Grab the printable recipe below.
Flour
Milk or Milk Substitute if you need to eat dairy free
Sugar
Oil
Baking Powder
Salt
Pumpkin Puree
Nutmeg
Melted Coconut Oil or Butter
Cinnamon
If you have those items above, you can make this pumpkin muffin recipe in no time. I made a quick video to show you each step in the recipe. Keep on scrolling down for the printable recipe and baking tips too.
Here's the printable recipe…
I've included dairy-free options in the recipe to help make it more allergy friendly. But if you don't need to eat dairy free regular butter and milk will work just fine too in this recipe.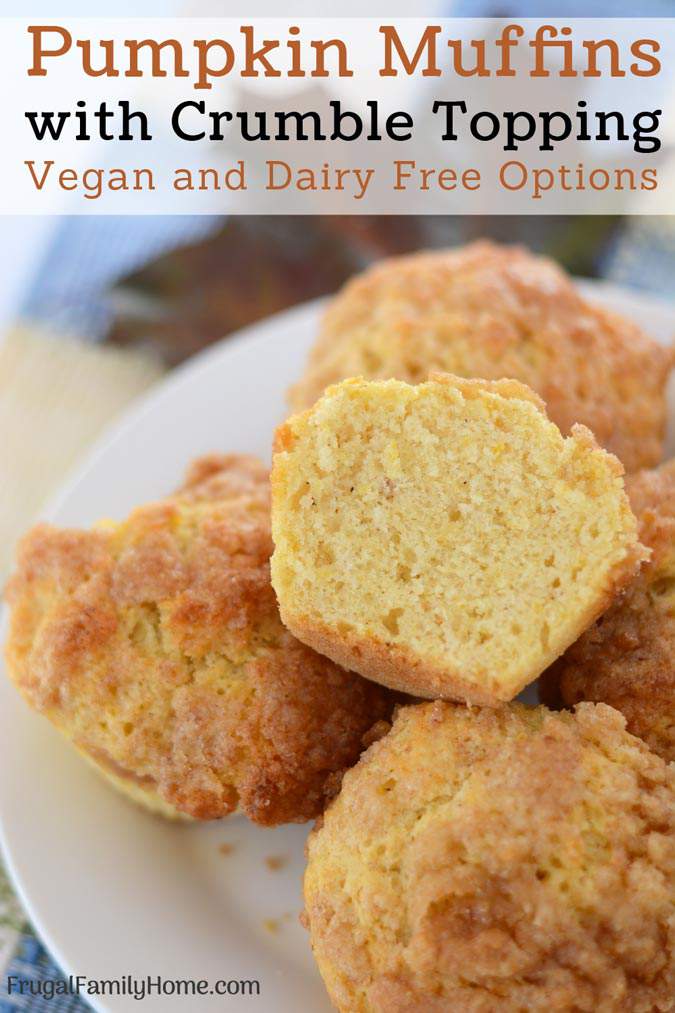 Pumpkin Muffins with Crumble Topping
Ingredients
2

cups

Flour

1

cup

Milk or Milk Substitute if you need to eat dairy free

1/4

cup

Sugar

1/4

cup

Oil

3

tablespoons

Baking Powder

1/2

teaspoon

Salt

1/2

cup

Pumpkin Puree

1/4

teaspoon

Nutmeg

Crumble Topping Ingredients

1/2

cup

softened Coconut Oil

Dairy Free Margarine, or Butter

1/4

cup

Brown Sugar

1/4

cup

Sugar

4

tablespoons

flour

1/2

teaspoon

Cinnamon
Instructions
To make the crumble topping, place the brown sugar, sugar, flour and cinnamon into a medium bowl. Whisk to combine.

To the sugar mixture add your fat of choice and cut it in until pieces are the size of peas. Set aside.

To make the muffin batter, in a large bowl combine flour, sugar, baking powder, salt, and nutmeg. Mix with a whisk to combine.

To the dry ingredients add the milk, oil, and pumpkin puree. Using a spoon or spatula mix until the dry ingredients are just moistened.

Spoon into muffin cups about 3/4 the way full.

Sprinkle the tops with the crumble topping and bake at 400 degrees for about 20 minutes or until muffins are baked through. Test with a toothpick in the center of the muffin, if it comes out clean they are done baking.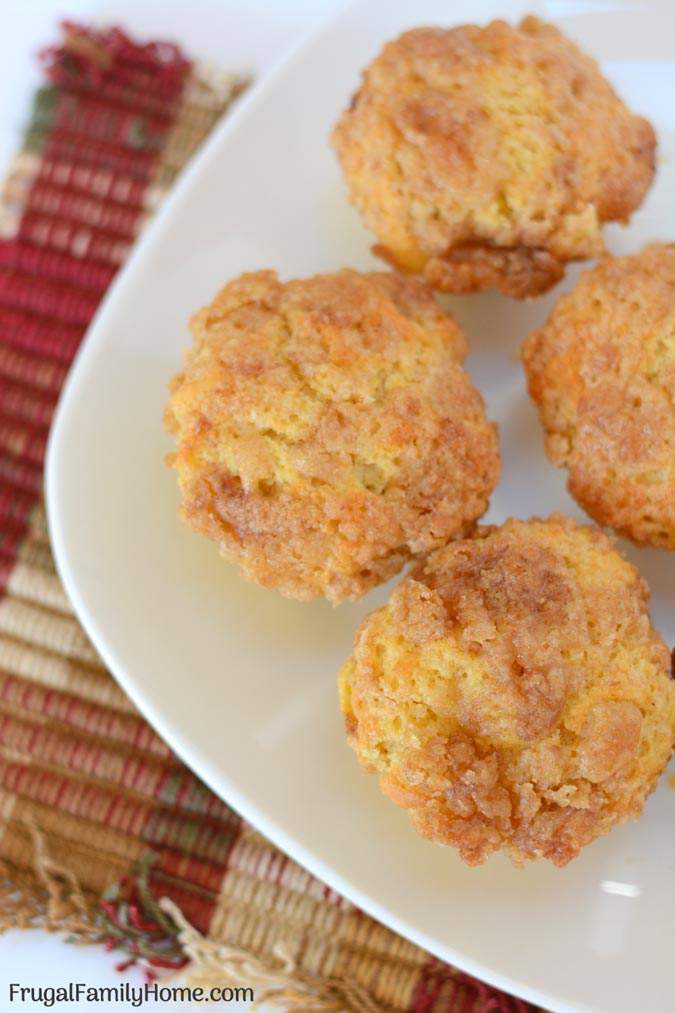 Tips for Making these Crumble Cake Muffins with Pumpkin
✳︎ Make the crumble topping first. Once you combine the dry and wet ingredients in the muffin batter you want to get them into the oven right away to get the most lift out of the baking powder. Make the crumble topping first and have it waiting and ready to go.
✳︎ When mixing the muffin batter be careful not to over mix. Just mix the ingredients until all the dry ingredients are moistened. Too much mixing and the muffins will be tough instead of tender.
✳︎ Place the muffins in the pan in the middle of the oven If the muffins are too close to the top of the oven the tops with the crumble topping might burn. Too low and the bottoms of the muffins can get dry.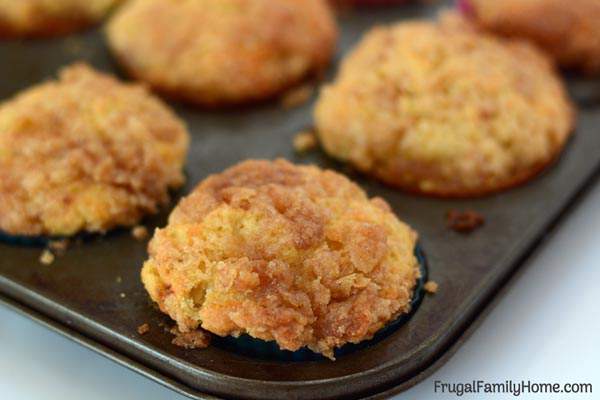 What's the Cost of these Crumb Cake Muffins with Pumpkin?
It's good to know how much a recipe cost to make sure you can keep your food budget in check. I figure the cost of each recipe by using everyday prices from the stores I shop regularly. The actual cost of the recipe may be a little lower or a little higher depending on where you live.
This recipe makes 12 pumpkin muffins. I found the ingredients cost me a total of $1.20 for all of them. Which brings the cost of each muffin to just $.10 each. If you eat a couple of muffins, and an egg you can easily have breakfast for under $.50. That'a great deal.
These crumb cake muffins with pumpkin have a light pumpkin flavor. My husband who doesn't like pumpkin at all loved these. He didn't realize they were actually pumpkin muffins.
If you want a more strong pumpkin flavor you can reduce the oil a little and add more pumpkin in its place.
You can also increase the nutmeg or substitute pumpkin pie spice instead of nutmeg.
In a few simple steps and with a few ingredients you can make crumb cake muffins with pumpkin at home. They are great for breakfast but also sweet enough to enjoy as a dessert.
More Pumpkin Recipes You'll Love,
Chocolate Chip Pumpkin Cookies, not cake-like at all
Pumpkin Bars with Caramel Frosting
Dairy Free Pumpkin Pie
Pin it for Later…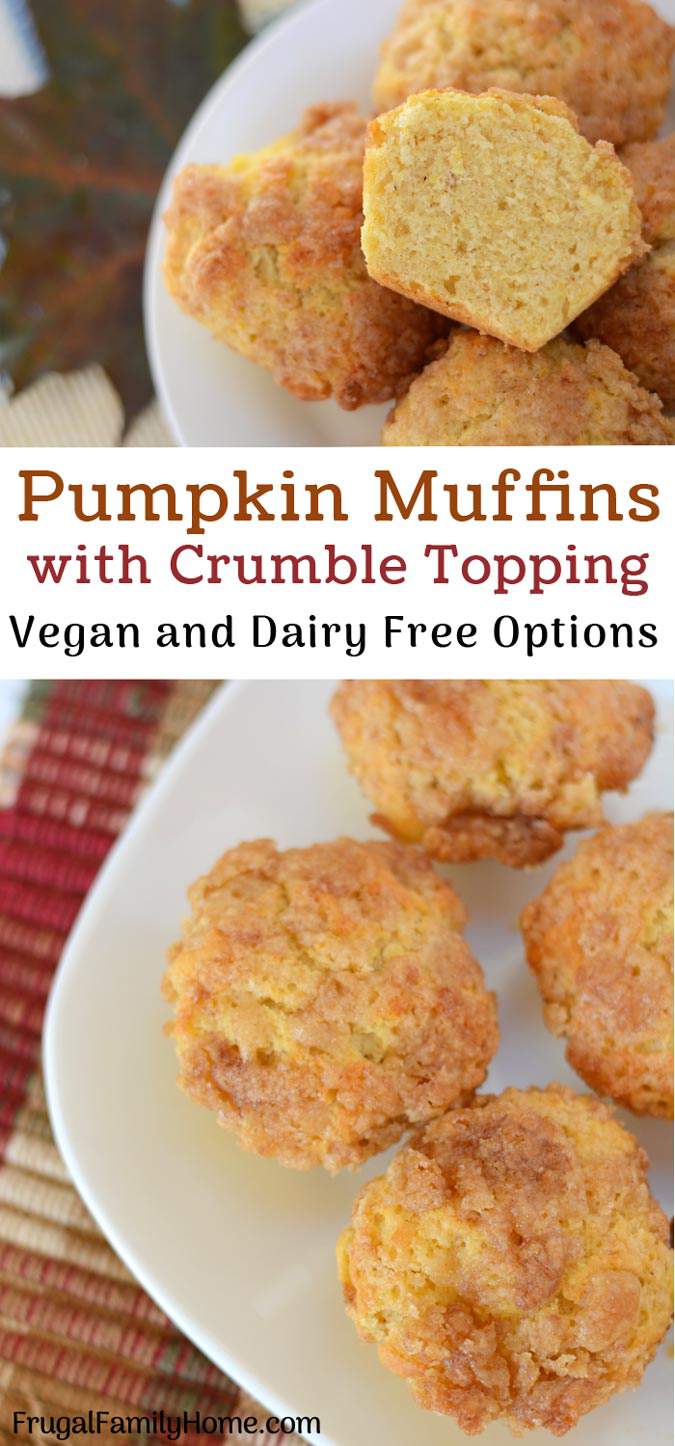 Subscribe and you'll get Recipes
sent right to your inbox!
Click the button below and fill out the form.