For many years after my family went dairy free, I didn't have a good recipe for dairy free pumpkin pie. That is until I stumbled across this recipe about 4 years ago. I would love to share where I got the recipe, but I can't remember. I fairly sure it was in our local newspaper, but I really don't know.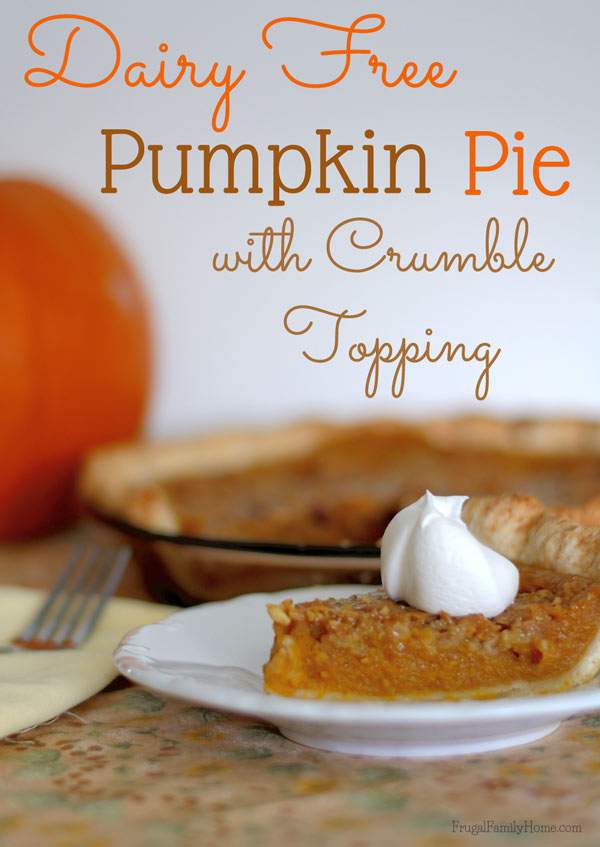 I was just so happy to find a recipe for pumpkin pie, that was dairy free to try. It's also vegan too, which is great if you have a vegetarian coming for Thanksgiving dinner. I also have a vegan recipe for stuffing.
I've made this pumpkin pie recipe with canned puree and homemade fresh puree. Both work great in the recipe. If you are using pumpkin puree that has been frozen and then thawed, be sure to drain any of the watery liquid off, before adding it to the recipe.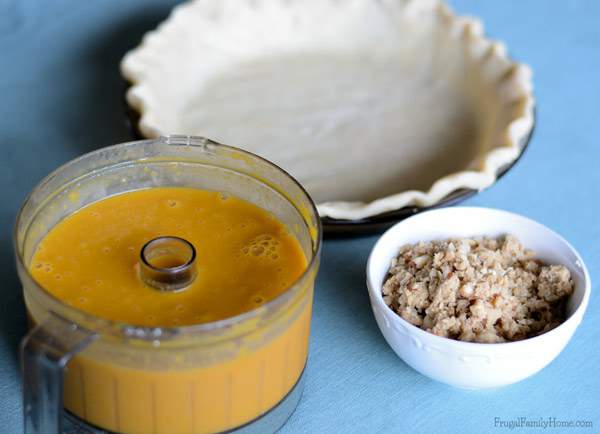 The original recipe calls for maple syrup. But I never have real maple syrup on hand, I use the maple pancake syrup I make myself. It works very well in the recipe too.
I make my own pie crust, but I do believe that some of the ready made crusts from the store are dairy free too. I use shortening in my pie crusts, since we can't eat butter. But margarine that is diary free would also work. Be sure to use the stick margarine and not the tub margarine.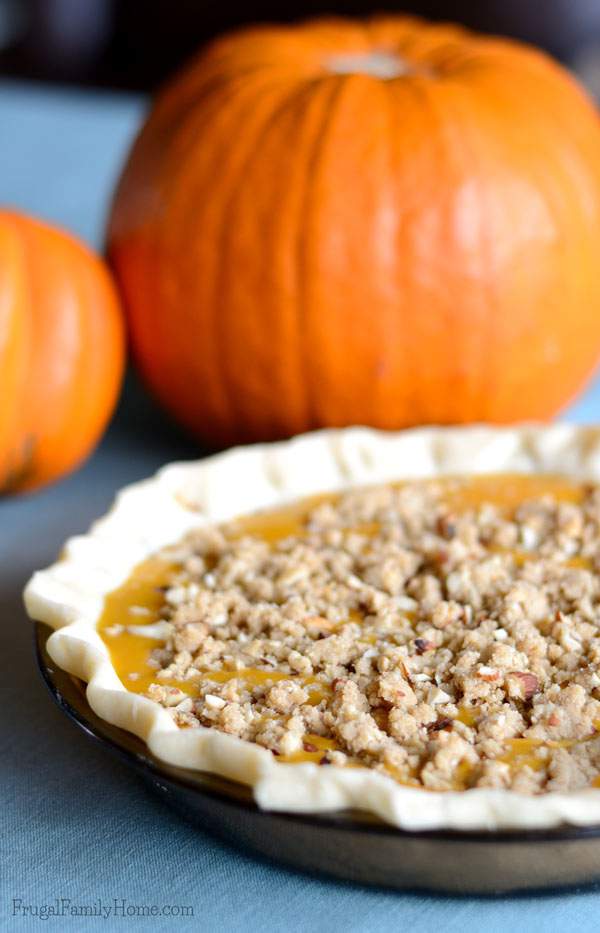 I like to fold under the extra pie crust that falls over the edge of the pie pan. Making the edge of the pie crust a little thicker helps it bake at the same rate as the pie filling. I do find that with my homemade pumpkin puree, I need to bake the pie a little longer than with the canned puree.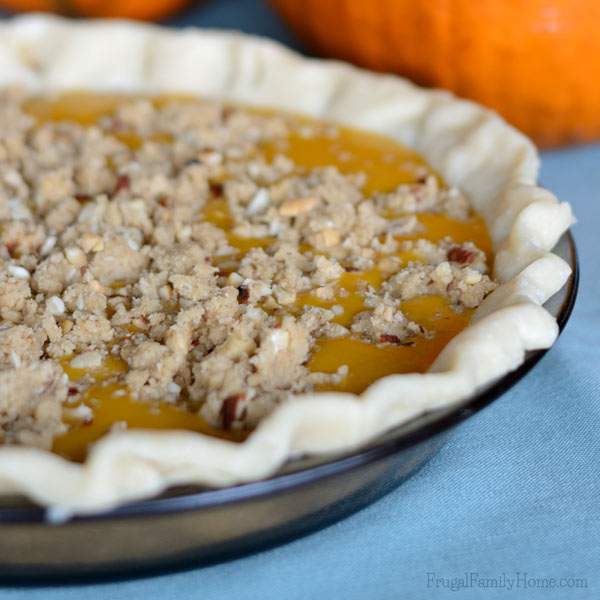 This pie recipe has a really nice crumble topping to add to the top of the pumpkin pie. It can be left off and the pie turns out great too. But the extra flavor and crunch is nice.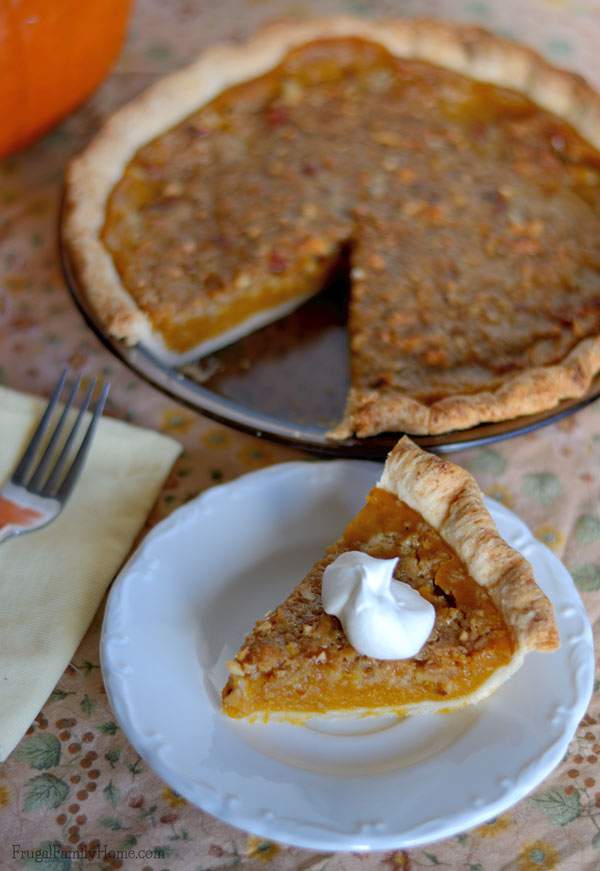 This pie keeps well, in the refrigerator. It's great to make ahead and have it ready to go before the holiday.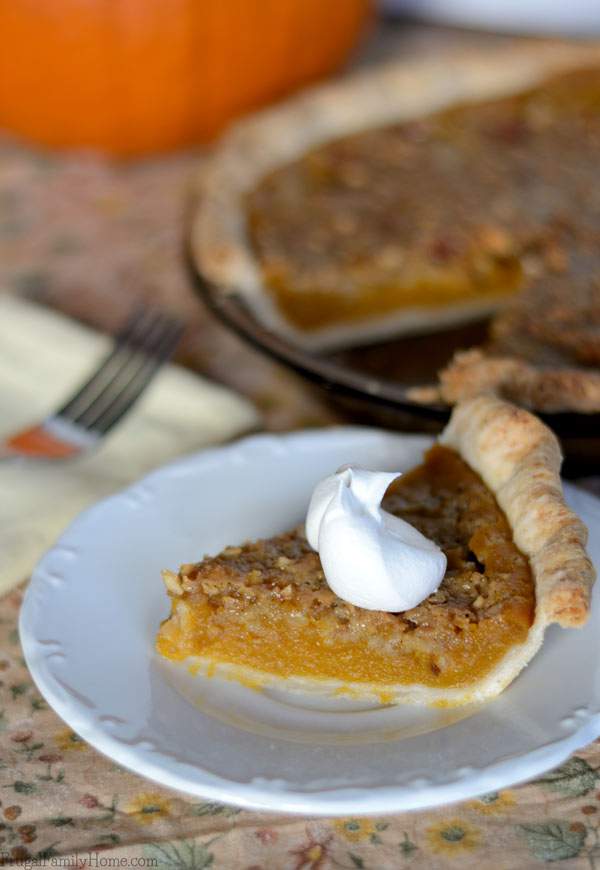 Vegan Pumpkin Pie with Crumble Topping
An easy diary free and egg free pumpkin pie with crumble topping. This vegan pumpkin pie is simple and easy to make but tastes just like classic pumpkin pie.
Ingredients
Topping
1/4

cup

Brown Sugar

1/4

cup

Flour

1/4

teaspoon

Cinnamon

2

tablespoons

Margarine

1/4

cup

Chopped Nuts

Almonds, Cashews or Pecans
Instructions
Topping
Mix the brown sugar, flour, nuts and cinnamon. Cut in the margarine until mixture is crumbly texture.

Set Aside
Pie
In a food processor, add the pumpkin filling ingredients and blend until smooth.

Add the pumpkin filling to the pie crust.

Sprinkle the pie with the crumble topping.

Bake at 375 degrees for 40-45 minutes. Pie may looks a little unset in the center but will set more when it cools.

Enjoy!
What's your favorite Thanksgiving dessert? Are you traditional and go with pumpkin pie or does your family have a different favorite dessert?
More Pumpkin Recipes to Try…
Caramel Frosted Pumpkin Bars
Pumpkin Chocolate Chip Cookies
Mini Pumpkin Pies
Subscribe and you'll get Recipes
sent right to your inbox!
Click the button below and fill out the form.