Cucumbers are plentiful at the store, the farmer's markets, and coming out of our gardens this time of year. While you could make a yummy creamy cucumber salad, this easy cucumber salad with onions is quick and easy to make and healthier too.
If you have cucumbers coming out of the garden, you'll want to try this quick and easy cucumber salad. Even my hubby who doesn't like cucumber salads ate this one up and wants me to make it again.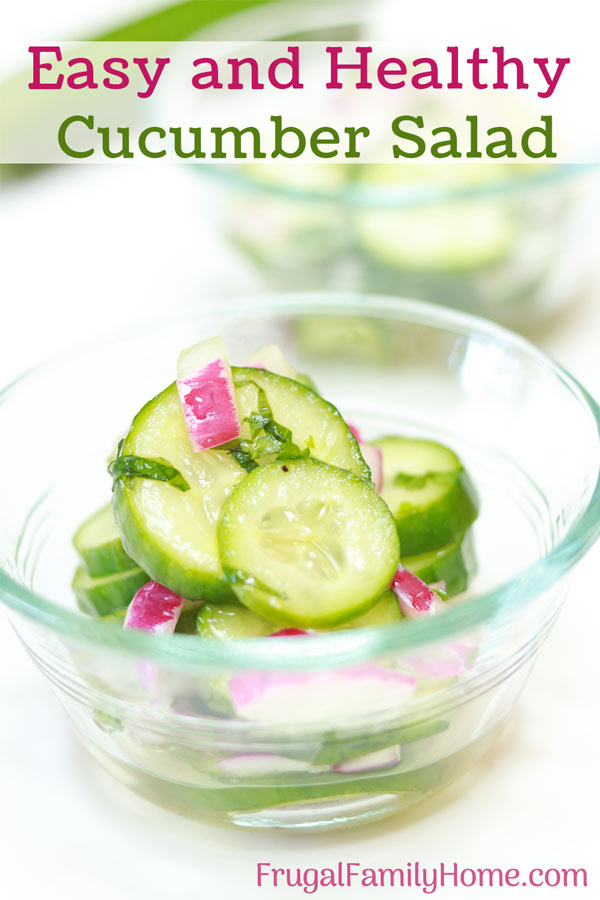 This is just one of the farm to table recipes for this month's Tuesdays in the Garden.
My gardening friends and I this week are sharing farm to table recipes to help you consume all that great produce you are growing or finding on sale or at the farmer's markets. Scroll down to the bottom of the article to see their recipes too.
When we have cucumbers, I'll make pickles for our family. We can dill pickles and bread and butter pickles each year.
I also make refrigerator dills and refrigerator bread and butter pickles too. They are quick and easy and so crisp too.
We also love to have salads this time of year. Vegetables are crisp and refreshing on a warm day. And when you have fresh cucumbers straight out of the garden or from the farmers market, they taste so good.
The combination of our love of salads and pickles inspired this easy cucumber and onion salad recipe.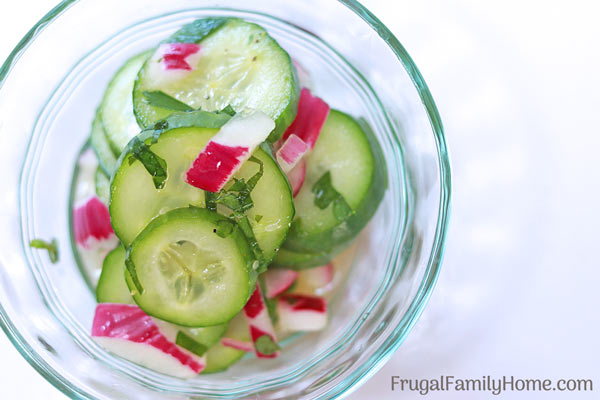 What's You'll Need to make the Cucumber and Onion Salad
Cucumbers, We prefer the smaller pickling cucumbers but the regular slicing cucumbers are fine too.
Onion, You can use any kind of onion you like. I used a purple onion because of the great color contrast (we eat with our eyes too) and the milder flavor. (My picky eater will eat the purple onions, but complains about other onions.)
Vinegar, I prefer apple cider vinegar to white vinegar. If you want an even milder vinegar, you might try rice vinegar. I use it in many recipes and it has a milder flavor.
Sugar, I added sugar to cut the acidity of the vinegar in this recipe. And to make them taste like bread and butter pickles. You could use honey or any other sweetener. Or leave it out altogether if you are eating Keto.
Parsley, I chose parsley over dill because most cucumber salad recipes use dill and I wanted this one to be different. I used fresh parsley out of the garden but you could use dried parsley instead. If using dry parsley, only use 1 teaspoon.
Turmeric, I added this spice because I use turmeric in my bread and butter pickles and I like the flavor it adds. Not a fan? You can leave it out.
Salt and Pepper, because what's a cucumber salad without these two.
How Do you Make a Cucumber Salad? Watch the Recipe Video Below to See…
This recipe is quick and easy to make. But sometimes it's nice to watch a recipe be made the first time through. If watching a video isn't for you keep scrolling for the written version below and the printable recipe.
Tips for Making this Easy Cucumber Salad with Onions
Cucumbers, I prefer to slice our cucumber on the thin side. I think the dressing permeates the cucumbers better when they are thinner. But thicker cucumbers hold up better if you are making this salad ahead of time.
Onion, I like to dice the onion into small pieces so my picker eater won't complain. But if you love onions you might leave them in rings or larger diced pieces.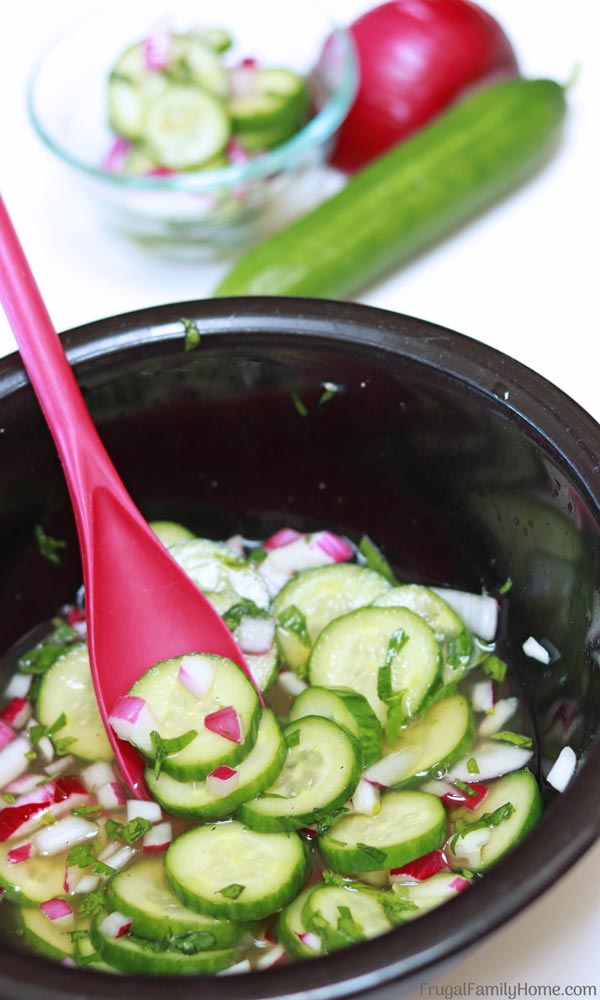 Making the Cucumber and Onion Salad Ahead of Time
If you'll be preparing the cucumber and onion salad ahead of time, slice the cucumber thicker so they will hold up in the dressing better. Or you could cut the onions and cucumber and store them in a covered bowl in the refrigerator.
Then prepare the dressing in another bowl and store with the cucumbers. An hour before serving you can combine the two. The cucumber will stay crisp when you add the dressing close to serving time. And most of the work will be done ahead of time.
Grab the printable recipe below to try…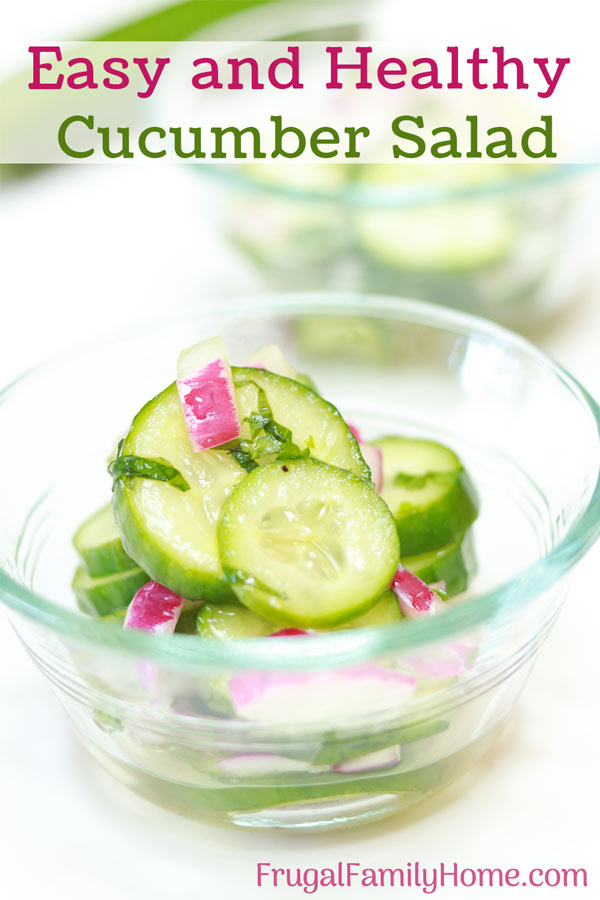 How to Make Easy Cucumber Salad with Onion
An easy farm to table recipe that is yummy and healthy too.
Ingredients
Instructions
Mix cucumbers and onions, set aside while you make the dressing.

In another bowl mix vinegar, water, sugar, parsley, salt, pepper, and turmeric.

Pour over the cucumber mixture.

Stir to mix well.
Nutrition
Serving:
1
g
Calories:
28
kcal
Carbohydrates:
6.7
g
Protein:
0.4
g
Fat:
0.1
g
Sodium:
196
mg
Fiber:
0.5
g
Sugar:
5.2
g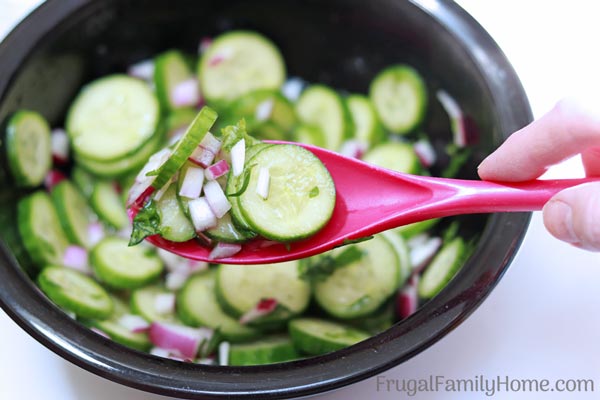 How Much Does this Easy Cucumber Salad Cost to Make?
I like to know how much the recipes I make cost. It helps me to plan my meals and keep our grocery spending under control. All while eating a variety of foods too.
Don't worry if you don't want to figure out the cost, I have you covered. Below is the cost breakdown of this recipe. The prices in your area may vary a little but it should give you a good idea of how much it will cost.
Cucumbers, 2 large or 3-4 smaller $1.16 to $2
Onion, 1/2 of onion $.23 at $.80/lb
Parsley, $.59 a bunch you'll only need a small amount $.05
Vinegar $.11 when you purchase a gallon at $6.79
Spices, $.10 purchased in bulk
That brings the total for this recipe to $1.65 to $2.49 depending on how much you pay for the cucumbers. They can vary in price from $.50 each up to $1 each here at our stores.
The recipe makes 6 servings so each serving ends up costing just $.28 to $.48.
That price isn't bad at all considering it's a healthy side dish too.
If you grow your own onions and cucumbers, the cost will be less.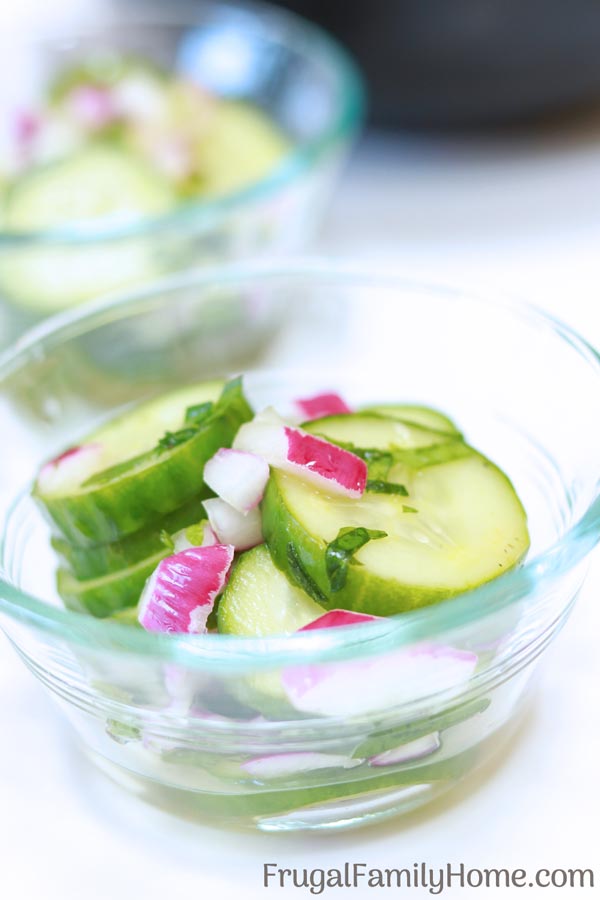 In about 5 minutes and with 5 basic ingredients, you could have a quick and easy cucumber salad to enjoy.
This recipe would be a great addition to a picnic or barbecue. I'm sure it will be eaten up right away because it's so yummy!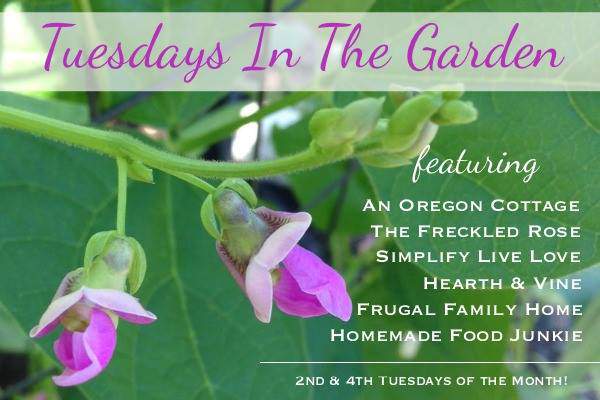 Don't leave yet, be sure to check out the other Tuesday in the Garden bloggers farm to table recipes below. They are all great cooks and terrific recipe writers so I know you'll find a new recipe or more to try. Just click on the photo to be taken to their recipe…
Subscribe and you'll get Recipes
sent right to your inbox!
Click the button below and fill out the form.