A while back, I made some refrigerator dill pickles. They turned out to be just, ok. They were a little salty and although we ate them all, I wanted to find another recipe to use. So my search was on.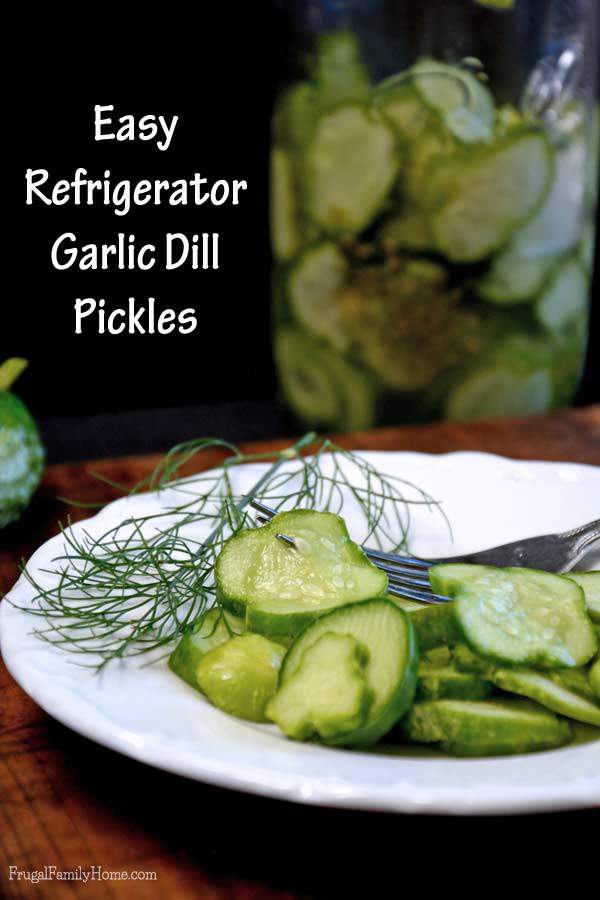 My search brought me to this recipe. I wanted to make sure I found a recipe that wasn't too salty. But I also wanted a super easy recipe and that is what I found. I did change the recipe just slightly, because my husband likes garlic in his pickles.
The recipe is super easy, you don't even have to turn on the stove. See I told you it was easy.
I used 10 pickling cucumbers from my garden. You want to make sure to use pickling cucumber, sometimes called baby cucumbers at Costco for this recipe. You don't want big seeds, like in the regular slicing cucumber, in your pickles.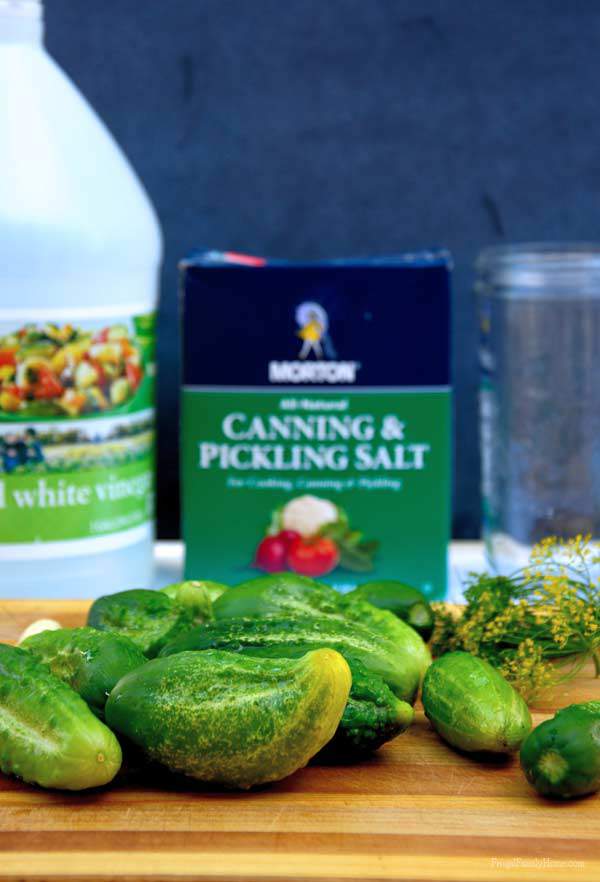 I used a knife to cut my cucumbers into thin slices. If you want super thin pickles you could use a mandolin slicer. If I'm canning pickles I will use a mandolin slicer but for these pickles I just used a knife.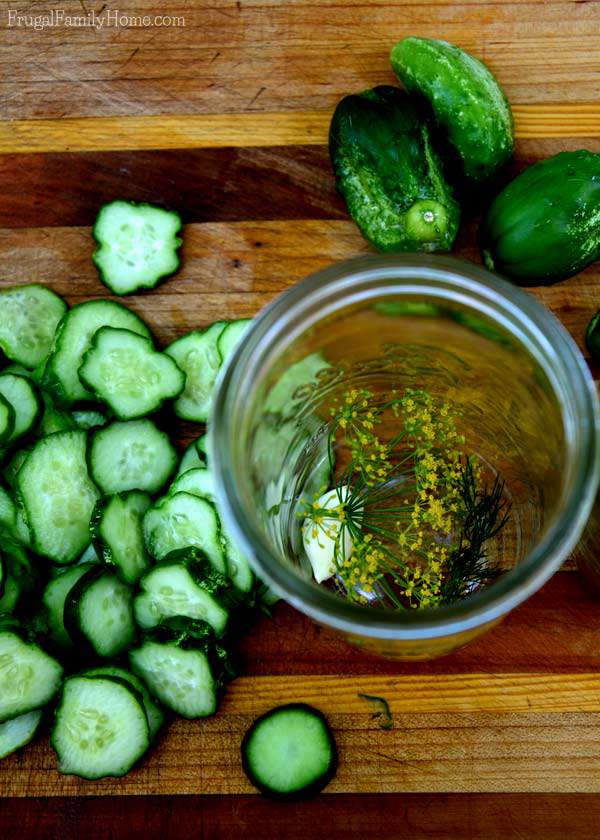 I didn't want to chop the dill, like the original recipe called for. I guess I was just feeling lazy or maybe I wanted to make the recipe even easier. 🙂 I used a head of dill, that's the flower that forms on the dill plant and a sprig of dill, the lacy looking leaf part, in each jar. Instead of using the chopped dill.
Since, I didn't have a liter sized jar. I opted to use two quart jars instead. I placed one crushed garlic clove in each jar along with one head of dill and sprig of dill. Then piled in the cucumber slices.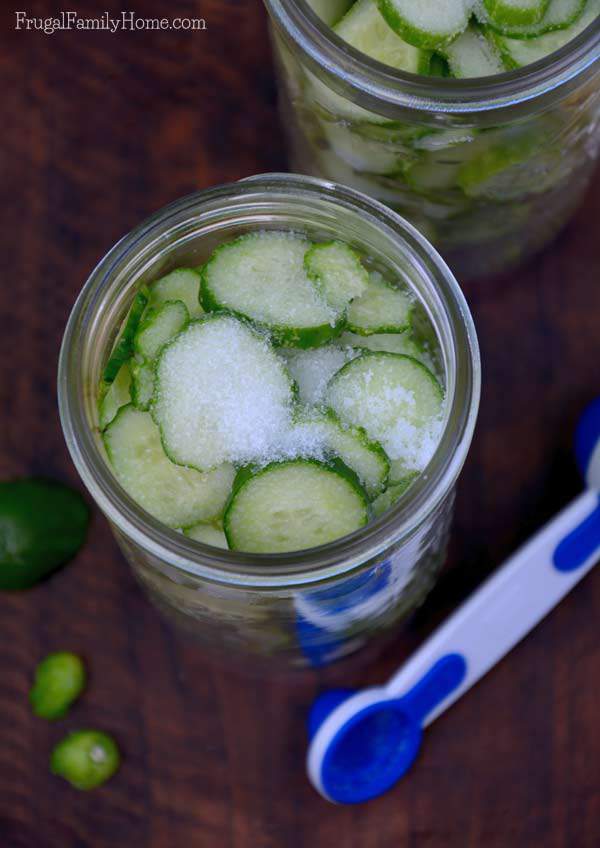 I added 1 1/2 teaspoons of pickling salt on top of the cucumbers in each jar. Shaking it down a bit. The final step is to add 1/4 cup of vinegar to each jar. Placed a lid on each jar and gave it a good shake. You want to mix the salt with the vinegar.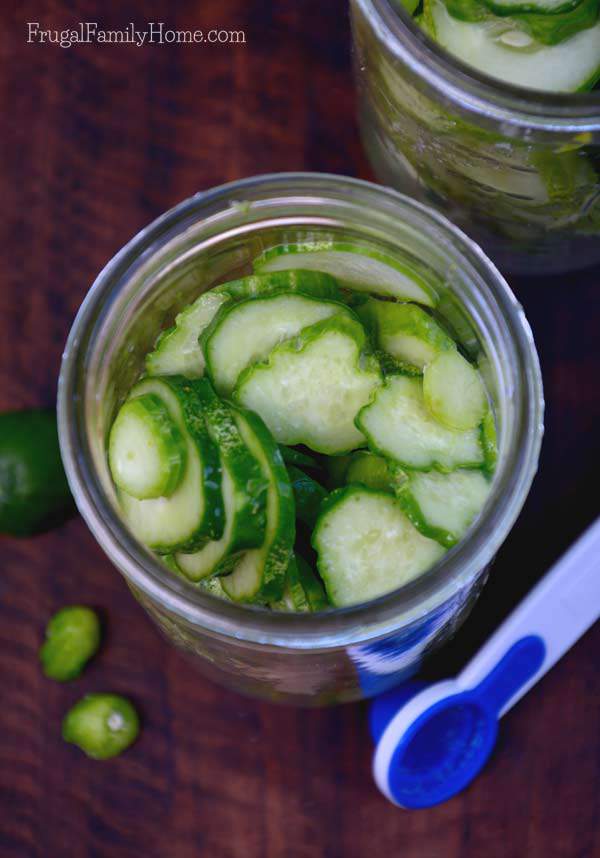 Now it won't seem like much juice at all in each jar, but after they sit a bit, more liquid will form as it is drawn out of the cucumbers. I placed my jars in the refrigerator and gave them a shake every 30-50 minutes over the next couple of hours.
After three hours we gave our pickles a try. I was really surprised at how quickly the flavor formed in the pickles. With other recipes, you usually need to wait 3-10 days for the flavor to build. But these were yummy after only a few hours!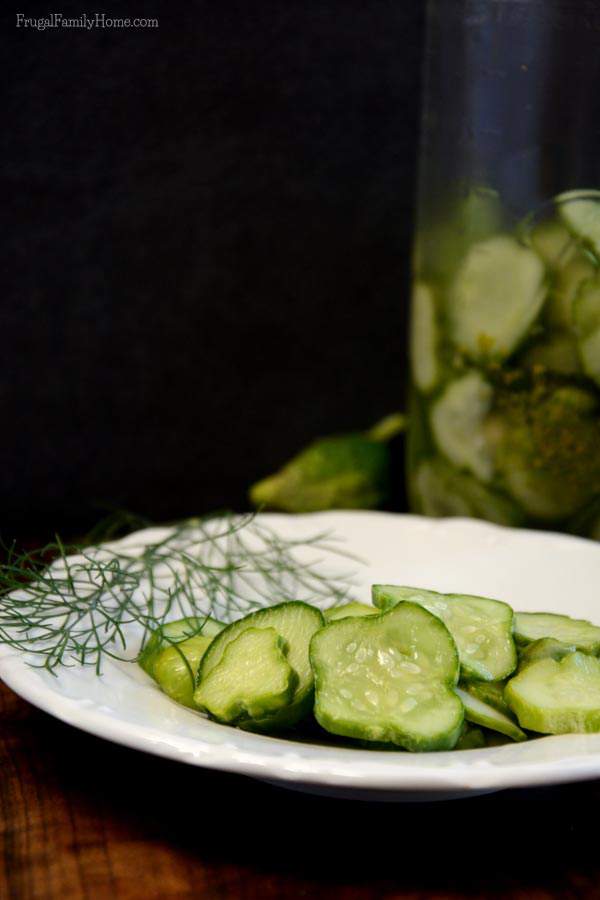 By the end of the first day, we had eaten over half of the first jar. Did I mention how good these turned out? My search for the perfect refrigerator dill pickle recipe is over. We will be making these again and again.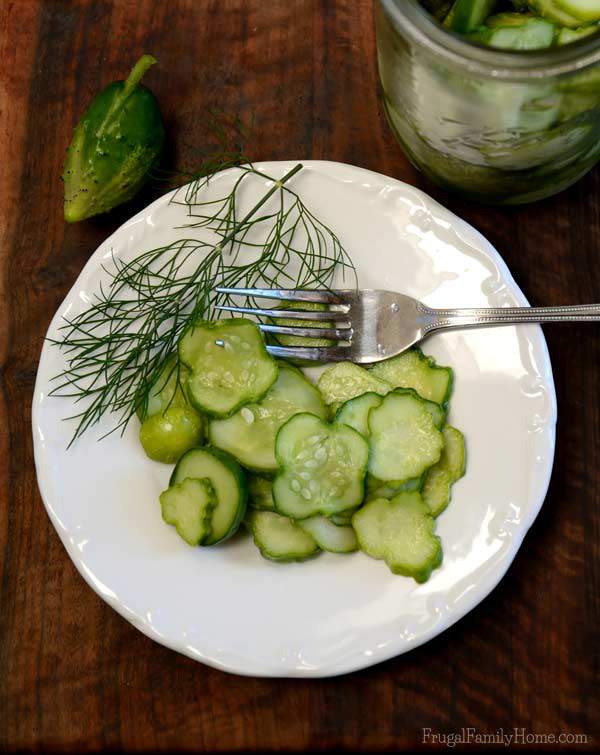 Easy Refrigerator Garlic Dill Pickles
Super easy to make garlic dill refrigerator pickles. You don't even need to turn on the stove to make these and they are ready to eat in about 3 hours.
Ingredients
10

Pickling Cucumbers

1/2

cup

Vinegar

2

sprigs of Dill and 2 heads of Dill

2

Garlic Cloves

slightly crushed

3

teaspoons

of Pickling Salt

2

quart

size Canning Jars with Lids
Instructions
Wash the cucumbers well and slice thinly. Discard the stem and blossom ends.

Crush the garlic clove slightly and peel the skin off.

Place one garlic clove in the bottom of each of the quart canning jars.

Add one sprig of dill and one head of dill to each jar too.

Divide the sliced cucumbers and place in the jars.

Add 1 1/2 teaspoons of pickling salt to each jar.

Pour in 1/4 cup vinegar into each jar.

Cover the jars with lids and give them a good shake. To distribute the salt and vinegar.

Place the jars into the refrigerator and shake occasionally over the next hour or two.

The pickles can be eaten in about 3-4 hours.
If you haven't made pickles before, you have to give this super easy recipe a try. I'm sure you won't be disappointed. What's your favorite kind of pickle? Dill, Sweet or Bread and Butter?
Subscribe and you'll get Recipes
sent right to your inbox!
Click the button below and fill out the form.