Struggling with
What to Cook for Dinner?
I love it when I can stretch a main dish into two meals. This makes for an easy dinner recipe the next night since half the cooking is already done.
Whenever I make a beef roast in my slow cooker, I always have some beef leftover. With the leftover beef, sometimes I make beef noodles and other times I make roast beef dip sandwiches.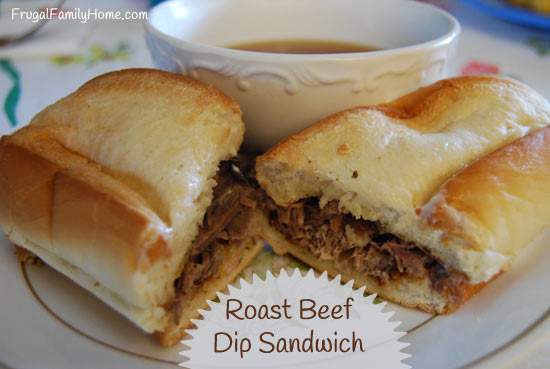 My cousin, Debbie is the one who introduced me to making these sandwiches when I was visiting her one day. I hadn't ever thought of making sandwiches out of the leftover roast beef before.
My mom always used to grind up the leftover roast beef into a beef sandwich spread that I just didn't like so, maybe that's why I never thought this idea.
When I make the roast beef in the slow cooker I always save the beef broth that is formed. It makes a great dipping sauce for the sandwiches. But don't worry if you don't get enough of the broth or you used the broth to make gravy, a can of beef broth will work well too.
This recipe is really easy, it takes just a few ingredients. I use the leftover broth or a can of beef broth, leftover roast beef about 2 cups and hoagie rolls. That's it, for this easy dinner recipe.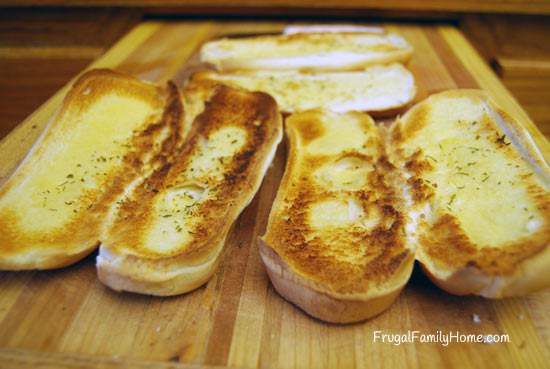 I start out by toasting the bread. I like to add a little butter (dairy free for us), some garlic powder and dried parsley. I love that extra crunch when you bite into the sandwich.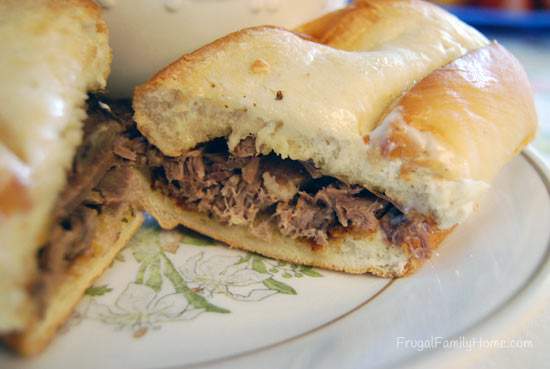 While the bread is toasting, heat the broth and the chopped up leftover roast beef in a pan on the stove. Be sure to keep a close eye on the bread. It burns really easy. I'm an expert bread burner.
Once the meat is heated through and the hoagie rolls are toasted, it's time to assemble the sandwiches. I add a little mayonnaise to our sandwiches and add a generous amount of the juicy beef to the bun.
If you have some family members who don't like juicy meat on bread be sure to squeeze the meat a little drier before adding it to the bun.
Serve the sandwich with a bowl of the warm broth to dip in. Yum!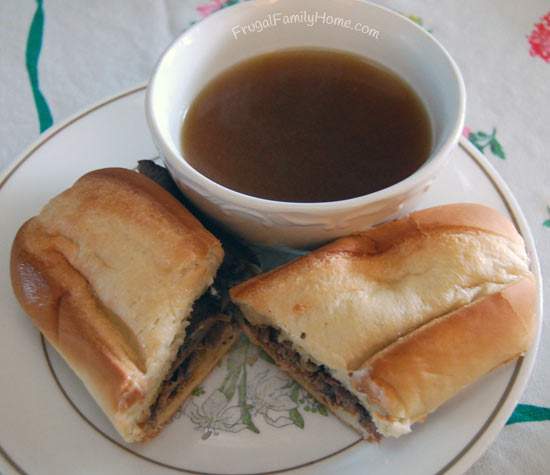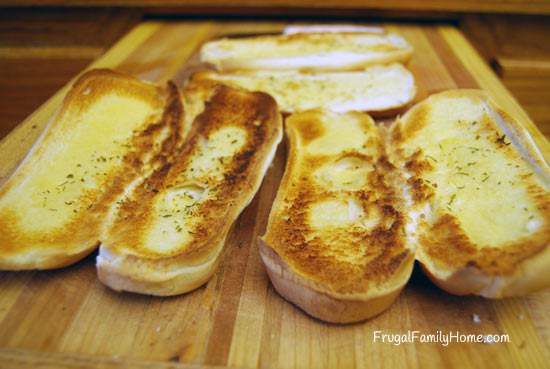 Roast Beef Dip Sandwiches
This is an easy dinner recipe using leftover beef roast.
Ingredients
2

cups

leftover Roast Beef

chopped

2

cups

Beef Broth

4

Hoagie Rolls

Butter or Dairy Free Butter

Mayonnaise

optional

Dried Parsley and Garlic Powder

optional
Instructions
Slice the hoagie rolls in half and butter the bread.

Sprinkle with garlic powder and parsley if desired and toast under the broiler, until slightly brown and crisp.

While the bread is toasting, heat the meat and broth in a saucepan over medium heat.

Once bread is toasted, spread mayonnaise on the bread, if desired.

With tongs grab a generous helping of the chopped beef and place on the bun.

Serve with a bowl of the beef broth on the side.

Enjoy!
What's your favorite dish to use leftover roast beef in?