Inside: A delicious fall treat of easy pumpkin muffins. They are super easy to make with only 3 ingredients needed. But they come out so moist and yummy. You need to give these a try.
I like pumpkin, my kids like pumpkin but my husband, he really doesn't like pumpkin. So if I'm going to use pumpkin in a recipe it has to be really good for him to eat it. These easy pumpkin muffins are one of those pumpkin recipes my husband, will eat.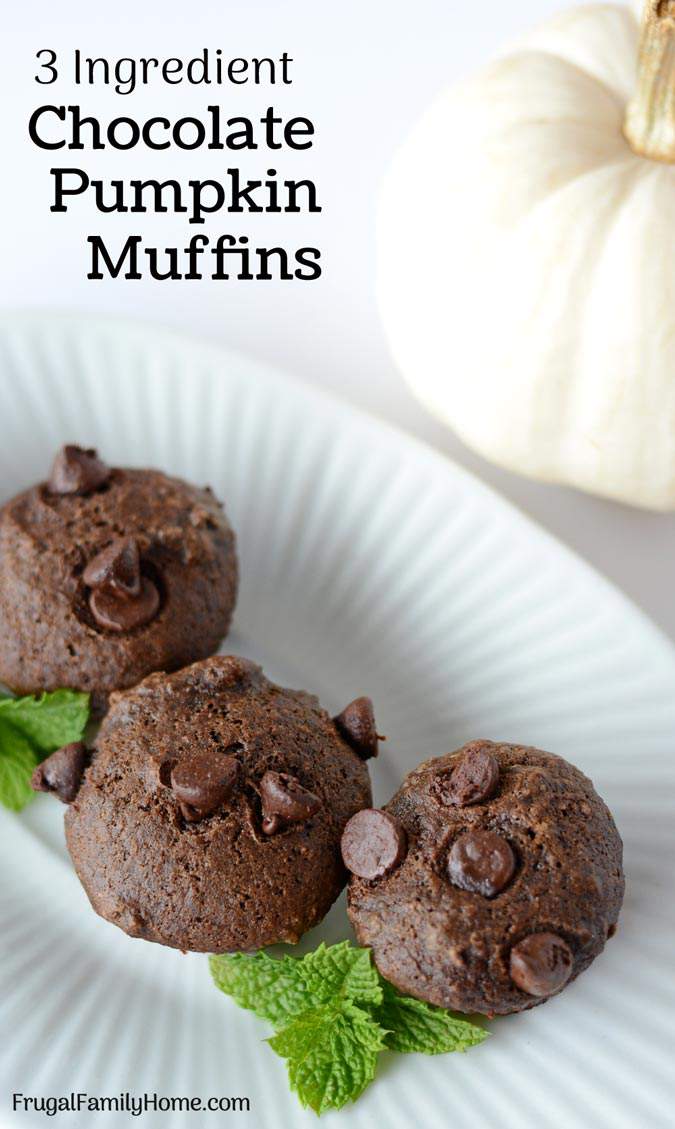 This easy pumpkin muffin recipe is one I make each fall. But you don't have to limit yourself to enjoying them in the fall only. You can purchase canned pumpkin puree all year round. Or if you are like me and roast a few pumpkin each year then I'm sure you'll have pumpkin puree waiting in the freezer for this recipe.
Only Three Ingredients in this Easy Pumpkin Muffin Recipe!?
These muffins are cake mix pumpkin muffins. Which means you start with a cake mix and add the pumpkin. It's really that simple. Because we need to eat dairy free I make my own cake mixes.
Most boxed cake mixes from the store contain some sort of dairy in them. There are only 1-2 that don't and I can't always find them.
So I make my own cake mixes instead to use in this pumpkin muffins recipe. But if you have a favorite boxed cake mix from the store you love, use it. Either way, the recipe turns out great.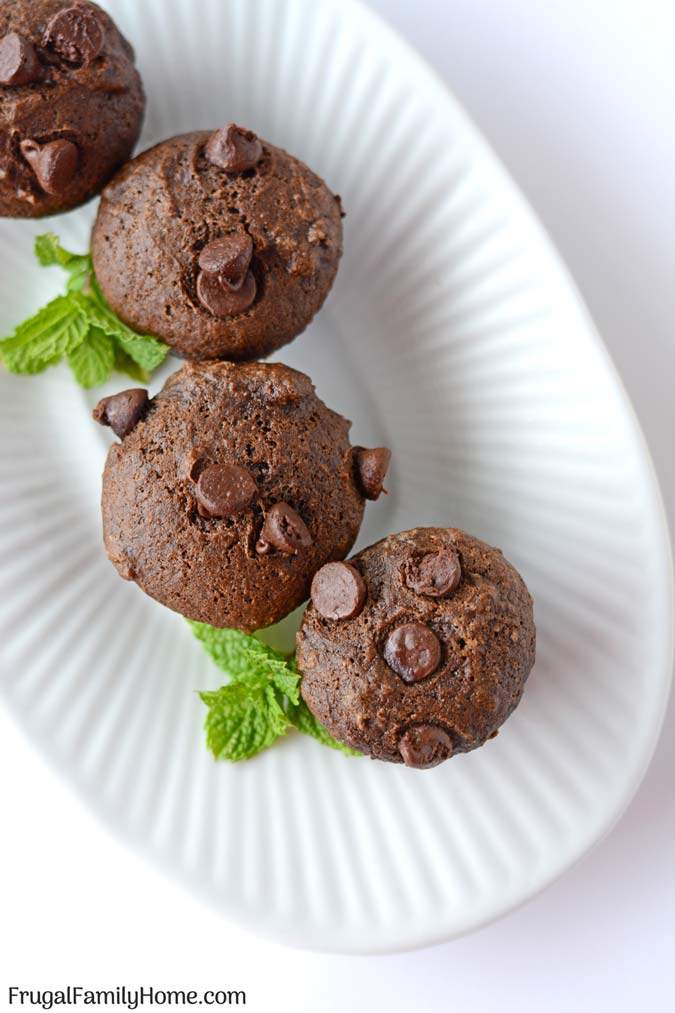 I've included referral links where appropriate. Thanks for your support in this way.
I also like to think these muffins are healthy pumpkin muffins. There is no egg and no oil added to the mix so they would naturally be healthier than making a cake with the mix.
They are also weight watchers friendly at 5 points for a regular sized muffin or for 3 mini muffins if you make them without chocolate chips. Now you might be wondering but how do they taste.
Because I use a chocolate cake mix, I don't taste the pumpkin at all. All I taste is really moist and delicious chocolate muffins.
Now if I've convinced you to give this recipe a try, watch the video below to see all the steps. Or scroll down to get the recipe and a few tips for making these easy pumpkin muffins.
Tips for Making these Easy Pumpkin Muffins
Start with your cake mix in the bowl and add the pumpkin. Either one can or about 2 cups of homemade pumpkin puree.
Start to mix them, you can use a mixer but I use a spoon to mix mine. If I notice the batter is a little dry I'll add water. You want a pretty thick batter but not a dry batter. If it's too dry don't be afraid to add water.
Try not to over mix. I know it's a little hard since the pumpkin puree is a little thicker but only mix long enough to moisten all the dry ingredients.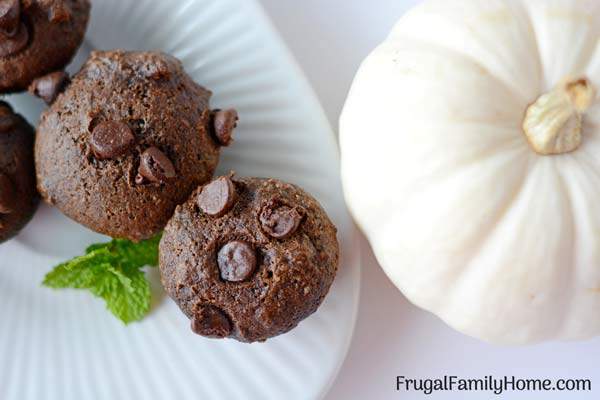 Use silicone or paper muffin liners. I have two sets of regular size silicone muffin cups and two sets of mini muffin cups. They work great and can be used over and over. I like to use a muffin liner to make cleaning the muffin pan easier.
I never can get all the muffin out the first time when washing my muffin tins. It almost always sticks even when I use cooking spray. Having the silicone muffin liners eliminates that problem.
Sprinkle the chocolate chips on top of the cake mix pumpkin muffins right before baking. I find I can get the ratio of the muffin to chip more accurate than if I add the chips to the batter.
This recipe makes 18 regular size muffins or 36 mini muffins. My kids love the mini muffins. We will make 24 mini muffins and make the rest of the batter in regular sized muffins.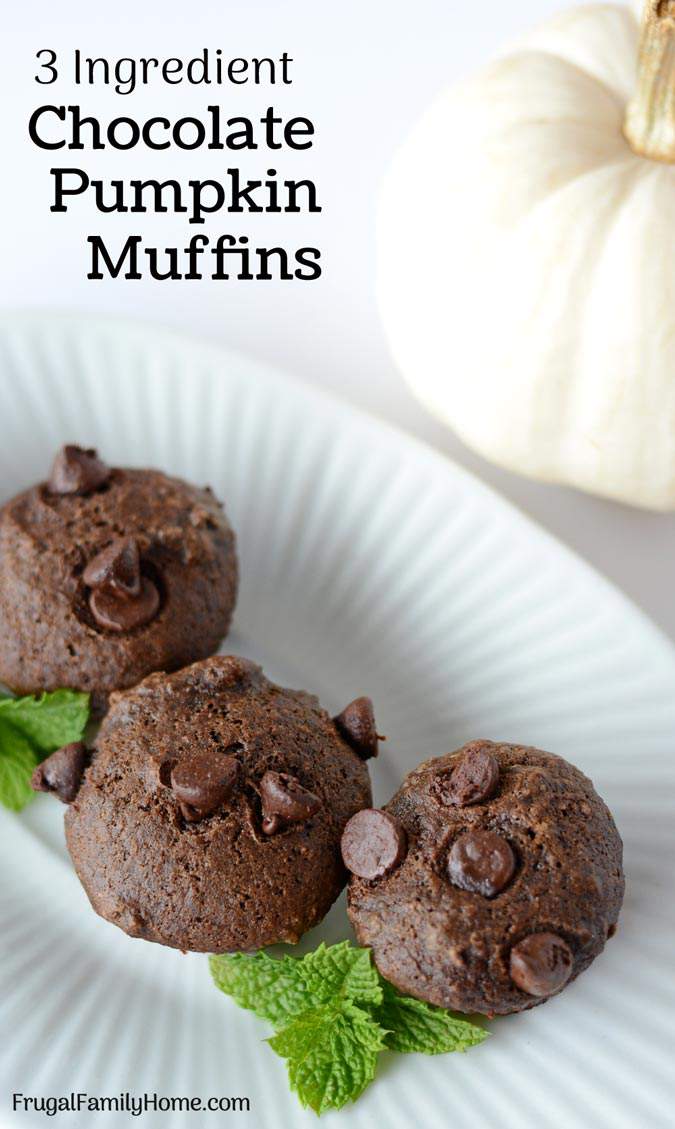 Easy Pumpkin Muffins, How to Make Them with 3 Ingredients
Ingredients
1

Chocolate Cake Mix

2

cups

Pumpkin Puree

or 1 can Pumpkin Puree

1

cup

Chocolate Chips

Water

if batter is too dry
Instructions
Add the cake mix to a large bowl.

Add the pumpkin puree to the cake mix and mix until dry ingredients are incorporated. If the mixture seems a little dry add enough water to moisten all the dry ingredients. Your batter should be a nice thick batter consistency.

Spoon the batter into lined muffin tins or into silicone muffin cups on a cookie sheet. Add chocolate chips to the top of each of the muffins. Or you can add the chocolate chips to the batter and mix in.

Bake 350 for 20 minutes or until baked through.
Notes
These muffins are also weight watchers friendly at 5 points for a regular sized muffin or for 3 mini muffins.
That's it for these easy pumpkin muffins. Whether you want to call them healthy pumpkin muffins or cake mix pumpkin muffins, this is definitely a delicious pumpkin muffins recipe.
What recipes do you like to use pumpkin in?
More Easy Muffin Recipes to Try,
Vegan Banana Muffins
Apple Mini Muffins with Nut Crumble Topping
Pin This for Later
Subscribe and you'll get Recipes
sent right to your inbox!
Click the button below and fill out the form.