Love tacos? Enjoy them in this new way by making easy taco pie quiche. It's simple to make and inexpensive too.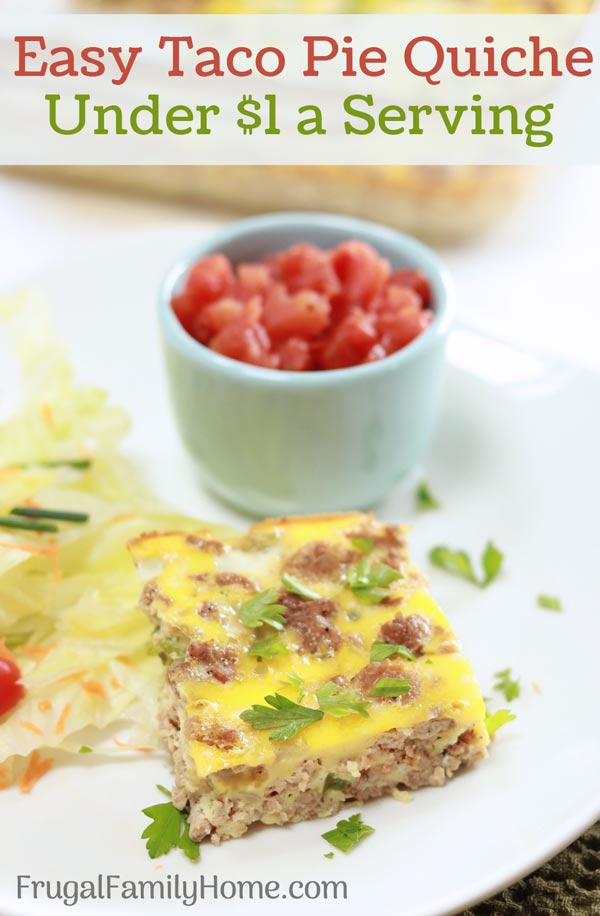 Thinking of what to make for dinner can be hard. You might get stuck eating the same of things over and over.
Tacos are a favorite at our house but eating them every week can get boring.
But taking those same flavors and cooking them in a new way can break the boring dinner cycle.
But you still get to enjoy your favorite flavors together in an easy dinner recipe.
Easy Taco Pie Quiche Recipe…
I love easy to make dinners and this easy taco pie recipe is simple to make. You brown everything in a pan, dump eggs over top and bake.
Leaving you time to work on other things, like making a salad, while dinner bakes.
If you and your family love tacos as much as we do, I'm sure you will love this recipe.
It's easy to make with just 7 ingredients and half of those are seasonings too.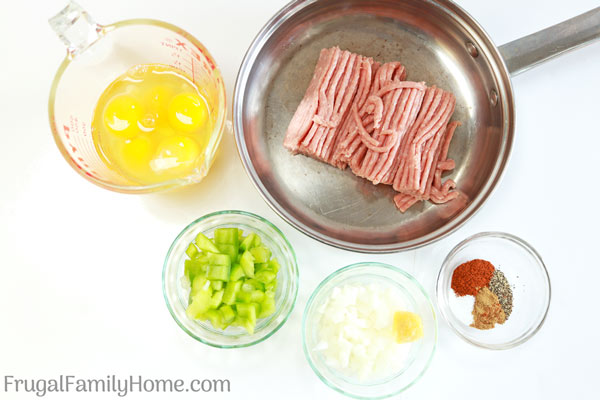 Ingredients Needed to Make this Easy Taco Pie
Ground Beef
Onion
Pepper
Eggs
Garlic
Cumin
Chili Powder
You'll also need salt and pepper for this dish but I think most people have those two seasonings on hand so I don't regularly list them.
You could add salsa and shredded lettuce to the list along with cheese and sour cream.
All of those items would be great to top the taco pie quiche with once it's done baking.
We served ours with salsa and add a side salad instead of putting the lettuce on top.
Prep Ahead for Less Stress at Dinnertime
I also love this recipe because you can prep the ingredients ahead of time.
When you are doing your meal prep for the week or earlier in the day when you have a little more time, you can chop the vegetables and get them ready.
You could even brown the meat too.
To prep ahead early in the week…
Chop the vegetables and place them into a container or zipper bags, be sure to label which dinner these go to.
Have the ground beef waiting to be cooked the day of or you could combine the vegetables with the ground beef and cook them on your prep day.
This meat and vegetable combination could be doubled and you could use half in a nice pasta sauce for spaghetti and meat sauce for a second dinner.
Giving you two meals prepped at the same time. Yay!
Just leave out the seasonings until you are ready to make dinner that night. Otherwise, you'll end up with taco spaghetti, which might not be too bad.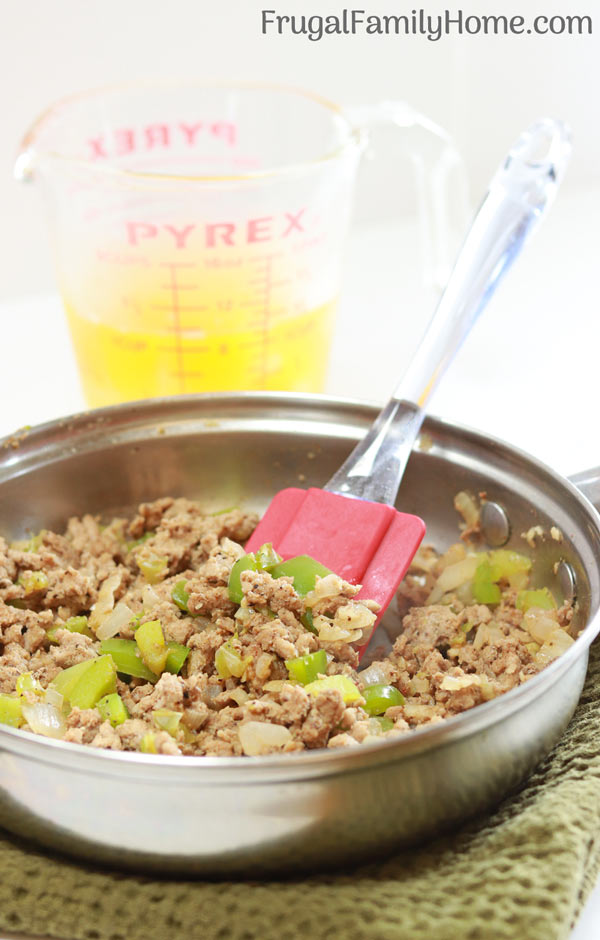 To Prep the Day of…
You can chop the vegetables and place them in a bowl with the seasonings on top.
Have your ground beef or ground turkey waiting in the refrigerator.
Then when it's time to make dinner start browning the ground beef in the pan, drain off any fat when it's half cooked through.
Then add the vegetables and seasoning and cook until the meat is no longer pink.
Or if you have the time you could prep the vegetables and cook the meat early in the day and place it in your baking pan and cover.
Any of these prepping options above can help you avoid the dinnertime crunch with unhappy kids and the stress of trying to get dinner done.
How to Make this Easy Taco Pie Recipe
A few tips to help you make this easy low carb taco pie recipe for dinner or breakfast.
Place your ground beef in the skillet and cook until halfway cooked through. Drain off any liquid or fat.
I find draining the fat away while there is still juice in the pan makes it so much easier to get most of the fat drained away.
Once the meat is cooked halfway, add the vegetables and seasonings. Cook until the meat is no longer pink and cooked through.
Add the meat with the bit of fat that might remain to a casserole dish. I used my pyrex 9-inch square pan.
Place the eggs into a bowl and whip with a whisk to blend them. You can add salt and pepper to the eggs if you wish.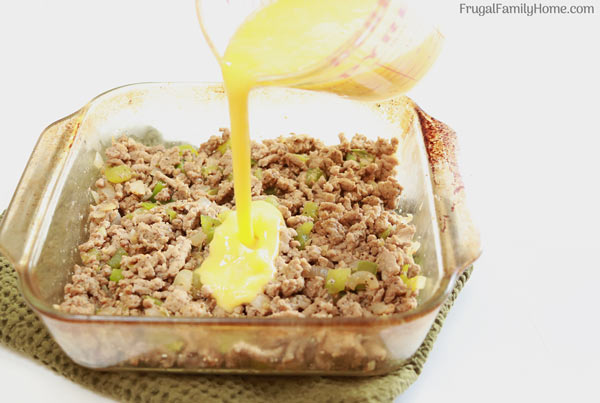 Pour the eggs over the ground beef and vegetable mixture in the pan.
Cover with a lid or foil and bake for 25 minutes, then uncover and bake another 15 minutes or until the eggs are set and cooked through.
Grab the printable recipe….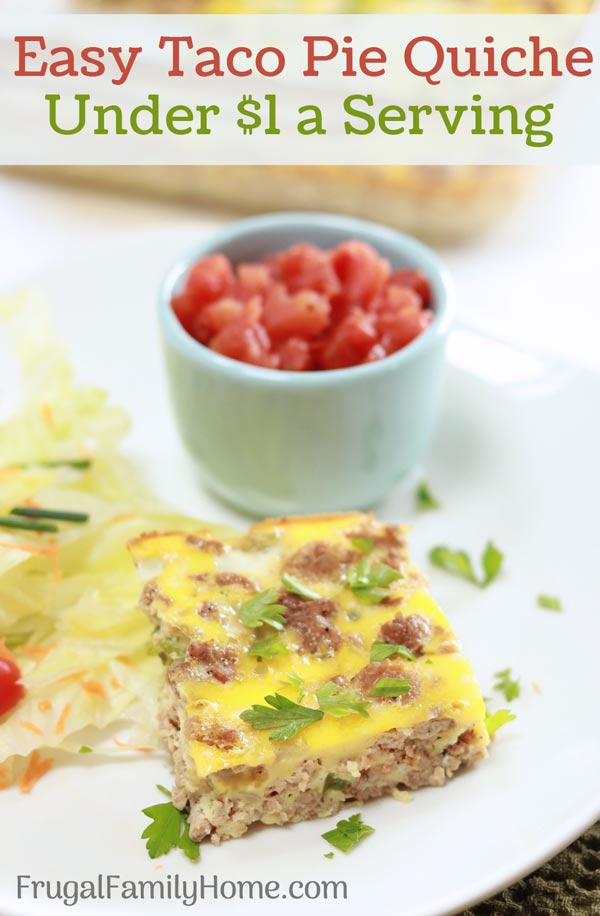 Easy Taco Pie Quiche
A simple taco pie recipe that can be enjoyed at breakfast or dinner.
Ingredients
3/4

pound

Ground Beef

3/4

cup

Onion

chopped

3/4

cup

Green Pepper

chopped

1

clove

Garlic

minced

6

large

Eggs

1/2

teaspoon

Cumin

1/2

teaspoon

Chili Powder

1/2

teaspoon

Salt

1/4

teaspoon

Pepper
Instructions
Preheat oven to 350 degrees

In a skillet brown the ground beef until halfway cooked through, drain off fat and liquid.

Add the onion, green pepper, garlic, cumin, chili powder, salt, and pepper to the meat. Continue to cook until the ground beef is no longer pink and cooked through.

Place the meat and vegetable mixture into a square 9-inch casserole dish.

Place eggs into a bowl and whip with a whisk to combine.

Pour eggs over the meat mixture and cover with a lid or foil.

Bake for 25 minutes, then uncover the casserole dish and bake for another 15 minutes, until eggs and set and cooked through.

Serve with cheese and sour cream on top if desired with a salad to make a complete meal.
Notes
If your family won't eat peppers or onion you can use a different vegetable instead.
Nutrition
Serving:
1
piece
Calories:
179
kcal
Carbohydrates:
2.8
g
Protein:
23.1
g
Fat:
8
g
Saturated Fat:
2.7
g
Cholesterol:
214
mg
Sodium:
296
mg
Potassium:
345
mg
Fiber:
0.7
g
Sugar:
1.3
g
Calcium:
30
mg
Iron:
11.7
mg
Variations for this Taco Pie Recipe
It's nice to use up what you have on hand. Use these variations to try with this recipe.
If you have leftover rice, mix it with a little taco seasoning and then add it to the ground beef. Then pour the eggs over top.
If you don't have ground beef, you can use ground chicken, turkey or even ground pork.
Don't have green peppers, leave them out or try another vegetable you have on hand, something like celery would be a good substitution.
Make it vegetarian by using meat-free crumbles instead of the ground beef.
This recipe is written to be dairy free but if you like you can stir in shredded cheese into the eggs before baking or sprinkle it on top after adding the eggs.
Leftovers heat well the next day and could be used for breakfast or an easy lunch.
For something a little different to use up leftovers…
Crumble the reheated taco pie and sprinkle on top of a bed of lettuce, dress with salsa and a few crushed tortilla chips to the top, or use the ones at the bottom of the chip bag.
Sprinkle with cheese if you need not eat dairy free. This makes an easy salad for lunch.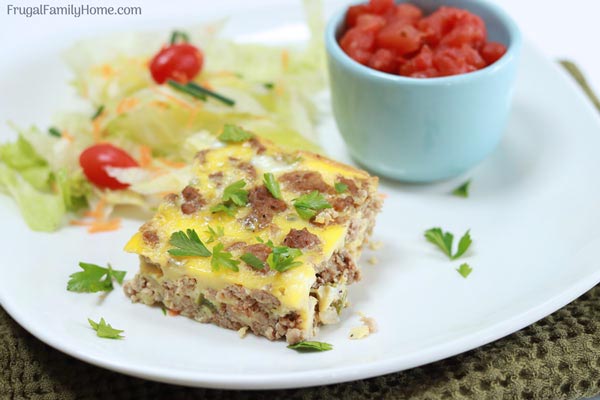 Cost of this Easy Taco Pie Recipe…
Eggs $.60 for 6, purchased at $1.25 a dozen
Ground Beef $2.24 at $2.99 per pound
Green Pepper, $.80 for one whole pepper
Onion $.19 purchased at $1.50 for 3 pounds
Garlic, $.10 purchased at $1 per head of garlic
Seasonings $.15 purchased in bulk spices
That brings the total for this recipe to $4.08 for 6 servings. Or just $.68 a serving. Add a side salad for a complete dinner for about $1 a serving for each person.
It's great when you can feed your family a healthy dinner for around a dollar a serving.
Our Experience with This Recipe…
I made this recipe for our family for dinner the first time I made it.
I have a picky eater, well I have to say I have a picky eater compared to the rest of our family but he is still a good eater.
When my picky eater saw this dinner, he ate everything else on his plate. When he finally had to try it, since it was the only thing left on his plate, he gobbled it up.
I asked if he liked it and he said, "Oh yes, that was such a good dinner."
My picky eater was put off by the looks of this dish but once he tried it he loved it.
We ate the leftovers for lunch the next day and they heated well in the microwave in about 90 seconds for three servings.
This taco quiche recipe is a quick and easy recipe great for dinner but also could be for breakfast too.
If you try it, I'd love to hear how your family likes it? Drop me an email or a comment below and let me know.
Find More Easy Recipes…
Crustless Quiche, Using Leftovers
10 Minute Tuna Patties, Under $.50 a Serving
Frugal and Hearty Hamburger Soup, Under $.50 a Serving
Subscribe and you'll get Recipes
sent right to your inbox!
Click the button below and fill out the form.