Soup is a great way to stretch your food dollars and this hearty hamburger soup recipe is not only frugal but hearty too.
Making soup for dinner is a great way to stretch your food dollars. But soup doesn't have to be boring, it can be hearty and delicious.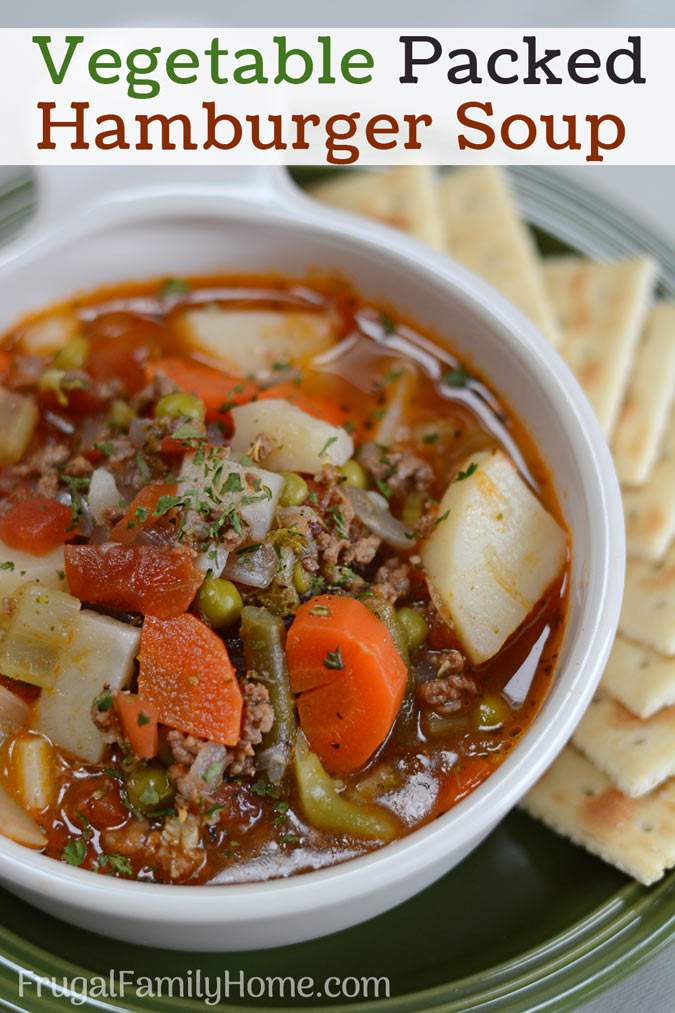 Soup can be a hearty meal without being too costly to make. This recipe for hamburger soup uses a small amount of meat but is still a hearty hamburger soup.
Adapt this Hamburger Vegetables Soup Recipe to What You Have
In this recipe there is a variety of vegetables, while the recipe is great just as it is written, you can use any variety of vegetables in it. If you have a few different vegetables getting past their prime hanging out in the crisper drawer, don't be afraid to substitute them in for the vegetables in this recipe.
Also if you have the fresh version of the broccoli, green beans or peas in your fridge you can use fresh instead of frozen in this soup too.
You could even use canned vegetables or a bag of frozen mixed vegetables instead of the frozen vegetables in this recipe. It's really adaptable to what you have on hand.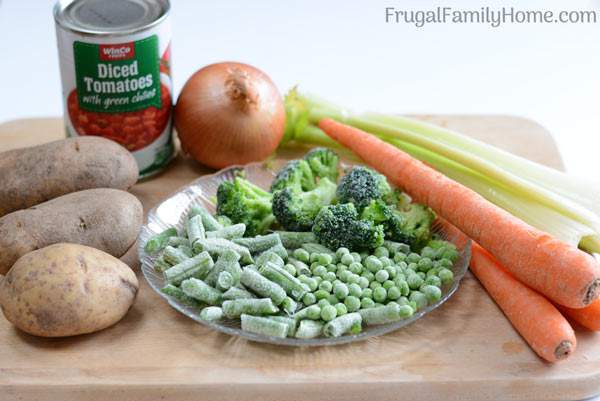 I used a can of diced tomatoes with chiles in this recipe but you don't have to use them. The chiles do give the soup a little bit of a kick. But you can use diced tomatoes instead.
Another way this recipe is versatile is the cooking time. You can simmer it anywhere from one to four hours. I think the flavor builds the longer it simmers. I try to start it so it has at least two hours to simmer before we are ready to serve the soup.
Make this Hearty Hamburger Soup in the Slow Cooker
This hearty hamburger vegetable soup recipe could also be made in the slow cooker. Follow the directions in the recipe and then place all the ingredients in the slow cooker. Cook on low for 10 hours or on high for 5 hours or until the vegetables are cooked through.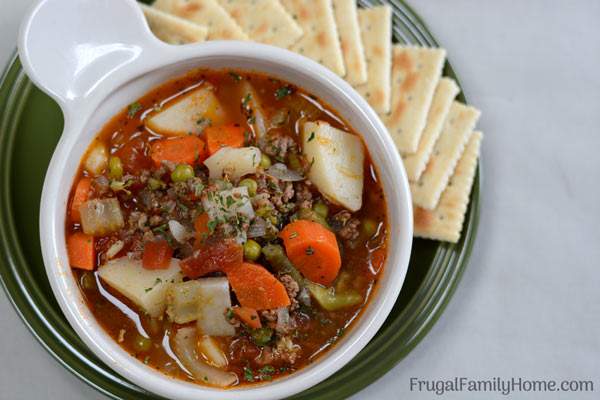 You could add pasta or rice to this recipe. We don't because I usually serve it with a loaf of fresh french bread. I add in a serving of fruit and we have a full dinner that we all love without too much fuss.
Hearty Hamburger Soup
Ingredients
1/2

pound

Ground Beef

4

cups

Water

3

Carrots

sliced

3

Potatoes

diced

3

Celery Stalks

sliced

1

Onion

Chopped

2

Garlic Cloves

minced

1

can Diced Tomatoes

with chilies optional

1

cup

Frozen Green Beans

1/2

cup

Frozen Broccoli

1/2

cup

Frozen Peas

1

tablespoon

Salt

1

teaspoon

Pepper

1/2

teaspoon

Dried Basil

1/2

teaspoon

Dried Thyme

2

teaspoons

Worcestershire Sauce
Instructions
In a large stock pot brown the ground beef with the chopped onions. Drain any fat.

Add the rest of the ingredients and simmer 1-4 hours, adding water as needed.

Serve warm with a slice of french bread.
The Cost of this Hearty Hamburger Soup Recipe
Ground Beef $1.50
Carrots $.30
Potatoes $.30
Onion $.10
Celery $.15
Green Beans $.40
Broccoli $.20
Peas $.20
Diced Tomatoes $.60
Garlic $.08
Seasonings $.15
The cost of making the full recipe is $3.99 or just $.50 a serving. Not bad at all for a delicious soup dinner. Pair this nice bowl of soup with this homemade french bread recipe and fruit and you have a full dinner for just about a $1 each person.
This hamburger soup recipe sure does fit the description of a frugal recipe. Plus since it uses so many vegetables and just a little meat, it is good for you too.
What's your favorite frugal soup to make? Leave me a comment below and let me know.
Other Soup Recipe to Try
Beef Stew
Split Pea Soup
Corn Chowder with Bacon

Pin it for Later….