Beef stew is one delicious comfort food. There is just something about a nice hearty and warm bowl of stew on a cold winter or spring day. It warms you up and fills you up at the same time. If you don't have a favorite stew recipe try this recipe for homemade beef stew. It's one I've been making for years and it's easy because it's made in a slow cooker.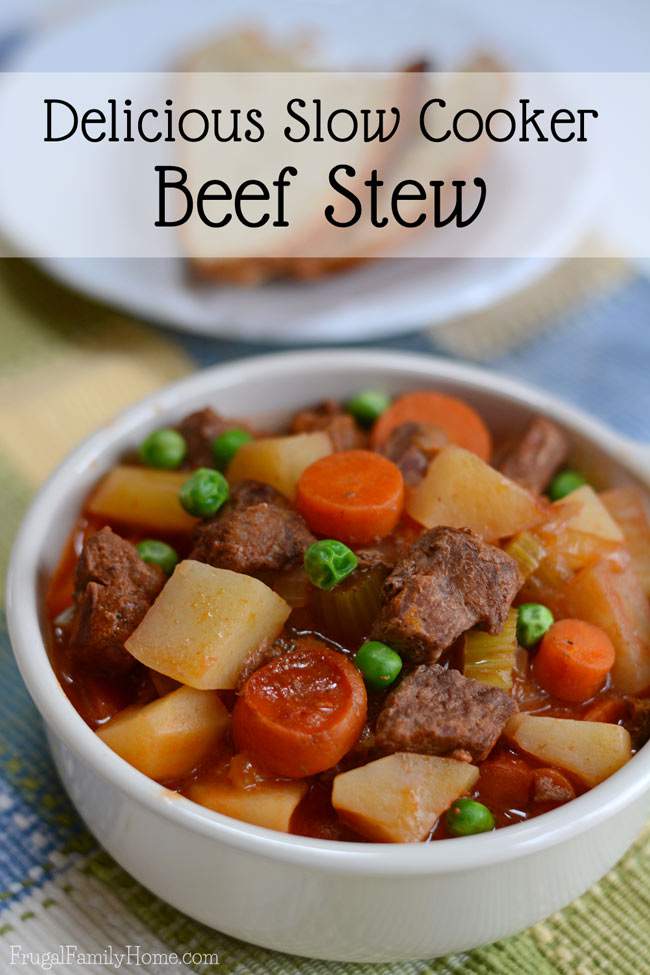 Beef stew is a dish I'm really picky about. I make it only in the slow cooker so the meat gets nice and tender and the flavors meld together nicely. I've made beef stew on the stove top and it just doesn't turn out as good as the slow cooker version. My family was just so-so about the stove top version but gobbled up the slow cooker beef stew. Plus the delicious aroma that spreads through the house as this beef stew slowly simmers in the slow cooker makes you look forward to digging in.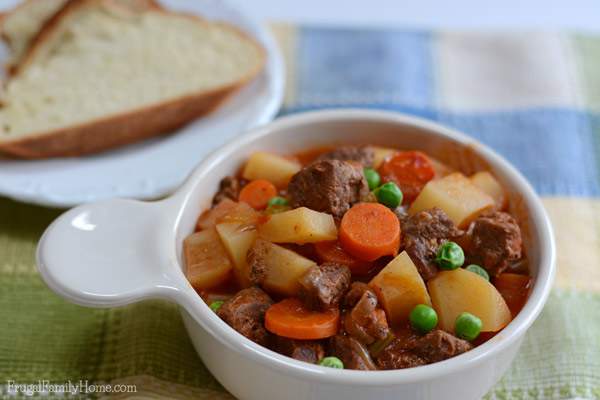 Making homemade beef stew isn't that expensive at all. You can see the full cost breakdown below the printable recipe. I think you might be surprised at how economical this dish is.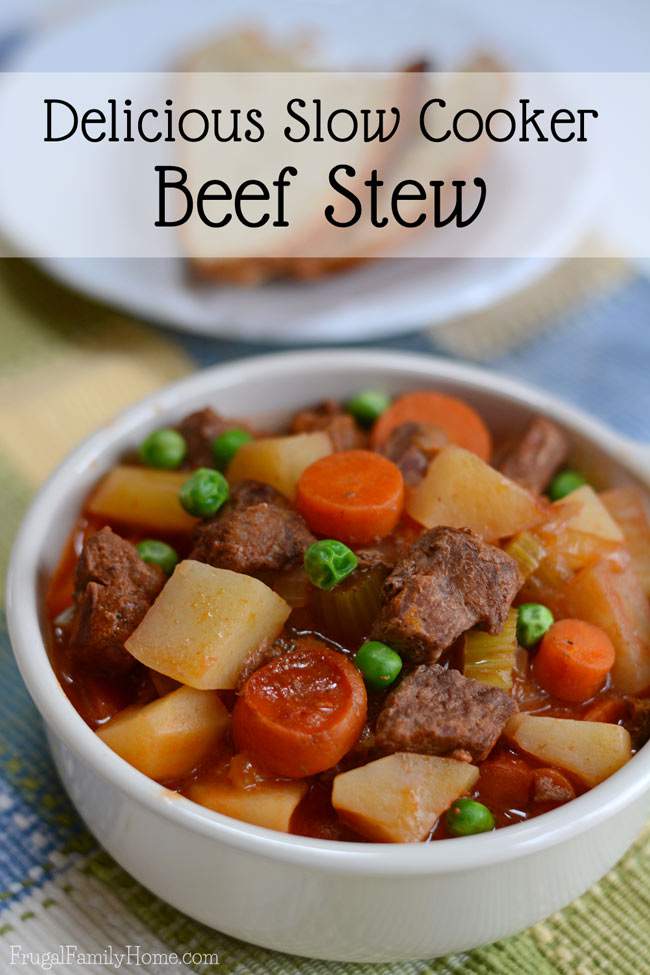 Simple and Delicious Slow Cooker Beef Stew
Ingredients
1

pound

Beef Stew Meat

cut into cubes

4

medium Potatoes

cubed

3

Carrots

sliced

1

medium Onion

chopped

4

Ribs of Celery

sliced

1/2

teaspoon

of Pepper

1

teaspoon

Salt

1

teaspoon

Garlic

minced

1

can Tomato Soup or Diced Tomatoes with Juice

1/3

cup

Water

if using tomato soup

1

teaspoon

Worcestershire Sauce

1/2

cup

Frozen Peas

thawed
Instructions
Place the beef stew meat in the bottom of the slow cooker.

Sprinkle the beef with the salt, pepper, garlic and Worcestershire sauce.

Layer the vegetables on top all except the frozen peas.

Mix the soup with water and spread on top of the vegetables. If using canned tomatoes add on top of the vegetables.

Place lid on slow cooker and cook on low for 7-9 hours.

About a half an hour before ready to serve stir in thawed peas.
The Cost Breakdown of this Slow Cooker Beef Stew Recipe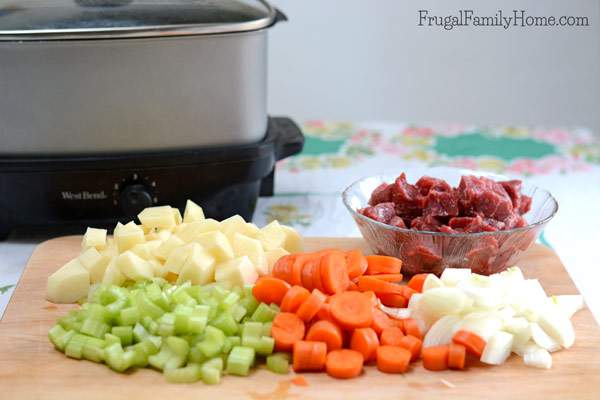 I try to make delicious but inexpensive meals for my family. Doing this helps to keep our overall grocery budget low but we still get to enjoy some really great meals. While this recipe isn't cheap it is inexpensive to make. If you can find the beef on sale at under $4 a pound, which I see it at a few times a year, you can make it even less expensive. Here's what each ingredient cost and how many servings we usually get out of the recipe.
Beef Stew Meat $3.99
Purchase a beef roast when it's on sale. I find beef roasts for around $3-4 a pound on sale. Then cut the beef roast up into cubes and package into one pound packages for the freezer. If you do the cutting yourself instead of buying ready cut stew meat you can save about $1-2 a pound.
Potatoes $.25
I purchase russet potatoes for around $.25 a pound. Sometimes I can find a good deal on red potatoes or Yukon gold potatoes. You can use any variety of potatoes you prefer in this recipe.
Onion $.20
When buying onions for recipes you might find them to be a better deal by purchasing a full bag of onions instead of individual onions. I usually purchase 3-5 pound bags at the store and they will keep about a month or so. I can usually find onions for $.50 or less a pound.
Celery $.25
Celery is one item to watch prices on. Sometimes you can get a pound of celery hearts for less than buying one bunch of celery. Be sure to compare the price per ounce before you purchase.
Carrots $.25
Carrots are so versatile they can be used in soups or stew. They are wonderful grated on top of salad. They also make a great snack when dipped in peanut butter or dip. I like to keep carrots on hand at all times. I usually pay about $.50 a pound for the carrots I buy.
Tomato Soup or Diced Tomatoes $.60
If you like tomato soup you can use it in this recipe with the 1/3 cup water. If you would like to avoid the tomato soup use a can of diced tomatoes instead. The cost of each item is usually the same.
Seasonings $.50
When I'm doing the breakdown of seasonings I usually lump them all together and usually account for $.50 for all the seasonings unless one of the seasonings is an expensive one.
Frozen Peas $.20
Frozen peas are another item I like to keep stocked in my freezer. Like carrots that are pretty versatile. I use them on salads, in soups, stews, and casseroles. When you see them on sale be sure to grab a bag or two.
Total Cost of the Beef Stew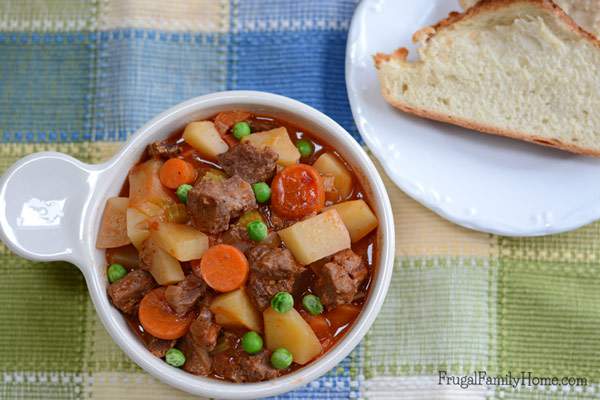 To make this recipe that will easily feed our family of four costs just $6.24 or $1.56 per person. I will usually make a loaf of bread to serve alongside this dish and serve fruit with it too. We will usually have enough leftover for one more serving so if you are a family of 5 you might not need to adjust the recipe at all.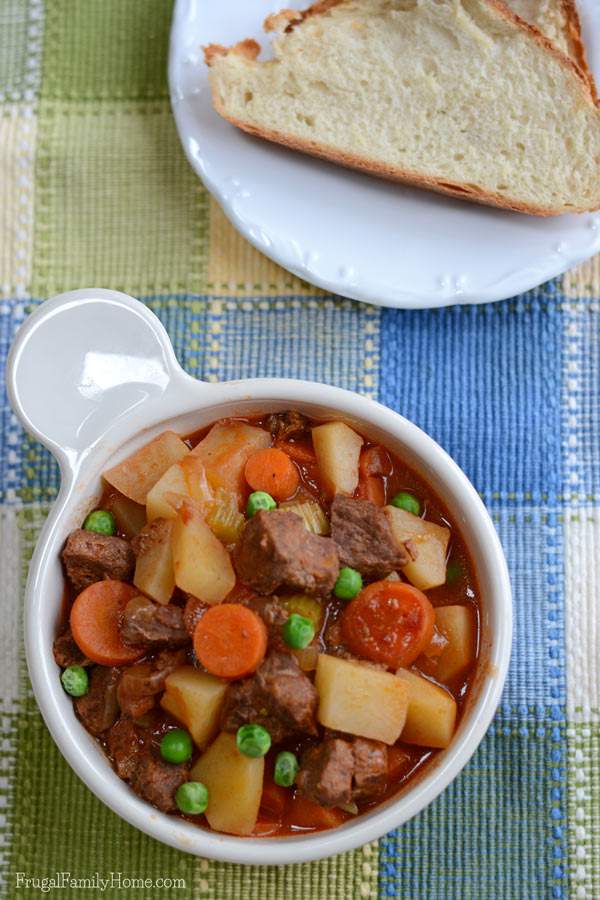 The next time you see beef roast on sale be sure to pick up an extra one and cut it up for beef stew meat for the freezer. Then when a cool spring day comes along you'll be prepared to make the simple and delicious slow cooker beef stew recipe for your family. It's simple but so delicious.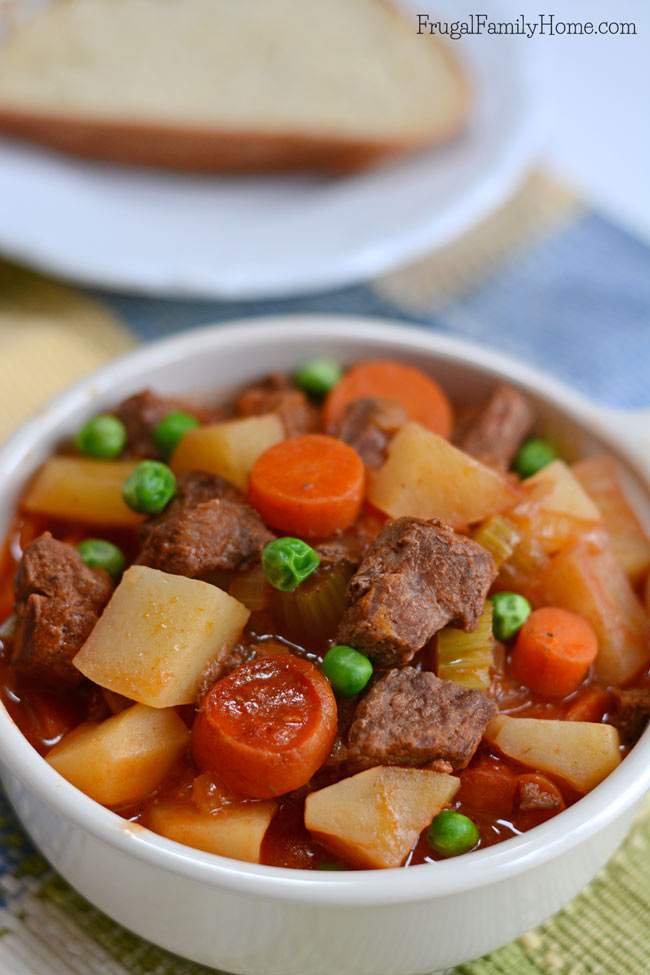 What is your favorite stew or soup to make? I know for our family split pea soup comes in at a close second to this slow cooker beef stew recipe.
More Soup Recipes You'll want to Try,
Potato, Corn, and Bacon Chowder
Subscribe and you'll get Recipes
sent right to your inbox!
Click the button below and fill out the form.