Making a special treat around the holidays is always fun. It's fun to do something special for the holidays like making popsicle flags for decorations or a patriotic pretzel snack mix to serve at a barbecue.
This patriotic pretzel snack mix is the perfect blend of sweet and salty, with a little chocolate added. Because how can you really go wrong with chocolate?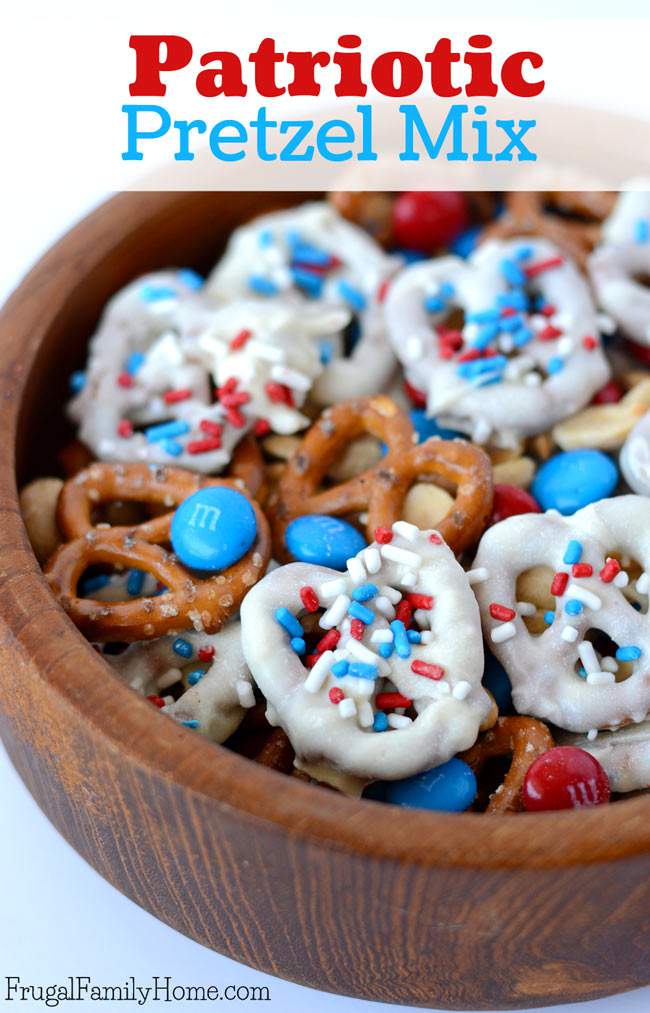 Now if you've been reading my blog for a while, you know I share easy to make recipes. I'm busy just like you and when I make something I don't want it to take all day long to make.
Plus when I make an easy recipe the kids can help too, which is really great.
If you are looking for an easy recipe to make for snacking on while everyone is waiting for the fireworks to start or for the burgers to get done on the grill, you need to give this recipe a try.
The hardest part of this recipe is dipping the pretzels and even that isn't too hard.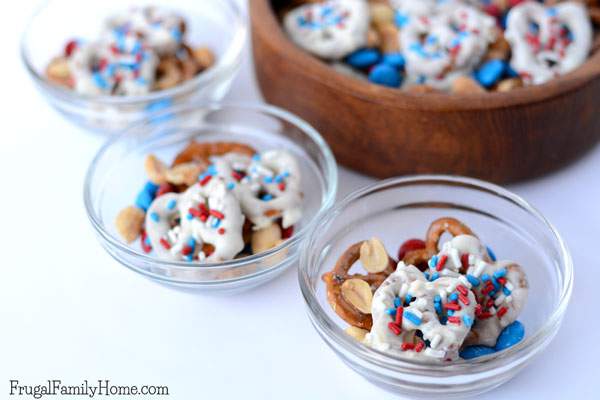 I made a quick video for this recipe that you can watch below. Be sure to scroll down to find more tips on making this recipe and to print the recipe too.
Tips for Making the Patriotic Pretzel Snack Mix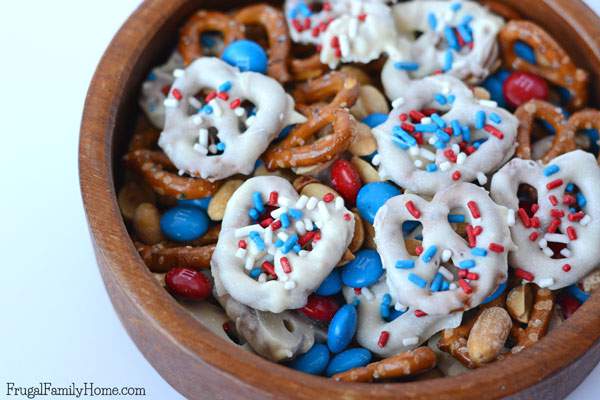 I discovered when dipping the pretzels if you use a fork and tap it gently on the side of the pan the extra candy coating drips off really nicely.
Then before you place the coated pretzel on the lined cookie sheet drag the bottom of the fork across the edge of the pan.
It works well to get the excess coating off and makes the pretzel look nice. Although my family didn't complain about any of the extra candy coating that was on ours and I doubt anyone else would complain either.
Be sure to sprinkle the coated pretzels right away with the sprinkles. If you wait too long and the candy coating starts to set up, they won't stick well.
You can purchase red, white, and blue M&M's (my affiliate link) or you can purchase a couple of bags of M&M's and take out the blue and red ones.
You can add other items to your snack mix to customize it. Maybe you like Skittles instead of M&M's or almonds instead of peanuts. Or maybe you want to have not nuts at all and add in dried blueberries and dried cherries instead.
Change it to fit what your family likes and what they will eat.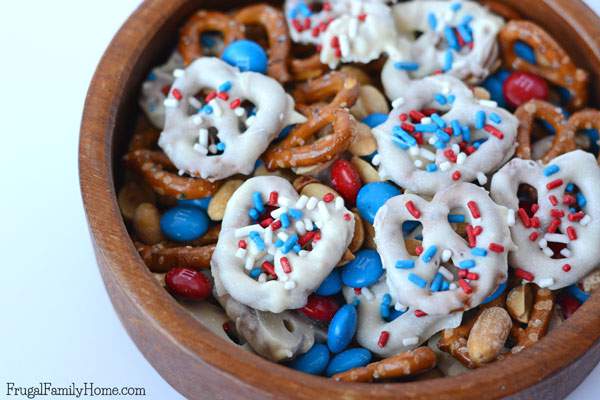 Fast and Easy Patriotic Pretzel Snack Mix
Fast and Easy Patriotic Pretzel Snack Mix Author: Shelly
Ingredients
60

Pretzels for Dipping

8

ounces

Candy Coating or Almond Bark or Vanilla Chips

Red

White, and Blue Sprinkles

1

cup

Peanuts or Other Nuts

1

cup

Blue and Red M&M's

1

cup

Pretzels without Candy Coating
Instructions
Cut the candy coating into small pieces add it to a saucepan.

Heat the candy coating on the stove over medium-low heat stirring constantly until the candy coating is melted and smooth.

Place a few pretzels at a time in the candy coating and flip to fully cover them.

Lift the pretzels out one at a time, with a fork letting the extra candy coating fall off.

Place the dipped pretzel on a lined baking sheet and sprinkle with the sprinkles.

Continue with the rest of pretzels to be coated. You may need to reheat the candy coating if it starts to harden up before you are done.

Let the candy coating set up on the pretzels until firm then remove them from the lined pan.

Add the coated pretzels to a large bowl.

Add the uncoated pretzels, peanuts, and M&M's to the bowl.

Mix and serve.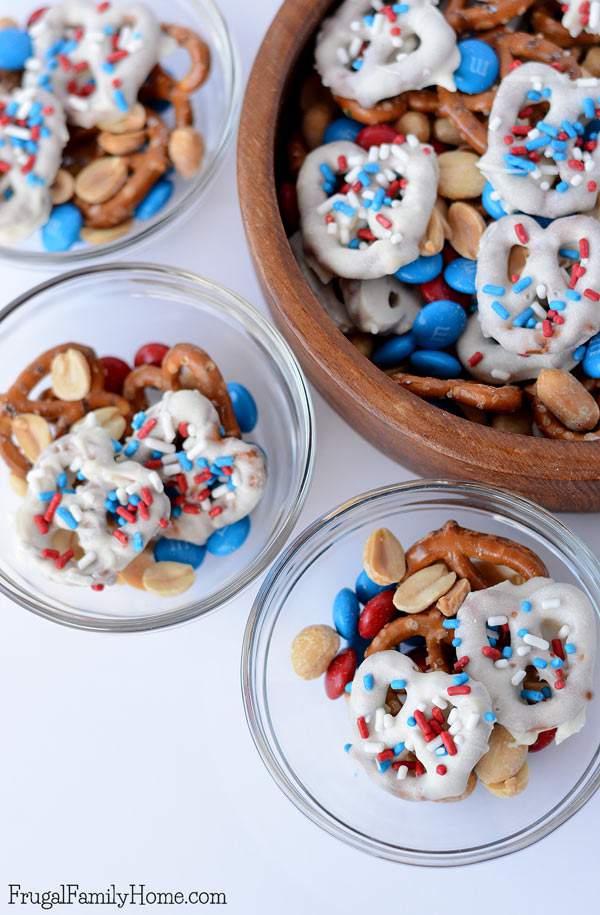 What treats do you like to make for the 4th of July holiday?
More Holiday Recipes to Try,
Red, White, and Blue Brownie Cups
Red, White, and Blue Blondies
Firecracker Rice Krispie Treats
Disclosure: Some of the links in this post are my referral links. When you use them I can make a little money at no extra cost to you. Thanks for you support in this way.
Subscribe and you'll get Recipes
sent right to your inbox!
Click the button below and fill out the form.