Having a quick breakfast waiting for you in the freezer is such a good thing, on a hectic morning. Having an easy recipe that is freezer friendly makes it better. If I have english muffins on hand, I will make these breakfast sandwiches with them. If not I make my own biscuits and then add the rest of the ingredients.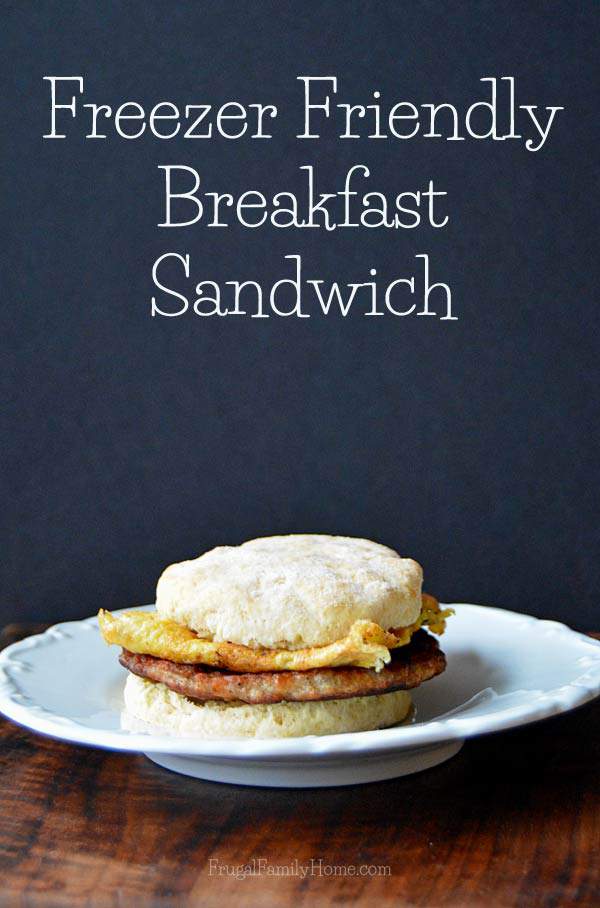 We all have hectic mornings, when things just don't go well right from the start. On morning like these, I like to be able to grab something quick to make for breakfast, like these easy breakfast sandwiches from the freezer.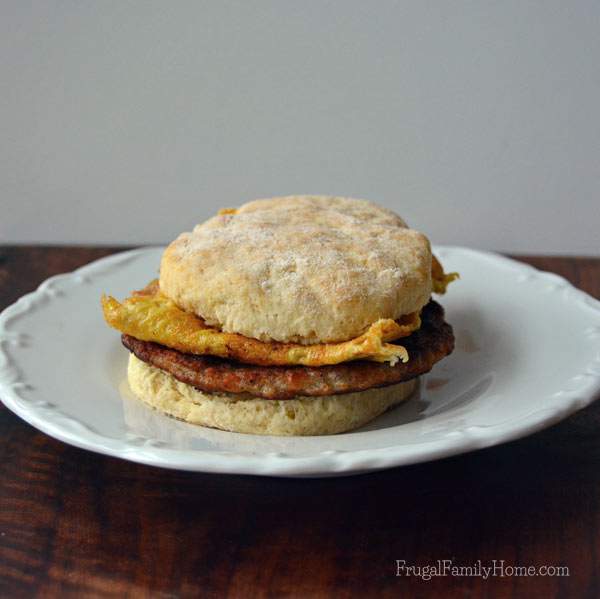 These are so easy to make. So easy you don't even need a recipe. We usually like to have sausage and eggs on ours but bacon and eggs would be equally good. Maybe even cheese, eggs, and ham.
To make these I start by cooking the sausage patties. I like to purchase the ready made ones at the store in the freezer section because they fit the muffins or biscuits so well.
But if you can use bulk sausage and cook it into patties. I know I just have a hard time getting my homemade sausage patties thin enough so they aren't too bulky for the kids. I also have trouble figuring out how big to make them so when they are cooked they are the right size and not too small. Hence the reason, I like the frozen patties better. 🙂
There's a couple of ways to prepare the eggs. You can scramble them, my favorite method. Or you could pan fry the eggs or even cook them in a muffin tin in the oven. I find the scrambled method to be the easiest.
For the bread, I like to use english muffins or homemade biscuits. My family prefers to have the breakfast sandwiches on english muffins but if we don't have any english muffins on hand, the homemade biscuits and quick to make.
Assembling for the Freezer
Once I have my biscuits or muffins, eggs and sausage ready to go, it's time to assemble them. I add one sausage patty to the english muffin or biscuit then add some scrambled egg on top, that's it. I don't put any sauces on the breakfast sandwiches I'm making for the freezer. We add what we want when it's time to eat them.
I usually will wrap them individually in plastic wrap, then place all of them into a freezer bag. To make sure they are protected from freezer burn.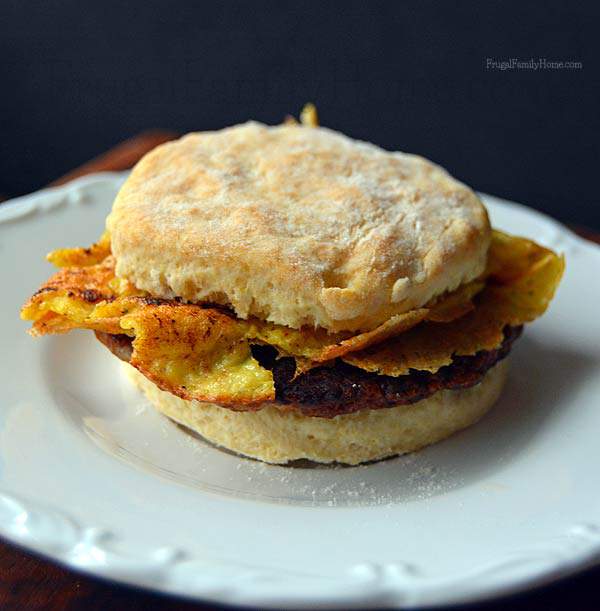 Preparing the Breakfast Sandwiches
To make prepare the breakfast sandwich, I thaw them overnight in the refrigerator, then heat in the microwave until heated through. Usually a minute or two on 50% power, works well.
What kind of breakfast items do you make for the freezer?
Subscribe and you'll get Recipes
sent right to your inbox!
Click the button below and fill out the form.