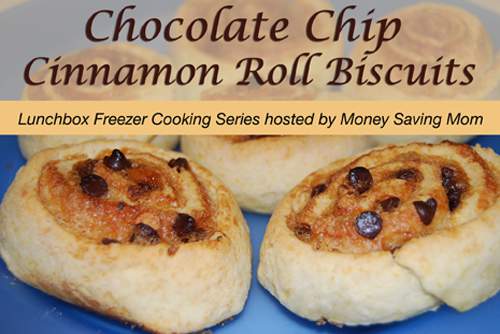 This recipe is one I learned how to do back in Home Ec. in middle school. I have since lost the original recipe but I use the 3-2-1 Biscuit recipe below to make these. Instead of cutting them into biscuits just roll out the dough and spread with butter (I use BestLife Buttery Spread). Then add brown sugar and sprinkle with mini chocolate chips. I made two batches one with cinnamon and brown sugar and one batch with brown sugar and mini chocolate chips.
Once you have your dough topping on then roll up and cut. I baked mine on a cookie sheet at 450 degrees for about 15-18 minutes. These biscuits are really good warm but are also a great alternative to cookies in a lunch. I did not add a powdered sugar glaze but you could if you wanted.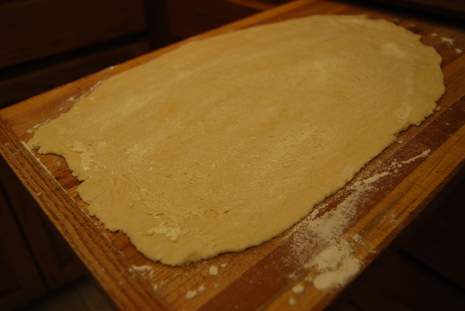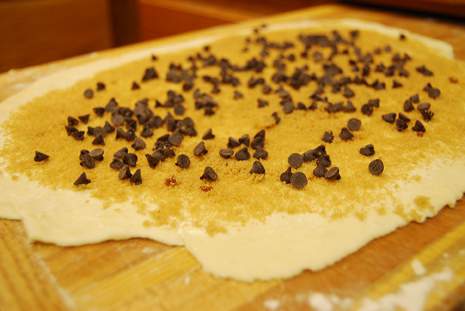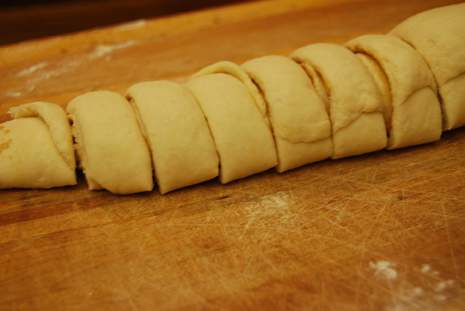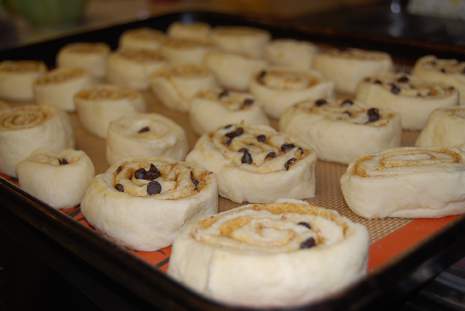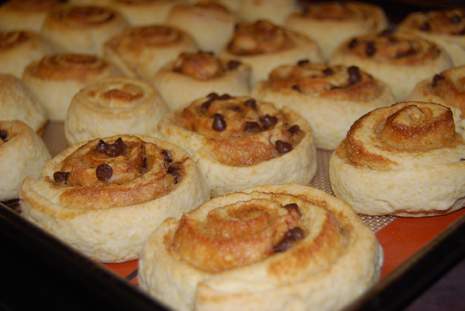 Yummy little wheels of chocolate and brown sugar.
 Here is my biscuit recipe I use to make these,
3-2-1 Biscuits
1 teaspoon of Salt
2 cups of Flour (white or whole wheat or whole wheat pastry flour or a mix)
3 teaspoons of baking powder (if I am using whole wheat I like to add an extra teaspoon)
1/3 cup water
1/3 cup milk (we use soy milk to make this dairy free)
1/3 cup of oil ( I have used a little more milk and water and have used as little at 1/4 cup with good results before)
Mix all the dry ingredients into a bowl. Measure out the wet ingredients into a one cup measuring cup. Add the liquid to the dry ingredient stir to moisten all the flour. Then turn out on a floured board or counter and knead about 6-10 times. Then press out into about 1/4 inch thick. Cut the biscuits with a glass or biscuit cutter. I just use a knife and cut into square of 12 -16 (12 for the beef biscuit cups)
Bake on 450 for 12-18 minute until golden brown on top and bottom.
These are also great for a quick breakfast as they come together quickly.
[signoff]
Other posts in this series
Lunchbox Freezer Cooking, Dairy Free Mac and Cheese Cups, Day 1
Lunchbox Freezer Cooking, Peanut Butter and Jam Sushi Rolls, Day 2
Lunchbox Freezer Cooking, Beef Biscuit Cups, Day 3
Lunchbox Freezer Cooking, Corn Dog Muffins, Day 4
Lunchbox Freezer Cooking, Dairy Free Mini Lasagna, Day 5
Lunchbox Freezer Cooking, Bean and "Cheese" Burritos Day 6
Lunchbox Freezer Cooking, 3 Ingredient Chocolate Mini Muffins Day 7 
Lunchbox Freezer Cooking, Pizza Pinwheels and Sticks Day 8
I linked up at Money Saving Mom