Salsa and chips are such a yummy snack and not too bad for you too. Especially when you make your own easy, fresh salsa from fresh vegetables. Here's how to make the best fresh salsa.
Canned salsa is ok, but sometimes you want something that tastes fresh. Has a bright flavor and not the cooked texture. Am I right?!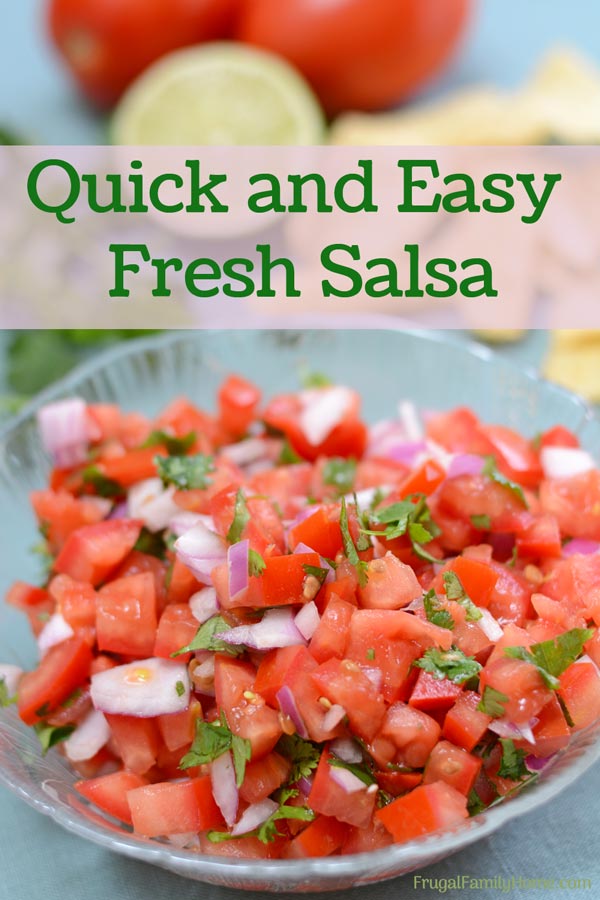 This recipe is a super easy salsa to make with all fresh ingredients. But the best part is it's so quick to make. Even with the chopping it only takes about 3 minutes from start to finish.
If you use a food processor, it can be even quicker.
With summer coming soon the tomatoes will be red and ripe right off the vine. That's when this salsa is the best.
I wasn't sure how my son would receive this salsa. He hates onions. When he saw the onions, he said "Oh, that has onions, I'm not going to eat it." I said, "Ok, that's fine, but it's awful good. You should try one bite and see."
He reluctantly took one small tiny bite. And exclaimed, that's good. Then he ate half of the bowl of this easy, fresh salsa recipe on his own.
I think that can tell you how good this recipe really is.
What Do You Put into Homemade Salsa?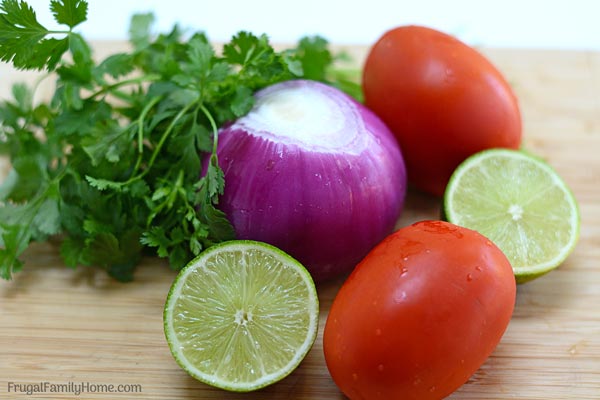 You'll need tomatoes. I've found the best tomatoes for this fresh salsa recipe is Roma or paste tomatoes. Paste tomatoes are more meaty than other tomatoes and work great for salsa.
You'll also need onions. You can add in a purple onion for a nice blend of colors and flavors. Or if you have a Walla Walla sweet onion on hand, it would work great too. Maybe not as colorful but the flavor difference is worth the loss of color.
Cilantro is also needed. If you haven't purchased it before it comes in bundles in the herb section at the store. It looks like flat leaf parsley.
The last ingredient you'll need is lime juice. I buy a lime or two and squeeze it right into the salsa. But if you only have lemon that will work well too.
How to Make Homemade Fresh Salsa
I made a quick video of the recipe, so you can see how easy it is to make. Watch it below or scroll on for the printable recipe and tips to vary the flavors.
Grab the printable easy homemade salsa recipe, keep scrolling for flavor variation ideas below…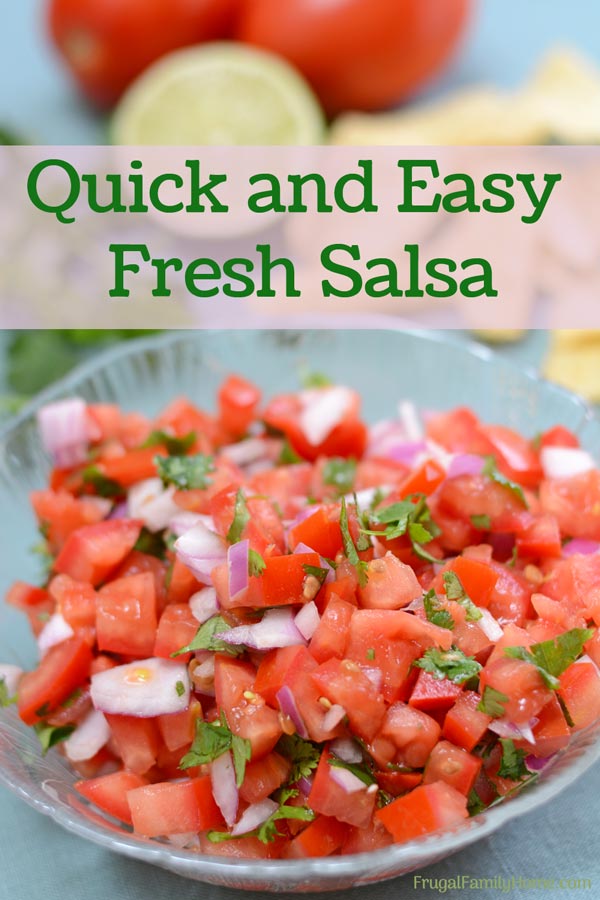 How to Make the Best Fresh Salsa
Ingredients
3-4

Tomatoes

diced

2

tablespoons

Cilantro

chopped

1/2

medium Purple Onion

1/2

of a Lime

1

teaspoon

salt

optional
Instructions
Place diced tomatoes, chopped onions, and cilantro into a medium bowl.

Squeeze the lime juice over top.

Sprinkle with salt if desired.

Stir until well blended.

Let sit in the refrigerator about 30 minutes.

Stir again and serve.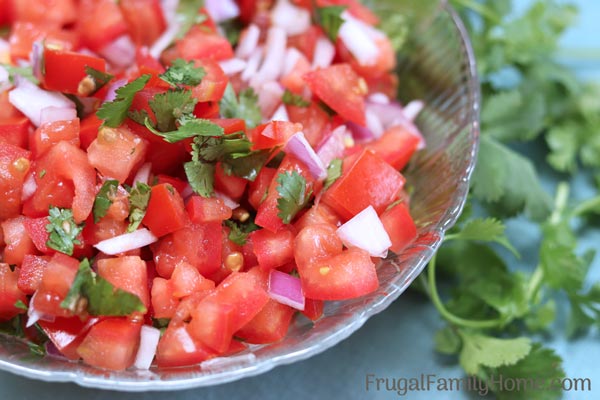 Customize your Homemade Fresh Salsa with these Ideas
I think the basic recipe above is the best fresh salsa recipe you can make. But maybe you like a little more spice or garlic or… If that's the case check out these suggestions below.
Don't Care for Lime?
Try adding lemon juice instead or for an even different spin how about orange juice instead? It will add a little sweetness along with the tart.
Want more spice?
Try adding a little jalapeno pepper to the salsa. Remove the seeds for less heat, leave the seeds in for more heat. Or use any hot pepper you'd like to spice the fresh salsa recipe up.
Love Garlic?
You can add 1-2 cloves of fresh minced garlic. My hubby is a big garlic fan and garlic is a great addition. Want a more mellow garlic flavor? Try roasted garlic instead. You still get the garlic flavor but not so much bite, like the raw garlic.
Less Chunky Salsa…
If you like less chunk and a more smooth salsa, try blending part of the tomatoes.
Place half the tomatoes in the food processor to blend them to a liquid then add the rest of the ingredients and pulse a few times.
It will smooth out the salsa but still keep the fresh taste.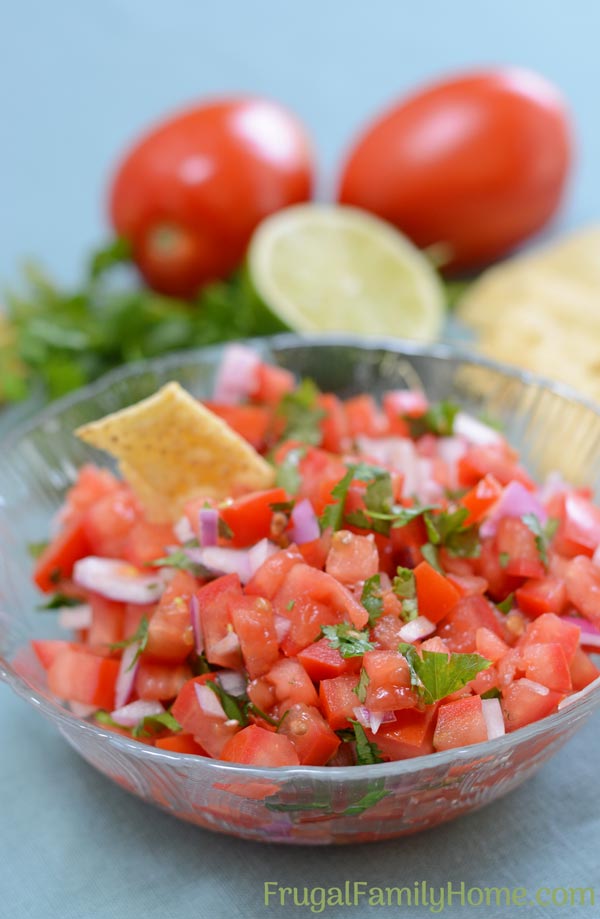 Storing and Freezing this Fresh Salsa Recipe
This fresh salsa recipe is yummy and doesn't last long at our house. But it's easy to store and yes you can freeze it too.
How long can you keep fresh salsa?
You can keep fresh salsa in the refrigerator for 5-7 days. Although if you family goes through salsa likes ours, you'll be lucky if it lasts two days.
Can You Freeze Fresh Salsa Recipe?
Yes, you can freeze this fresh salsa recipe. But the texture will change a little and the flavor won't be as bright as fresh made. Place it into a freezer container and freeze.
After thawing the fresh salsa will be a little watery. If you'll be using the salsa for dipping with chips, drain off the extra liquid and then serve.
If you'll be using the thawed fresh salsa recipe in a recipe or cooking with it, don't worry about draining the liquid off. Use it as is.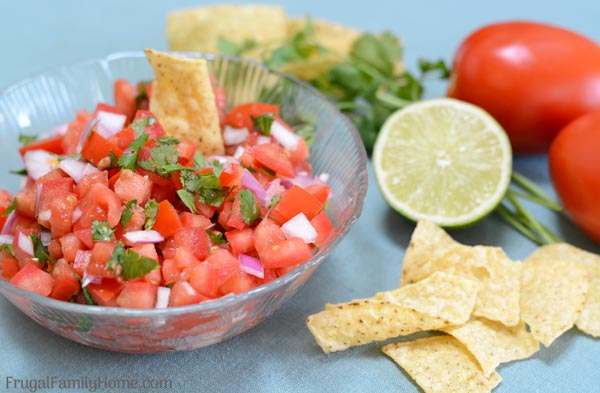 How Much Can you Save by Making Homemade Fresh Salsa
The cost of this recipe will really depend on a few things. If tomatoes are in season, it will cost less and taste better. But the rest of the ingredients cost stay pretty steady all year long.
Here's the recipe cost breakdown…
Tomatoes, $.99/lb used 3 large Roma Tomatoes (about 3/4 a pound) $.74
Purple Onion $.79/lb used half about 4 ounces $.20
Cilantro $.39 a bunch used 1/4 of the bunch $.10
Lime $.33 used half $.17
That bring the total for this recipe to $1.21. The recipe makes about 12 ounces of salsa and serves 6 people for a total of $.20 a serving.
That's a good price for a healthy, delicious, fresh salsa.
Store-bought fresh salsa in our area costs $3.00 to $4.50 for 16 ounces or $.38 to $.56 a serving. So you can save about half the cost by making it yourself.
I'm really surprised at that cost difference. I thought it would be much closer to the store-bought salsa prices. If you grow your own tomatoes, the price could be even less.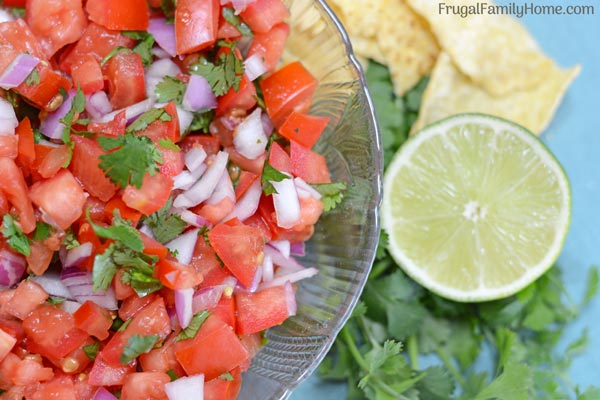 As you can see this fresh salsa recipe is so simple and quick to make. I think once you try it you'll think it's the best fresh salsa recipe too. Plus you can customize it to fit your family's tastes.
More Recipes You'll Want to Try..