Does your family love tacos as much as ours does? If they do you're going to love this recipe. It's a quick and easy recipe for taco bowls.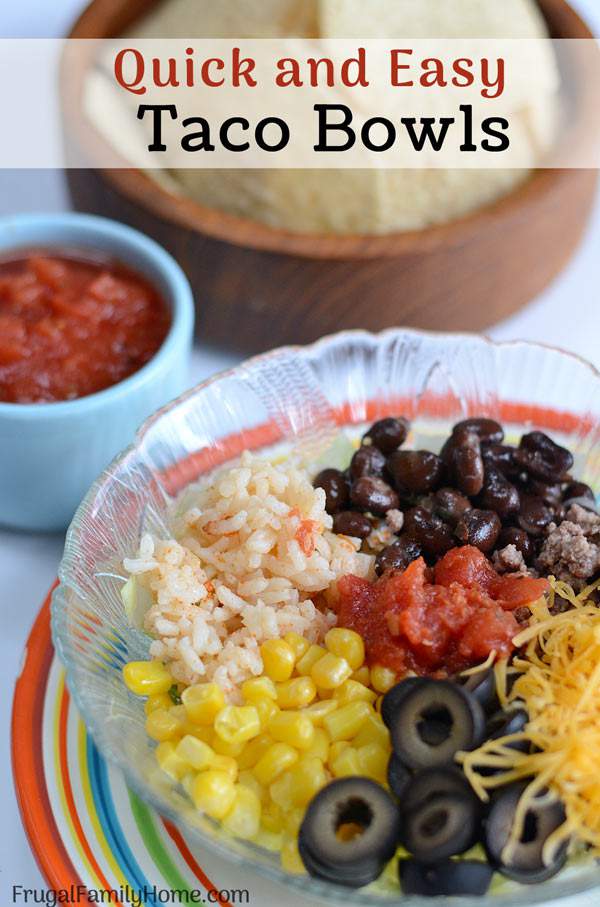 If you have picky eaters this recipe will be great for you. I've found when my picky eater makes his own meal, he will eat it better, because he made it.
Even if you don't have a picky eater I'm sure you'll enjoy this recipe. You can customize it with your own favorite ingredients, I've included what we use in the recipe below, but other vegetables or topping can be added to easily customize the recipe.
We like to include lettuce, rice, beans, corn, cheese, and salsa. I've made a quick video to show how quickly the recipe comes together. Scroll down for the printable recipe.
Making the Taco Bowls
Start by browning ground beef. I like to add a little salsa once it's done browning and I've drained the fat.
Start cooking rice. I add a little taco seasoning to the water and then add the rice and let it cook. It adds a little flavor without any extra work. If you have Spanish rice on hand go ahead and use it. You could also use leftover rice with a little salsa mixed in.
The rest of the ingredients are easy. We use frozen corn and I heat it in the microwave to warm it up. You could use drained canned corn too.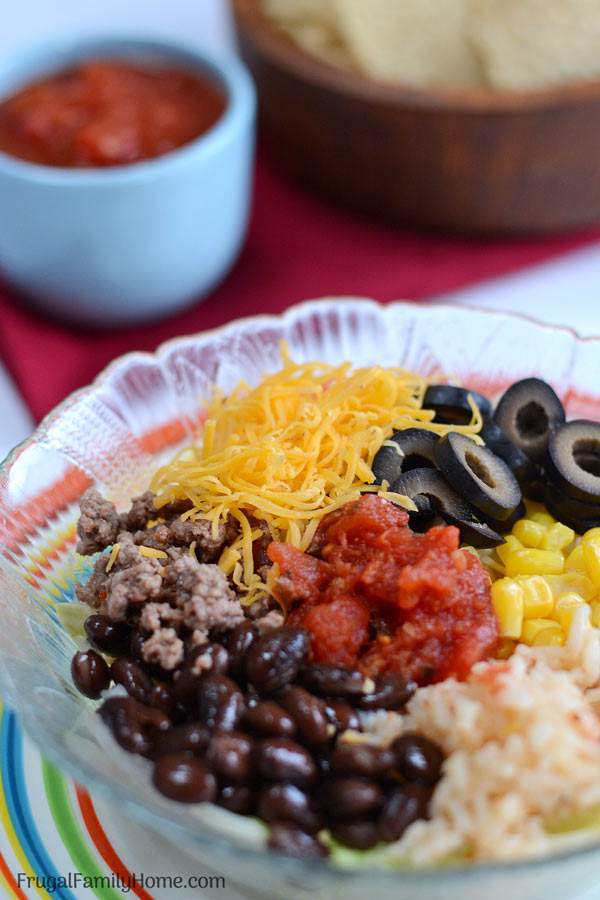 Open up a can of black beans or any beans you prefer, drain and rinse. You can heat them if you would like, but we've had them right out of the can at room temperature too.
Shred your favorite cheese to add to your bowl. I like cheddar and the rest of my family eats goat cheese.
Open a can of olives and slice the olives or purchase a can of ready sliced olives.
Wash and chop lettuce and open a jar of salsa. Now were ready to assemble.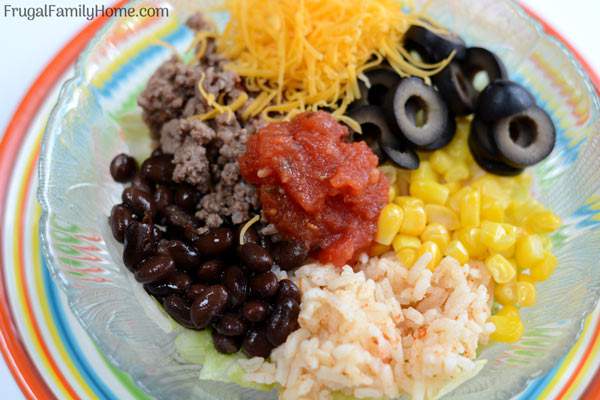 Assembling the Taco Bowls
Grab your favorite sized bowl to assemble your taco bowls. We have nice sized glass salad bowls we use.
Start by adding a good helping of lettuce. My picky eater doesn't like lettuce in his taco bowl or on his tacos so he eats the salad on the side. Crazy sounding I know but as long as he eats his veggies we are good.
Add a layer of rice or section out the rest of the ingredients on top of the lettuce. We add what we like in sections but if you prefer layers, layer the ingredients instead.
Top with salsa, sour cream or guacamole and dig in.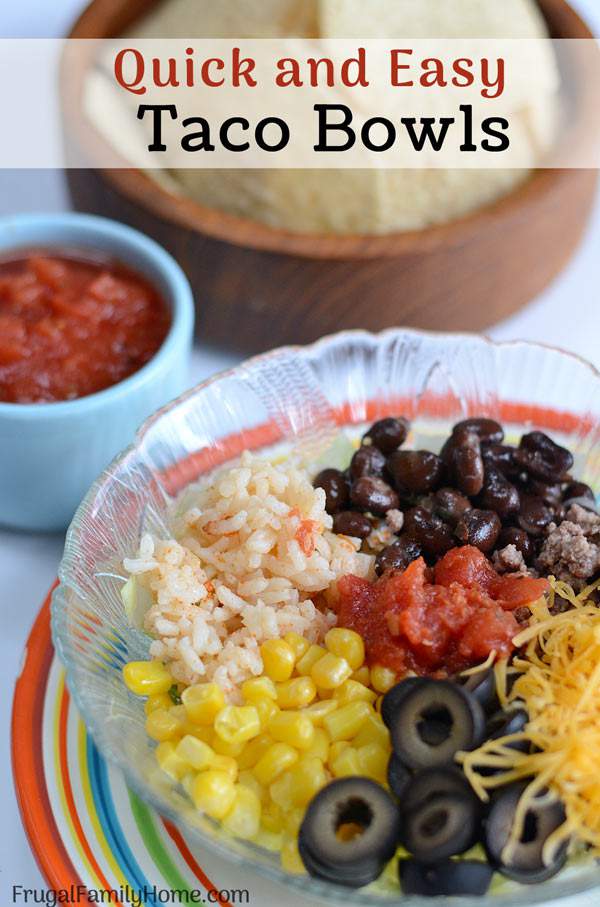 Taco Bowls with Ground Beef
Ingredients
1

pound

Ground Beef

1

jar Salsa

1

teaspoon

Taco Seasoning

1

cup

Rice

4

cups

Lettuce

chopped

1

can Black Beans

drained and rinsed

1

can Corn

drained or 2 cups Frozen Corn, cooked

1

can Olives

sliced

2

cups

Cheese

shredded

1

jar Salsa
Instructions
Add 2 cups water to a saucepan. Add the taco seasoning bring to a boil. Add the rice, stir, cover and simmer until done about 20 minutes.

While rice is cooking, brown and drain the fat off ground beef. Once cooked through stir in 1/2 cup salsa. Set aside and keep warm.

When rice is done, assemble the taco bowls.

Put 1 cup of chopped lettuce in the bottom of the bowl. Add a serving of the rest of the ingredients to the bowl in sections or layer.

Top with salsa and enjoy.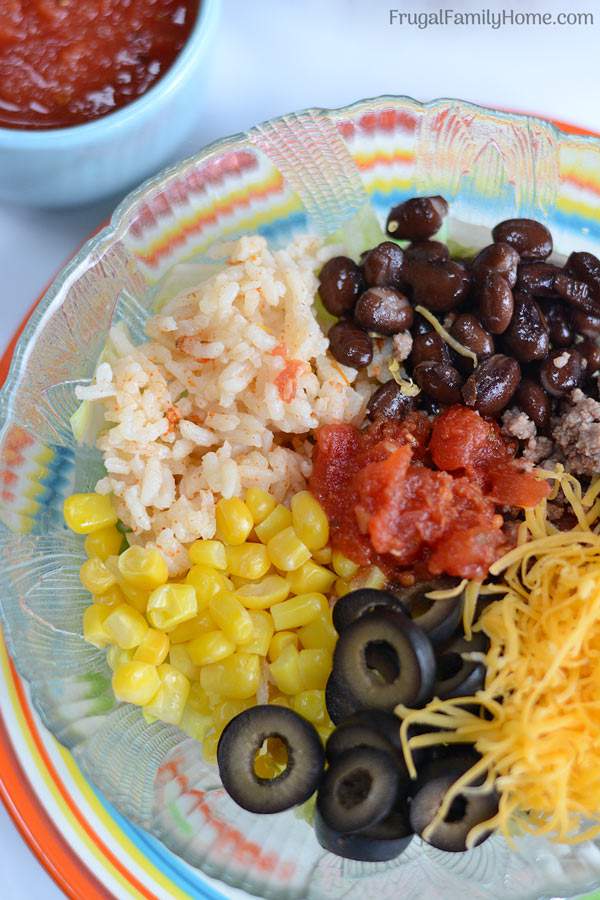 The Cost of This Taco Bowl Recipe
I try to include the cost breakdown of each recipe I share. After all, if you are trying to keep your food cost low it's nice to know how much a recipe will cost to make.
The spices below are all bulk food prices since that is how I purchase my spices. The cost of the beans and corn are for a can of each.
The rest of the prices are prices I regularly pay for the items at Winco Foods. The prices in your area may be more or less depending on where you live.
Ground Beef $2.99
Lettuce $1.00
Taco Seasoning $.05
Rice $.28
Black Beans $.68
Corn $.50
Olives $1.00
Cheese $1.00
Salsa $1.58
Total Cost for 4 Taco Bowls, $9.08 or $2.27 a bowl. That's not too bad considering you'll spend a lot more than that for a taco bowl out at a restaurant.
This is a more expensive meal than what I usually make for our family, but I do have tips below to make it even more affordable if you are on a tight budget. I use most of the tips below whenever I make this dinner.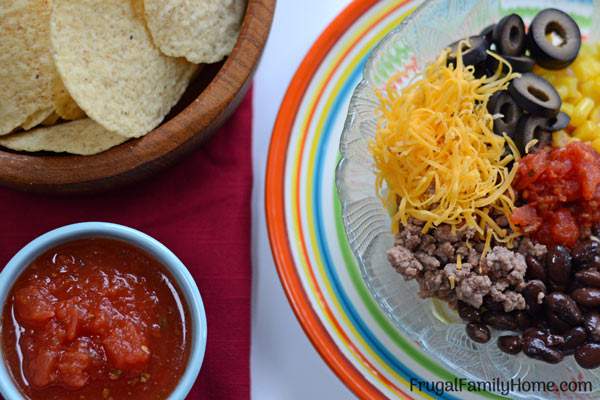 How to get this cost of this meal even lower…
Use dried beans you've cooked yourself instead of canned.
Skip the olives as they tend to be a more expensive item.
Buy the taco seasoning in bulk or make your own.
Buy the rice in the bulk foods to get a better price per ounce.
Make your own salsa with spices and diced canned tomatoes.
Buy a big block of cheese and shred it yourself.
Stock up on ground beef when it's on sale, I stock up at $2.49/lb and buy 10-20 pounds at a time.
Do you think your family would enjoy having taco bowls for dinner? Let me know what your favorite toppings would be on your taco bowl.
Other Quick and Easy Dinner Ideas
Chili Baked Potato Bar
Hamburger Soup
Cheeseburger Macaroni
Subscribe and you'll get Recipes
sent right to your inbox!
Click the button below and fill out the form.