A quick homemade version of cheeseburger skillet dish. It's almost as quick as the boxed dinner meal but tastes so much better and is dairy free.
Quick meals can be hard when you don't want or can't eat the box meals that make getting dinner done so easy.
But this skillet dish is almost as quick as a boxed meal but so much better for you. That's what's great about this cheeseburger skillet dish, fast, easy and delicious too.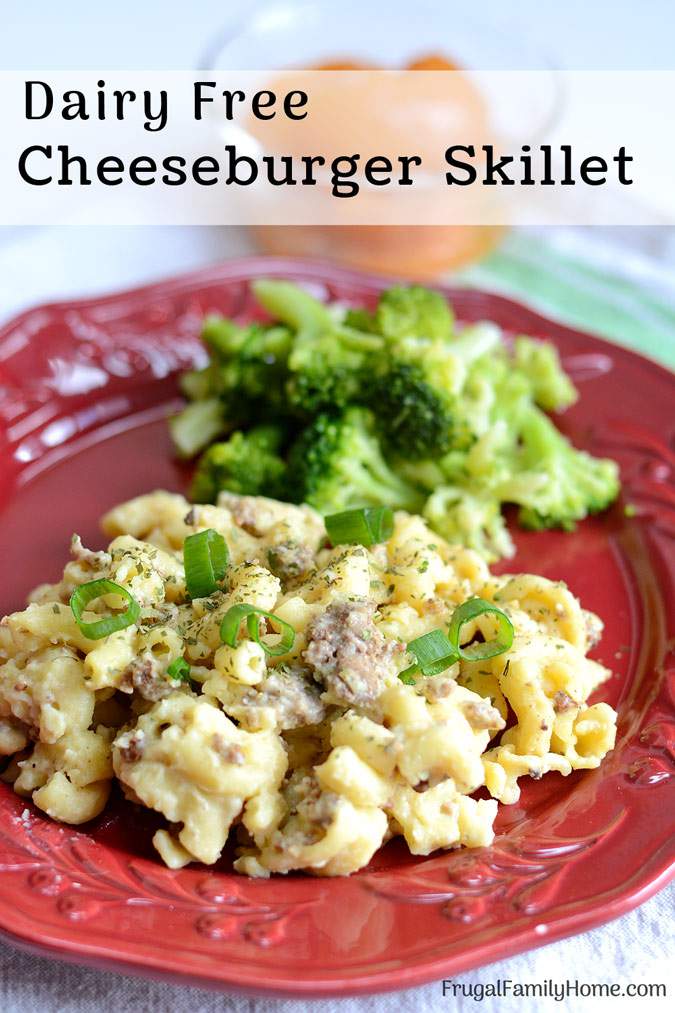 My mom was a box cooker. I don't know if it was because they were so prevalent during that time or if it was because they were so inexpensive but we had them often.
They were cheap and easy and we all loved them so my mom made them. Any night your kids don't complain about dinner is a good night, am I right?!
This cheeseburger skillet dish is similar to the cheeseburger macaroni that I used to eat as a kid. But one difference, it's dairy free so my kids can eat it.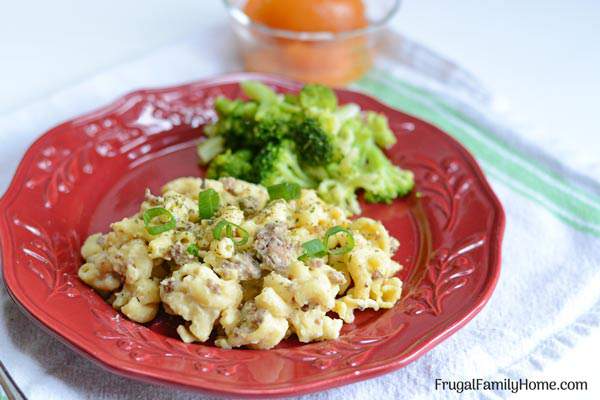 My family has to eat dairy free but you could always substitute your favorite cheese sauce recipe for the vegan cheese sauce if you would like. Or even use a can of cheese soup. To make this dish vegan, switch out the ground beef for TVP and you'll be set.
The Easy Steps for this Cheeseburger Skillet Dish
This cheeseburger skillet dish is easy to make, just like it's boxed meal counterpart. Just a few easy steps and about 25 minutes and dinner will be ready
1. Make the cheese sauce. Like I mentioned earlier you can make a traditional cheese sauce or even use a can of cheese soup in place of the dairy free cheese sauce if you don't need to eat dairy free.
2. After the cheese sauce is made, measure the macaroni and place it in the skillet.
3. Add about a pound of ground beef that has been browned and drained. (I brown ground beef by 2 to 3 pounds at a time and freeze it ready to go). If you don't have ground beef already browned and ready to go in the freezer, brown and drain it in the skillet before you add the macaroni.
4. If you want to make this a vegetarian dish just add some re-hydrated TVP instead of the ground beef or you can add canned beans instead.
5. Add the cheese sauce to the pan and then add the water.
6. Give it a good stir to mix all the ingredients and bring to a simmer. Simmer on low for about 15-20 minutes or until the macaroni is cooked. In the last 5 minutes, you can remove the lid to let more of the moisture evaporate out so the sauce is thicker.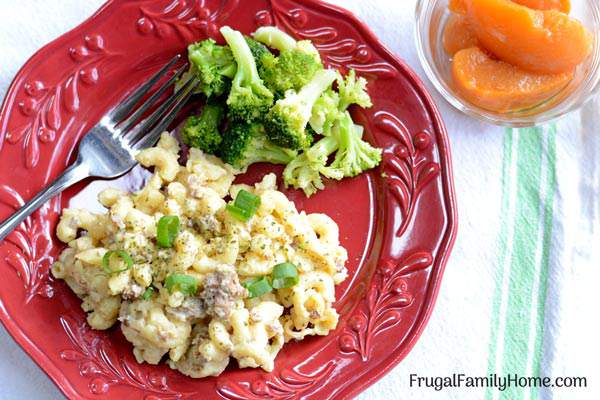 We like to serve this meal with a side of vegetables or salad and fruit. It's a quick meal that my whole family will eat without any complaints.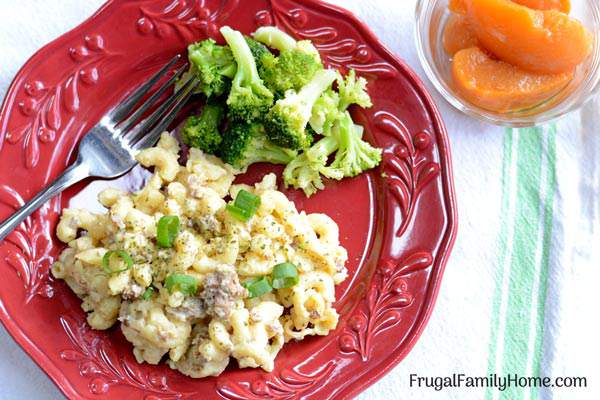 Quick and Easy Cheeseburger Skillet Dish
Ingredients
2

Cups

Macaroni Noodles

1

pound

Ground Beef

browned and drained

2 1/2

cups

Water
Instructions
Make the Nutritional Yeast Cheese sauce.

While the cheese sauce is cooking add the macaroni to a skillet with a lid. Then add in the browned ground beef.

Once Cheese Sauce is done add to skillet and then add the water. Stir to combine.

Cook covered on med-high until mixture comes to a boil. Reduce heat to low and simmer with a lid on for 15-20 minutes.

Remove lid for the last 5 minutes of cooking to thicken the sauce if needed.

Serve and enjoy.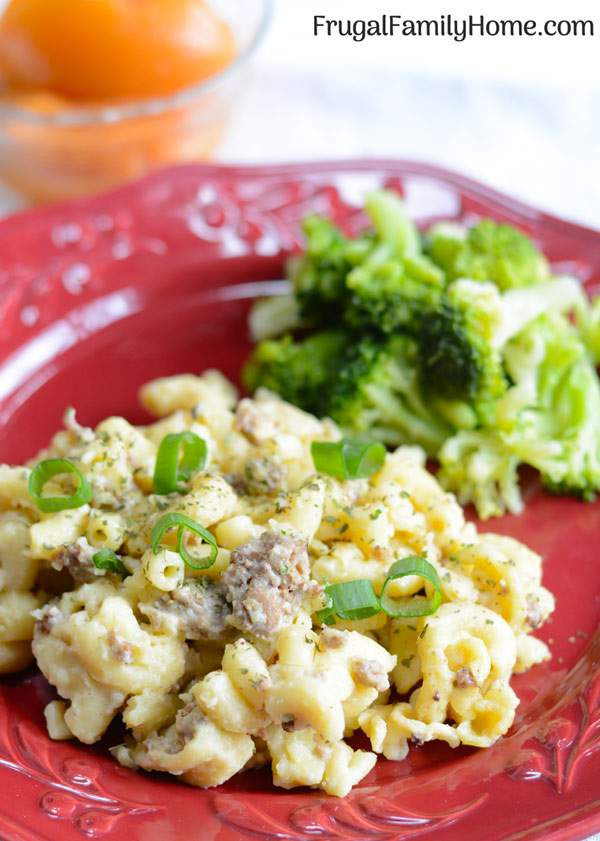 What is a quick dish you make on busy days for your family?
Other Quick Skillet Dishes
Hamburger Macaroni Skillet
Pan Fried Pork Chops
Skillet Pizza Pockets
Subscribe and you'll get Recipes
sent right to your inbox!
Click the button below and fill out the form.