Don't we all love frugal meals? Frugal meals like this hamburger skillet dish can help to keep your grocery bill lower. With easy and frugal meals to make for your family, you can feed them well and keep your budget in check too.
It's a win win.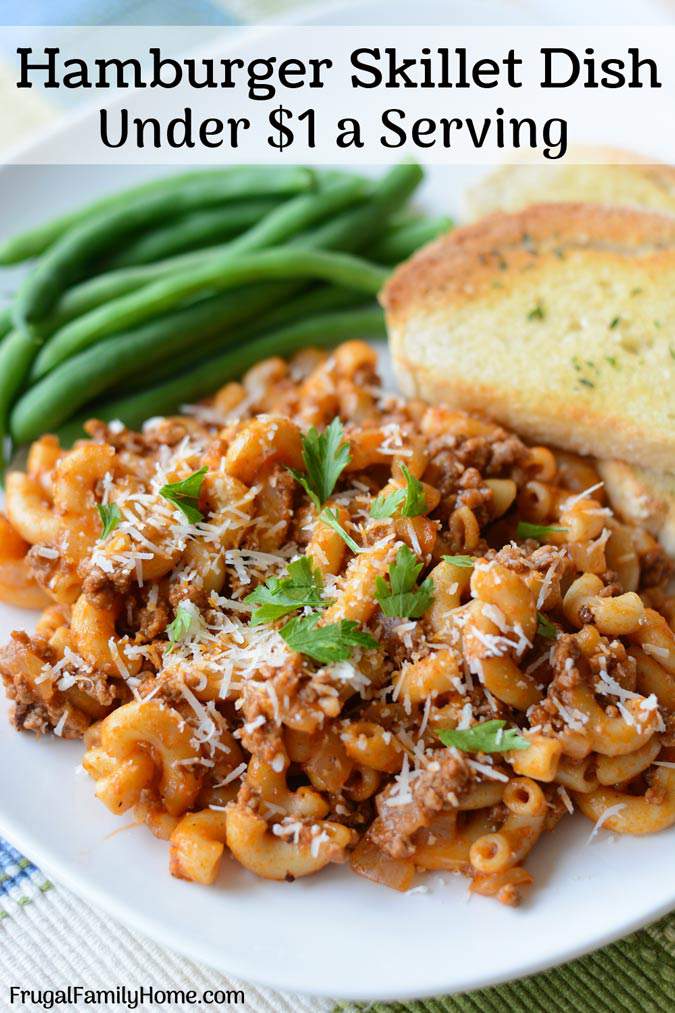 This recipe is one we eat fairly often at our home. It is easy to make. It's prepared in one skillet so there are fewer dishes to wash and in the summer it's prepared on the stove so it's an oven free meal too.
But what also makes it great is that it can be prepared as a freezer meal. I share later how to do just that but first here's a quick video of the recipe.
Or if watching videos isn't for you, scroll down for the printable recipe and tips below.
Tips for Making This Hamburger Skillet Dish
Start the onion first and let it get golden before adding the beef. Sautéing the onion first helps to mellow out its flavor and picky eaters are less likely to be offended.
If you have a picky eater that can spot a small piece of onion a mile away. Try using onion powder instead, add a teaspoon to start and more if you want more flavor.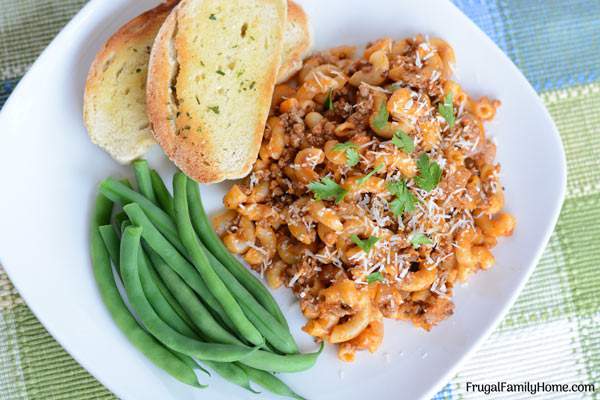 If you are trying to cut grocery cost use only the half pound of ground beef. If you think your family won't go for such a small amount of meat start with 1 pound or 3/4 of a pound.
You'll still have a frugal meal and you won't get push back from the meat lovers in your family.
Be sure to remove the lid when done cooking to evaporate off the extra liquid.
Serve with cheese sprinkled on top if your family doesn't need to eat dairy free. Cheese seems to make dishes more tasty to most kids and picky eaters.
Use broken up lasagna noodles or small lasagna noodles to make a skillet lasagna.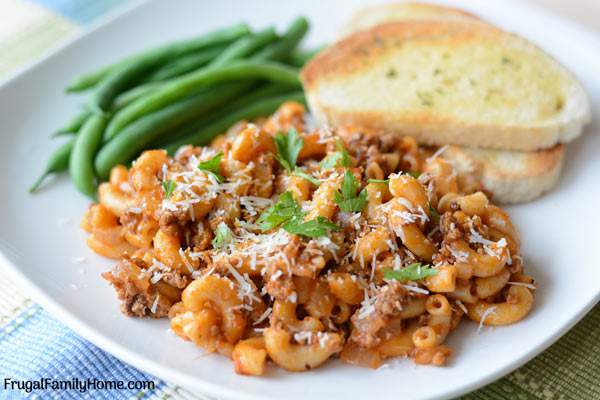 Make this Hamburger Skillet Dish a Freezer Meal
It's simple to transform this dish into a freezer meal. Here's how to do it…
1. Prepare the beef and onions for the recipe.
2. Add in the rest of the ingredients except the macaroni.
3. Cool the meat sauce completely and store in a quart size freezer bag. Freeze with date and instructions for preparing written on it. You can also bag 2 cups of macaroni into another quart sized bag and freeze it. But to save freezer space I freeze the sauce.
4. When ready to prepare thaw completely. Add the thawed sauce to the skillet with the macaroni and water. Cook as directed in the original recipe.
I like to prepare the hamburger skillet dish for the freezer as described above for two reasons.
☀︎ The macaroni is not frozen in sauce and gets sticky or mushy.
☀︎ It makes for a smaller package to freeze. If you freeze it flat, once frozen it can be stood on end to take less space in the freezer.
The only drawback is you have to remember to have noodles of some kind on hand when you go to make this dish.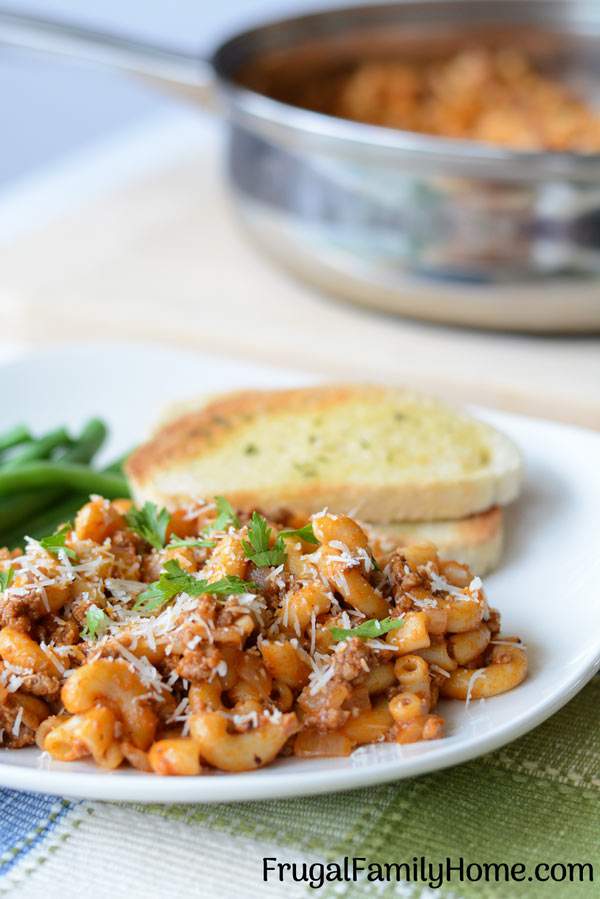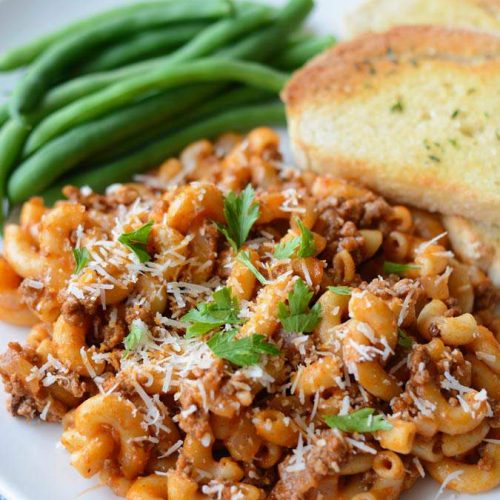 Hamburger Skillet Dish
Ingredients
1/2 - 1

pound

Ground Beef

1

Onion

chopped

1

can Tomato Sauce

15oz

2

cups

of Macaroni

uncooked

1

Garlic Clove

minced

1

teaspoon

Salt

1/2

teaspoon

Pepper

1

teaspoon

Chili Powder

1 1/2

teaspoons

Worcestershire Sauce
Instructions
Cook the ground beef in a skillet with the onions and garlic until the onions are tender and the beef is no longer pink and cooked through. Drain any extra fat.

Add the rest of the ingredients except the macaroni to the ground beef/onion mixture. Mix well.

Stop at this point if you will be freezing it. Cool and place into a zippered freezer bag.

If preparing for this day's dinner, add the macaroni and 2 cups of water to the skillet and stir to mix.

Cover and simmer for 12-15 minutes.

Then if the dish looks too watery after the cooking time. Let simmer with the lid off until the consistency you like.

We serve ours with a little goat or sheep cheese sprinkled on top but this is optional.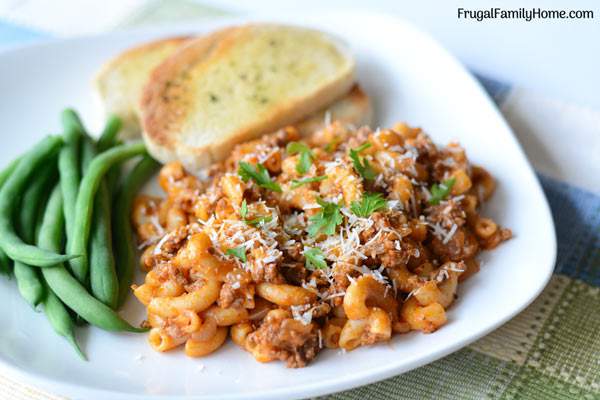 Variation for this Hamburger Skillet Dish
If you want the dish to be more like the Hamburger Helper Lasagna skillet you can add in the small lasagna type noodles instead of the macaroni.
Also if you have any peppers that are getting past their prime they work well for added color to the dish.
Make this dish vegetarian by using the meatless crumbles or using TVP instead of the ground beef.
What the Cost of this Hamburger Skillet Dish?
To figure the cost of this dish I used sale prices on the ground beef at $2.49 a pound. Which is a price we have been consistently able to purchase ground beef. Your price of ground beef may be more or less than my cost.
The canned tomato sauce was priced at $.50 a can. The onion was deemed $.10 since I usually purchase onions in the 3-5 pound bags. I used the bulk food price for the macaroni at $.50 for 2 cups.
Finally the seasonings I priced at $.20 since they are pretty common to most kitchens and the small amounts used don't add up to much.
That brings the final cost of this hamburger skillet dish to $2.55 for the whole dish which serves 4-6 people. Making it just $.43 to $.64 a serving. Add a little more if you sprinkle cheese on top.
Add a loaf of french bread baked at home for $.20 and add a green salad for another $1.50 and you have a full meal for just $4.25 or $1.06 per meal for 4 people.
That's what I call a frugal dinner, at just over $1.00 per serving.
This hamburger skillet dish is yummy and frugal both. I hope your family enjoys it as much as ours does.
Pin It for Later…

More Frugal Recipe in this Series…
Day One, Oat Groats
Day Two, Rice Cereal
Day Three, Cinnamon Twists
Day Four, Jam Danish
Day Five, Caramel Sticky Buns
Day Six, Cheeseburger Muffins
Day Seven, Pinwheel Sandwiches
Day Eight, Pizza Cups
Day Nine, Crisp Bean Burritos
Day Ten, Twice Baked Taco Potatoes
Day Eleven, Crock Pot Whole Chicken
Day Twelve, Chicken and Bean Enchiladas
Day Thirteen, Cheesy Ham and Potato Crock Pot Dish
This post was updated with better photos and a printable recipe. 
Subscribe and you'll get Recipes
sent right to your inbox!
Click the button below and fill out the form.