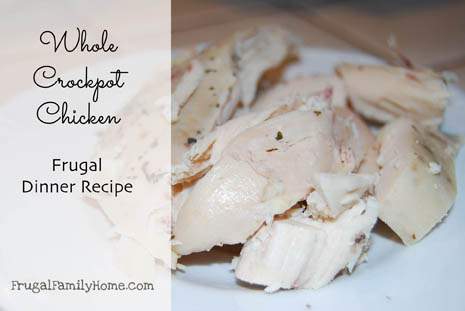 Making a whole chicken can not only save you money over the boneless chicken pieces but you also end up with enough leftovers for the next nights dinner too. When I see whole chicken on sale at the store I will pick up a couple of them. Then to get them ready for the freezer I will rinse them and then add seasoning to them before I package them in a freezer zipper bag. Gallon sized bag work great for about a 4-5 pound chicken. Then when I am ready to make a prepare one for dinner most of the work is already done.
When I am ready to cook the chicken I will thaw it in the refrigerator overnight. Once it is thawed I just place the chicken in the crockpot with potatoes and carrots. Then when the chicken is done it will be fall off the bone tender.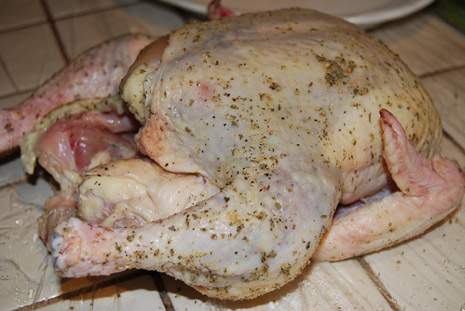 Crock Pot Roasted Chicken
1 Whole Chicken, rinsed
2 t parsley
2 t salt
1 t pepper
2 t thyme
2 t garlic
1. Mix parsley, garlic, thyme, salt, and pepper in a bowl.
2. Rub the seasoning on the outside and inside. I also tuck some seasoning between the skin and the meat. To get more flavor into the meat. The chicken can be packaged and frozen for dinner at a later time.
3. If cooking now put the chicken into a crockpot. Cook on low for 8-10 hours. Add some potatoes and carrots or other vegetables to the crockpot to make a full meal.
4. Once done the chicken will be almost falling off the bone so it should be really easy to remove the bones and serve.
Other Posts in This Series
Day One, Oat Groats
Day Two, Rice Cereal
Day Three, Cinnamon Twists
Day Four, Jam Danish
Day Five, Caramel Sticky Buns
Day Six, Cheeseburger Muffins
Day Seven, Pinwheel Sandwiches
Day Eight, Pizza Cups
Day Nine, Crisp Bean Burritos
Day Ten, Twice Baked Taco Potatoes
Subscribe and you'll get Recipes
sent right to your inbox!
Click the button below and fill out the form.