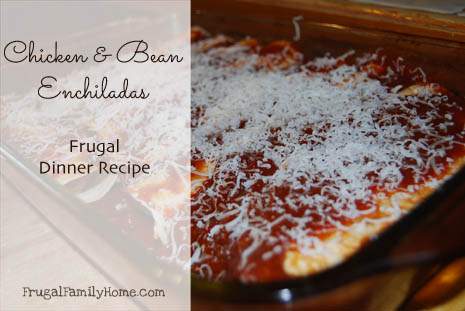 Yesterday, I shared a recipe for cooking a whole chicken in the crock pot. We always, well almost always have chicken leftover when I make a whole chicken. So today's recipe uses cooked chicken in it. But you could use any cooked meat you have on hand or just leave the meat out  all together and fill the enchiladas with just beans.
For this recipe I used a foil packet of enchilada sauce mix but if you prefer the canned enchilada sauce use what your family likes. I have yet to find a canned enchilada sauce my whole family likes so we use the foil packet mix.
The cost of this recipe works out to be $2.95 or about $.49 each if you get 6 servings out of the recipe like we do.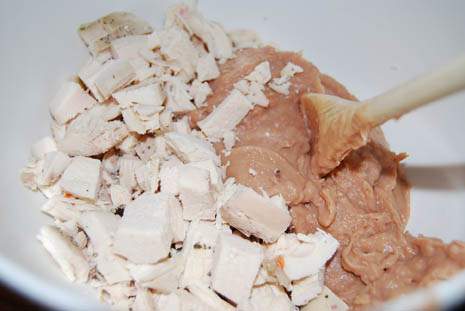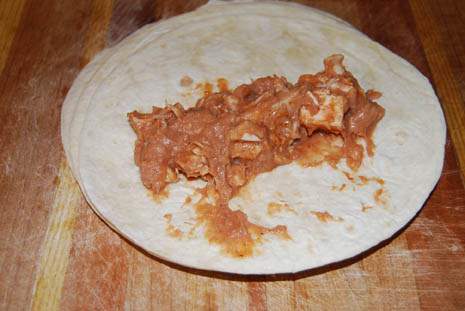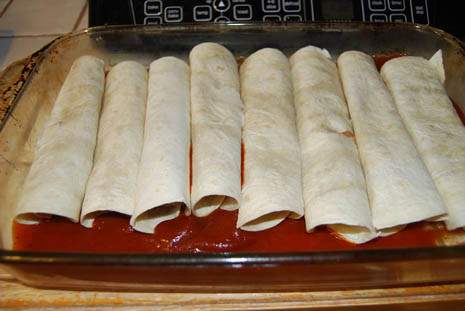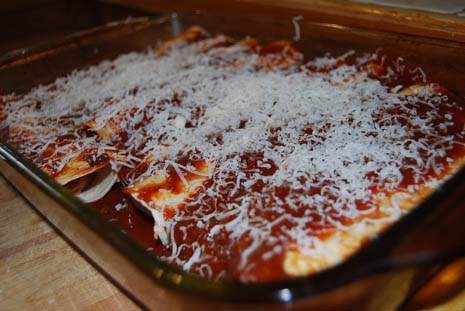 Chicken and Bean Enchiladas
Serves about 6
1 can refried beans
1 foil packet of Enchilada sauce prepared with water and Tomato Paste
8 Flour Tortillas
1 cup shredded Cheese
1-2 cups cooked Chicken (we use leftovers)
1. prepare the enchilada sauce per instructions on foil packet or if you are using canned enchilada sauce open the can.
2. Mix the cooked chicken and refried beans. Then stir in about 1/2 cup of enchilada sauce. Stir just to blend the sauce in.
3. Evenly distribute the bean/chicken mixture onto the tortillas. I place some of the mixture in the middle of each tortilla and then just roll up.
4. Place half of the enchilada sauce in the bottom of a 9×13 inch casserole dish then add the rolled up enchiladas seam side down.
5. Once all the enchiladas are added to the dish, pour the remaining sauce evenly over the top.
6. Sprinkle the shredded cheese on top and bake at 375 for 20-25 minutes or until heated through and the cheese is melted.
7. Cool for few minutes then serve.
More Posts in this Series
Day One, Oat Groats
Day Two, Rice Cereal
Day Three, Cinnamon Twists
Day Four, Jam Danish
Day Five, Caramel Sticky Buns
Day Six, Cheeseburger Muffins
Day Seven, Pinwheel Sandwiches
Day Eight, Pizza Cups
Day Nine, Crisp Bean Burritos
Day Ten, Twice Baked Taco Potatoes
Day Eleven, Crock Pot Roasted Whole Chicken
Subscribe and you'll get Recipes
sent right to your inbox!
Click the button below and fill out the form.