Inside: Grab the recipe to make your own homemade chocolate cake mix and skip the box mixes with all the other added ingredients for a little over $1 a cake.
Baking for your family is one way you can save money. A homemade cake is so much less expensive than a bakery purchased one.
You can make baking a cake at home as easy as making a box cake with this homemade chocolate cake mix recipe.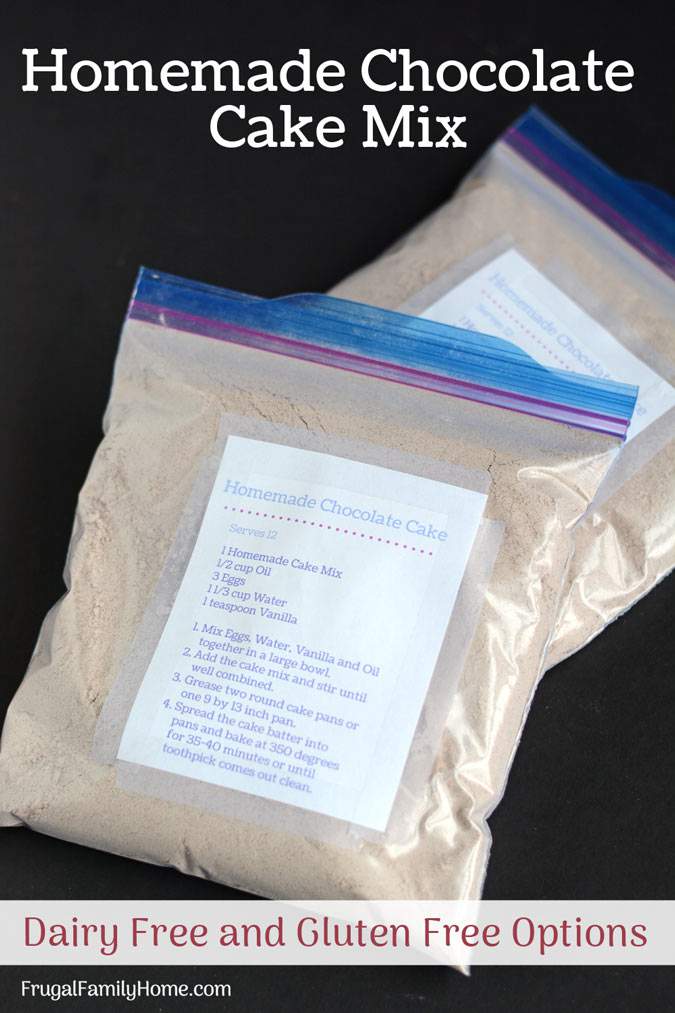 We all know boxed cake mix is super easy to make. Drop the mix into a bowl add a few ingredients and bake. So simple and easy. But what if you could make a chocolate cake from scratch just as easy?
If you make a few of these chocolate cake mixes for the pantry ahead of time it can be as easy to make a chocolate cake from scratch as it is to make a boxed cake mix. Plus, you don't need to worry about any added ingredients you don't want.
To make a homemade cake mix at home only a few ingredients are needed. Ingredients I'm sure you already have in your cupboard right now.
Plus the homemade version is only about $1 per cake mix. A little less than the store-bought version on sale and a lot less if they are not on sale.
Ingredients and Cost of a Homemade Chocolate Cake Mix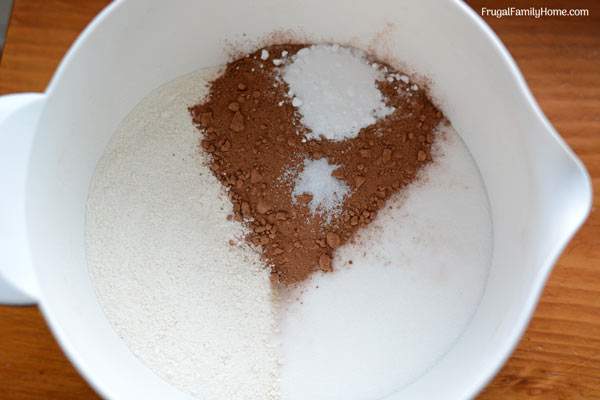 Flour $.25
Cocoa Powder $.50
Baking Soda $.02
Salt $.001
Sugar $.39
The total cost of this mix is only $1.16. The price of cake mixes in my area are $2 or more a box. Sometimes I can find them on sale for $1.
It's not huge savings but if you already have the basic ingredients in your pantry, you can easily make a cake mix anytime you need one. Instead of dragging the kids out to the store for one item.
I made a quick under 1-minute video for this recipe to show how quick and easy it is to make.
If you or someone in your family needs to eat dairy free, this cake mix recipe will work perfectly since this is a dairy free cake mix.
Many of the boxed cake mixes contain dairy products in them, making them off limits for those of us who have to eat dairy free.
Plus if you want to make this recipe gluten-free, all you need to do is replace the flour in the recipe with gluten-free all purpose flour mix.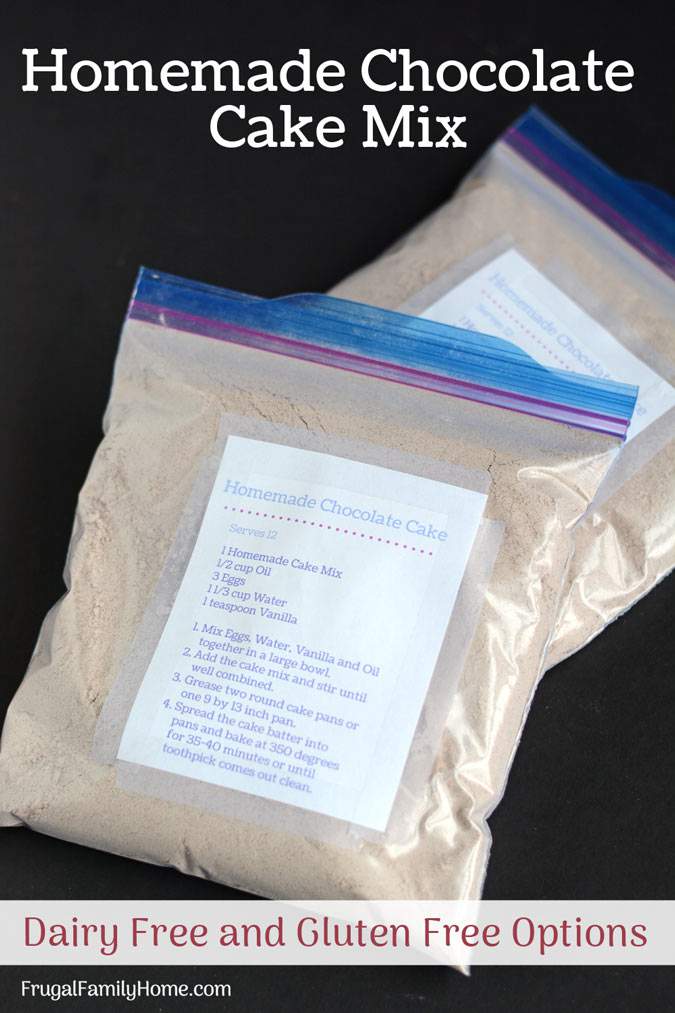 How to Make a Homemade Chocolate Cake Mix in Minutes
To make this cake mix gluten-free substitute the all-purpose flour with a gluten-free all-purpose flour mix.
Ingredients
2 1/4

cups

All Purpose Flour

1/2

cup

Cocoa Powder

1 1/2

teaspoon

Baking Soda

1/4

teaspoon

Salt

1 3/4

cup

Sugar
Instructions
Add all the ingredients into a bowl and whisk until mixed well.

Place into a quart size storage or freezer zipper bag.

Print a label and tape to the front of the bag.

Store in the pantry up to 6 months.
Free Homemade Chocolate Cake Mix Printable Tags
Sign up for our email list and you'll get new recipes, kitchen tips and more sent to your inbox. You'll also the printable cake mix tags too. Then you'll have your tags ready whenever you'll be making a new batch of chocolate cake mix.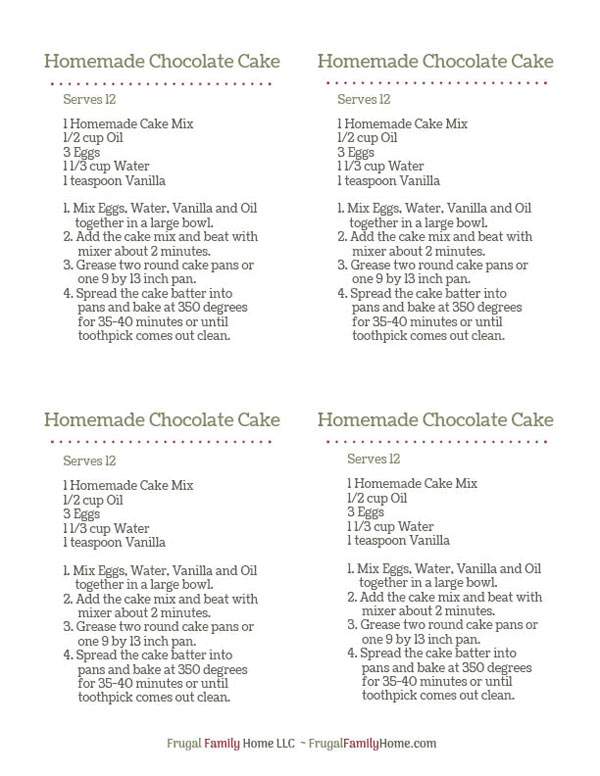 Each page has 4 tags, making it easy to print off enough labels for 4 cake mixes on one sheet of paper.
Quadruple the ingredients in the recipe and prepare the mixes. Divide into 4 quart sized zipper bags, adding about 4 1/3 cup of mix into each one. And you have 4 cake mixes prepared for the pantry in minutes.
The instruction for making a cake with the homemade chocolate cake mix are on the printable labels. You don't need to search for the recipe which makes it as easy as a boxed mix to prepare.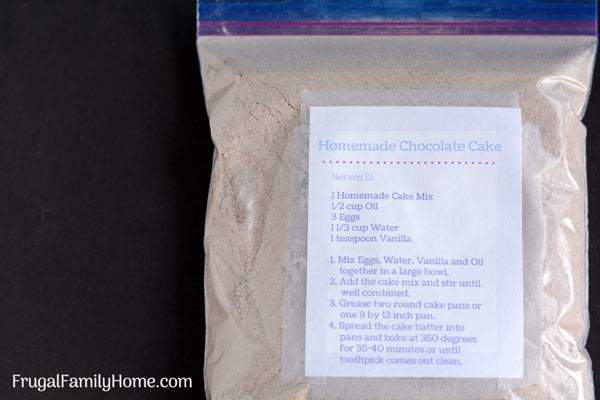 Making a chocolate cake from scratch can be as easy as taking a homemade mix out of your pantry and preparing it like a box mix without all those added ingredients you don't want.
Make a few and print off the labels so you'll be ready when you need make a cake for a special occasion or for an everyday dessert.
More Yummy Frugal Desserts
Oatmeal Chocolate Chip Cookies
Double Chocolate Biscotti
Chocolate Twinkle Mint Cookies
Subscribe and you'll get Recipes
sent right to your inbox!
Click the button below and fill out the form.