Today I'm sharing another great frosting fudge recipe. It wasn't until this year that I discovered how easy it is to make fudge with frosting.
So I have had a good time coming up with a few recipes. This is my latest creation, Cherry Pistachio Fudge.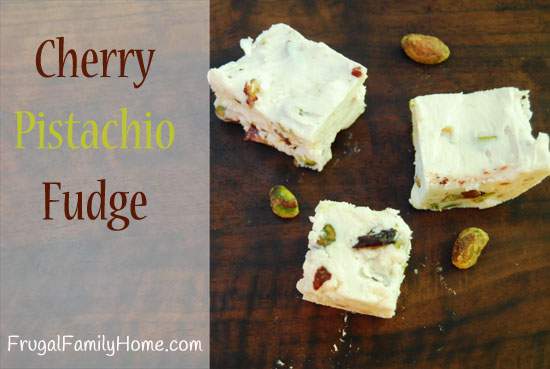 Like other frosting fudge recipes, this recipe only takes a few ingredients, vanilla chips, frosting, dried cherries, and pistachios. I splurged for this recipe and purchased the shelled pistachios in the bulk at Winco Food for almost $10 a pound.
But since I was only purchasing a small amount it really didn't cost that much and the unique flavor is definitely worth it.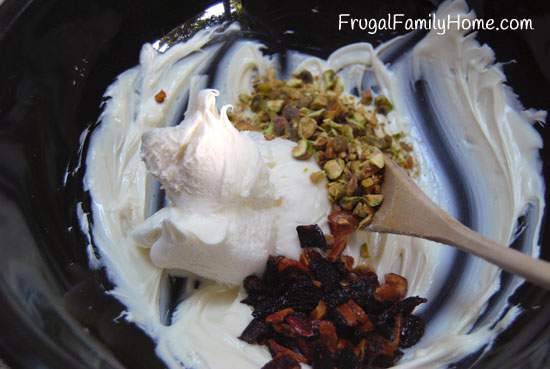 To start you want to melt the chips in the microwave for 1 minute then stir and repeat the process until the chips are melted.
Don't be tempted to skip the stirring part as you will only end up with burnt chips, I know because I have done it more than once.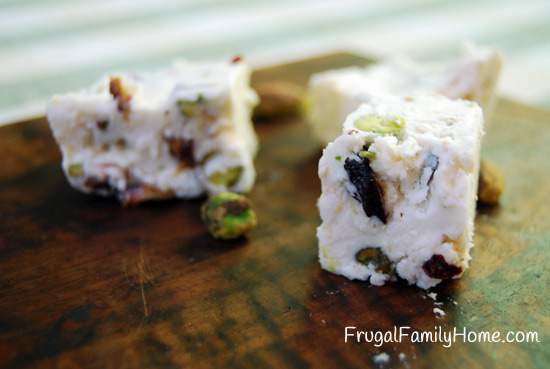 Once you have the chips all nice and melted then you will want to stir in the frosting. Then just add in the chopped pistachios and chopped dried cherries and mix well.
I spread the fudge into a 9-inch square pan and had a nice thick fudge. But if you prefer thinner fudge you will want to use a 9 by 13-inch pan. Either way, it is still very yummy.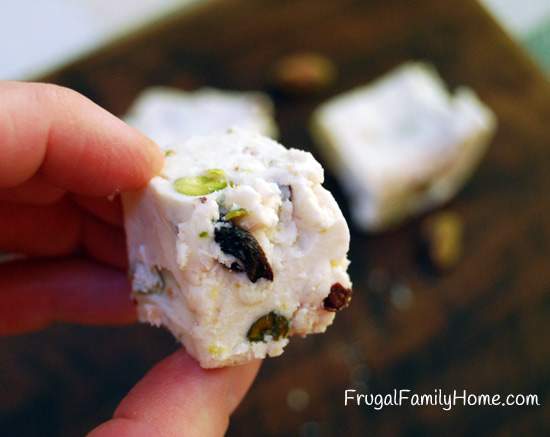 Once the fudge is cool and set, just cut into serving size pieces and enjoy. Now how is that for an easy sweet treat.

Cherry Pistachio Fudge
Ingredients
1 can Vanilla or Cherry Frosting (I used vanilla)
12 oz Vanilla Baking Chips
1-2 drops of Cherry Candy Flavoring
½ cup Dried Cherry, chopped
½ cup Pistachios, chopped
Instructions
In a microwave-safe bowl, microwave the vanilla chips for one minute and then stir. Repeat until the vanilla chips are melted and smooth.
Stir in the frosting into the melted chips with the cherry candy flavoring.
Then stir in the cherries and pistachios.
Spread into a greased 9-inch square pan or 9 by 13-inch pan depending on the thickness you desire.
Let cool until set.
Once the fudge is set, cut into serving sized pieces and enjoy.
Have you ever tried to make frosting fudge before?
See more posts in this series on the  31 Days of Homemade Sweet Treats page.
SaveSave