When you hear the word gingersnap cookies, you probably think of a spicy, crisp cookie. But these soft baked gingersnap cookies have less snap and more softness when you bite into them.
If you want to make your own soft baked gingersnap cookies scroll on down to watch the video and grab the printable recipe too.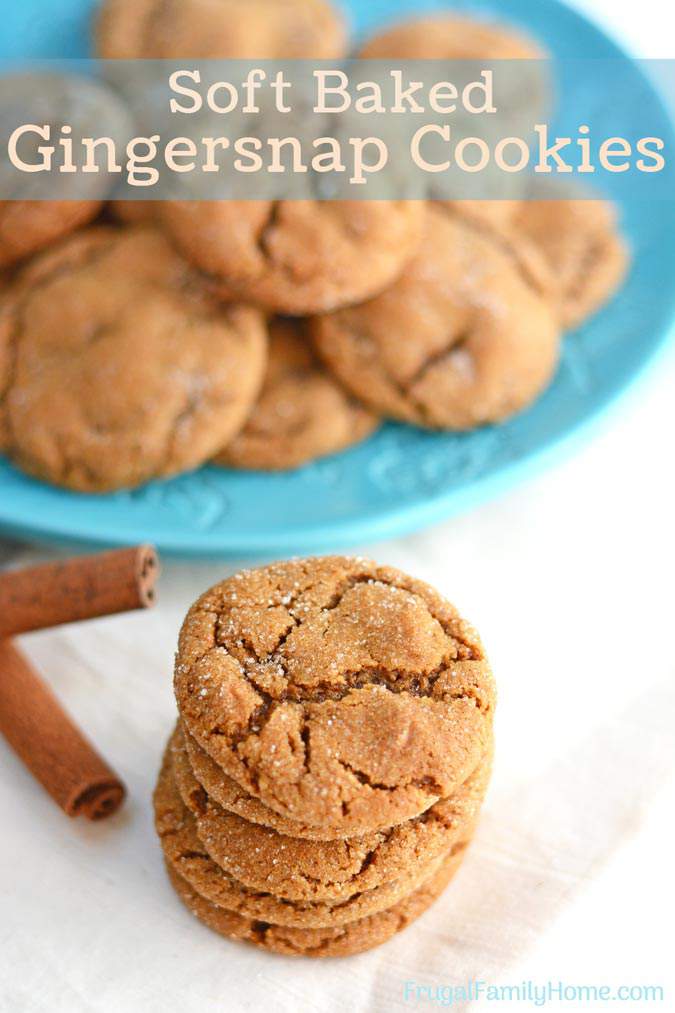 I have to be honest, I never really liked gingersnap cookies. They were too crisp and too spicy for my tastes. But when I made this recipe for soft baked cookies years ago, my mind changed on gingersnap cookies.
There is something about biting into a soft and flavorful cookie that is so satisfying. These cookies really do aim to please.
With a great bite and a burst of ginger spice when you bit into them you'll want to eat the whole batch at once.
Some of the links in this post are my referral links. When you purchase through them I can make a little money at no extra cost to you. Thanks for your support in this way. See my disclosure policy for more information.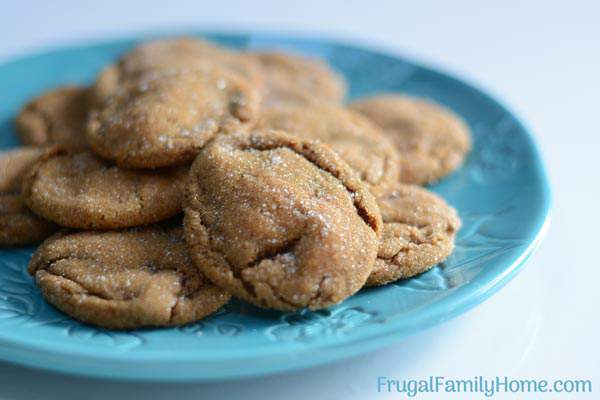 Add the bit of crisp sweetness from the outside sugar coating and I think they are almost the perfect cookie.
Want to Make a Batch of these Soft Baked Gingersnap Cookies?
Watch the recipe video below for the step-by-step tutorial of this recipe. Keep on scrolling for the printable recipe and tips for baking these soft baked gingersnap cookies below.
Tips for Making Soft Baked Gingersnap Cookies
Don't skip the shortening in this recipe. These cookies to get the right texture you really need to use shortening instead of butter. It does make a difference so just for this recipe don't substitute for butter.
Want to avoid the regular shortening at the store, try this shortening instead. Its non-hydrogenated, vegan, and organic too.
Mix the flour with the spices and other dry ingredients first in a medium bowl. Mix it with a whisk to make sure the spices are mixed in well.
Scrape down the bowl about half way through when mixing the dry ingredients with the wet ingredients. To make sure all the dry ingredients get mixed in well.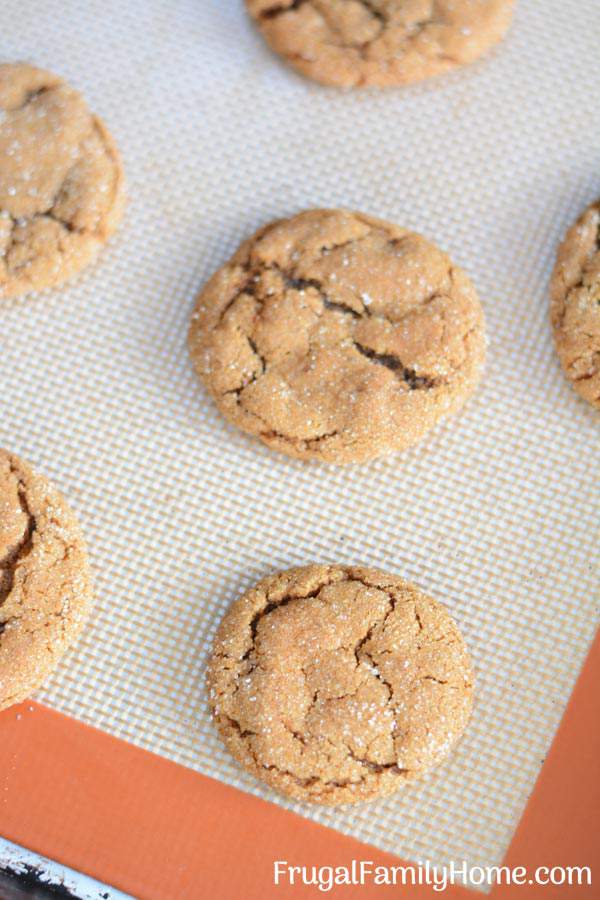 When baking be careful not to over bake the cookies. You want to bake them just until they are set and the tops start to crack.
If the cookies are baked too long, they will be crisper and less soft baked. But still delicious.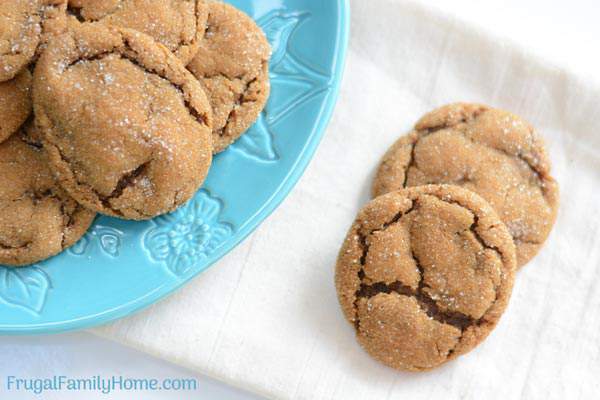 How to Freeze this Gingersnap Cookie Dough
Once you have the dough mixed, place half the dough on a piece of waxed paper.
Roll the dough into a log and wrap in the waxed paper.
Place the wrapped gingersnap dough into a freezer bag or wrap in foil. Label and freeze for later.
To make cookies from frozen
Thaw the dough and cut into 3 pieces. Cut one of those 3 pieces of dough into 12 pieces. Roll the pieces into balls and then roll in sugar and bake as directed in the recipe.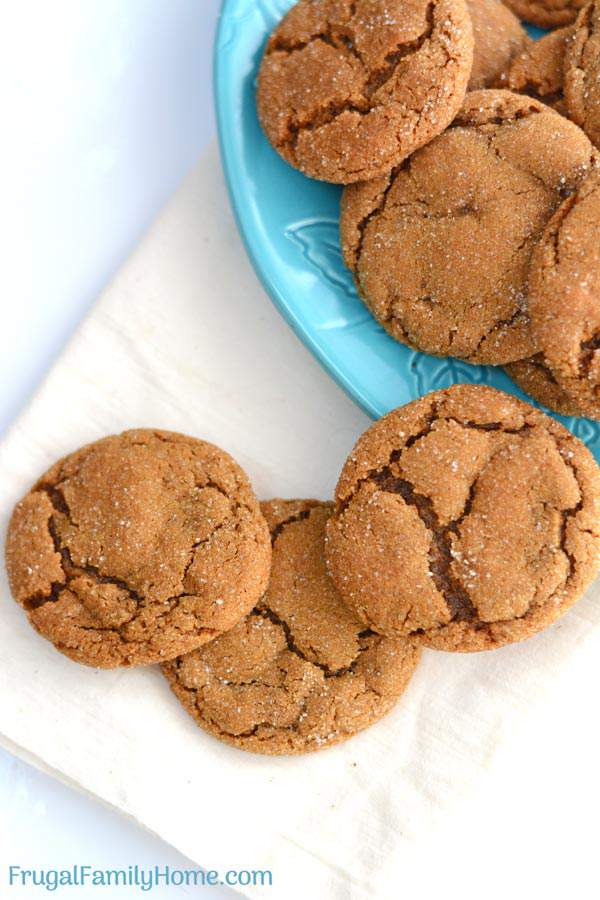 Soft Baked Gingersnap Cookies
A soft and delicious gingersnap cookie.
Ingredients
1

cup

Shortening

1 1/4

cups

Sugar

2

Eggs

1/2

cup

Molasses

3 1/2

cups

Flour

1

teaspoon

Salt

1

tablespoon

Baking Soda

1 1/2

teaspoons

Cinnamon

1

tablespoon

Ground Ginger

Extra Sugar for Rolling
Instructions
Preheat oven to 350 degrees.

In a medium sized bowl, add flour, salt, baking soda, cinnamon, and ground ginger. Mix with a whisk until spices and mixed in well.

In a large sized bowl, add the shortening and sugar. With a hand mixer cream them until fluffy.

To the shortening mixture add the eggs and molasses. Mix with the mixer until mixed well.

Add the flour mixture to the shortening mixture and mix with hand mixer until the flour is well incorporated.

Roll dough into teaspoon sized balls and roll in the sugar, to coat all side.

Place on a lined cookie sheet and bake for 8-10 minutes or until the cookies are set and the tops have started to crack.

Remove from oven and let sit on cookie sheet for a few minutes. Then gently move them to a cooling rack to finish cooling.
Notes
Not only is this recipe delicious but only costs about $2 to make too. 
Nutrition
How Much does a Batch of These Easy Ginger Cookies Cost?
I try to figure the cost of the recipes I make. When I know the price it costs for the ingredients for each recipe, I know if it's less expensive to make it at home or purchase it at the store.
If the cost is close I have to factor in the yumminess factor of the store-bought to the homemade. Homemade always wins here. So if it's an easy recipe and costs about the same as store-bought homemade is gonna win every time.
If you are making these yummy cookies to give as a gift or to save money, knowing how much they cost to make is important.
This recipe makes 72 cookies. Enough to bake half and freeze half of the dough for later. For an even easier way to make cookies later on.
The store-bought molasses cookies (it's the closest cookie I could find that was soft baked like these gingersnaps at the store) come in a package of 12 for $2.50. Making each cookie about $.21.
The batch of homemade soft baked gingersnap cookies cost $1.94 to make. That works out to be just $.02 a cookie not too bad at all.
If you are looking for a soft baked gingersnap cookie to bake at home, these would be great to try. They are easy to whip up; the recipe makes enough to make some and freeze some for later too. Plus they are great to give as a gift.
Do you like your gingersnap cookies more crisp or soft?
Pin it for Later…

More Cookie Recipes to Try
Peanut Butter and Jelly Cookies
Sugar Cookies
Cornflake Cookies
SaveSave
SaveSave
Subscribe and you'll get Recipes
sent right to your inbox!
Click the button below and fill out the form.