Did you know you can make popcorn in your Instant Pot? With only a few ingredients you can fluffy Instant Pot popcorn in a few minutes.
Ditch the microwave popcorn and put your Instant Pot to work on making a healthy snack.
Some of the links below are my referral links. Which means as an Amazon Associate I earn from qualifying purchases and when you purchase through them I can make a little money at no extra cost to you. Thanks! See my disclosure policy for more information.
Popcorn is such a delicious and healthy snack. And I love to make popcorn on the stove. I have a Whirley Pop popcorn popper and it works great.
But since I recently had to replace my 40-year-old stove with a new glass top one. I realized my trusty Whirley Pop can't be used on my glass top stove. It was a sad day.
Now I can buy a new Whirley Pop that will work on my glass top stove, but until then, I needed a way to make yummy popcorn.
And since I own an Instant Pot, I thought that might work. After making a few batches, I found what worked best to make Instant Pot popcorn.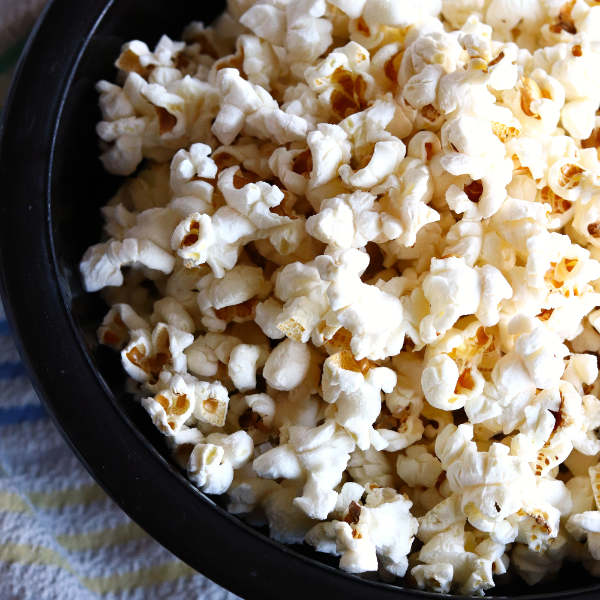 How to Make Instant Pot Popcorn, Video Tutorial
Here's a quick step-by-step video to show you how to make instant pot popcorn. You only need popcorn, oil, your instant pot and a lid to make popcorn in your Instant Pot.
But if watching a video isn't for you, scroll down to get the printable recipe and tips for perfect popcorn.
Instant Pot Popcorn Recipe Tips
What Type of Lid to Use
You won't be using the lid for the Instant Pot for this recipe, but you will need a lid. You can purchase a lid that fits your Instant Pot or use a glass lid you have on hand that will fit.
The lid from my Ikea pots and pans set fits perfectly. You might have a lid that fits too.
Picking the Right Oil for Instant Pot Popcorn
You'll want to pick a high heat oil. I used refined coconut oil because it has a high smoke point of 400 degrees. Unrefined coconut oil has a lower smoke point of 350 degrees, so it's not good to use for higher temperature cooking.
Canola oil and vegetable oil also have a high smoke point of 400 degrees, so any of these oils will work well for this Instant Pot popcorn recipe.
Picking the Right Popcorn
Be sure to use fresh popcorn kernel. Kernels that are old will not pop as well as fresh. If you've had a bag of popcorn kernels hanging out in the cupboard for a while you can use them, just know they may not pop as well.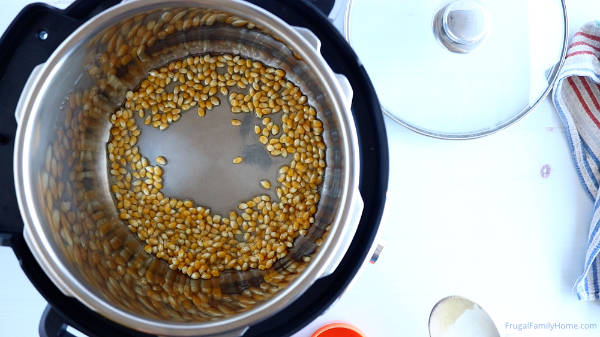 Coat the Popcorn Kernels
After adding the popcorn kernels, be sure to stir to coat the kernels and then smooth into a single layer around the edge.
This will help the kernels to pop better, if they are coated in oil and sitting in the oil around the edges of the pot.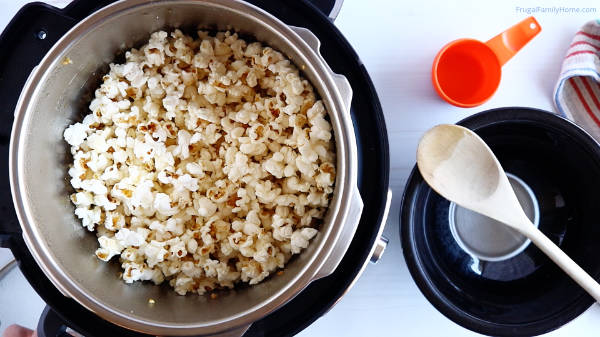 Get the printable recipe…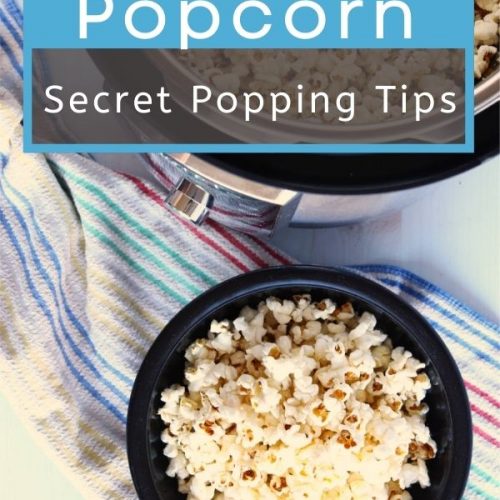 Instant Pot Popcorn
A simple and easy way to make popcorn in your Instant Pot
Ingredients
1/2

cup

Popcorn Kernels

3

tablespoons

Coconut Oil

refined
Instructions
Click the saute button on your instant pot. Set the temperature to high and then click more or if you have an Instant Pot Max touch the temperature setting until you get to custom then use the dial to adjust the temperature to 392 degrees. Click start.

Once the Instant Pot says hot on the display, add the coconut oil and stir to melt.

After the coconut oil is melted, add the popcorn. Stir to coat the kernels with oil. Then smooth the kernels into a single layer. Around the edges of the pot.

Place the glass lid on top and let cook. At first the popping will be slow. Then it will speed up. Once the popping slows down again. Push the cancel button.

Let the popcorn sit in the Instant Pot for another minute to finish popping.

Carefully remove lid away from you to release steam. Remove popcorn from the pot.

Drizzle with butter and sprinkle with salt, if desired.
Video
Nutrition
Serving:
1
serving
Calories:
104
kcal
Carbohydrates:
3.1
g
Protein:
0.5
g
Fat:
10.4
g
That's all there is to making Instant Pot popcorn for a healthy and delicious snack.
More Snack Recipes to Try
Subscribe and you'll get Recipes
sent right to your inbox!
Click the button below and fill out the form.