Making tuna casserole from scratch doesn't have to be time consuming or difficult. This easy recipe that's loaded with vegetables will show you how to make tuna casserole from scratch in just a few minutes.
Did you grow up eating tuna casserole as I did?
My mom used to make it but not from scratch, she used tuna helper instead.
But I'm more of a cook from scratch person, I had to since my kids and hubby can't eat dairy. So I'm sharing my favorite recipe for how to make tuna noodle casserole from scratch.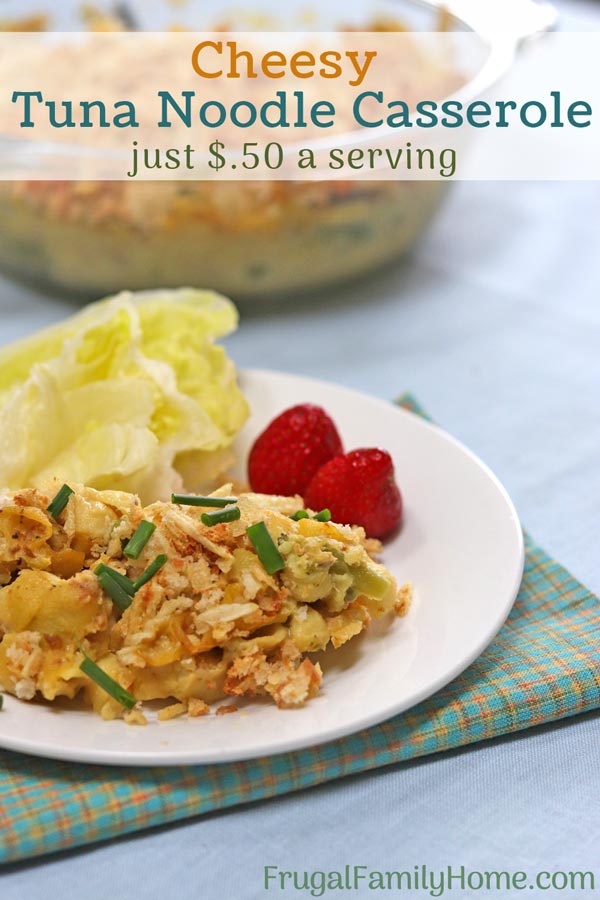 If you love good comfort food from your childhood, this recipe will bring back so many memories.
But you don't have to make it as your mom did. Or like my mom did with boxed mixes. You can make it from scratch with very little effort or ingredients.
Making this creamy and cheesy tuna casserole from scratch can be done in about 10 minutes and while it cooks have time to spend with your family. Plus this recipe is dairy free too. Yes cheesy and dairy free!
Don't need to eat dairy free? No problem, you can make your own cheese sauce or use a can of cheese soup or cream of mushroom soup to save time and make it even quicker.
But I think if you try the cheese sauce recipe it might surprise you at how good it is even if you don't have to eat dairy free.
This is easy to make tuna casserole and a frugal recipe too (see how much it cost to make below). Let's get started with what you'll need.
Ingredients for this Cheesy Tuna Casserole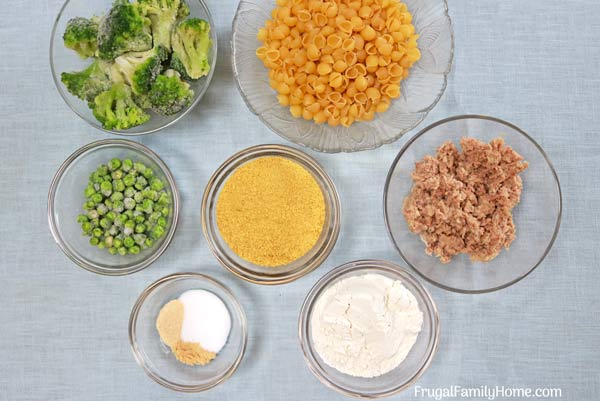 Since we are making this cheesy tuna noodle casserole from scratch, let's see what we'll need.
Now I'm making the sauce from scratch, but if you are short on time, you can use a can of cream of mushroom soup or a can of cheese soup instead. No judgment here, but using canned soup will bump the total cost up.
Some of the links below are my referral links. When you purchase through them I can make a little money at no extra cost to you. Thanks! See my disclosure policy for more information.
Noodles, we like egg noodles or small shell noodles
Flour, unbleached all purpose is what I use
Nutritional Yeast, makes the sauce taste cheesy, get it at Amazon or at Winco Foods in bulk foods
Garlic Powder
Salt
Powdered Mustard, I purchase this in bulk at WinCo Foods but you can get it at Amazon too.
Water
Broccoli, frozen or fresh, I use frozen
Peas, Frozen
Tuna, I use one can but you can use two if you like a lot of tuna
Bread Crumbs, I use one slice of bread
Potato Chips, I save the crumbs from the bottom of the bag to use
How to Make Tuna Casserole from Scratch
I made a quick video to show you how to make this recipe, quick and easy. But if watching isn't for you, no problem, scroll down to see the written directions and grab the recipe…
Step-by-Step How to Make Cheesy Tuna Casserole that's Dairy Free
Get the Noodles and Veggies Cooking
Place the veggies and pasta into a pot of boiling water. Boil until they are tender-crisp. If you are using small shell noodles like I did it will take about 6 minutes. Egg noodles will take longer.
While the veggies and pasta are cooking make the cheese sauce.
Make the Cheese Sauce
Mix the cheese sauce ingredients in a pan, all except the water. Once the ingredients are mixed, add the water and stir until moistened.
Cook the cheese sauce over medium-high heat until it boils and thickens. (Not making the cheese sauce, open your can of mushroom soup or cheese soup and add enough water to make two cups)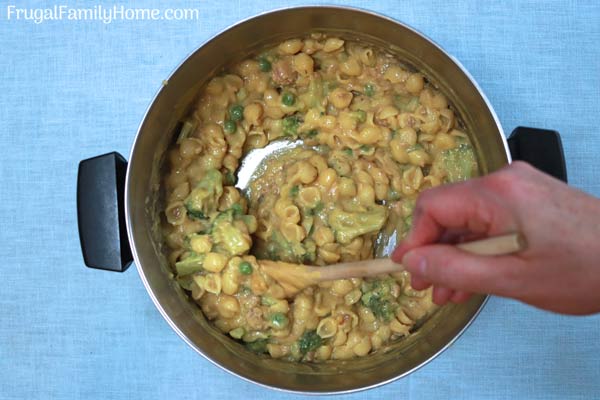 Once pasta is done, drain and leave in pan. Add tuna and cheese sauce. Stir to coat all the vegetables and pasta.
Bake the Cheesy Tuna Casserole
Spoon into a casserole dish, cover and bake at 350 degrees for 15 minutes. Then uncover and add the bread crumbs and crushed potato chips.
Bake another 10 minutes or until golden and heated through.
Print the Recipe…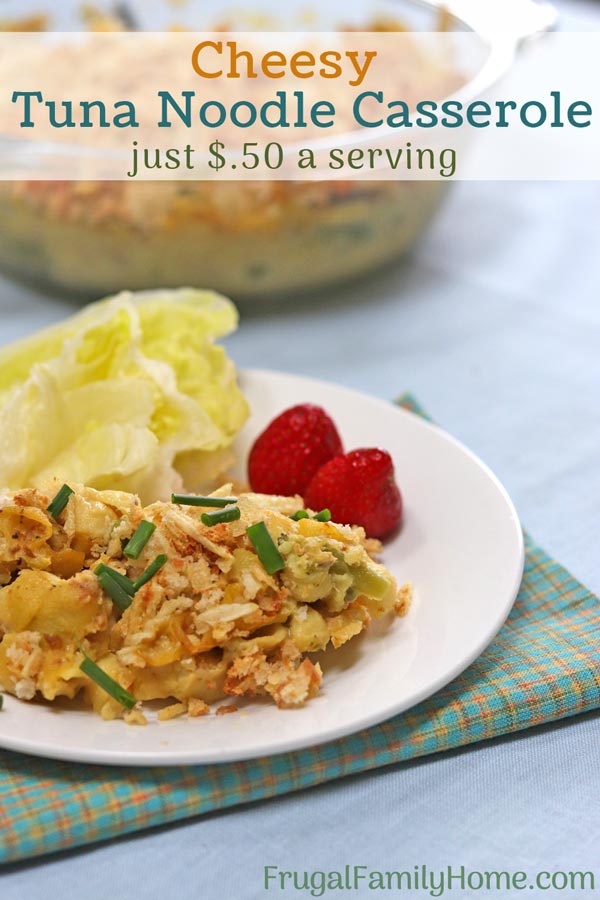 Cheesy Tuna Casserole
An easy casserole your family will love. With dairy free options too.
Ingredients
1

cup

Pasta

Small Shells

1/2

cup

Frozen or Fresh Broccoli Florets

1/4

cup

Frozen Peas

1

can

Tuna

use 2 if you prefer more tuna

Cheese Sauce

1/2

cup

Flour

1/2

cup

Nutritional Yeast Flakes

1/4

teaspoon

Garlic Powder

1

teaspoon

Salt

1/4

teaspoon

Mustard Powder

2

cups

Water

Topping

1/2

cup

Bread Crumbs

1/2

cup

crushed Potato Chips
Instructions
Bring a pot of water to a boil. Add the peas, broccoli, and pasta to the pot. Boil about 6-7 minutes until pasta is tender.

While pasta is boiling. Add the cheese sauce ingredients to a medium pot, all except the water. Whisk to blend.

Add the water to the cheese sauce mixture and stir until moistened.

Bring to a boil over medium-high heat and cook until thickened. Set aside.

Drain the pasta and vegetables.

Drain the can or cans of tuna and stir into vegetables.

Add the cheese sauce and stir to coat.

Spoon the tuna mixture into a casserole dish and cover. Cook for 15 minutes at 350 degrees.

While cooking in the oven, mix the topping.

In a small bowl combine the crushed potato chips and bread crumbs. Stir.

Remove the casserole from the oven, uncover and sprinkle with topping.

Bake another 10 minutes uncovered until golden.
Notes
Don't like tuna, no problem try it with a can of chicken instead. 
Nutrition
Serving:
1.5
cups
Calories:
244
kcal
Carbohydrates:
33
g
Protein:
24
g
Fat:
2.4
g
Saturated Fat:
0.2
g
Cholesterol:
8
mg
Potassium:
484
mg
Fiber:
7.1
g
Sugar:
1.4
g
Calcium:
30
mg
Iron:
3.2
mg
The Cost of this Cheesy Tuna Noodle Casserole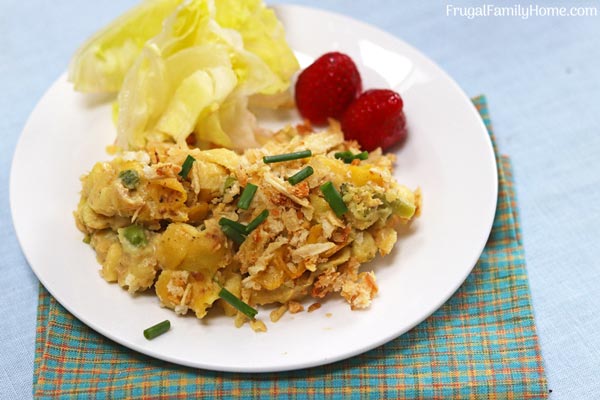 Keep your food cost in check by making frugal meals often. Knowing how much a meal cost can help you plan and stay on budget.
What's the cost of this recipe…
Tuna, $1 per can of tuna. (Cost $1)
Noodles, I purchase in bulk at $.80 a pound (cost $.22)
Nutritional yeast and other seasoning purchased in bulk at WinCo Foods $.29
Broccoli, 2 pound bag $1.50 (cost $.15)
Frozen Peas, 1 pound bag $.80 (cost $.08)
Bread Crumbs, made my own with a slice of bread, $.10
Potato Chips used crumbs I saved from the bottom of bags $.10
That brings the total to make this recipe to $2 for the full recipe which makes a 4 very generous serving. You could easily squeak out 5-6 serving if you have small children.
At four servings for this recipe, it costs just $.50 a serving.
If you have leftovers vegetables you are using up from a previous meal or leftover chicken or beef to use, it could be less in cost.
If you use a can of cheese soup or cream of mushroom soup, it would go up about $.50 for the whole recipe.
Add a side salad and fruit and you have a full meal for very little. Now let's look at a few variations for this recipe.
Variation of this Cheesy Tuna Noodle Casserole Recipe
I know a recipe can't fit everyone's taste or maybe you have leftover you want to use up. Here are a few variations that can help you use up what you have and still make a delicious tuna casserole for your family.
Don't like cheese sauce in your tuna casserole…
Make a homemade cream of soup instead. See my recipe for making your own cream of soup mix at home instead of using canned soup.
Short on time and got to get dinner done before the kids kill one another?
Use packaged mixed frozen vegetables instead of fresh or two different frozen vegetables. Use a can of soup instead of making your own cheese sauce. Turn up the heat to 400 and reduce the time to 10 minutes covered and 5-8 minutes uncovered. Watch the last few minutes to make sure the topping doesn't burn.
Got Chicken…
Use leftover chicken or beef in place of the tuna. Or if you don't like tuna use a can of chicken instead.
Get Creative with the Topping…
Don't have chips, use two slices of bread with no potato chips.
Sprinkle with shredded cheese and bread crumbs instead of potato chips for a more cheesy taste.
Use French fried onions on top instead and increase the covered cooking time by 5 minutes and reduce the second cooking time in half so they don't burn.
Use a few chopped nuts with bread crumbs to add a little crunch to the topping.
Use Vegetables Your Family Will Eat…
There is nothing worse than having your family complain and pick at their food. If your family doesn't care for peas or broccoli, add a vegetable they will enjoy. Carrots, cauliflower, onions, will all work too.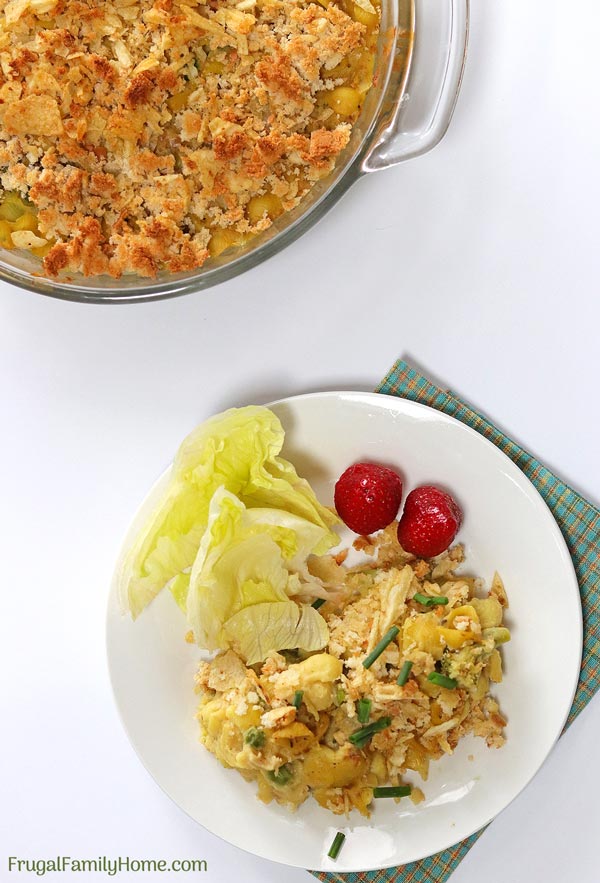 That's how to make tuna casserole from scratch. As you can see it doesn't take much effort to make this yummy comfort food meal.
What's your favorite comfort food that brings fond memories of your childhood? Share it in the comments below, I'd love to hear about your favorite comfort food recipes.
More Easy Dinner Recipes to Try…
Creamy Mushroom Chicken Skillet
Easy Salisbury Steak under $1 a Serving
Subscribe and you'll get Recipes
sent right to your inbox!
Click the button below and fill out the form.