How to make easy Salisbury steak. Have this dinner recipe ready in just about 30 minutes. We love it served on top of creamy mashed potatoes.
Easy skillet dishes are always welcomed at our house. They are great for hot summer days because they don't heat up the kitchen. They are great for busy days because they are usually quick and easy to make.
This recipe for easy Salisbury Steak is a quick dinner idea.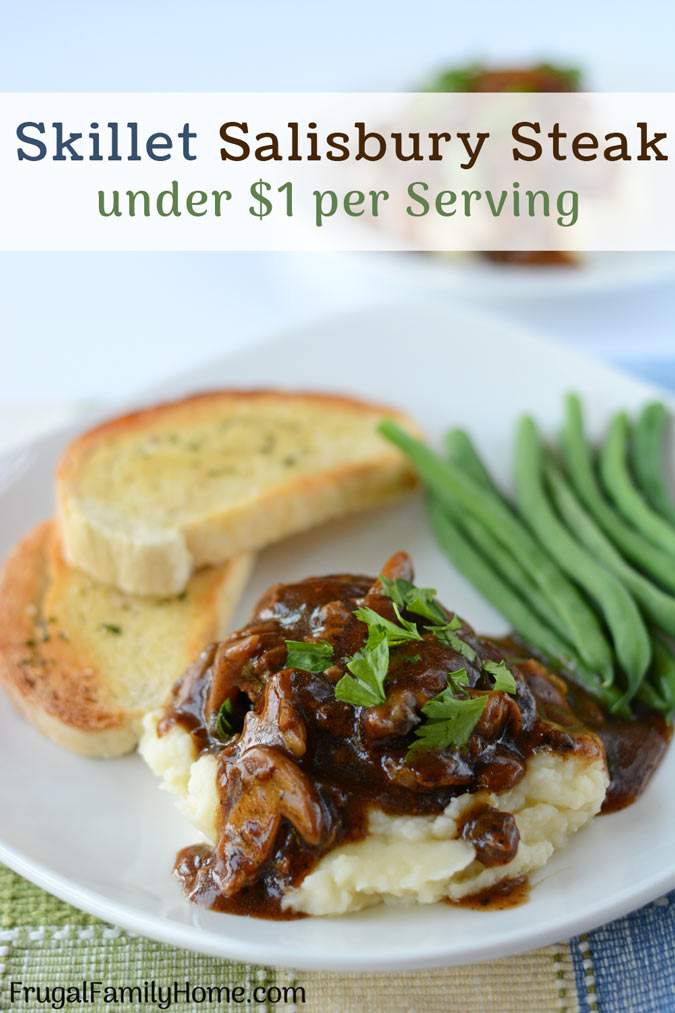 Growing up we used to enjoy tv dinners every now and then. It was an inexpensive dinner for our family. It gave my mom the night off from cooking and we got to watch tv while we ate. As a kid, we looked forward to tv dinner nights.
In our home every now and then I purchase tv dinners. But it's harder to find ones my kids and hubby can eat with their milk allergy.
My hubby always asks is there a dairy free Salisbury steak tv dinner. I always had to answer no because I couldn't find one.
I thought how hard could it be to make my own Salisbury steak? I looked over a few recipes to get an idea of how others make Salisbury steak.
But like the tv dinners, they all had milk in them too. Either in the brown gravy or added to the beef. So I devised to make my own recipe that my family could eat.
You don't have to eat dairy free to enjoy this recipe for Salisbury steak. It's really good even though it's dairy free.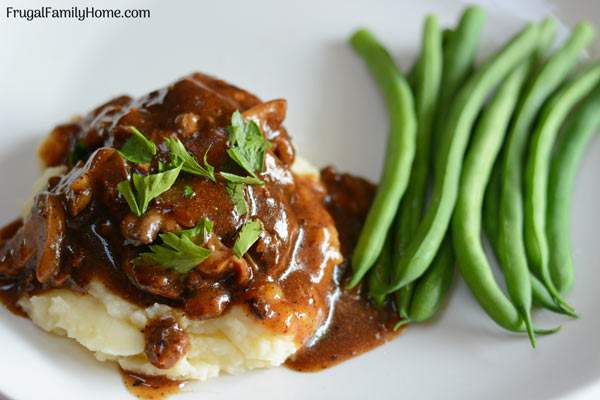 What You'll Need to Make this Easy Salisbury Steak
Ground Beef
Breadcrumbs
Mushrooms
Worcestershire Sauce
Ketchup
Egg
Salt and Pepper
Brown Gravy Mix
Just 8 ingredients to make your own Salisbury steak at home in just about 30 minutes not bad at all.
How to Make Easy Salisbury Steak at Home
First, let's start with the video. I know I learn better when I can see it done and so I made a video of the recipe from start to finish. If you'd rather get the recipe and tips in written form keep on going down.
Tips for Making Quick Salisbury Steak at Home
Keep the cost down by making your own breadcrumbs. Breadcrumbs in the cans at the store can be expensive for what you're getting.
I used soft breadcrumbs in this recipe. You can make your own breadcrumbs by taking a couple slices of bread and processing them in the food processor or blender.
I like to cube the bread first then add it to the food processor and process until they are the consistency of bread crumbs.
I like to use 80% lean or 85% lean ground beef in this recipe. It's leaner than 75% lean, so less fatty. But not so lean like the 93% lean ground beef that can be a little dry once cooked.
If you need to eat dairy free be sure to check the brown gravy mix. I had to search to find one that was dairy free.
I found that the Winco Foods brand brown gravy mix was dairy free if I purchased the reduced sodium one. The regular brown gravy mix had dairy. Be sure to check the different varieties you store carries you might find one you like better.
Be sure to grease or spray the skillet. I made the mistake of thinking the fat in the burgers would grease the pan and my patties stuck a little. Give it a quick spray or add a little oil to the pan first before adding the patties.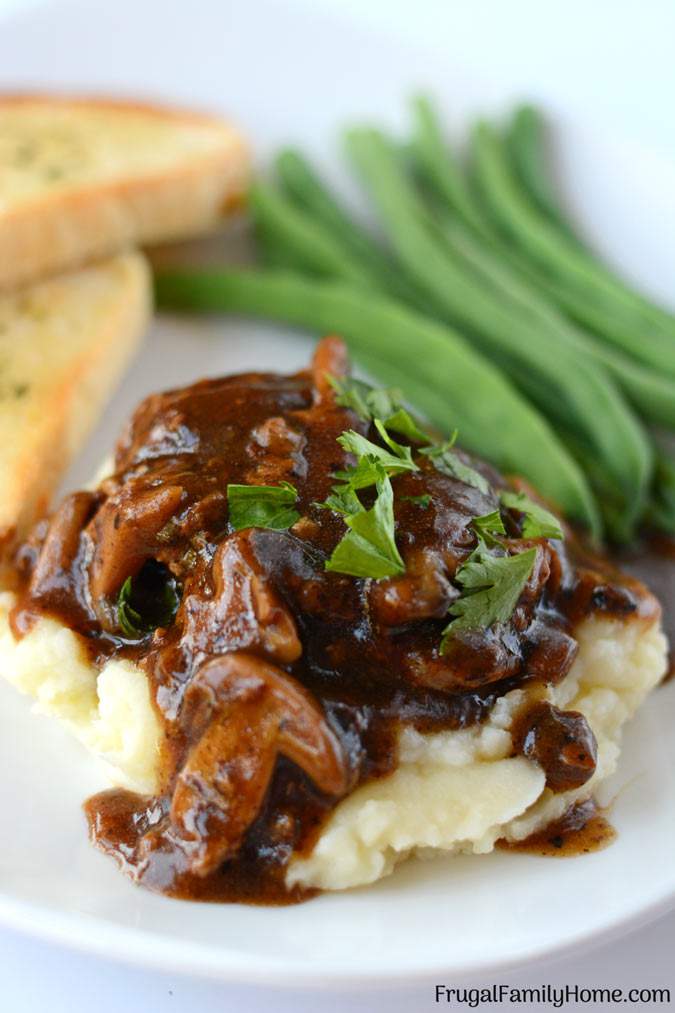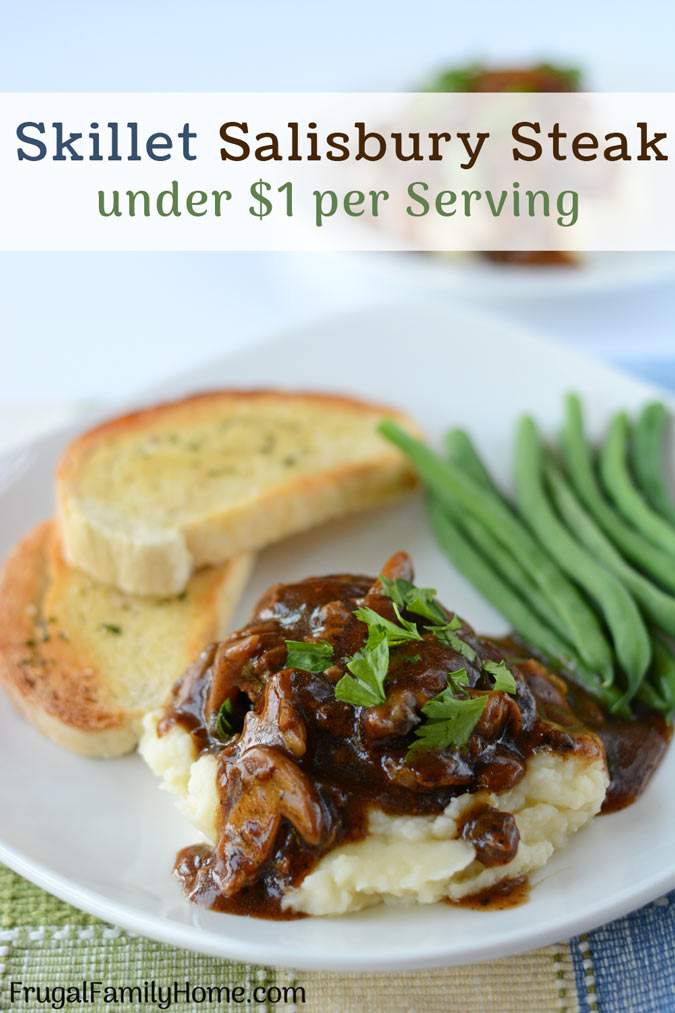 Easy Salisbury Steak
Ingredients
1

pound

Ground Beef

3/4

cup

Breadcrumbs

1

can Mushrooms

2

tablespoons

Worcestershire Sauce

1

tablespoon

Ketchup

1

egg

1

teaspoon

Salt

1/2

teaspoon

Pepper

2

packages Brown Gravy Mix

2

cups

Water
Instructions
In a large bowl, mix the ground beef, breadcrumbs, Worcestershire sauce, ketchup, egg, salt, and pepper.

Mix to incorporate well.

Divide the ground beef mixture into six portions and form into patties.

Add patties to skillet cook over medium heat until browned on one side flip and brown on the second side cooking until cooked through.

Remove patties from pan and set aside.

To the skillet add the drained mushrooms and cook until browned.

Add the brown gravy packets and 2 cups of water to the mushrooms in the skillet.

Cook over medium high heat 1-2 minutes stirring while cooking until the gravy has thickened.

Add the cooked patties to the pan and heat through.

Serve patties and gravy over mashed potatoes.

Sprinkle with parsley if desired.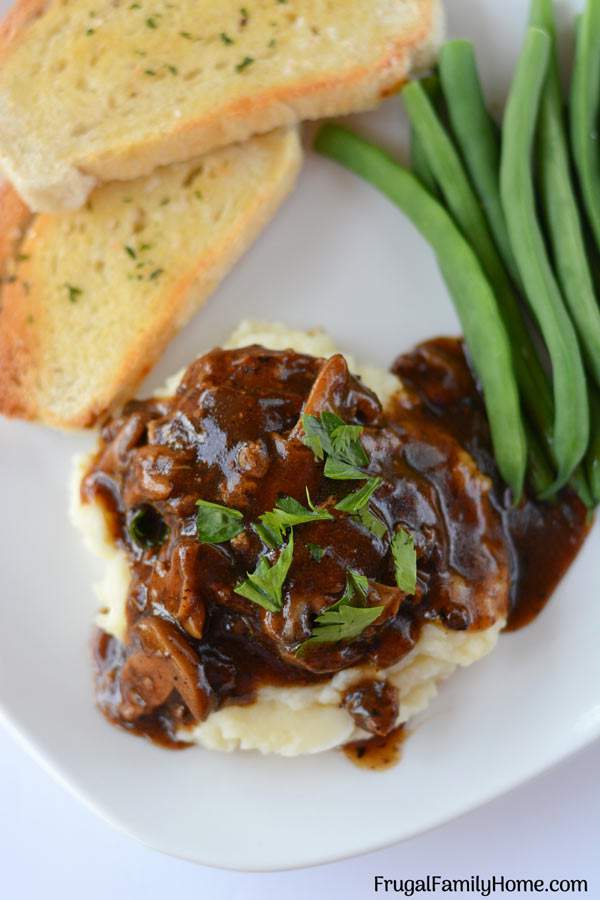 How Much Does it Cost to Make a Batch of Quick Salisbury Steak?
I like to figure out the cost of each recipe I make for two reasons. One so I know how much it costs. Two if it's a frugal recipe it is added to my meal plan more often.
If it's more expensive it will show up less often but still appear to keep our family out of the same dinners meal rut.
When you know how much a meal or recipe costs to make you can keep control of your food costs more easily.
When I figure the cost of a meal I use regular sale prices as the prices for the cost of the ingredients. For this batch, I used $2.49/lb for the ground beef price per pound. It fluctuates between $1.99 a pound and $2.99 a pound on sale. So I averaged the price at $2.49 per pound.
The rest of the ingredients I used the average sale price for too. Bringing the cost of this Salisbury steak recipe to… $4.04 for six servings. Or just $.67 a serving. That's not bad at all.
When I make it a meal with mashed potatoes and green beans our full meal costs $4.94 or $.82 per serving. That's a lot less expensive than even a cheap meal out or a tv dinner from the freezer section.
I hope your family will enjoy this easy Salisbury steak recipe as much as ours does. I've made it only a few times so far but my family keeps asking for a repeat of it so I know they really enjoyed it.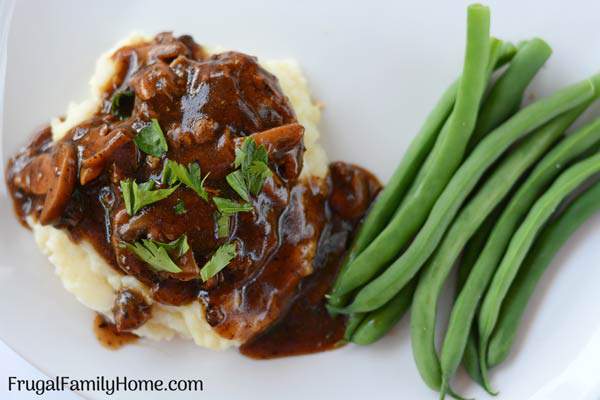 What meal did you eat as a kid that you now make for your family? Leave me a comment below and let me know.
Other Easy Skillet Recipes
Cheeseburger Skillet
Hamburger Skillet
Creamy Mushroom and Chicken Skillet
Pin it for Later…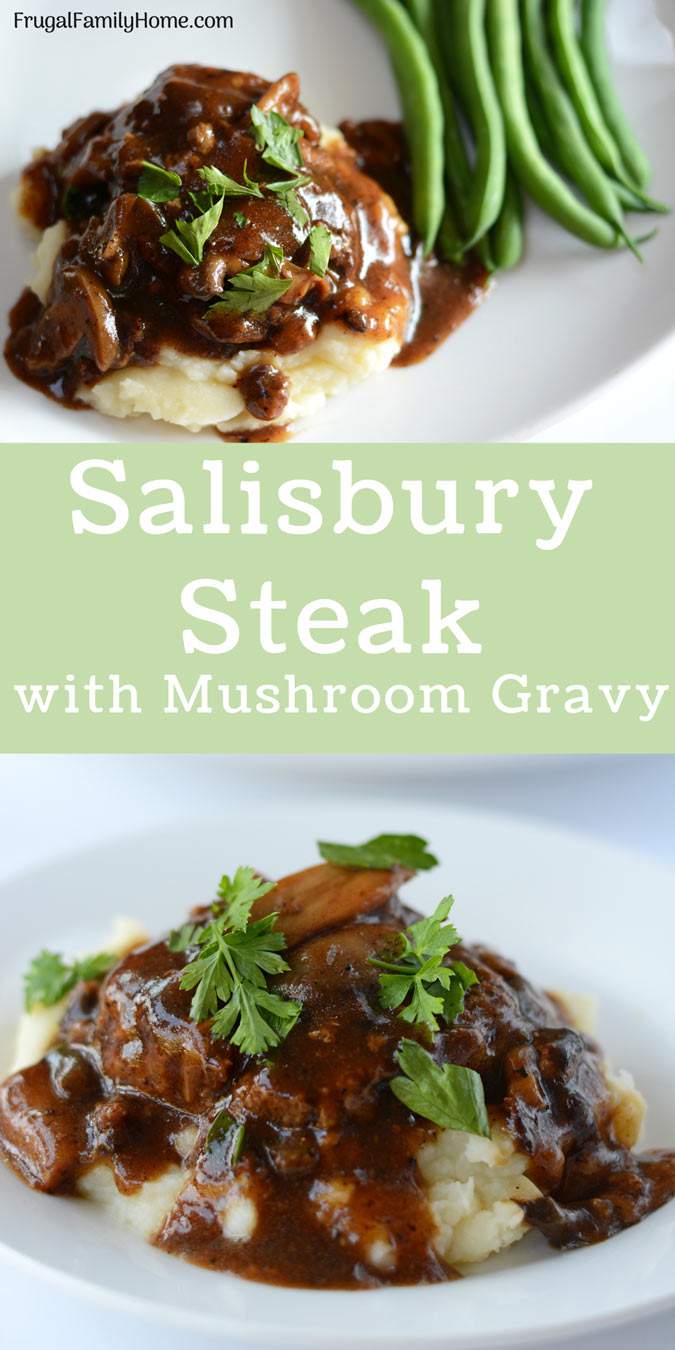 SaveSave