A yummy creamy mushroom chicken skillet that is easy to make and perfect for those busy days.
It's nice to have a few easy dinner ideas for those busy nights when everyone is tired but you don't want to spend the extra money to eat out.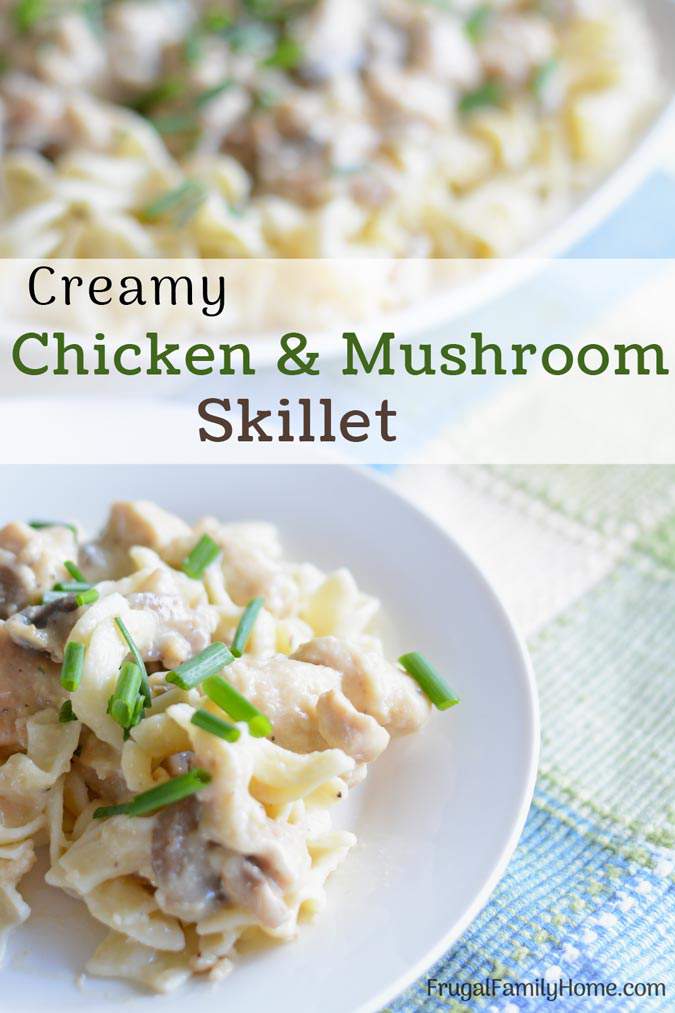 I've used referral links where appropriate, thanks for your support. 
This mushroom chicken skillet is one of those dishes that are easy to make and quick too. Which is so nice at the end of a busy day.
When I make this mushroom and chicken skillet dish I use homemade cream soup from the freezer or I'll cook up a batch really quick from the powdered mix I have on hand. But if you don't want to make your own cream of mushroom soup, you can use a can of soup from the store.
To make this dinner even easier I will prepare the meat package for the freezer when I find chicken on sale or when I purchase from Zaycon Fresh.
For this recipe,  I'll cut the chicken into cubes and add one pound of meat to a zipper freezer bag. I like to prepare the chicken for the recipe before freezing it. So I only have to handle the yucky raw chicken once and it's already recipe.
When I'm ready to make this dish, I'll thaw the chicken and add it to the skillet making it even easier to prepare. If you'd like more chicken freezer meal pack ideas, have a look at my chicken freezer cooking ebook.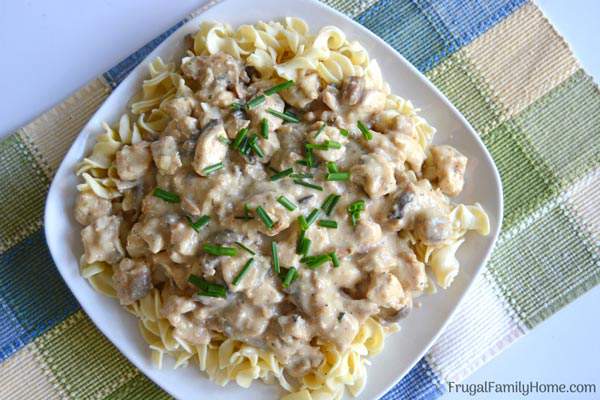 What You'll Need for this Chicken Mushroom Skillet Dinner
Chicken Breast or Thigh, diced
Cream Soup homemade or store-bought
Mushrooms, fresh or canned
Oil
Egg Noodles
Only 5 Ingredients are needed to make this dish. I usually use canned mushroom because I rarely purchase fresh mushrooms but either can be used.
I like that the ingredients in this recipe can be stored in the pantry or prepared for the freezer ahead of time. Making it so much easier to get dinner on the table.
We usually pair this dish with a salad if it's spring or summer. Or with a helping of steamed broccoli for the winter and fall months. Add a little fruit and you have an easy full dinner, your family will love.
Mushroom Chicken Skillet Recipe Tips
This recipe is an easy one to prepare these tips can help you get your meal done more quickly and easily.
✳︎ Dice chicken into cubes when you purchase it from the store and store in zippered bags, one pound to each bag. I like to do this step so I only have to handle the raw chicken once.
✳︎ Use boneless skinless chicken breast or thighs to cut up. If your family doesn't like white meat chicken thighs are a good alternative and can be less expensive too.
I prefer boneless chicken for this recipe but you could debone and remove the skin on regular thighs or chicken breast.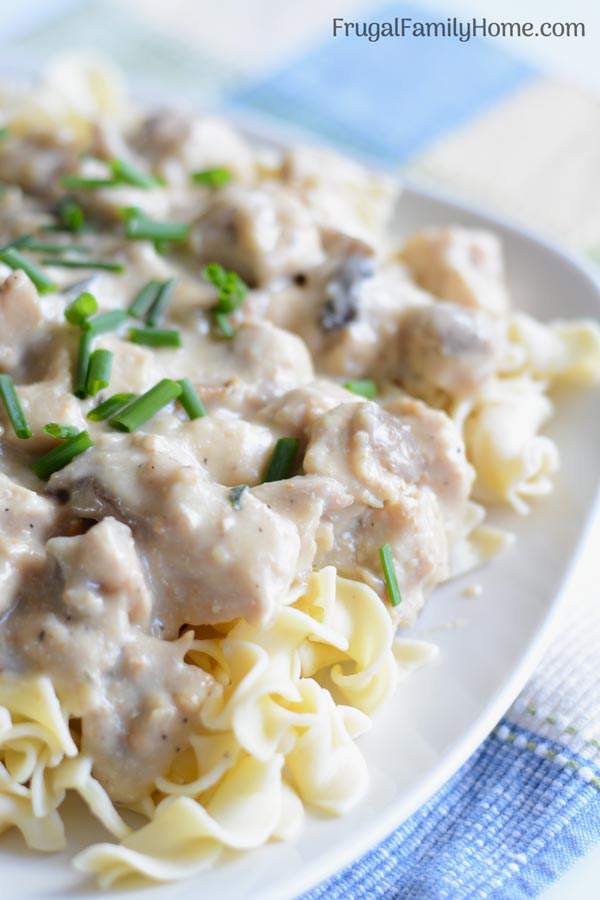 ✳︎ Get the pan nice and hot before adding the cold chicken. If you would like your chicken to be browned nicely get the pan hot before adding the cold chicken.
Then let it sit in the pan to cook on one side before stirring to cook it on the other side. This will ensure a nice brown color to the bits of chicken instead of them being pale and white.
✳︎ Don't remove the brown bits from the pan before cooking the mushrooms. Those brown bits on the pan can really add flavor to the dish, don't worry about removing them.
✳︎ Let the mushrooms sit in the pan on each side to get them to brown. When using canned mushrooms, the mushrooms won't brown as well but if you let them sit on each side they will take on a little brown color.
✳︎ You can cook the chicken and the mushrooms together but it may take a little longer to get them all brown. It can be done to save a step of removing the chicken from the pan and then adding the mushroom but it may take a little longer for them all to brown.
✳︎ Start the pasta water when you start to cook the chicken. It will take a while for the pasta water to get hot and then time to cook the pasta. If you start the water at the same time you start cooking the chicken, they should be ready about the same time.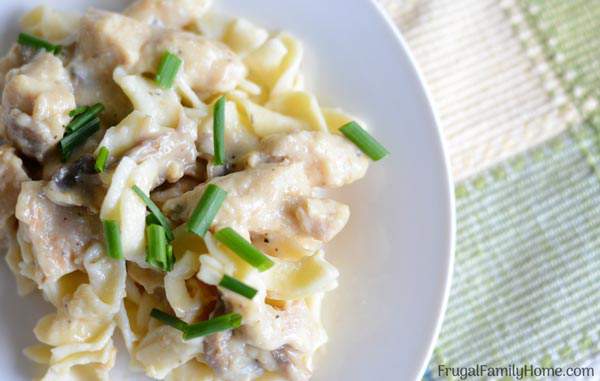 ✳︎ Save a little pasta water when you are draining the pasta. I always save a little pasta water just in case my mushroom soup is a little thick. After adding the cream soup to the chicken and mushrooms, I'll add a little pasta water to loosen the sauce a bit.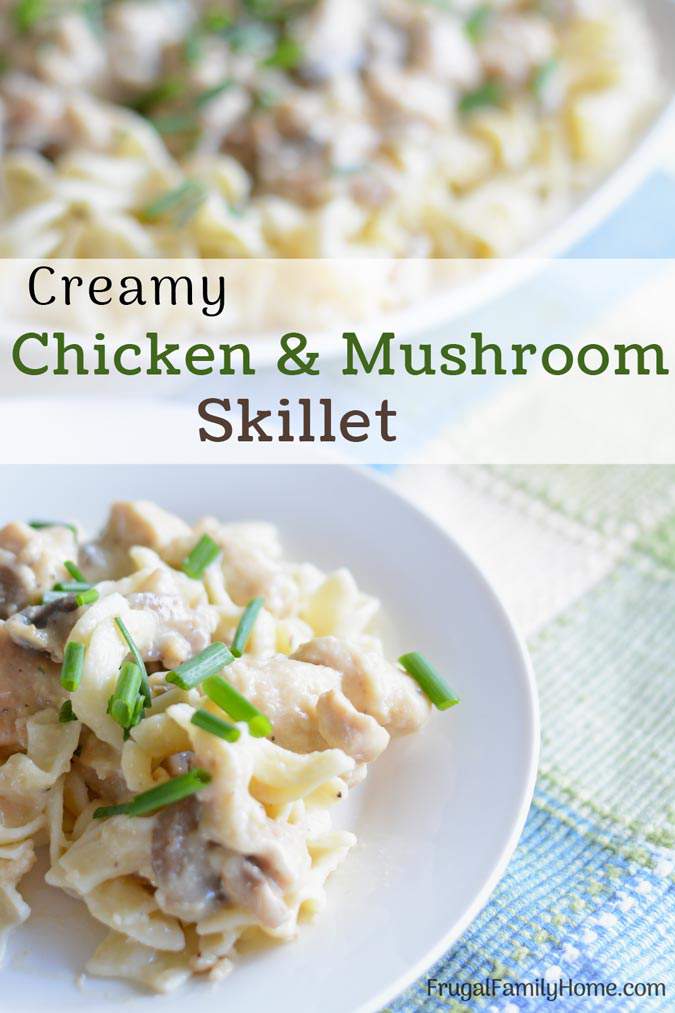 Creamy Mushroom and Chicken Skillet
Ingredients
1

pound

Chicken Breast or Thigh

diced

1

can Mushroom sliced or 1 cup Fresh Mushrooms

sliced

1

can or a batch of Homemade Cream of Mushroom Soup

1

tablespoon

Oil

8

ounces

Egg Noodles
Instructions
Start heating a large pot of water to cook the pasta.

Heat the 1 tablespoon of oil in a skillet over medium-high heat. Wait to add chicken until it is hot. Add diced chicken and cook until brown on one side. Flip over and brown on other sides until cooked through.

Remove the chicken from pan and place on a plate. Add the mushrooms and cook until browned.

Add the pasta to the pot once it boils cook until al dente about 8-9 minutes.

Once mushrooms are browned add chicken back and turn heat down to medium low.

Add the cream of mushroom soup to the skillet and stir.

If the sauce is too thick add a 1/4 cup of the pasta cooking water.

Keep on the burner on low or off, to keep the chicken mixture warm until pasta is done.

Drain pasta.

Place pasta on serving plate and spoon the chicken mixture over top.

Serve.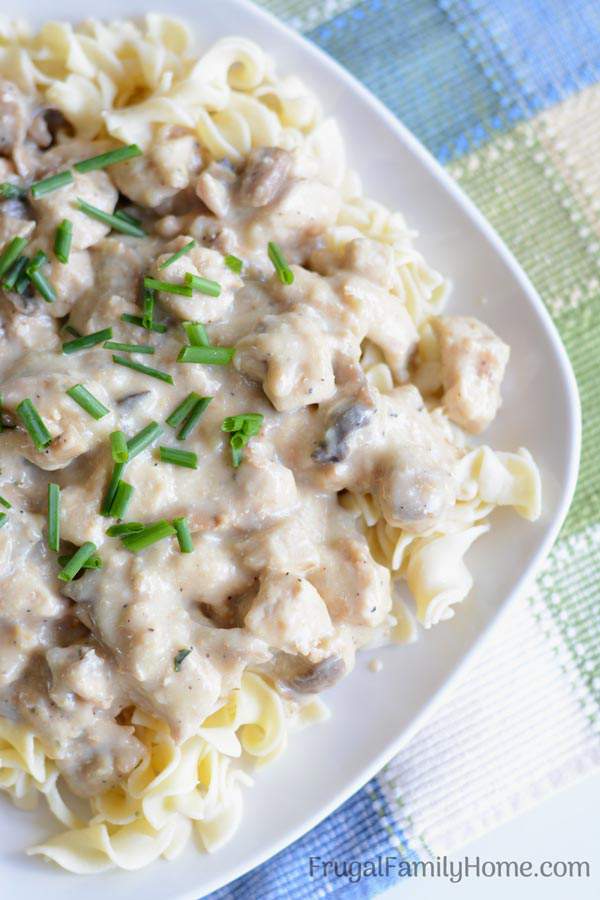 This mushroom chicken skillet is one dinner we enjoy often and I hope you and your family enjoy it too!
More Easy Dinner Idea
Bean and Beef Enchiladas
Chicken and Artichoke Bake
Subscribe and you'll get Recipes
sent right to your inbox!
Click the button below and fill out the form.