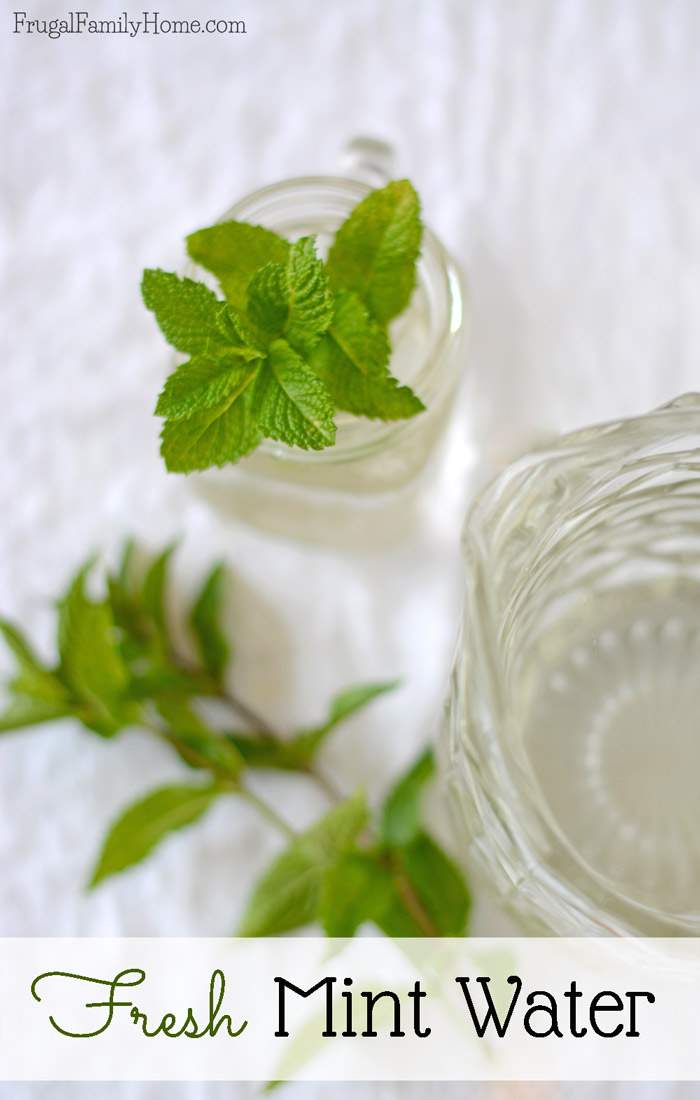 I love to make sure I have quite a few options of non-sugary drinks on hand in the summertime. I know when the hot weather hits it can make you so thirsty, and it's easy to grab a pop, or maybe you call it soda where you live. But I think you'll like this summertime drink recipe for fresh mint water even better.
Fresh mint water is super easy to make, you only need two ingredients, mint and water. You can purchase fresh mint at the grocery store in the produce area. But we grow our own in the garden.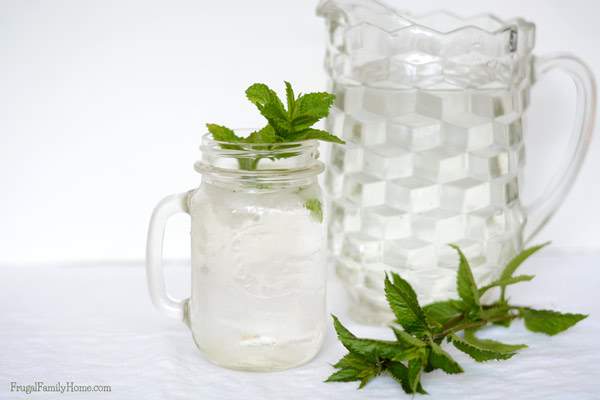 Mint is really easy to grow. But one word of warning, be sure to grow it in a container. In our garden we have two kinds of mint we grow in containers. If you grow mint in the ground it can tend to spread everywhere so we grow ours in pots to help keep it under control. We grow peppermint and spearmint in our garden.
I love that I purchased two plants about 5 years ago and each spring they start to grow and in the winter they die back. It's such an easy plant to grow.
What You'll Need for the Fresh Mint Water,
You need to get a few sprigs of mint. If you have lots of mint you can add more if you want. I find two sprigs will easily flavor a half gallon of water.
Step 1,
Wash the mint. Crush the mint, we do this by rolling it between our hands.
Step 2,
Drop the crushed mint into the water and refrigerate for a few hours or overnight.
Step 3,
After sitting overnight, you'll have a very refreshing minty drink. Once the water is flavored strongly enough, remove the mint from the water.
Sweeten the Fresh Mint Water
If plain mint water is well, just too plain, you can add a little sweetener to the water. Stir in a little sugar or simple syrup to give it a little sweetness.
We don't do this at our house, but if you like your drinks a little sweeter you can add some sugar to the mint water.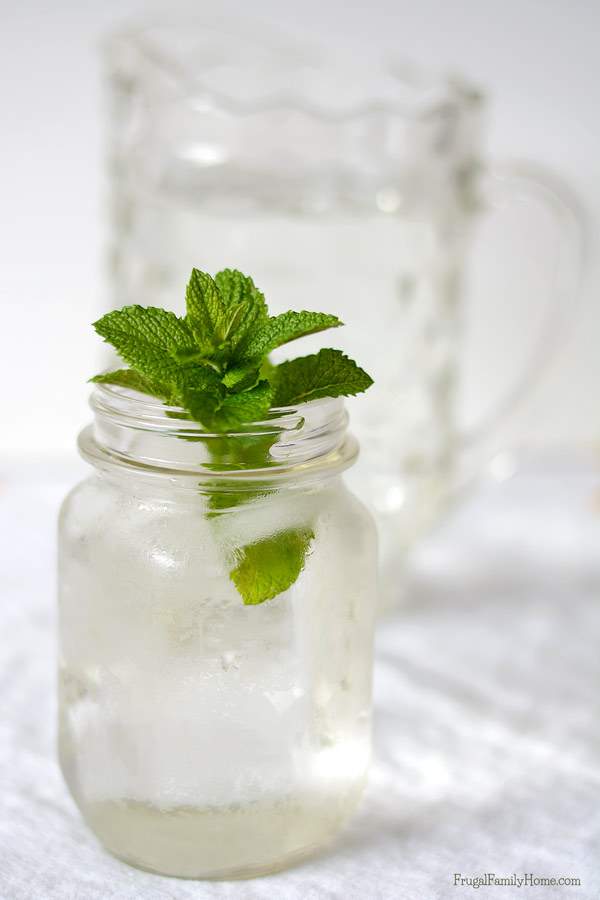 I've found having a flavored water on hand helps to keep me drinking more water. Somedays I want something a little different than the normal plain water and this mint water really hits the spot on a hot summer day.
If you have mint in your garden, be sure to give this super easy recipe a try. I'm sure you'll enjoy it.
Here's the recipe to print, although it's so simple you probably don't need it.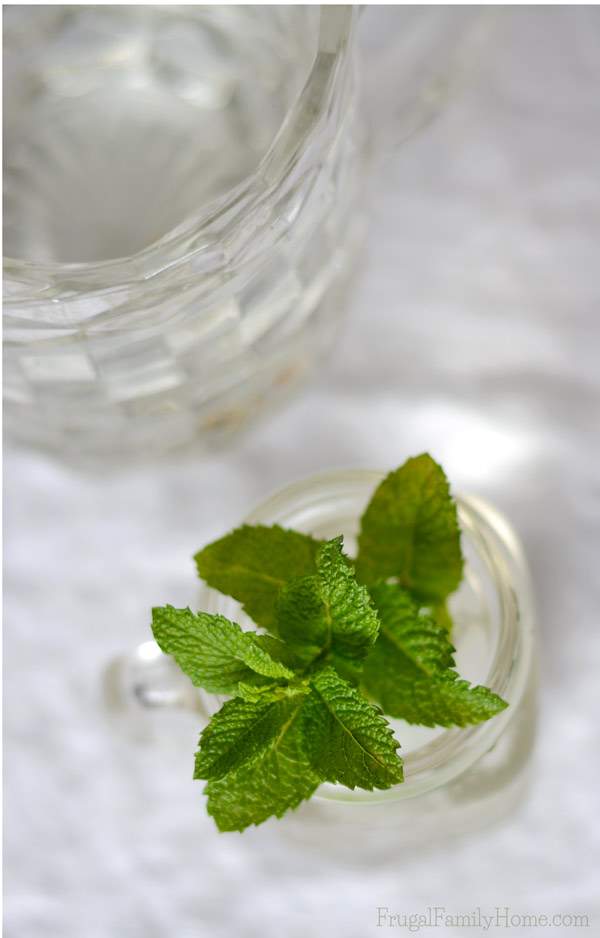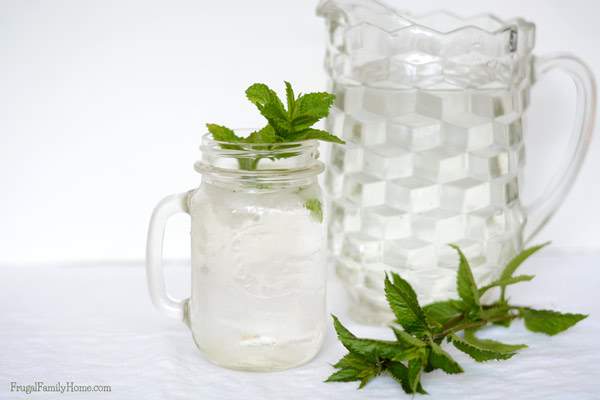 Fresh Mint Water
Ingredients
1-2

Sprigs of Mint

Water

Pitcher
Instructions
Fill a pitcher with water.

Wash the sprigs of mint well.

Crush the mint by rolling it between your hands.

Drop the crushed mint into the water.

Let the mint infuse the water overnight.

Once the water is infused enough, remove the mint.

Serve over ice with a fresh sprig of mint in it. Add sweetener if desired.
What's your favorite summertime drinks? Have you ever tried fresh mint water?
Other Summer Time Drink Recipes You'll Enjoy
Make Your Own Smoothie Packs
DIY Root Beer Syrup for Homemade Root Beer
Make Your Own Sun Tea
SaveSave
SaveSave
Subscribe and you'll get Recipes
sent right to your inbox!
Click the button below and fill out the form.