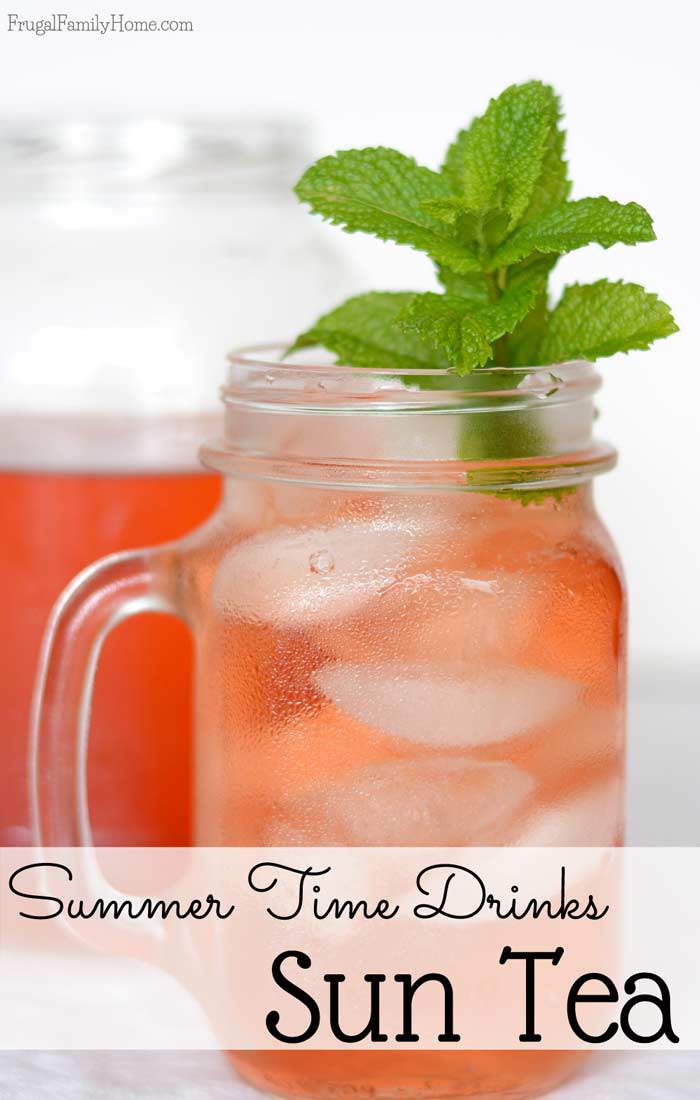 When it's hot in the summer, you need yummy drinks to keep you cool and hydrated. I don't like my kids to drink a lot of sugary drinks in the summer.
We make things like mint water and sun tea for our summer time drinks. My mom used to make a batch of sun tea at least once a week in the summer. It's easy to make and really good too.
For sun tea you can use any type of tea bag you want. I usually have an assortment of herbal teas on hand and white or green tea too. I think our family enjoys the herbal teas the most. But growing up my mom normally made black tea. You can use whatever tea your family prefers.
Just so you know, the links below are my referral links. When you use them I might make a little money at no extra cost to you. Thanks for your support in this way. For more information, please see my disclosure policy.
Making Sun Tea, What You'll Need for this Summer Time Drink
Glass Jar or Pitcher
Tea Bags of your Choice
Sunshine
Step 1
Start with a clean pickle jar. I also have a lidded pitcher with a spigot http://amzn.to/1Iat7rN but I only needed a smaller amount of tea so I used the pickle jar instead.
Step 2
Fill the jar with water to the top.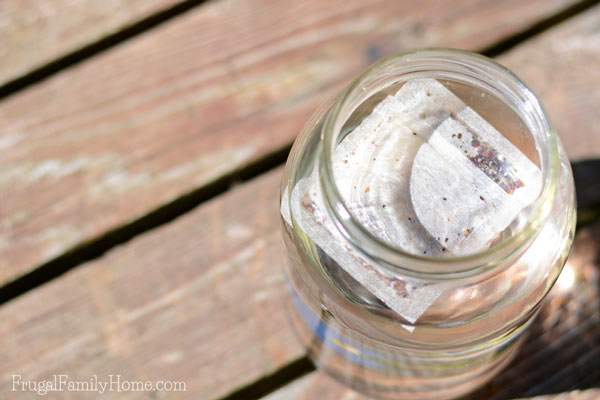 Step 3
Place the tea bags into the jar with the water. I added two for my pickle jar which was a half gallon. If using a bigger jar you'll need 3-4 tea bags.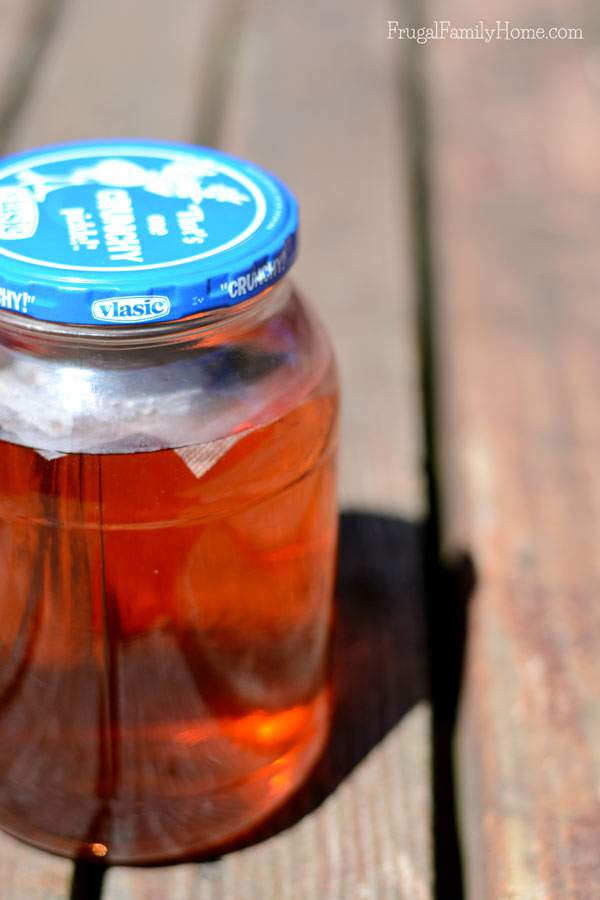 Step 4
Place the lid on the jar and place in the sunshine to brew. Ours took about 2 hours to get to the strength we like.
Step 5
Remove tea bags and refrigerate to chill.
To Serve,
Pour the chilled sun tea over ice cubes to serve. You can add in sugar or a little simple syrup if you like sweet tea. A little bit of lemon is also good or a sprig of mint.
That's really all there is to making your own sun tea. It's super simple to do. But it makes for a great inexpensive and delicious summer time beverage.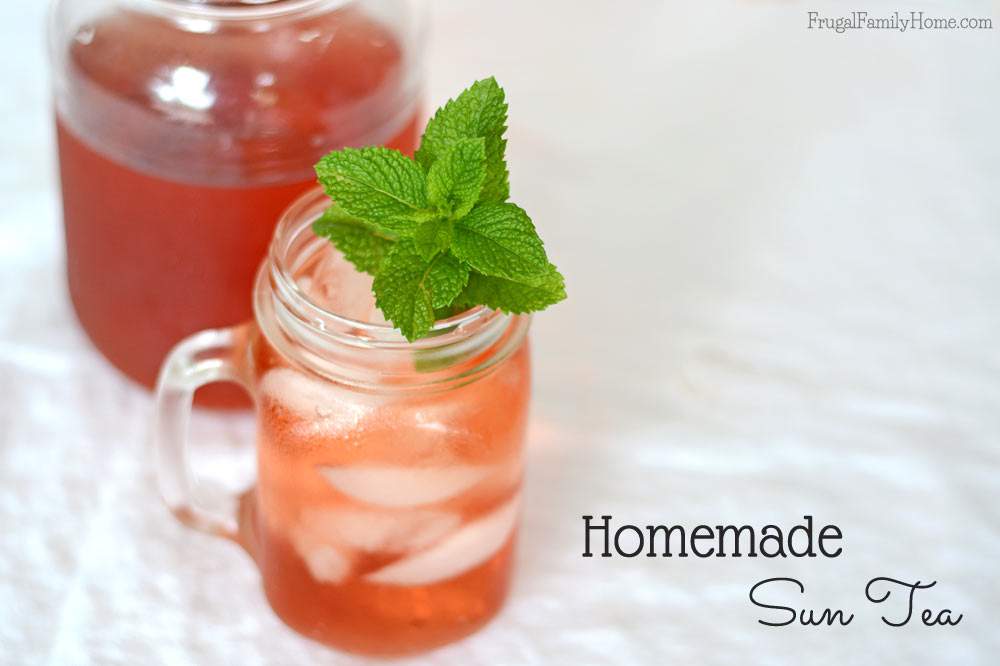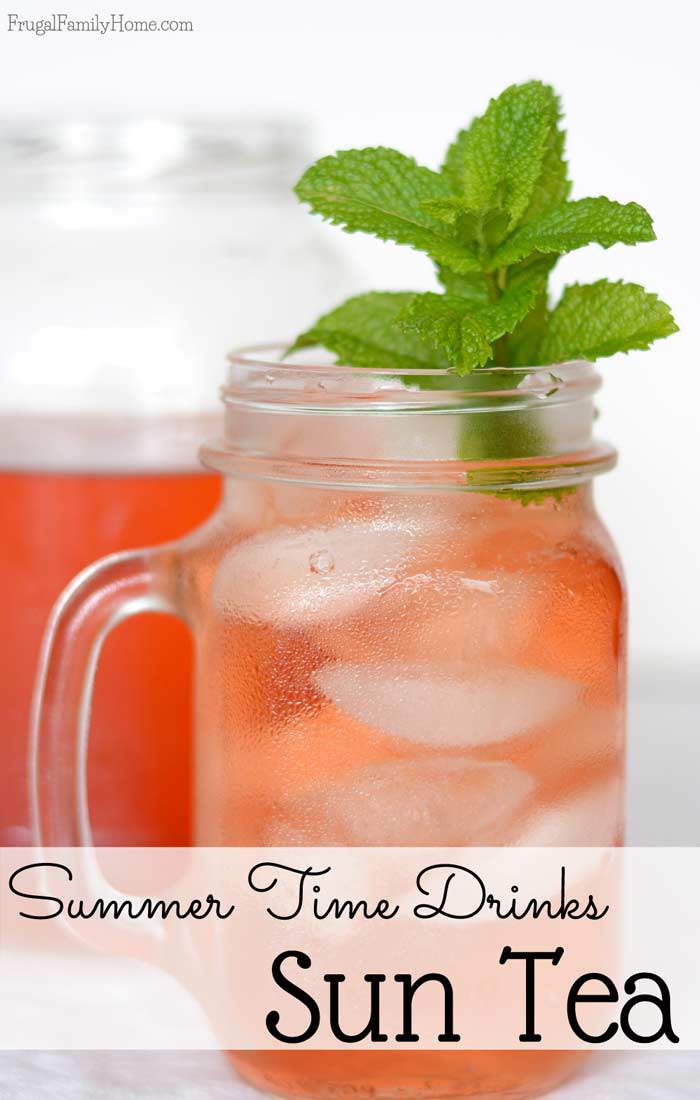 Sun Tea
How to make sun tea in your own backyard.
Ingredients
3-4

Tea Bags

Pitcher or Glass Jar with lid

Water
Instructions
Fill your jar or pitcher with water.

Add the tea bags and place lid on the pitcher or jar.

Let the container sit in the sun for 2-6 hours or until the tea is the strength desired.

Remove the tea bags and place in the refrigerator to chill.

Serve the sun tea over ice.
What's your favorite summer time drinks?
Other Yummy Beverages You'll Like,
Mint Water
DIY Smoothie Packs
DIY Root Beer Syrup
Subscribe and you'll get Recipes
sent right to your inbox!
Click the button below and fill out the form.