Fall is a great time for everything pumpkin. But have you had pumpkin fries? They are like sweet potato fries and so yummy.
You can make them at home easily in your oven. They are slightly sweet and so delicious. Keep reading to see how to make pumpkin fries at home.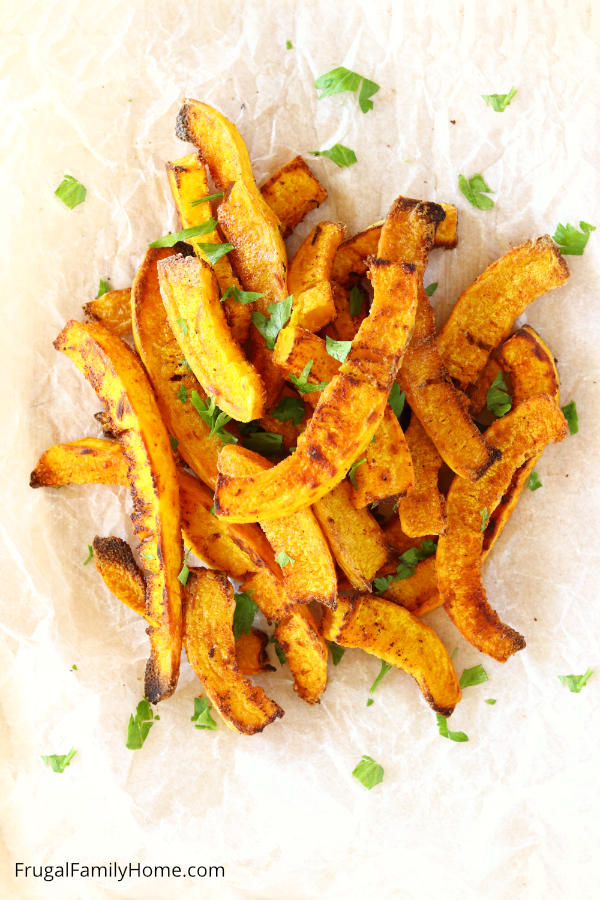 Before we get to making our pumpkin fries there are a few tips, you need to know. After all, you want your fries to turn out great.
Nice and soft in the middle with a little crunch on the outside. Just perfect. And that all starts with the right pumpkin.
What kind of pumpkin do you to use for pumpkin fries?
There are a couple kinds of pumpkins. One pumpkin is the kind that you get around Halloween, called carving pumpkin.
While you can cook with them, they are not ideal. They have walls that aren't as thick and when cooked are more watery. Water and fries, not a good combination.
Instead, you'll want to use a pie pumpkin to make pumpkin fries. Pie pumpkins are smaller. They have thicker walls and they are less watery when cooked.
So they are the perfect pumpkin to use for pumpkin fries.
Do I really need to soak the fries first?
Well, yes! It does really make a difference. Just like when you are making homemade french fries from potatoes, you need to soak them. You need to soak the pumpkin fries too.
Soaking them helps to remove some starch. Which makes the fries more crisp. Which is what we want.
You'll want to soak the pumpkin fries 30 minutes to overnight. I usually cut my fries the day before, or at least in the morning, and then soak them all day. Before cooking them.
You can skip this step, but the fries just won't turn out as good.
What's the deal with tossing the fries in cornstarch?
You'll want to toss the fries in cornstarch to help the crisp up. The cornstarch can help with sogginess. I didn't believe it at first, but I tried it when I was baking tofu and it helped.
It works great on these pumpkin fries, too.
Now let's get to making these yummy fall pumpkin fries.
How to Make Crisp Pumpkin Fries
Here's a quick video to show you all the steps to making pumpkin fries. If you are looking for the recipe keep on scrolling, it's below along with the step by step written tutorial too.
Pumpkin Fries Recipe Step-by-Step Instructions
Here's the step-by-step instructions for making pumpkin fries. Just in case watching a video isn't your thing.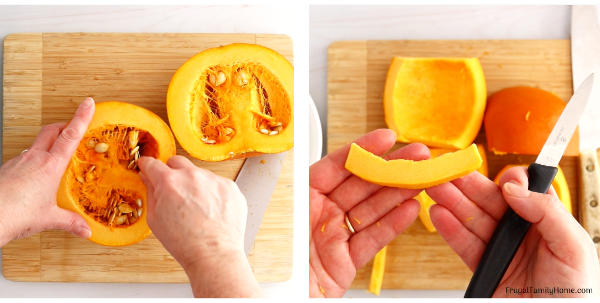 Step 1
Wash the pie pumpkin and cut in half. Remove the strings and seeds. Set the seeds aside to roast later and discard strings.
Step 2
Cut the cleaned halves of pumpkin in half again. And cut the ends off. Then cut into about 1/4 to 1/2 inch strips. Peel each strip with a knife or a vegetable peeler.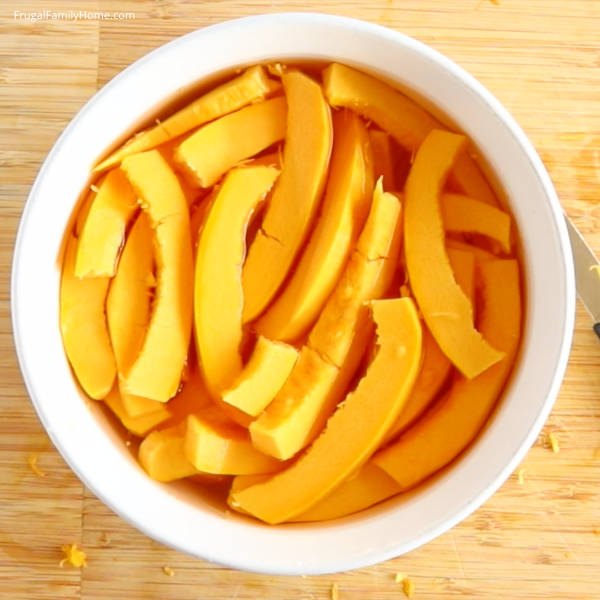 Step 3
Place the pumpkin fries into water and soak overnight or at least 30 minutes.
Step 4
Remove the fries from the water and pat dry.
Step 5
Place 1/3 to 1/2 of the fries into a zipper topped bag and sprinkle part of the cornstarch on top. Close the bag and shake to distribute the cornstarch. Remove those fries and place in a bowl. Repeat the process for the rest of the fries.
Step 6
Drizzle the cornstarch dusted pumpkin fries with oil and toss to coat. Mix the paprika, garlic and salt in a small bowl. Then sprinkle the seasoning on the oiled fries. Mix to spread the seasoning to all the fries.
Step 7
Grease a cookie sheet and place the pumpkin fries in a single layer on a cookie sheet or two cookie sheets. You want lots of room around each fry so it will get crisp and not soggy. Don't overcrowd the pan.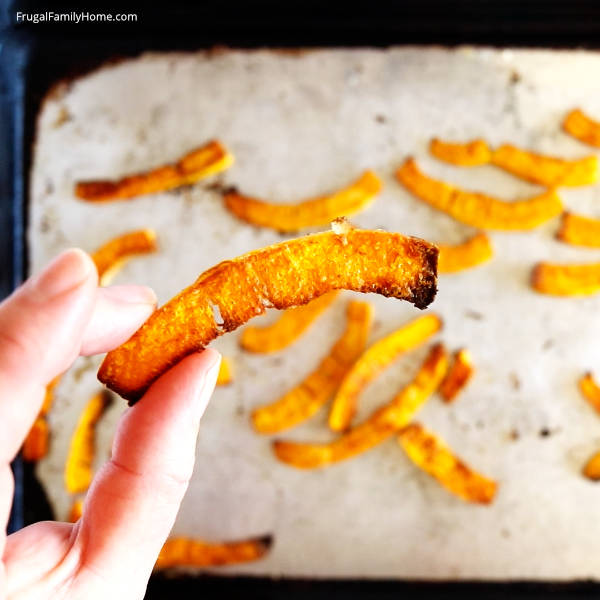 Step 8
Bake at 425 degrees for 5-8 minutes, then flip and bake another 5-8 minutes. Until fries of golden and crisp.
Step 9
Remove from oven and enjoy.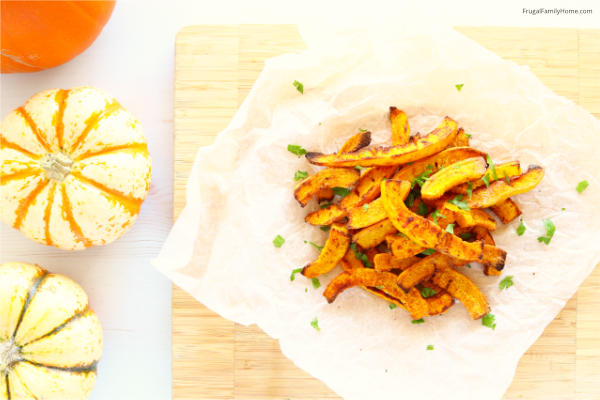 Get the Printable Pumpkin Fry Recipe…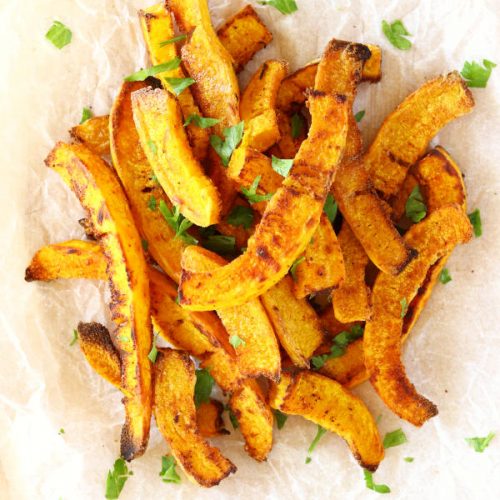 Pumpkin Fries
Make your own delicious pumpkin fries at home. It's easy to do, and they are so good. These have a slightly smokey flavor too from the paprika.
Ingredients
1

Pie Pumpkin

1

tablespoon

Cornstarch

1

tablespoon

Oil

1

teaspoon

Smoked Paprika

1

teaspoon

Garlic

1

teaspoon

Salt
Instructions
Cut pie pumpkin in half, scoop out the seeds and pulp out. Keep the seeds for roasting.

Once the insides are clean. Cut off the ends and slice the pumpkin pieces in half again.

Cut pumpkin into fries about 1/4 inch.

Peel the pumpkin skin off each piece.

Soak your pumpkin fries in water for at least 30 minutes or overnight if you have time.

Drain and dry the fries.

Preheat the over to 425 degrees.

Grease 2 cookie sheets with cooking spray or line with parchment paper.

In a large ziplock bag, place a 1/3 to 1/2 of dried fries into the bag. Sprinkle with part of the cornstarch, seal and shake. Repeat for the rest of the fries with the rest of the cornstarch.

Place the cornstarch fries in a large bowl.

Drizzle with oil and toss. Mix the paprika, salt, and garlic powder in a bowl. Sprinkle on top of fries and toss to coat.

Spread coated fries onto a prepared baking sheet.

Bake 6-8 minutes on one side flip and bake another 6-8 minutes.

Once fries are golden and crisp, remove from oven and enjoy.
Notes
The nutrition facts are estimates since these numbers can change if you alter the recipe ingredients. 
Nutrition
Calories:
70
kcal
Carbohydrates:
9.9
g
Protein:
1.3
g
Fat:
3.6
g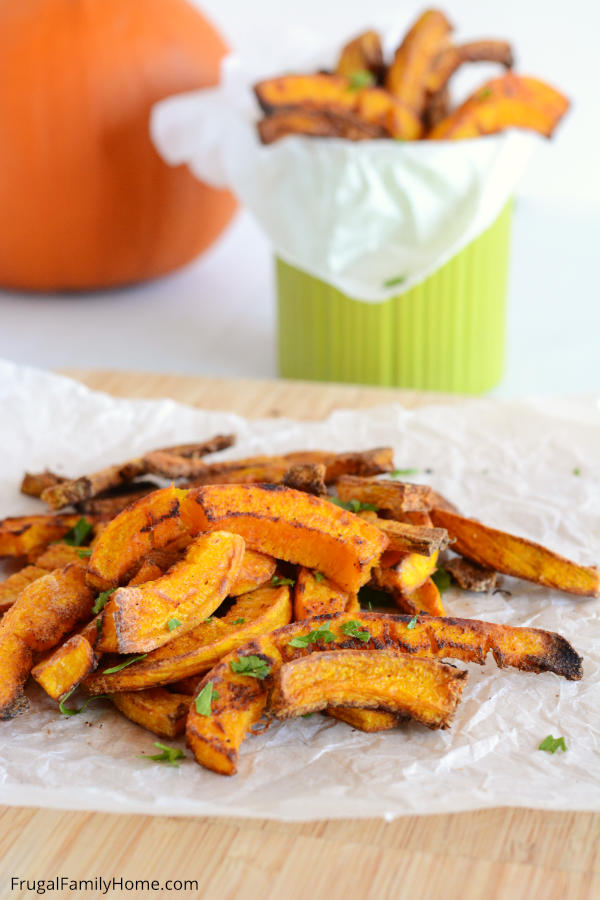 More fall recipes to try…
How to Use Frozen Pumpkin Puree