Fall is the time for pumpkin everything and if you've been wanting to try a pumpkin butter this is how to make pumpkin butter plus 8 ideas on how to use it too.
Have you ever wondered how to make pumpkin butter?
Pumpkin butter is simple to make with just a few ingredients you can be enjoying pumpkin butter in about 20 minutes.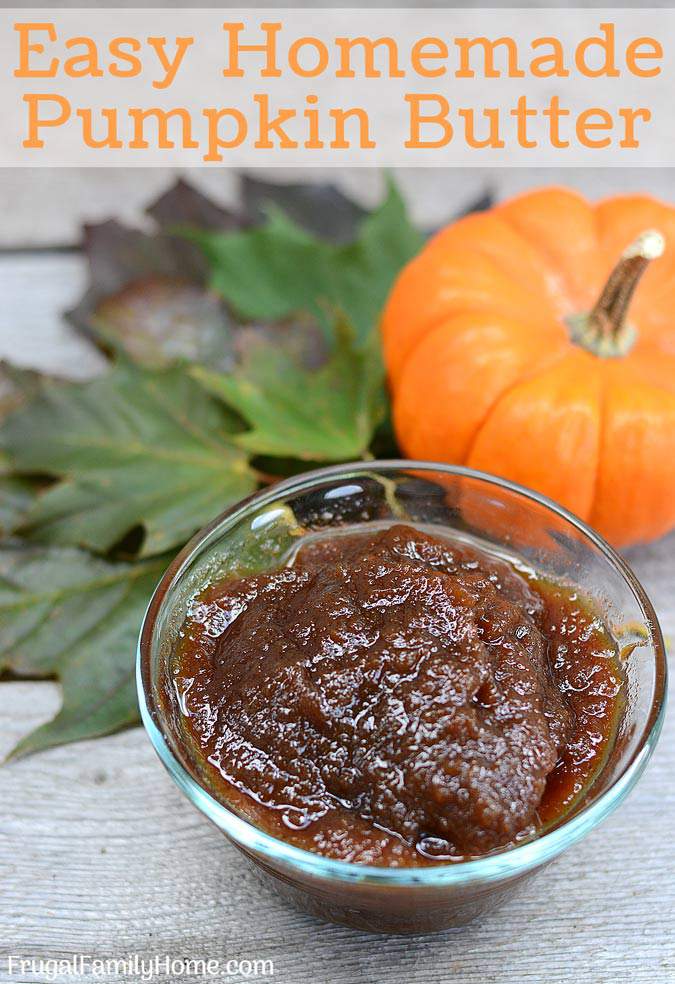 How to Make Pumpkin Butter
This pumpkin butter recipe is pretty easy to make. I made a quick video, under a minute, to show each step in making pumpkin butter. Be sure to scroll down for the printable recipe too.
Tips for Making Pumpkin Butter
Pumpkin butter is a smooth fruity spread that contains no butter at all. Isn't it odd that pumpkin butter doesn't have butter in it? I'm still trying to figure that one out.
But I'm sure it's called butter because of its consistency. It's not a jelly, it's not a jam but thicker more like butter. Hence that is probably why it's called butter.
To make great pumpkin butter you want to start with pumpkin puree. You can make your own pumpkin puree or use the canned pumpkin puree. But be sure to use pumpkin puree and instead of pumpkin pie filling.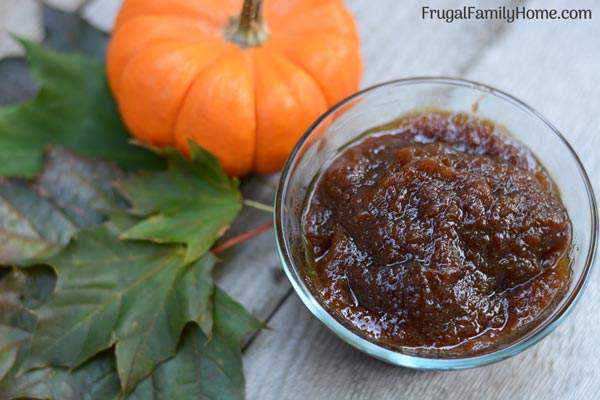 I like to add both brown sugar and honey. The brown sugar adds a little molasses flavor and the honey has a nice flavor and adds a little sweetness too. If you don't have honey you can leave it out and add just a little extra brown sugar.
The lemon juice adds a nice balance to the pumpkin butter. Don't leave it out.
Finally, the spices are the same as pumpkin pie spice. This pumpkin butter has the flavor of pumpkin pie with these spices but no eggs or fat at all is added. So it's a fat-free treat.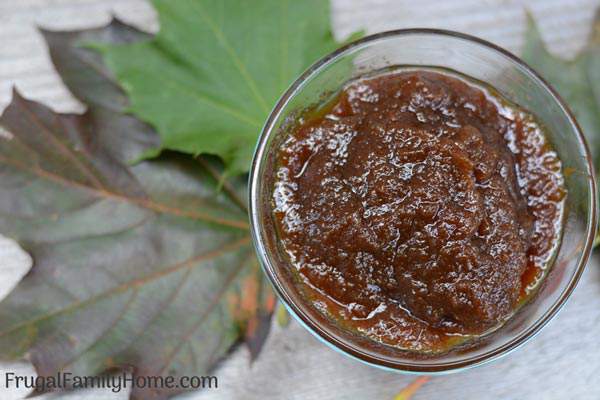 Ready to try this delicious recipe? Grab the printable recipe below and keep on scrolling for 8 ways to enjoy pumpkin butter too.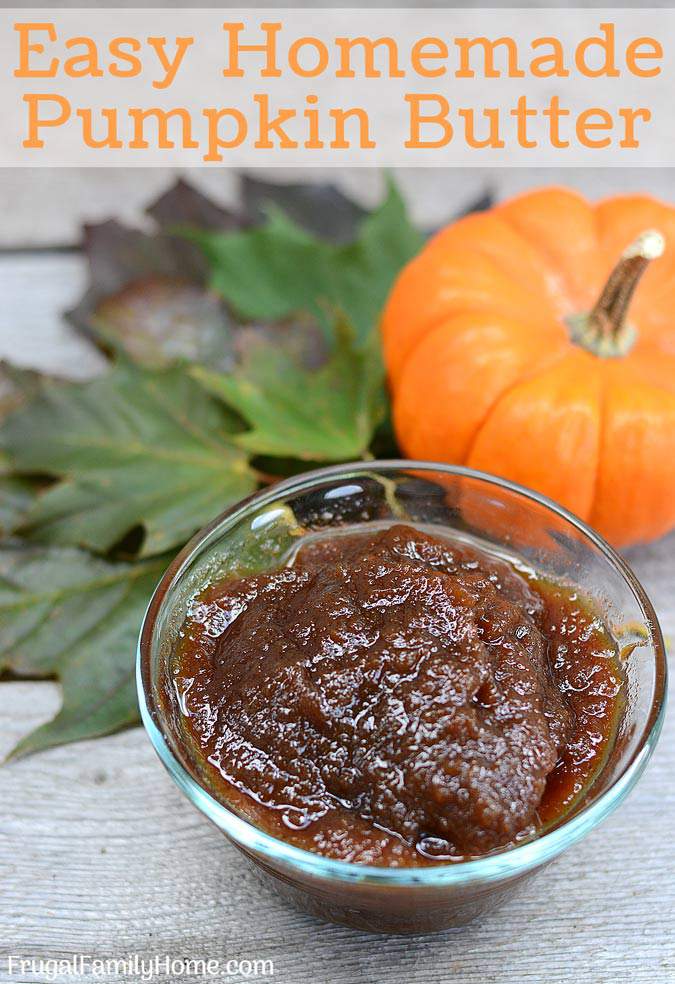 Homemade Pumpkin Butter
Ingredients
2

cup

Pumpkin Puree

2/3

cup

Brown Sugar

2

Tablespoons

Honey

1

tablespoon

Lemon Juice

1/2

teaspoon

ground Cinnamon

1/8

teaspoon

ground Cloves

1/8

teaspoon

ground Nutmeg

1/8

teaspoon

ground Ginger
Instructions
Place all the ingredients into a saucepan and heat over medium heat until boiling.

Turn heat down to slow and simmer partially covered for 20 minutes or until the mixture is thickened. Stirring occasionally to keep it from sticking.

Once thickened, remove from heat and let cool.

Place in an airtight container and store in the refrigerator up to three weeks.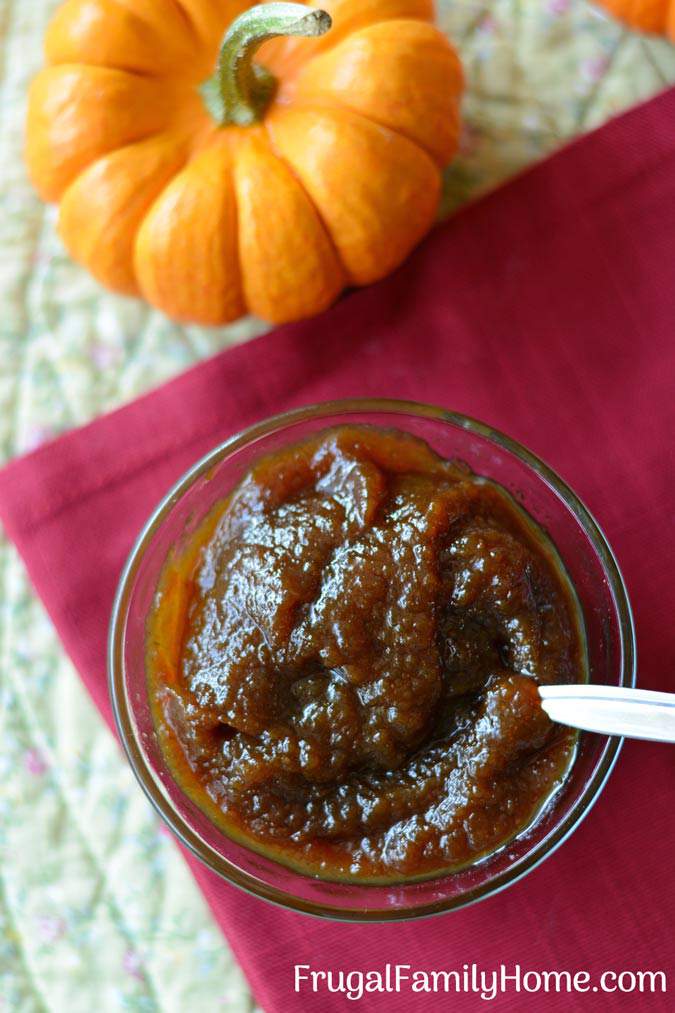 8 Ways to Enjoy Pumpkin Butter
1. On top of Oatmeal
Add a healthy dollop of pumpkin butter to the top of your oatmeal with a few pecans or almonds that have been chopped for a yummy fall breakfast.
2. On top of Pancakes
Mix a little pumpkin butter in with your pancake syrup. Stir to mix well and then pour it onto your yummy stack of hotcakes.
3. On a Sandwich
Spread the pumpkin butter on one half of the bread of your sandwich. It goes great with turkey or peanut butter.
4. In Recipes
Mix in some pumpkin butter when you are making pancake batter, waffle batter or muffin batter to add a little spice and pumpkin flavor.
5. In Yogurt
Make a lovely fall treat by spicing up your plain or vanilla yogurt with a dollop or two of this pumpkin butter. Eat it on top or mix it in.
6. On Toast or English Muffins
Make breakfast extra special with a nice smattering of pumpkin butter on your toast or english muffins. Add a few thin sliced apples on top for a touch of sweetness and crunch.
7. On top of Ice Cream
Make your own fall ice cream treat by scooping up a nice serving of vanilla bean ice cream. Then add a drizzle of homemade caramel sauce infused with a tablespoon of pumpkin butter. Yum!
8. Inside Cinnamon Rolls
As you are making cinnamon rolls instead of using regular butter, try using pumpkin butter instead. Sprinkle with a little sugar, cut, and bake as usual.
That's how to make pumpkin butter from scratch along with 8 ways to enjoy your homemade pumpkin butter.
What would be your favorite way to enjoy this pumpkin butter recipe?
More Pumpkin Recipes to Try,
Caramel Frosted Pumpkin Bars
Pumpkin Chocolate Chip Cookies
Maple Glazed Pumpkin Bread
Subscribe and you'll get Recipes
sent right to your inbox!
Click the button below and fill out the form.