This is a quick and easy breakfast recipe for rhubarb crumble coffee cake. It's a yummy way to use some of the rhubarb you have growing in your garden.
I'm always on the lookout for great recipes that I can use your garden produce in. There is something that is so satisfying about harvesting a fruit or vegetable from your garden, bringing it in and preparing it for friends and family.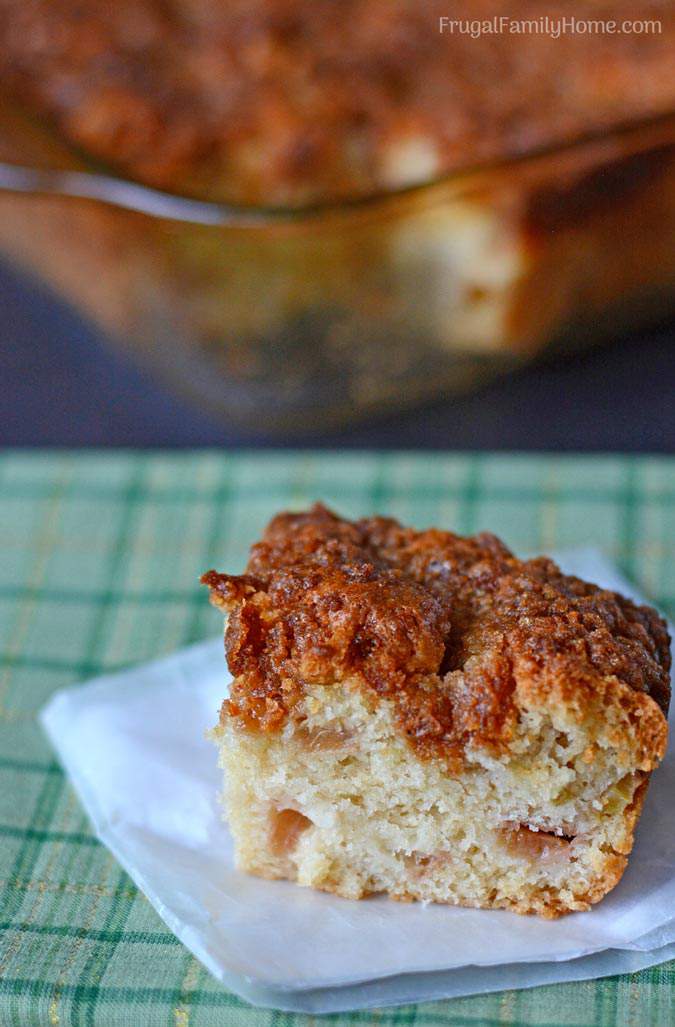 You know exactly where that item was from the time it started to grow to when it ended up on your table.
This week the Tuesday in the Garden bloggers and myself are sharing a few garden to table recipes. I'm sharing a new recipe I made for rhubarb crumble coffee cake, which you'll find below.
But be sure to scroll all the way down to the bottom to see what recipes my blogging friends have to offer too. They are all great cooks and bakers so I know you'll love their recipes.
My choice for a garden to table recipe was decided by what I had ready to pick in my garden. I got a late start to my garden this year, then the poor garden has been hindered by our continual rain and cool temperatures.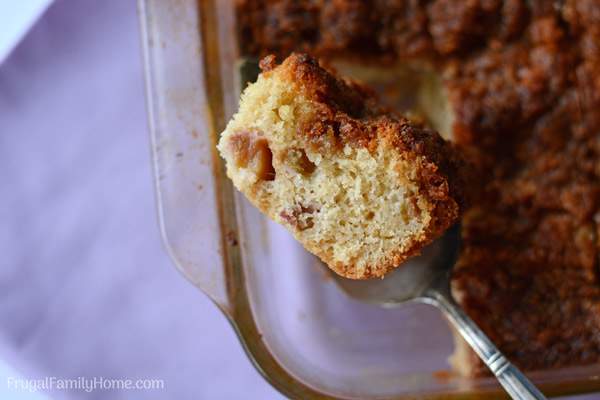 I love the cool temperatures and rain this time of year but it's not great growing weather. So as I looked around my garden I spotted lots of rhubarb ready to pick.
Rhubarb is a fruit, or maybe it's a vegetable, I'm not really sure about that but it's something that grows really easily in our garden. I love it because once it's planted and established it keeps giving year after year.
You only eat the stocks, not the leaves. I've heard the leaves contain a compound that poisonous so don't eat the leaves, throw them out and only eat the stocks. I wonder who figured out the stocks were fine to eat but not the leaves.
Once you have your stocks of rhubarb harvested clean them up and cut the ends off. And they are ready to use in recipes.
I've made rhubarb recipes for ice cream and crisp and even jam. But I wanted to make a recipe that we could eat for breakfast. We always end up with lots of rhubarb in the freezer and having a way to use it in a yummy breakfast dish would be nice.
My son suggested muffins, he loves muffins. But I thought what about a coffee cake? It's something I don't make that often, so it would be special but it's close enough to a muffin that my son would also love it.
Plus if you have unexpected company come by you can make a coffee cake really quick.
Who can resist a little crumble topping on top? That's one of the reasons coffee cake is so good.
How to Prepare Rhubarb for the Freezer
If you want to enjoy this yummy dish even when your rhubarb isn't producing, prepare the rhubarb for the freezer.
Harvest your rhubarb, wash and dice it. Then place it in a zipper freezer bag in 2 cup portions and freeze. It's that easy and you'll have rhubarb waiting in the freezer when you have a craving for this yummy rhubarb crumble coffee cake.
How to Make Rhubarb Crumble Coffee Cake
I've made a quick video to show the steps of this recipe and you can print the recipe below. After you've done that scroll down to see what recipes the other Tuesdays in the Garden bloggers have to offer from their garden harvests.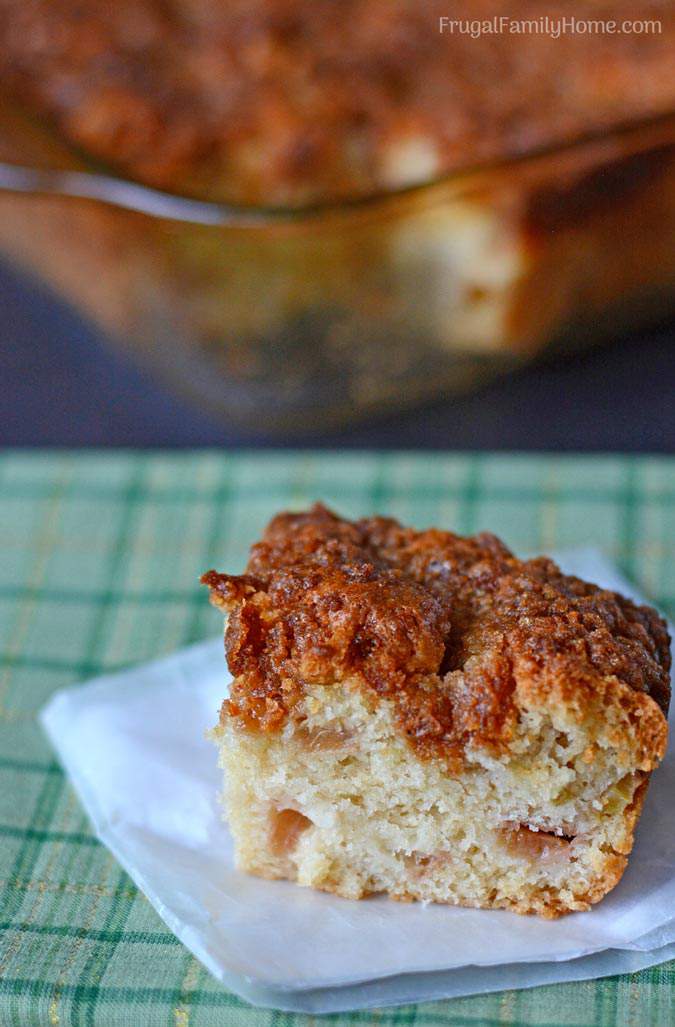 Rhubarb Crumble Coffee Cake
Ingredients
2

cups

Flour

3/4

cups

Sugar

1

tablespoon

Baking Powder

1/2

teaspoon

Salt

2

cups

Rhubarb

diced

1/4

cup

Oil

3/4

cup

Milk

Crumble Topping

1/3

cup

Flour

1/2

cup

Brown Sugar

1/2

teaspoon

Nutmeg

1/4

cup

Butter or Margarine
Instructions
In a large bowl combined flour, sugar, baking powder, and salt. Whisk until combined.

Add the diced rhubarb and toss to coat with flour mixture.

Add oil and milk and stir until the dry ingredients are moistened. Be careful not to over mix.

Spread into a greased 8-inch square baking pan. Set aside.

In a medium bowl combine flour, brown sugar, and nutmeg for the crumble topping. Whisk to mix well.

Cut butter into the brown sugar mixture until the mixture is combined and crumbly.

Sprinkle crumble topping onto the coffee cake batter and bake at 375 degrees for 45 to 50 minutes. Test for doneness by pressing a toothpick into the center of the coffee cake if it comes out clean, it's done.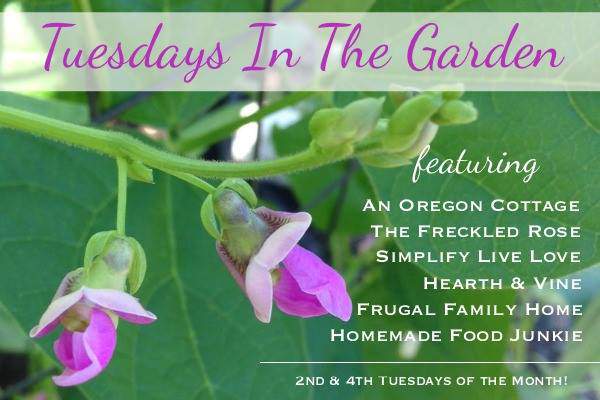 This week we have a few yummy garden to table recipes to share. Just click on the photo below to be taken to the recipe. Enjoy!
More Rhubarb Recipes You'll Love
Roasted Rhubarb Ice Cream
Rhubarb Custard Crisp
Easy Rhubarb Jam
Pin it for Later…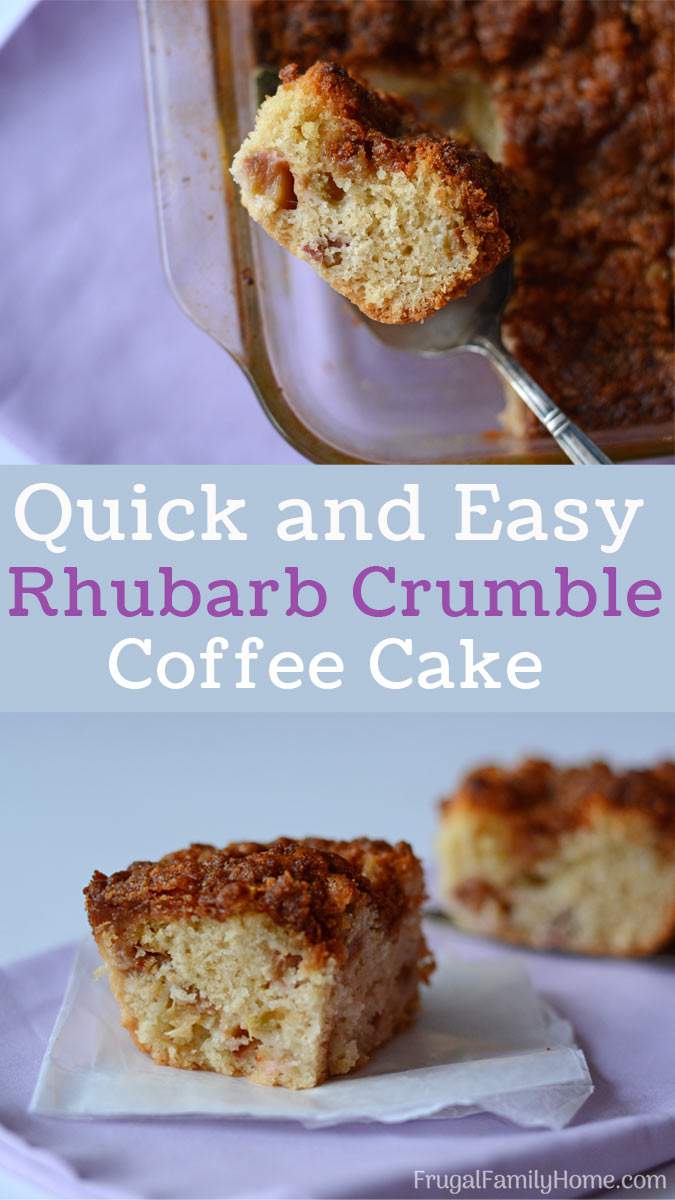 Subscribe and you'll get Recipes
sent right to your inbox!
Click the button below and fill out the form.