This time of year is a great time for sheet pan dinners. They are easy to make and easy to clean up too. This sausage and vegetable sheet pan dinner is one our family loves and I hope your family loves it too.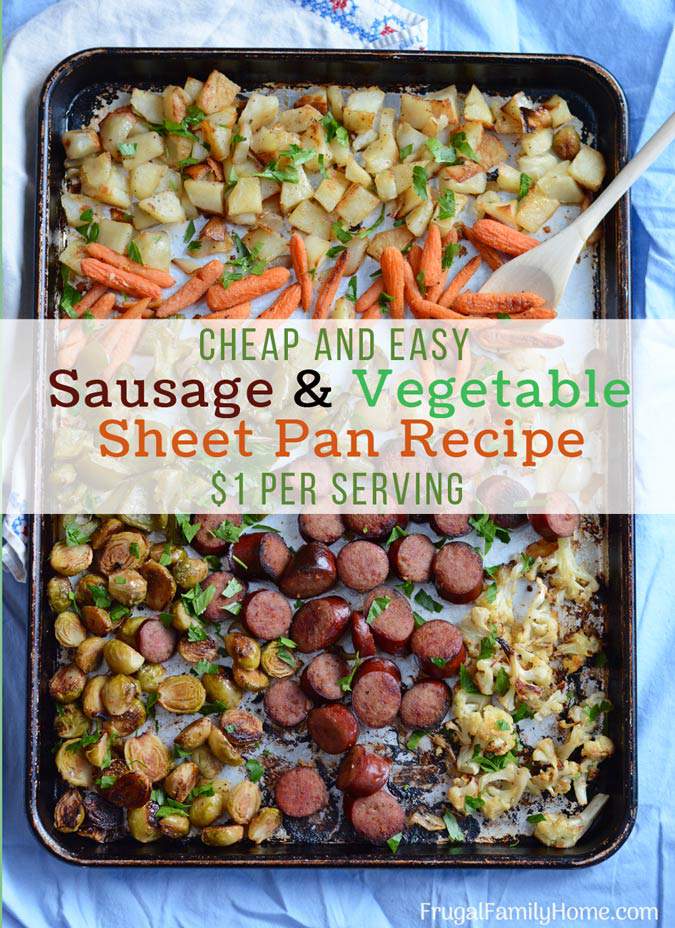 Sheet pan cooking is something I love.
In the fall and winter months, it's an easy way to cook dinner. You can chop, place meat and veggies on one cookie sheet, and bake. It's so easy. Plus the roasted vegetables have a great flavor you can only get from oven roasting.
The recipe below is one I make in the skillet in the summer and I make it in the oven in the winter. So if you enjoy it you can make it year round.
Plus, it's a great way to use up vegetables in your crisper drawer before they go bad.
The vegetables in the printable recipe below is a guideline to use. If you don't have something omit it or swap it out for what you do have. Most root vegetables hold up well to oven roasting or sheet pan cooking.
First, you'll need a few items to make this sheet pan dinner.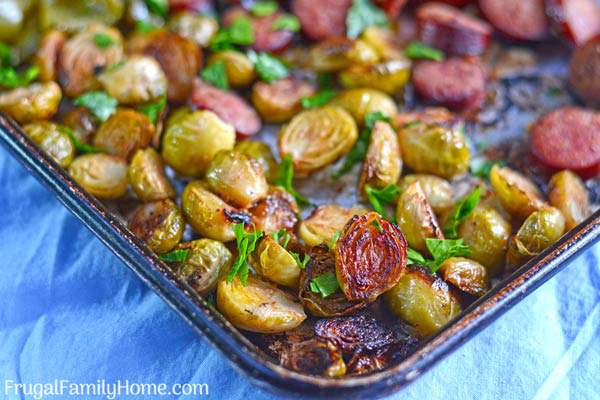 Some of the links below are my referral links. When you purchase through them I can make a little money at no extra cost to you. Thanks for the support. Find more information on the disclosure page.
Edged Cookie Sheet
Spatula
Paring knife for cutting and peeling vegetables (I love these inexpensive paring knives)
Sausage (I find Hillshire Farm Sausage on sale regularly and freeze it)
Vegetables (I like carrots, potatoes, cauliflower, broccoli, and onions)
Spices to complement the meat and vegetables you'll be using.
Sausage and Vegetable Sheet Pan Dinner Recipe Video
I prepare a quick video for the sausage and vegetable sheet pan dinner. Watch the recipe below and then scroll down for tips and the printable recipe to give a try.
Tips for Sheet Pan Dinner
These tips can help you make sheet pan dinners with ease not only this recipe but other too.
1. Chop vegetable according to cooking time.
Potatoes, carrots and harder vegetables like these take longer to cook. Cut them into smaller pieces when pairing them with quicker cooking vegetables like peppers and broccoli. This helps keep the cooking time about the same.
2. Space out Items according to Cooking Time
If you don't want to resize items according to cooking time, you can start items at different times. You might start the meat and potatoes first then 15 minutes later add the quicker cooking items to the sheet pan.
It can help the items be fully done at the same time. Without having to vary the side of the vegetables.
3. Grease or Oil the Pan
Certain starchy vegetables can stick to a sheet pan. To make sure all that crispy goodness stays on the vegetables, give the sheet pan a quick spray of cooking spray. Then add a little oil on the vegetables too.
These two steps help to keep the vegetables intact and not stuck to my sheet pan.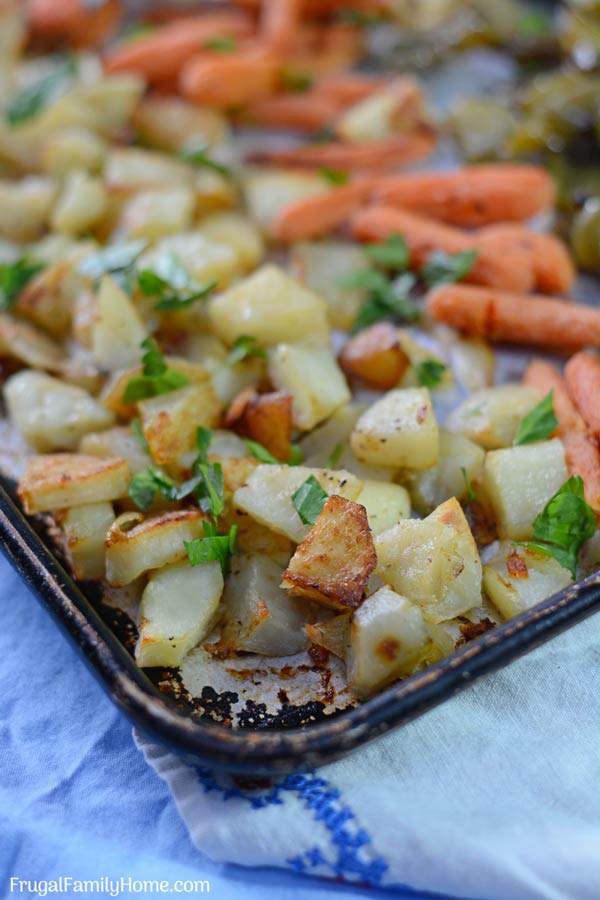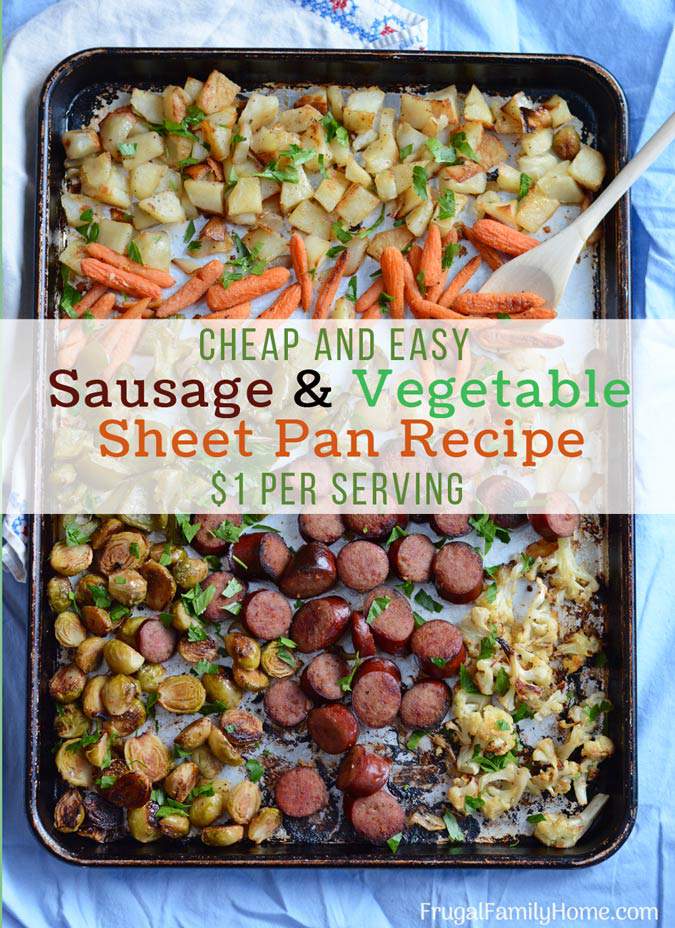 Sausage and Vegetable Sheet Pan Dinner
Ingredients
1

Kielbasa Sausage

4

Russet or Red Potatoes

chopped

1

small bunch of Brussel Sprouts

cut in half

1

medium Onion

sliced

3

Carrots

sliced

1/2

head of Cauliflower

chopped

1

tablespoon

Garlic Powder

1

teaspoon

Parsley

dried or fresh

Salt and Pepper to Taste

3

tablespoons

Cooking Oil of choice
Instructions
Spray the sheet pan with non-stick spray.

Add the chopped vegetables and sliced meat to the sheet pan

Sprinkle all the vegetables with the herbs and spices if using fresh parsley add it to the dish after cooking.

Sprinkle the oil onto the vegetables. Stir to coat.

Smooth the vegetables and sausage to a single layer.

Bake for 40-60 minutes at 400 degrees or until vegetables are golden and softened. Cooking time will depend on how large the vegetables are cut so be sure to check after 30 minutes to check the doneness.

Remove from oven, stir and serve. Sprinkle with fresh parsley if using.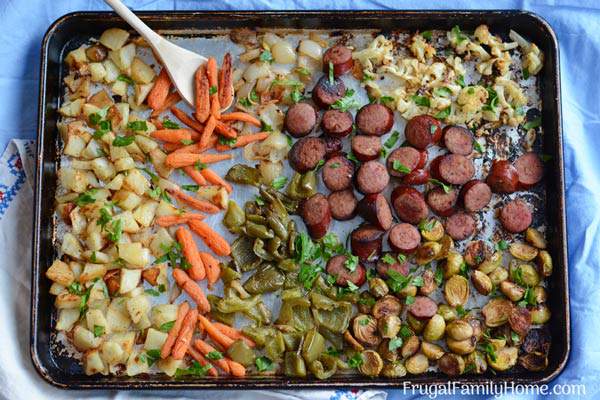 What's the Cost of this Sausage Sheet Pan Dinner?
I'm breaking down the cost of the ingredients for this sausage sheet pan dinner. The prices I'm using are everyday prices from my local WinCo Foods.
WinCo Foods has the best overall everyday prices in our area. But another store might be better where you live. If you have an Aldi or Walmart, you might be able to find similar prices there.
Hillshire Farm Sausage $2.50
Potatoes $.30 at $1.99 per 10 pounds
Onion $.10 at $1.99 for 15 pounds
1/2 Cauliflower $.80 (small head)
Green Pepper $.70
Carrots $.25
Brussel Sprouts $.50
Oil and Seasonings $.20
That brings the cost of this recipe to $5.32 for the full recipe or $1.06 for each serving. Often I can get part of these items on sale and get the cost of this dinner even lower.
I buy my spices in bulk at WinCo Foods to help keep the cost of the lower. The small bottles of spices can be so expensive.
You can use fresh parsley and garlic but that can increase the price of this meal slightly. If using fresh parsley, I would suggest sprinkling it on after roasting or in the last few minutes of roasting to keep it fresh and green looking.
We serve this meal with a small green salad on the side to bump up the vegetables even more.
This sausage and vegetable sheet pan dinner can be an easy and inexpensive dinner to make. With a small amount of prep work, you can have dinner cooking in the oven in no time. Leaving you time to do other things. Plus clean up is easy with just one pan to clean.
Other Cheap and Easy Dinner Ideas
Hamburger Macaroni Skillet
Hamburger Soup
Chicken Vegetable Skillet
Pin it for Later…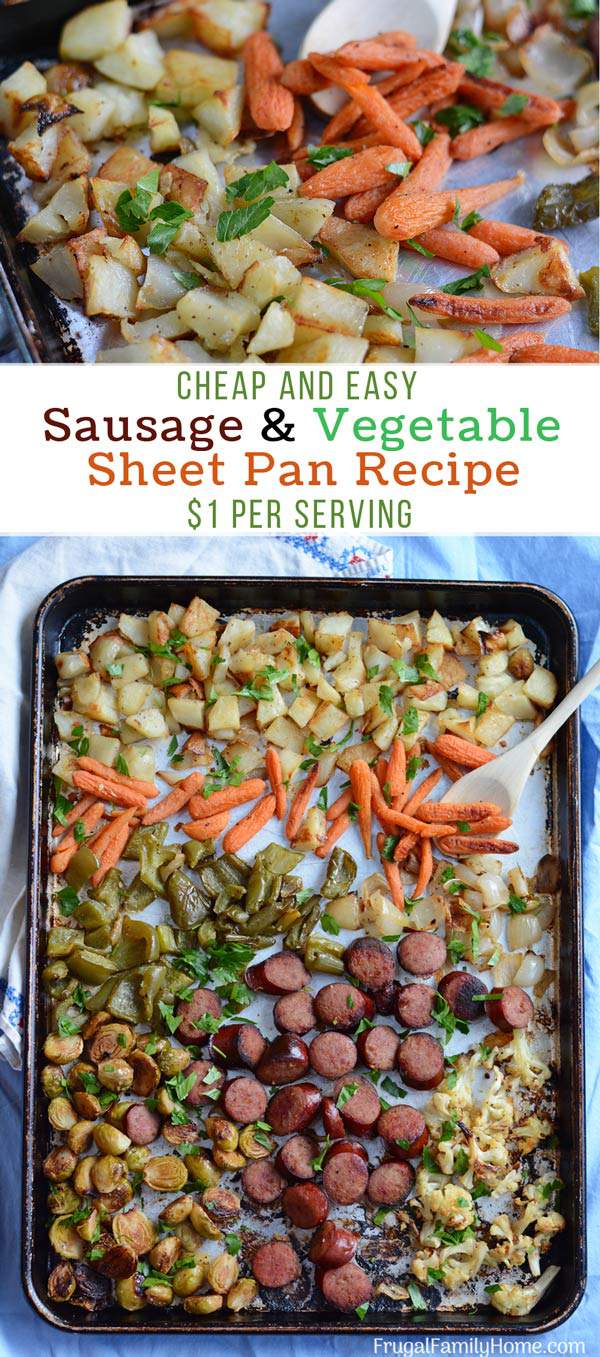 SaveSave
SaveSave
Subscribe and you'll get Recipes
sent right to your inbox!
Click the button below and fill out the form.