We all have those busy days, days we know almost every minute will be occupied with some sort of task. And on those days we need an easy dinner solution. A dinner like this simple and easy slow cooker taco soup.
With a few cans, a few minutes and browned ground beef you can have dinner cooking away in just minutes.
Then when you arrive home you'll have a yummy dinner ready and waiting for you. No muss or fuss.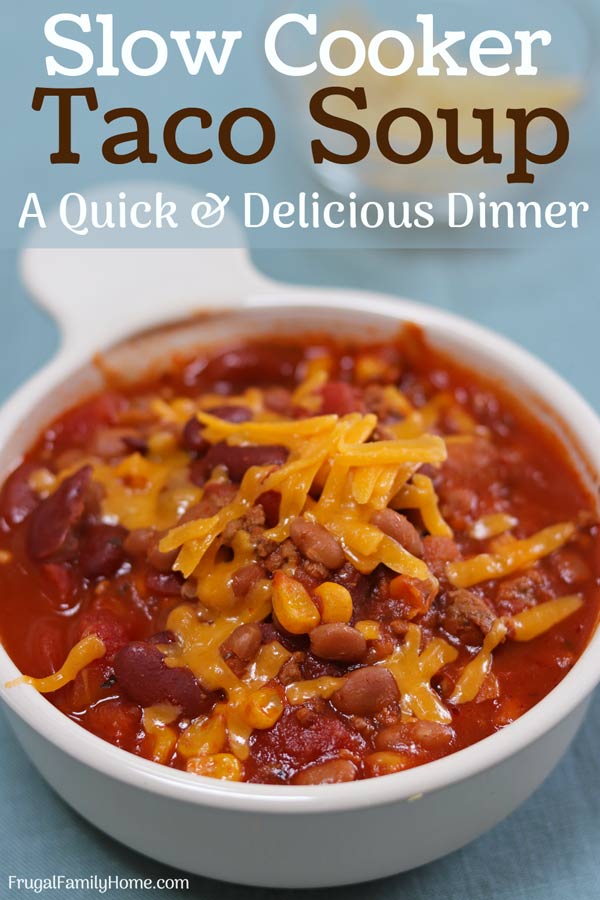 I love taco soup made in the slow cooker. This is a great pantry meal because the only item you need that can't be stored in your pantry is the ground beef.
And if cook ground beef in bulk for the freezer ahead of time you can have everything you need ready and waiting for you.
Making getting dinner started, on a busy morning, in just minutes.
You open the cans, dump them into the slow cooker, add the seasoning and cooked ground beef, stir and you have dinner cooking. And you are on your way for the day.
Here are the items you'll need for this Easy Taco Soup Recipe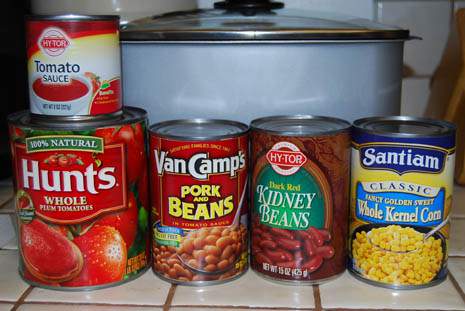 Ground Beef, ½ to 1 pound (cooked and waiting in the freezer for fast prep)
1 can Kidney Beans
1 can Corn
1 can Pork and Beans
1 large can Diced Tomatoes
1 can Tomato Sauce
Taco Seasoning, you can make your own with this recipe
Even though this recipe is simple to make, I have a quick recipe video for you to see recipe made from start to finish.
If watching a video isn't your thing keep on going to get the printable recipe and tips to make this quick dinner an even more frugal meal.
How to Make Slow Cooker Taco Soup
Tips for making this recipe more frugal….
Cut Back on Meat
Meat is the most expensive addition to this soup. You can cut the meat to a half a pound instead of a full pound. Your family probably won't even notice because of all the beans. But it can cut the price of the overall cost.
Use Leftover Meat
Better than cutting the meat in half you can use leftover cooked chicken or roast or steak in this recipe instead of the ground beef. It's a great way to use up what you have and not let it go to waste.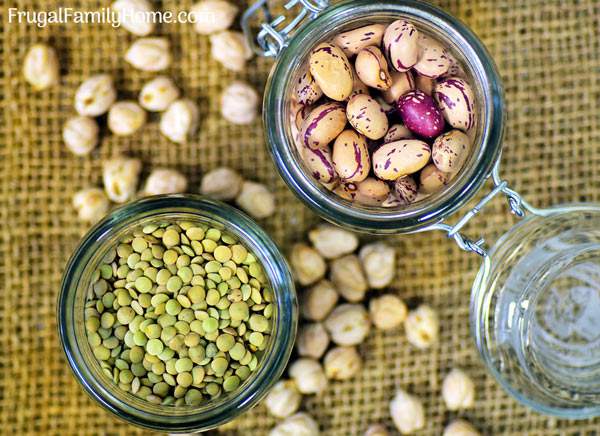 Use Dry Beans
Canned beans are $.60 to $1 or more a can. I get them on sale regularly for $.60 or less a can and stock up when on sale. But an even better way to cut the cost of this recipe would be to make your own cooked beans for the freezer.
A pound of dry beans cost about $1 or less if you buy them in bulk. Then you can soak and cook your beans in batches. Once cooked package them in 2 cup portions and freeze. When you need them for soup, just thaw overnight and add to the slow cooker.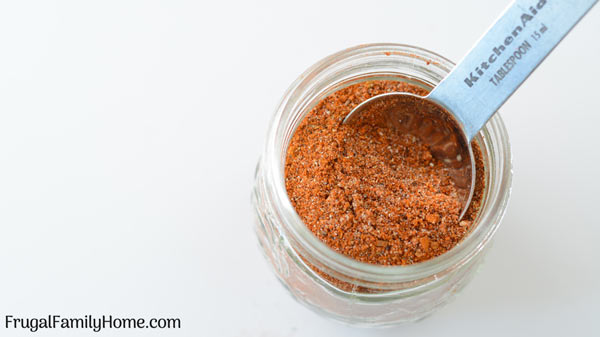 Make your Own Taco Seasoning
Those little packages of taco seasoning can be expensive. Instead you can buy the seasoning in bulk and make your own taco seasoning mix. Get the recipe here.
Of course you can wait for sales on each item and stock up to save money too. Sales cycles are usually every 12 weeks. So when you see canned beans, corn, or tomatoes on sale, stock up. Then you only pay the lowest price for each item.
You can also stock up on ground beef and have it waiting in the freezer. When you are ready to make this soup recipe.
Ready to make this recipe? Get the printable recipe below…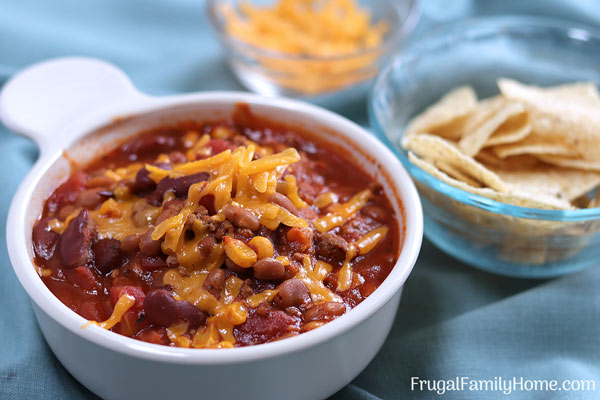 Slow Cooker Taco Soup
An easy taco soup that can be ready and cooking in the slow cooker in minutes. 
Ingredients
1/2

pound

ground beef

browned and drained

1/2

onion

chopped (picky eater? use 1 tsp onion powder instead)

1/2

T

Taco Seasoning or 1 foil package of Taco Seasoning

15

oz

canned Kidney Beans

drained

15

oz

canned Corn

drained

15

oz

canned Pork and Beans

28

oz

can Diced Tomatoes

8

oz

can Tomato Sauce

Chips

Cheese

Sour Cream

optional
Instructions
Brown the ground beef in a skillet until no longer pink.

Add the ground beef to the crock pot and add in the rest of the ingredients except the chips, cheese and sour cream.

Give the soup a stir and cook on low for 4-6 hours.

Serve topped with chips, cheese and sour cream.
Notes
Use leftover meat instead of ground beef to use up what you have.
Make it vegetarian, by omitting the ground beef altogether and adding a can of black beans in the meats place.
Nutrition
Serving:
1
serving
Calories:
364
kcal
Carbohydrates:
63.8
g
Protein:
23
g
Fat:
5.6
g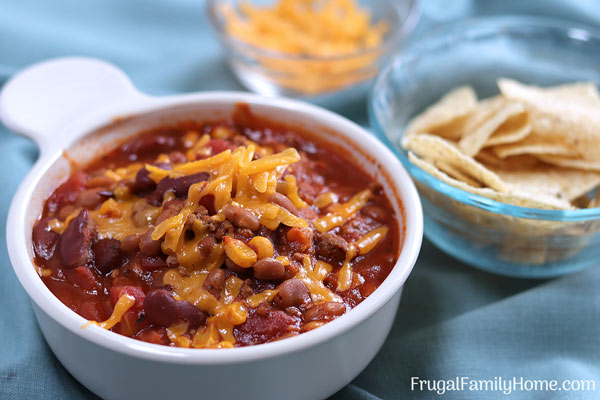 How Much Does This Recipe Cost?
I like to know how much a recipe cost me, so I can keep our food cost under control better.
And if a main dish is expensive, like shrimp, I can pair it with inexpensive sides to keep the overall cost of the meal lower. It's a balancing act but worth the small amount of effort.
I'm using the prices I usually purchase the ingredients at my local grocery store but your prices will more than likely vary. Some a little more some a little less but this will give you an idea of how much this recipe will cost to make.
1/2 pound ground beef $2.99/lb so $1.50
1/2 onion $.10 (bought in a bag of 5 pounds for $1.50)
1/2 T Taco Seasoning or 1 foil package of Taco Seasoning $.10 if homemade or $.60 if package
1 can Kidney Beans $.60

1 can Corn $.50
1 can Pork and Beans $.50
1 28 oz can of Diced or Whole Tomatoes $1
1 8 oz can Tomato Sauce $.40
Chips half a bag, $1
Cheese $1.50
That brings the total for this recipe to $7.20 for 6 servings or just $1.20 each serving. Not bad considering this is almost a full meal.
Just add a serving of salad or fruit and you have your full meal done.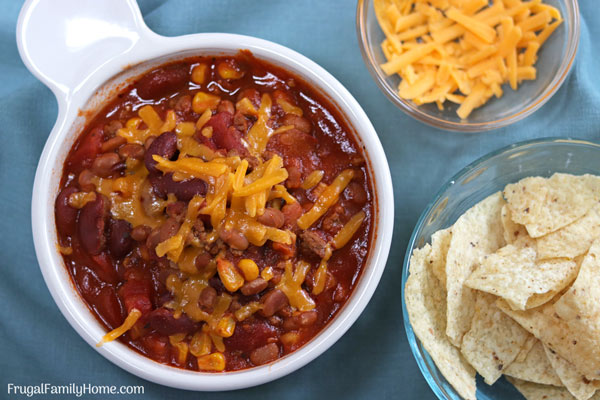 That's how quick and easy it is to make taco soup in the crock pot. Take a few minutes at the start of your busy day, and dinner can be ready and waiting for you at home.
Plus this recipe is a favorite of everyone in our family, even our picky eater. So you won't have any dinner time complaints to deal with.
More Easy Dinner Ideas…
Chicken Mushroom Skillet
Slow Cooker Cranberry Roast
Subscribe and you'll get Recipes
sent right to your inbox!
Click the button below and fill out the form.