Dinner time is coming. You look at the clock and need to get dinner started. But what will you make? This sweet chili chicken recipe is simple and cooks while you do something else.
Like, help the kids with their homework.
See how easy is it to make this sweet chili chicken recipe: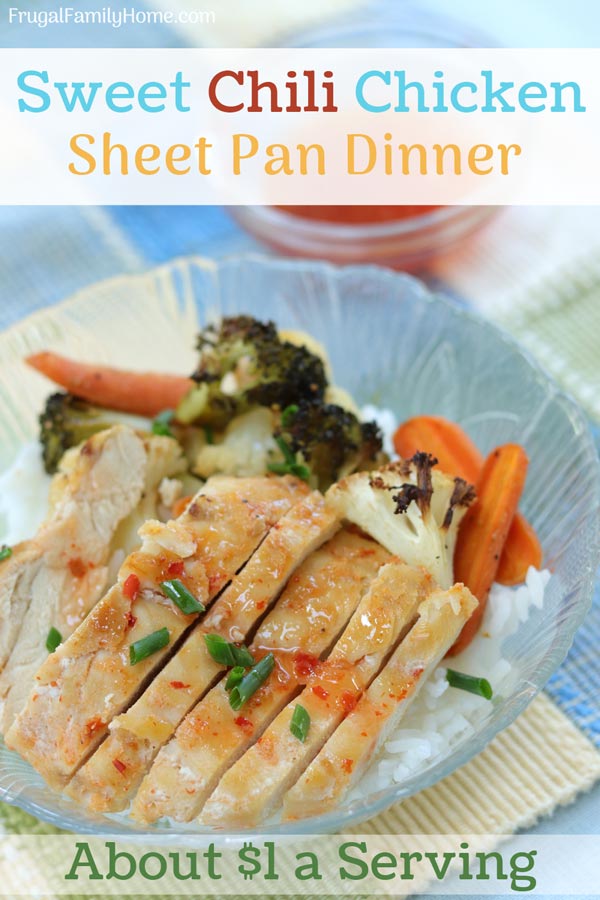 Dinner time can be a stressful time while you are trying to keep the kids occupied or helping them with homework and making dinner.
You have two pots on the stove cooking; you have to watch the timer so the meat in the oven doesn't overcook into a small leathery cluster of what used to be meat.
You want to cook a nice home cooked meal from scratch but some days something has to give. And often it's you giving up to go out to eat.
But not today:
You can conquer the dinner meal time crunch and win.
This easy sweet chili chicken recipe can be your saving grace.
You can quickly chop the vegetables throw them on the sheet pan.
Whip up the sauce and spread it over those pieces of chicken breasts out of the bag.
Put it into the oven and start a batch of rice on the stove:
Voila, dinner is on its way!
You have saved dinner:
You won't be going out to eat tonight. No way you will have a home cooked meal made with love and soul to share with your family.
And in only a few minutes too.
You're not tied to the oven watching and stirring.
You have free time to:
Play with the kids.
Read that book you've been dying to get back to.
Or dare I say it, take a nap. Oh, yes, a nap sound so good!
But first, we need to know what we need to make this sweet chili chicken recipe…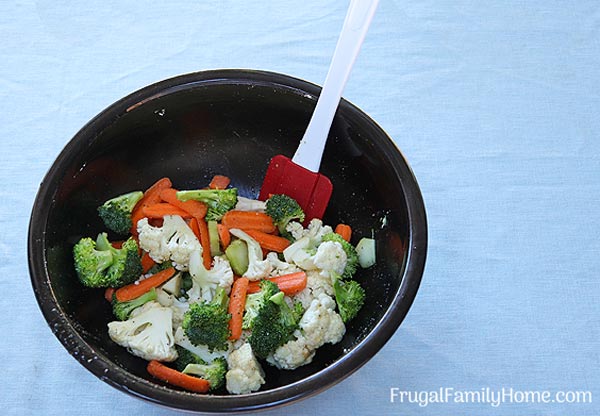 Ingredients for Sweet Chili Chicken
Carrots, we love baby carrots just toss in the bowl, not cutting need, Yay!
Broccoli, just a small head, you could use frozen broccoli in a pinch
Cauliflower, half a head, cut up
Chicken Breast, boneless skinless chicken breast
Sweet Chili Sauce
Soy Sauce
Ginger Powder
Garlic Powder
Oil
Salt and Pepper
If you don't have fresh vegetables on hand you can use a mix of carrots, cauliflower, and broccoli from the freezer section, no judgment here.
You can use fresh chicken breast, or thawed frozen chicken breast. Or if you forget to thaw the chicken breast like I often do, microwave for a minute or two to thaw them. And then place them on the sheet pan.
You can use fresh ginger and garlic in the sauce but powdered works great too and is less work.
Did you know you can mince garlic ahead and make it into cubes for the freezer? It's a great way to prep ahead garlic. And ginger can be stored in the freezer for when you need fresh ginger. So it won't go bad.
Next, we need to know how to make sweet chili chicken…
How to Make Sweet Chili Chicken
I don't know about you but I love cooking shows. I love watching how recipes are made, to glean tips and tricks to use in my cooking.
Plus seeing a recipe made makes it so much easy to make the first time too. Watch the sweet chili chicken recipe video below and then keep scrolling for a few tips and the printable recipe too.
A Few Tips for this Sweet Chili Chicken Dinner
If you want to get the recipe keep on scrolling but these tips can help you make this dinner recipe more quickly and easily too.
Prepping the Vegetables:
This dinner cooks in about 40 minutes. To keep the vegetables from getting charred beyond recognition, you need to cut them to the right size.
Yes, I've had charred vegetables, it has happened in the past with sheet pan dinners. Heed the warning on this tip.
Cut the broccoli a little larger. Chop the cauliflower a little smaller. Keep the carrots whole. Toss with a little oil and sprinkle with salt and pepper.
You can add a little extra garlic powder and ginger powder to them too.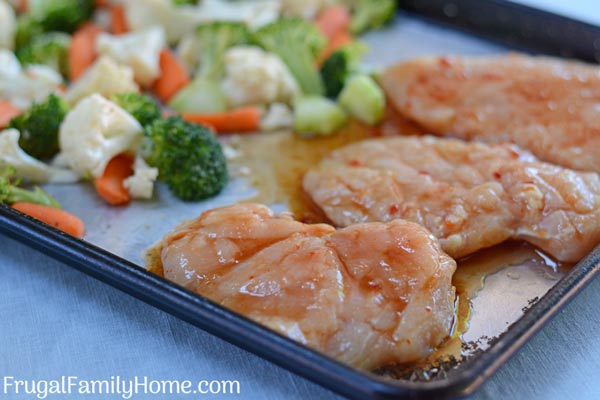 The Chicken:
You'll want to use thin chicken breast pieces. If the meat is too thick, it will cook more slowly and the vegetables will burn.
If you have very thick chicken breast, like those that are almost one pound each, butterfly cut them first.
To butterfly cut, start on one side of the chicken breast and cut into two pieces across. This will make for a thinner chicken breast that will cook at the same rate as the veggies.
Which is so important when making a sheet pan meal.
What to Serve with this Sweet Chili Chicken
If you're eating grain free, then the veggies and chicken is all you'll need.
But maybe you need a little more to fill up that hungry hubby after a long day at work. Or you love starches as I do.
Make a batch of rice and serve this sweet chili chicken in a bowl. Place a good scoop of rice in the bottom of the bowl.
Add a scoop of cooked vegetables on one side.
Slice the chicken and place on the other side of the rice. Sprinkle with a little cilantro, parsley or chives to make the dish oh so pretty.
Or just dig in and enjoy a from scratch meal you made yourself that your whole family will rave about. Either way, it's yummy!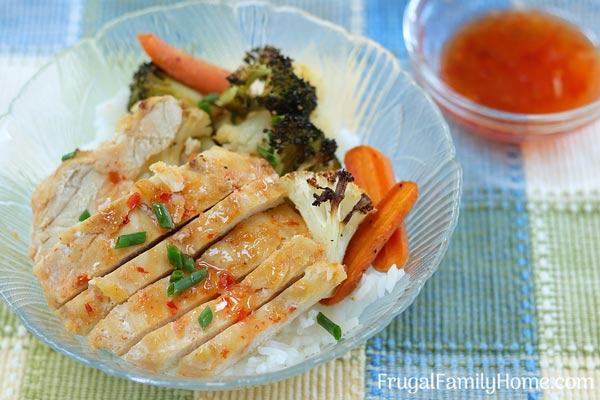 Variations of the Sweet Chili Chicken Recipe to Try
Sometimes you need to switch things up. I hear you. Here are a few ideas to try with this sweet chili chicken recipe.
Add sweet potatoes to the sheet pan and cook. Then serve the chicken oven all the vegetables and potatoes.
Add fruit, after cooking and plating the meal add small chunks of mango or pineapple to the top of the chicken. Or in with the cooked vegetables.
Or cook the pineapple or mango with the veggies in the last 10 minutes of cooking to sweeten it even more.
No chicken on hand, no problem
This recipe would be good with steak or pork chops in place of the chicken.
Or use breaded chicken strips, like the panko breaded chicken strips from Costco in place of plain chicken if you have picky eaters in your home that will only eat breaded chicken.
And now the printable recipe: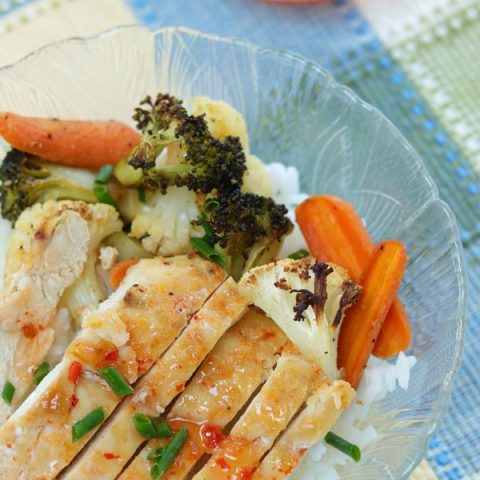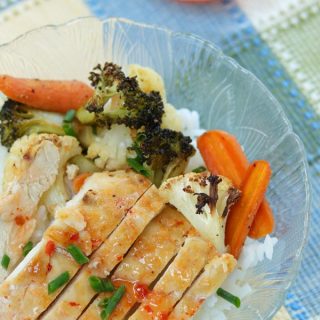 Sweet Chili Chicken
An easy chicken dinner that only takes a few minutes to prepare. Once it's in the oven you'll have time to do other things.
Ingredients
1 1/2

cups

Baby Carrots

whole

1/2

head

Cauliflower

cut up

1

small head

Broccoli

cut into larger pieces

1

pound

Chicken Breast

cut in half crosswise if thick

3

tablespoon

Sweet Chili Sauce

1

tablespoon

Soy Sauce

1/2

teaspoon

Garlic Powder

1/2

teaspoon

Ginger Powder

1/2

teaspoon

Salt

For the Vegetables If Desired:

1-2

tablespoons

Oil

1/2

teaspoon

Garlic Powder

1/2

teaspoon

Ginger Powder

1/2

teaspoon

Salt

1/4

teaspoon

Pepper
Instructions
Place all the prepared vegetables into a bowl and drizzle with oil. Stir to coat.

Place the vegetables on the sheet pan and spread out. Sprinkle with salt, pepper, garlic powder, ginger powder if desired or leave them as is.

To make the sauce combine sweet chili sauce, soy sauce, 1/2 teaspoon garlic powder, 1/2 teaspoon ginger powder, and 1/2 teaspoon salt. Stir to combine.

Place chicken breasts on the sheet pan, spread the sauce on the top side of the chicken. Flip the chicken over and coat the other side.

Place in a 400-degree oven and bake 40 minutes. Checking after 30 minutes to see if the chicken is done and vegetables are tender.

Serve over a bed or rice with extra sweet chili sauce if desired.
Notes
This recipe could be made with pork chops if you don't have any chicken on hand.
Nutrition
Calories:
241
kcal
Carbohydrates:
16.3
g
Protein:
27.7
g
Fat:
6.6
g
Saturated Fat:
0.5
g
Cholesterol:
73
mg
Sodium:
1020
mg
Potassium:
871
mg
Fiber:
4.4
g
Sugar:
9.1
g
Calcium:
50
mg
Iron:
1.4
mg
How Much Does this Sweet Chili Chicken Cost to Make
Knowing how much a meal will cost at least an estimate can help you stay on budget. After all, if the meal will cost more to make, you want to balance it with less expensive meals during the week.
Knowledge is power and I've done all the calculating for you. Yes, you're welcome.
Carrots, $.50 at $1 a pound
Broccoli, $1.00 at $1.89/lb
Cauliflower, $.75 at $1.59 per head
Chicken Breast, $1.99/lb
Sauces and Seasonings $.50
That brings the total for the ingredients to $4.74 for 4 servings. If you add a serving of rice too, it will bump the cost up to $5.04 for 4 serving or just $1.26 for the full meal.
If you use pork chops in this meal, the cost would go down. If you prep your own pork chops from a pork loin from Costco, the pork chops will be $1.89/lb. With pork chops, this meal would be $4.64
If you used steaks, like petite sirloin steaks the cost would go up to $5.74 for the meal if you get the steaks on sale for $2.99 a pound.
No matter what protein you use in this recipe, it's still a frugal and easy dinner to make.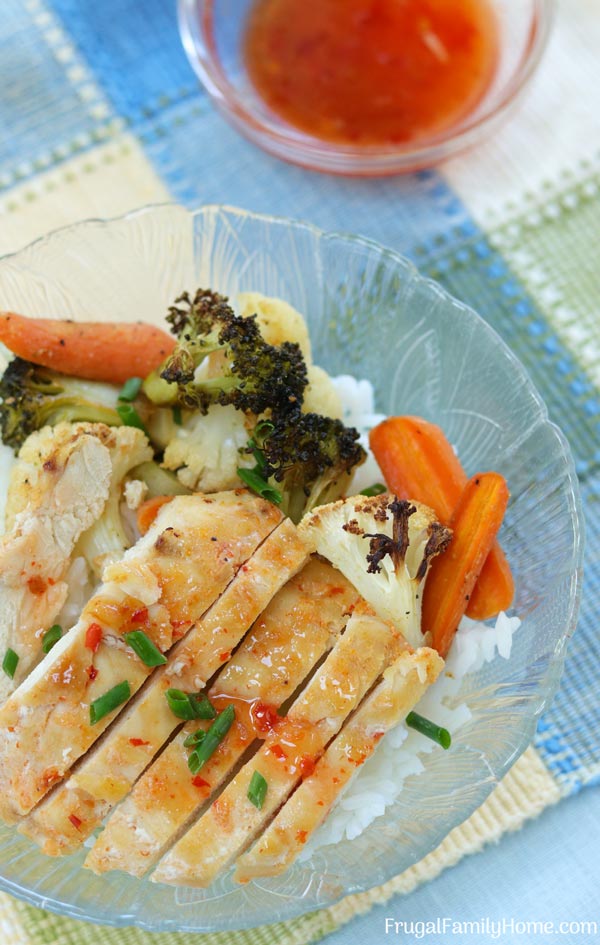 As you can see dinner doesn't have to be hard to make from scratch or costly to make.
You can get dinner cooking and have time to do something fun while dinner cooks when you make an easy dinner like this sweet chili chicken. And save a trip out to the drive-thru too.
If you like this recipe be sure to subscribe below so you can get more just like it delivered to your inbox.
Find More Easy Chicken Dinners
Chicken Mushroom Skillet
Barbecued Chicken
Garlic Parsley Chicken Under $1 a serving
Subscribe and you'll get Recipes
sent right to your inbox!
Click the button below and fill out the form.