You want your family to eat healthy, but it has to taste good or no one will eat it. But you don't have all day to prep and cook. You have other things to do. So a quick cooking meal is a must on a busy weeknight. That's exactly what this Thai chicken stir-fry recipe is quick, easy, and healthy.
But most importantly it tastes great.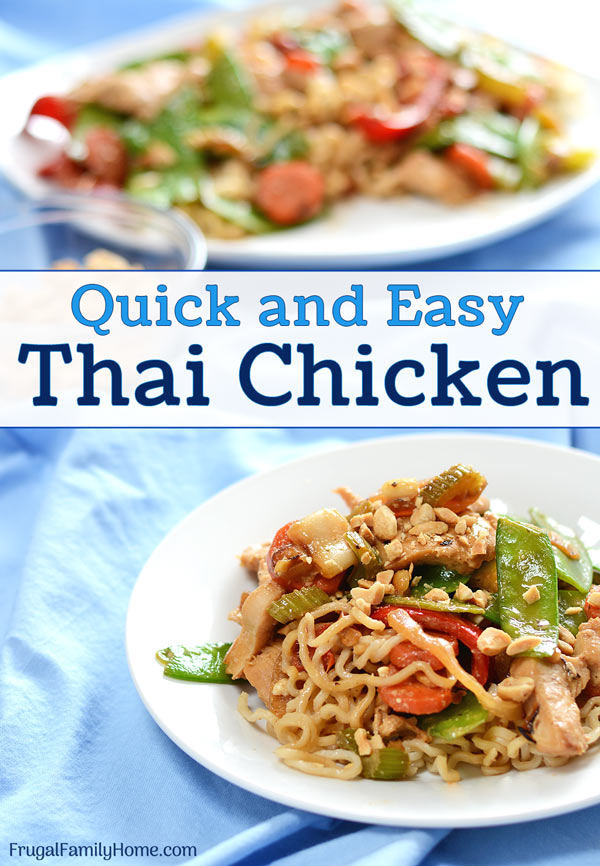 Now stir fry is just a bunch of vegetables and meat thrown together and cooked without a good sauce. Having the perfect sauce is a must for any good stir-fry dinner.
This Thai chicken stir-fry recipe has a great sauce to make it just perfect.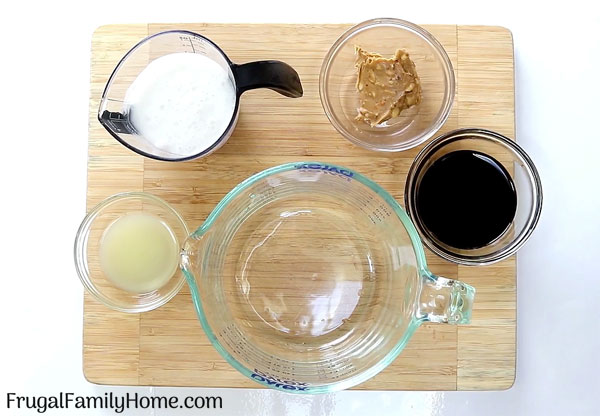 Ingredients Needed for the Stir Fry Peanut Butter Coconut Milk Sauce
Now you won't need any weird or hard to find ingredients for this delicious stir-fry sauce, oh no. You likely have them all sitting in your cupboard right now.
Here's what you'll need…
Coconut Milk, get the full fat unsweetened canned coconut milk.
Soy Sauce, if you don't like regular soy sauce go with reduced sodium, need to eat gluten-free? Try a gluten-free soy sauce.
Peanut Butter, the creamy peanut butter is easier to stir into the sauce but if you only have chunky like me use it instead.
If peanut allergies are a problem in your family, you can try almond butter, cashew butter or sunflower butter. The taste will be slightly different but still oh so good. I've made it with sunflower butter before.
Lime Juice, if you have a lime, fresh squeezed is best but bottle lime juice works great too.
Put all the ingredients into a bowl and stir with a whisk too combined.
Now we have the sauce ready it's time to prep and marinate the chicken.
Preparing the Chicken for the Thai Chicken Stir Fry and Freezer Tips
Now if you love to prep ahead for the freezer then this recipe will suit you well.
I recommend when you purchase your chicken in bulk when on sale you prep it before it goes into the freezer. This way you only handle the raw chicken once and it's ready for the recipe right out of the freezer.
No cutting, no fussing with it. A little time taken before adding it to the freezer will save you time when making dinner.
Preparing the Chicken for Freezer
You'll want to take one pound of chicken, which is about two small chicken breasts or one large one and slice it thinly. This is a quick cooking recipe so thin is the key.
Once sliced place your chicken in a freezer bag. Let the air out, and seal. Label the bag with Thai chicken stir-fry. It's ready for the freezer.
If you have limited space in your freezer, be sure to place the chicken in the bag, seal, and then flatten it. So it's a thin layer of chicken inside the bag then freeze flat. Once it's frozen, you can stand it on end.
This not only saves space in your freezer but it can also help the chicken thaw faster too.
Now you can make the marinade ahead too and place it in the bag with the chicken and freeze. But you'll need to reserve some marinade in a separate bag in the freezer.
I find it easier to make the marinade the day of. Then add it to the freezer bag with the thawed chicken slices in the morning or night before I'm making the Thai chicken.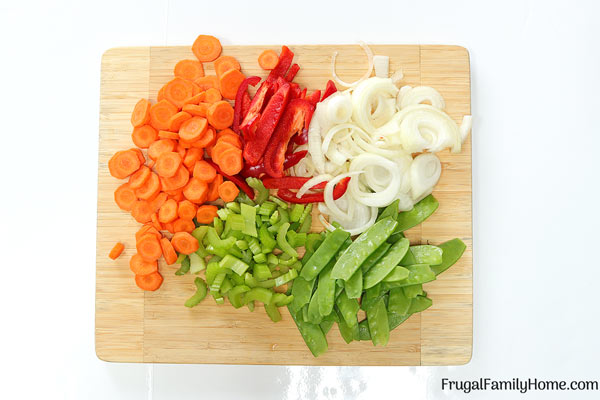 Prepping the Vegetables for the Thai Chicken
Now if you don't have time to cut the vegetables right before dinner you can prepare them the night before or a couple of days before and store them in an airtight container or bag for a few days.
Which will cut down your prep time right before dinner. You know that time when your kids get hungry and cranky and fight. The quicker you can get dinner ready the better. Am I right?!
Now let's put all those ingredients together.
How to make this Easy Thai Chicken Recipe (recipe video)
I made a quick recipe video to show you the steps for preparing this easy Thai chicken with veggies. If watching videos isn't for you keep scrolling down to the recipe below.
As you can see it's a quick and easy dinner idea that is loaded with vegetables. And when you use red peppers with the green peas and carrots, it's a feast for the eyes and the tastebuds.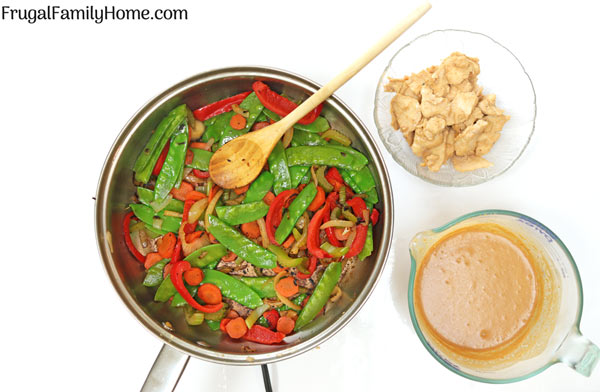 Variations of this Recipes
A few changes you can make to this recipe to suit your taste buds even more.
Chicken, Pork, or Beef
If you have sliced pork tenderloin instead of chicken that will work great in this recipe too. I think even sliced beef like a flank steak would be a great alternative if that's what you have on hand.
You could also use leftover chicken in this dish, if you have it. Skip the marinading and add the cooked chicken to the vegetables once they are done cooking.
Spice it Up
If you like your stir-fry a little spicier, add a pinch or two of chili pepper flakes to the stir-fry sauce. Or maybe a squirt of sriracha sauce would be good too.
Can't Have Peanut Butter?
Try using a different nut butter instead. The flavor will be a little different but it will still be yummy. We've used sunflower butter before and it worked great.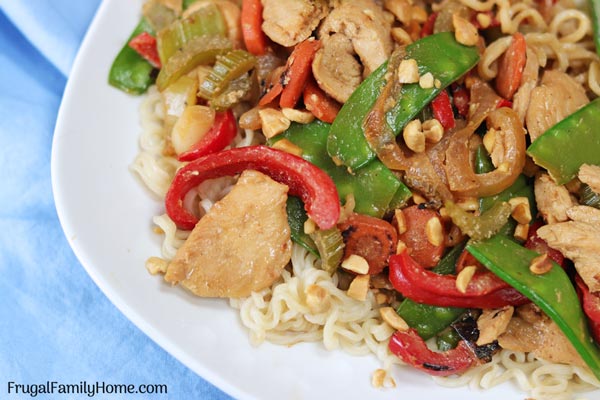 And here's the printable recipe for you…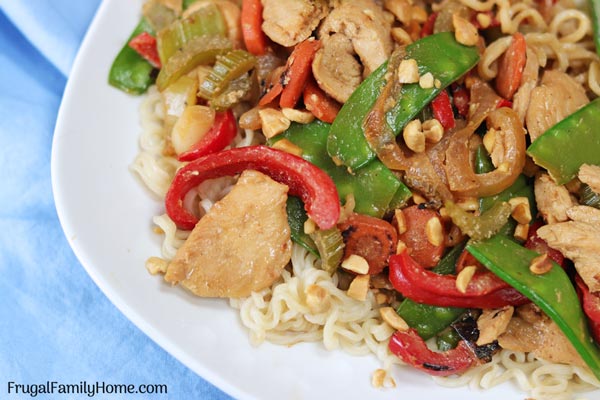 Quick and Easy Thai Chicken Stir Fry
A quick and easy dinner recipe that's also healthy. Perfect for a quick dinner on a weeknight.
Ingredients
1/2

cup

Coconut Milk

1/4

cup

Soy Sauce

1/4

cup

Peanut Butter

1

Tablespoon

Lime Juice

1

pound

Chicken Breast sliced thin

1

small Onion

sliced

2

carrots

sliced thin

1

Bell Pepper

sliced thin

1

cup

Snow Peas

1

cup

Celery

1/4

cup

Peanuts

chopped optional

2

tablespoons

Oil
Instructions
Combine the coconut milk, soy sauce, peanut butter, and lime juice in a bowl. Stir to mix well.

In a small bowl add sliced chicken breast, pour 1/4 cup of the sauce on top and toss to coat, reserve the rest of the sauce for cooking. Set aside in the refrigerator to marinate at least 30 minutes up to overnight.

In a skillet or wok, heat 1 tablespoon of oil. Add marinaded chicken and stir-fry to cook until no longer pink. Remove from pan and keep warm.

Add another tablespoon of oil to pan add the carrots, celery to pan, stir-fry for 2 minutes.

Add the onions and peppers and stir-fry one to two minutes.

Add the snow peas and stir-fry another minute.

Add the chicken back to the pan with the rest of the sauce you reserved.

Stir and cook until heated through.

Serve over rice, noodles or in a bowl for a lower carb option.
Video
Notes
If you can't eat peanut butter you can use any nut butter you like. This recipe is also good with pork or beef.
Nutrition
Calories:
371
kcal
Carbohydrates:
27.6
g
Protein:
17.2
g
Fat:
27.6
g
Cholesterol:
18
mg
Sodium:
1039
mg
Fiber:
5.6
g
Sugar:
8.9
g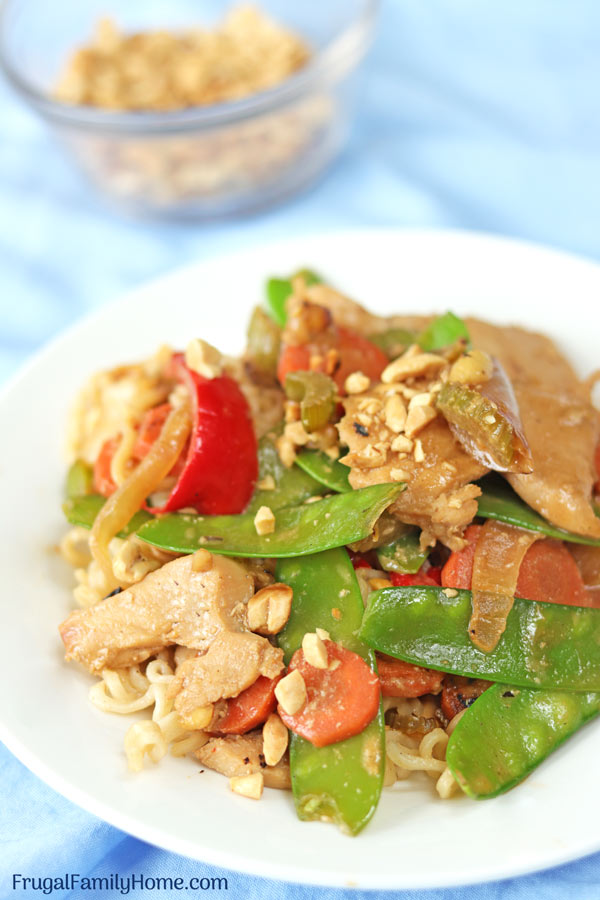 That's how simple and easy this Thai chicken stir-fry recipe is to make. With just 4 ingredients for the stir-fry sauce and a few minutes to prepare the vegetables, you can have a delicious dinner in minutes.
Subscribe and you'll get Recipes
sent right to your inbox!
Click the button below and fill out the form.