I don't know quite why but I stopped making my own nut butter, but I did. Maybe I was being a little lazy about making our own sunflower butter at home. But when I started having trouble finding the sunflower butter at the store I was more motivated to make my own.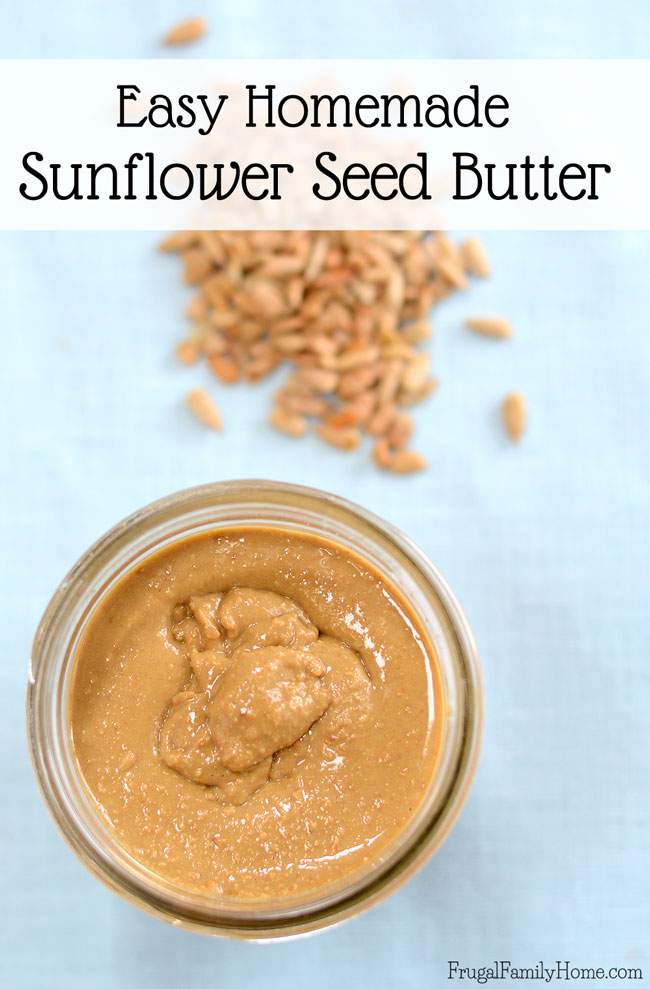 You know that feeling when you have a favorite product, a product you purchase regularly and depend on it being in the store and suddenly one day it's out of stock?
I was in the habit of purchasing sunflower butter when I shopped at Trader Joe's. Because it was alway there and so convenient I would usually purchase it instead of making my own.
But recently it's been harder and harder to find it at the store. I don't quite know why but it has been.
The last two times I've been to Trader Joes to purchase sunflower butter, they have been out of stock. The first time it was out of stock I was thrilled I had purchased a few jars of organic almond butter to hold us over.
But then the second time I went to Trader Joe's and they were still out of stock I began to search for another store to purchase it from.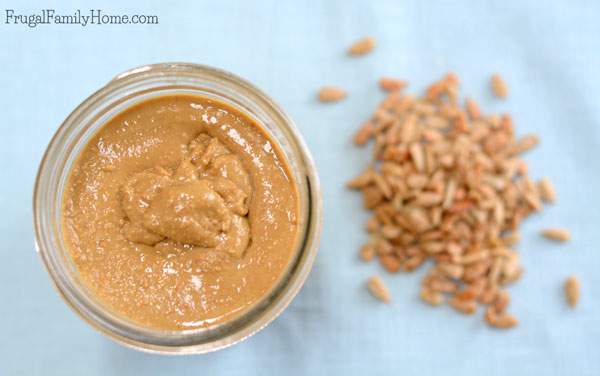 I was happy to find the sunflower butter at Winco Foods when I couldn't purchase it at Trader Joes. But the last time I went to purchase the sunflower butter at Winco Foods, I couldn't believe my eyes, they were sold out too. Ugh!
I thought it was high time to start making our sunflower butter again and I thought you might also like to do the same. Plus when I figured the cost difference between homemade sunflower butter and store bought, I was even more motivated.
I was shocked at how much I could save by spending 10 minutes to make our own sunflower butter at home and it might shock you as well.
Making your own seed or nut butter really isn't hard to do. If you've been wondering just how to go about making you own sunflower butter, I'm sharing a great recipe and a video tutorial too.
Here's the printable recipe for you.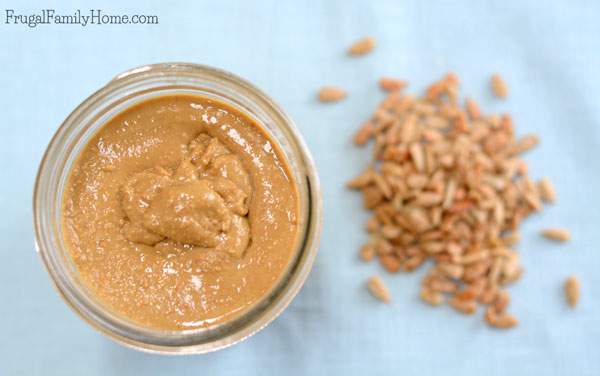 Easy Sunflower Butter
Ingredients
3

cups

Sunflower Seeds

roasted and salted

2

tablespoons

Organic Coconut Oil

melted

1

teaspoon

Vanilla Extract
Instructions
Place the sunflower seeds into the food processor and process for 1-2 minutes until the mixture looks dry.

Add the melted coconut oil and process until the mixture starts to get a little sticky. About 2- 3 minutes depending on your food processor.

Add the vanilla extract and process until the desired consistency. About 3-5 minutes depending on your food processor.

It can take 8-10 minutes to reach the desired consistency from seeds to butter, depending on your food processor.

Store in an airtight jar in the refrigerator.
Just so you know, some of the links in this post are my referral links, which means when you purchase something through them I can make a little money at no extra cost to you. Thanks for your support in this way.
What You'll Need to Make the Sunflower Butter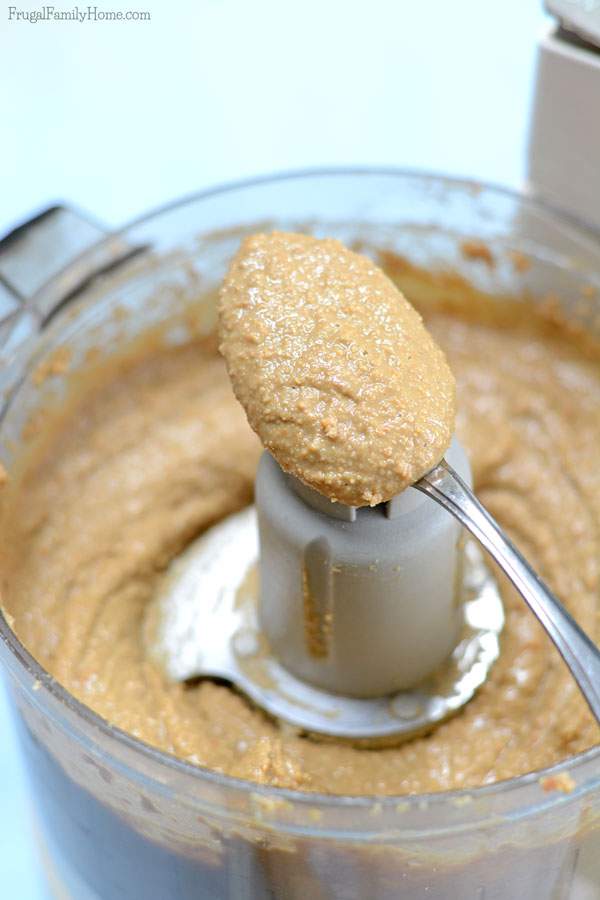 Food Processor
Roasted and Salted Sunflower Seeds (I purchase ours in bulk at Winco Foods)
Coconut Oil
How to make Sunflower Butter
I made this quick video to show home the steps for making the sunflower butter. This process would also work for other nut butter too.
The Homemade Sunflower Butter cost Breakdown
Sunflower Seeds, 3 cups $1.10 when purchased in bulk for $1.47/lb
Coconut Oil, 2 tablespoons $.32 when purchased for $5.99 per 16 ounces jar
Vanilla Extract $.02 when purchased for $1 for 8 ounces
Which bring it to $1.44 for 12 ounces or $.12 per ounce
I can purchase sunflower seed butter at Trader Joes for $4.99 for 16 ounces making it $.31 per ounce.
You can save $.19 per ounce or a saving of over $3 per jar by making your own sunflower butter at home. Which can really add up if you eat quite a bit of sunflower butter like we do.
I did recently find the sunflower butter back in stock at Trader Joes and Winco Foods which I'm happy about. But I think I will start making it myself because $3 a jar is quite a bit of saving for just about 10 minutes of work.
Have you ever tried making your own nut butter?
[signoff]
More Make Your Own Recipes to Try
How to Make Pita Bread
Make Your Own Root Beer Syrup
Simple Syrup for Sweetening Drinks