You want to eat healthier but it can be expensive or maybe it doesn't have to be. If your family is like mine, they love nut butters. And one way to eat healthier and not break your budget, is to make your own homemade almond butter.
Making homemade almond butter is easier than you might think. And it only requires one ingredient too.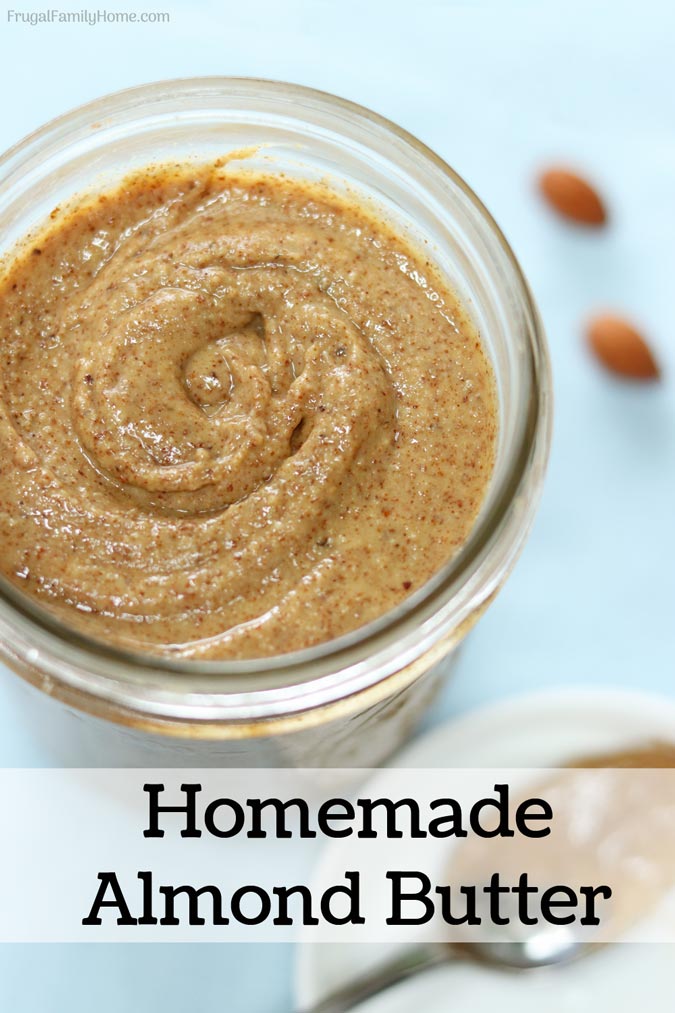 Why Make Homemade Almond Butter?
We make our own nut butters, like almond butter because I want to control the ingredients. And it's a great way to save money.
My son hates peanut butter, the rest of us love it but not him. But almond butter or sunflower butter is a lot more expensive at the store.
I purchased it at the store for a while but when I couldn't find it on the shelf; I made a batch at home. To my surprise, it was easy and less expensive too.
That's when I made almond butter at home instead of buying it.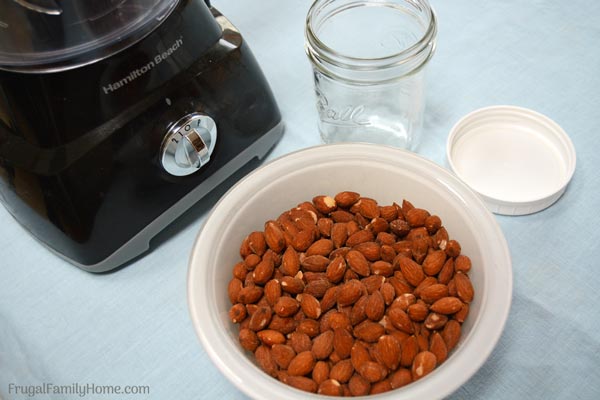 Some of the links below are my referral links. Which means when you purchase through them I can make a little money at no extra cost to you. See my disclosure policy for more information.
Equipment and Ingredients Needed to Make Almond Butter
Food Processor, High Quality Blender, or Grain Mill with Nut Butter Auger
A food processor is my preferred tool for making almond butter. I have it out, it's easy to clean and makes the job so much easier.
But if you have a high quality blender like a Vitamix, you can make almond butter with it instead.
I also own a grain mill that has a nut butter auger. It works well and grinds the nuts into butter at a much lower rate of speed. The only thing I don't like about it is the clean up.
Almonds
You probably already knew you'd need almonds. What kind depends on you. I like salted and roasted almonds. But you can use raw unsalted almonds if you like.
Storage Jar with Lid
You'll need a jar to store your almond butter in. We use a pint-sized canning jar with a plastic lid. It works well and is inexpensive.
I suggest using a glass jar over a plastic jar because I sterilize the jar first. I like to sterilize my jar with boiling water before I add the almond butter to the jar.
How to Make Homemade Almond Butter, Video Instructions
The process of making almond butter is super simple. Just place the almonds into a food processor and process.
The total time will depend on your food processor, but about 10 minutes is accurate for my food processor.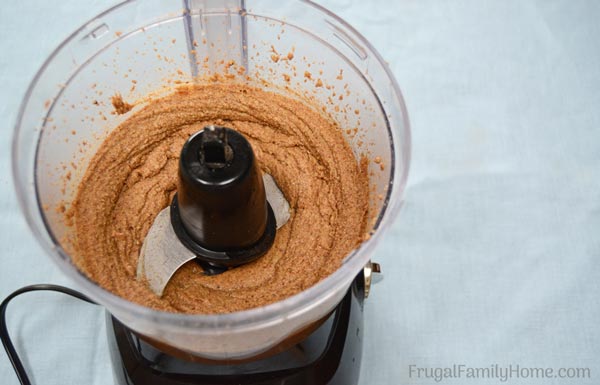 Stages of Making Almond Butter
As the almonds grind up the mixture will get powdery first. This is a good time to stop and push all those fly away powered pieces back down.
Next it will clump together, in a ball and spin around. If needed stop the processor, scrape the side and distribute it around the bowl.
With my new food processor I don't have to redistribute the almond butter but with smaller lower powered units you might need to.
Then the almond butter will look grainy or gritty and get thinner. You are almost to the end hang in there.
Finally the after a few more minutes the almond butter will become smooth and creamy.
Take the lid off and scrape down the side and process for just a moment more.
If you want chunky almond butter chop a few almonds and throw them in at this point. Give it a few good pulses and you're done.
Simple and easy!
Print the Almond Butter Recipe…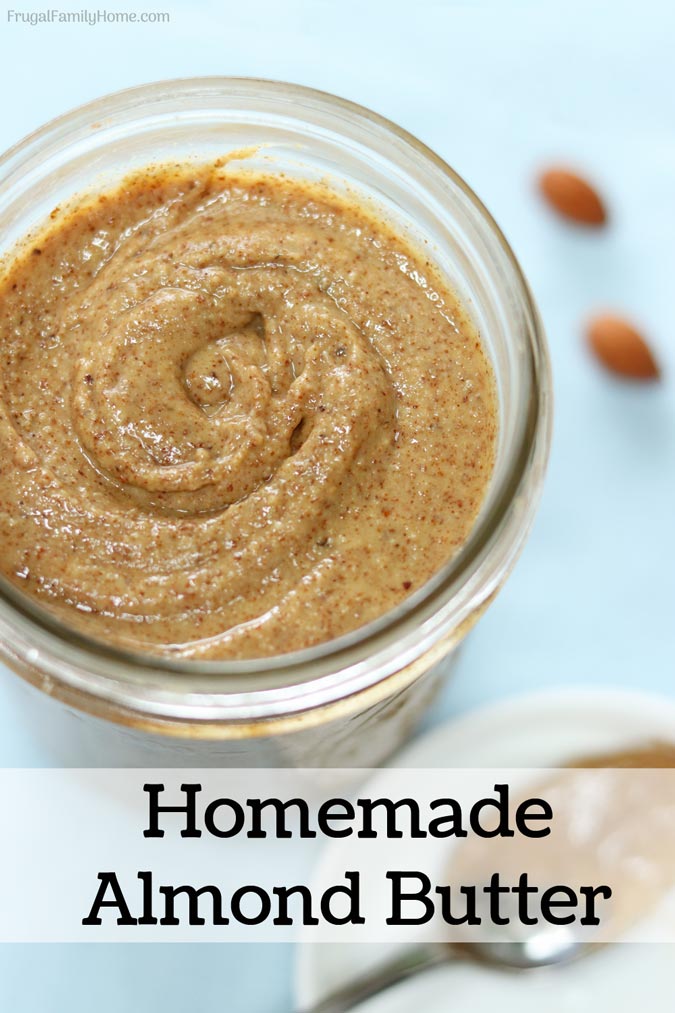 Homemade Almond Butter
Instructions
Add the almonds to the food processor, cover and process until the mixture looks powdery. About 2 minutes in my food processor.

Stop the processors and scrape down the side. Replace lid and processor longer, it should ball up in the processor and then get grainy or gritty looking, that's good.

After the gritty stage at about 10-20 minute into processing the mixture will become smooth and creamy. My food processor takes just 10 minutes from start to finish, but it will vary with different food processors. Just watch for the stages and stop when the almond butter looks smooth and creamy.

Your almond butter is done. Place in a sterilized glass container with a lid and store in the refrigerator.
How to Store Homemade Almond Butter
We store our homemade almond butter in a glass canning jar with a lid. It's best to store the almond butter in a glass container so you can sterilize it before you add the homemade almond butter.
Do you have to Refrigerate Homemade Almond Butter?
Yes, I would suggest storing it in the refrigerator. I know nut butters from the store don't have to be refrigerated but homemade almond butter should be refrigerated.
Homemade almond butter has no preservatives and can go rancid. And with the price of almonds you want to keep it good for as long as you can.
How Long Can you Keep Homemade Almond Butter?
We keep ours refrigerated up to 2 weeks with no change in flavor. That's how long we take to consume a batch and it has stayed well in the refrigerator.
How Much Can you Save by Making your Own Almond Butter?
A jar of almond butter from the store can range from $10 to $16 for 12 ounces depending on the brand you choose and where you shop. Which works out to $.93 per ounce on the lower priced side.
Homemade almond butter can be made for $.35 an ounce. Which is superb savings. The recipe above makes approximately 12 ounces.
I purchase the almonds in bulk at WinCo Foods for $4.95 a pound. The 3 cups of almonds cost $4.18 when purchased at $4.95 a pound. It's a little over 13 ounces in almonds.
That's great savings. It's less than half the price of store bought almond butter.
In just 10 minutes you can save at least $5 or more. Multiply that over a full year and that is a lot of money saved.
Adding in Flavors for a Change to the Almond Butter
While homemade almond butter made plain is delicious, you can pump up the flavor by adding an ingredient or two. Here are a few ideas to get you started.
Honey can be added to the almond butter to sweeten it up. If your family is used to store bought peanut butter with added sugar, you might try honey or sugar to help them transition over. You can slowly reduce the amount added.
Maple Extract can be added to add sweetness to the homemade almond butter with a hint of flavor. I know as a kid we used to mix peanut butter with maple syrup. Making almond butter with this addition brings back memories without all the sugar.
Vanilla Extract can be added too. It can give the sense of sweetness with no added sugar and what isn't better with a little vanilla added. I always add vanilla to our homemade sunflower butter and it tastes so good.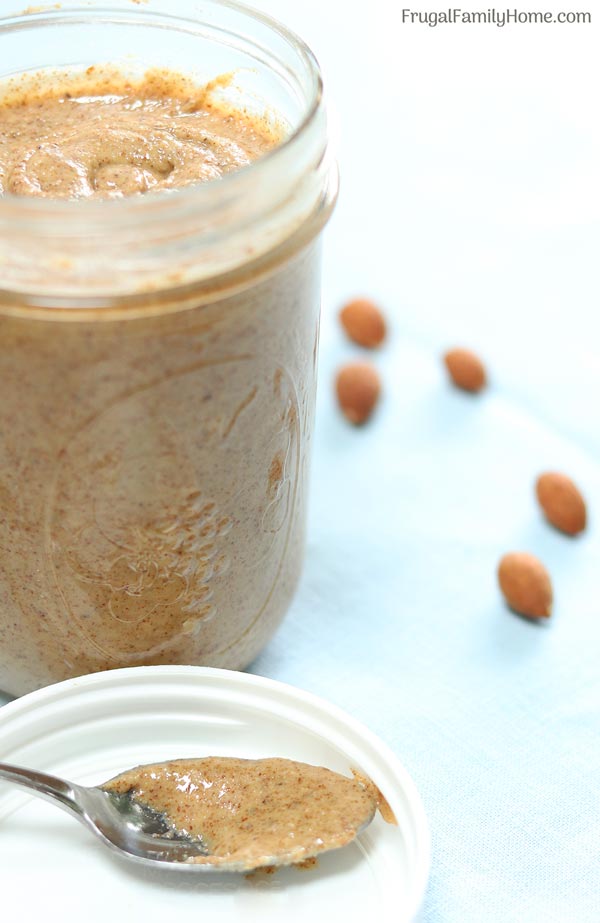 If you want to save money and control the ingredients in the nut butters you consume, this simple almond butter recipe can help. It's easy to make and doesn't require much hands on time.
Most of the time you are just monitoring the progress in the food processors. So you can work on something else in the kitchen at the same time.
What flavor might you try in your homemade almond butter? I'd love to hear your answer below.
More Homemade Recipes
Homemade Egg Noodles
Bacon and Chive Potato Salad
Oven Free Homemade Potato Chips
Subscribe and you'll get Recipes
sent right to your inbox!
Click the button below and fill out the form.