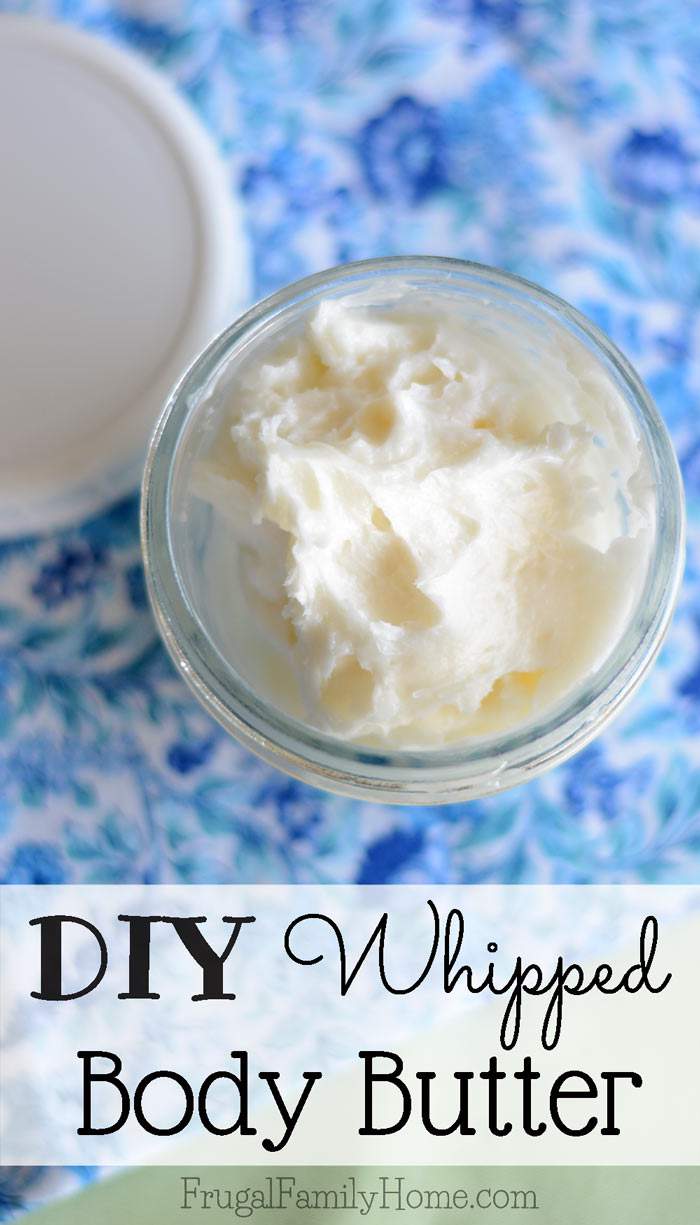 Have you ever tried making your own whipped body butter recipe? I know I thought it would be hard, but it's really not. I love this body cream, I started to making it for my kids to help with their eczema. It seems to work really well on their dry patches and feels wonderful on the skin.
This whipped body butter recipe has a nice creamy feel to it. I don't like to add to much oil, since I don't want a greasy feeling on my skin. After applying this whipped body butter to your skin, give it a few minutes to soak in and then your skin will feel nice and soft, not greasy at all.
I don't usually add any scent to this body butter. I don't want to add anything that might aggregate the kids skin condition, so I leave it out. But if you prefer to have a scented body butter you could add in a couple of drops of your favorite essential oil or body safe scent.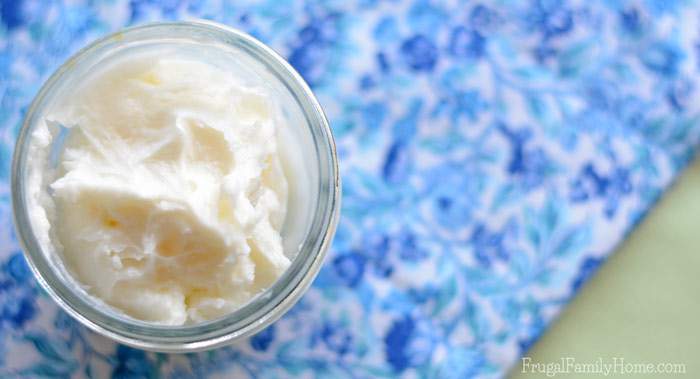 I've seen recipes for other whipped body butters that you need to melt, refrigerate and then whip. But with this recipe, you skip the melting part and just go right into whipping it. Making it an even easier recipe to make. If your shea butter is a little firmer you might need to microwave it a few seconds, not more than about 10, to soften it up a bit, but you don't need to melt it. If you melt it, the shea butter won't whip.
This recipe only takes two ingredients, well three if you add a scent. I've included links to Amazon where you can purchase the ingredients needed. The links below are my referral links which means, when you use these links I might make a little money, at no extra cost to you. Thanks for your support in this way.
What's You'll Need to This Whipped Body Butter Recipe
Shea Butter
Sunflower Oil
Essential Oil for Scent, optional
I like to make small batches of this whipped body butter. Since I don't add any preservatives to it. I usually make just enough for a few weeks for us. We also use clean hands to dip into the butter to make sure we don't transfer anything into the body butter from our hands.
I measure out 4 parts of shea butter to one part sunflower oil. To make a small batch, that would be 1/3 cup of shea butter and one tablespoon of sunflower oil. If you want scent one drop would probably do a good job since it such a small batch. But we don't usually add any scent at all.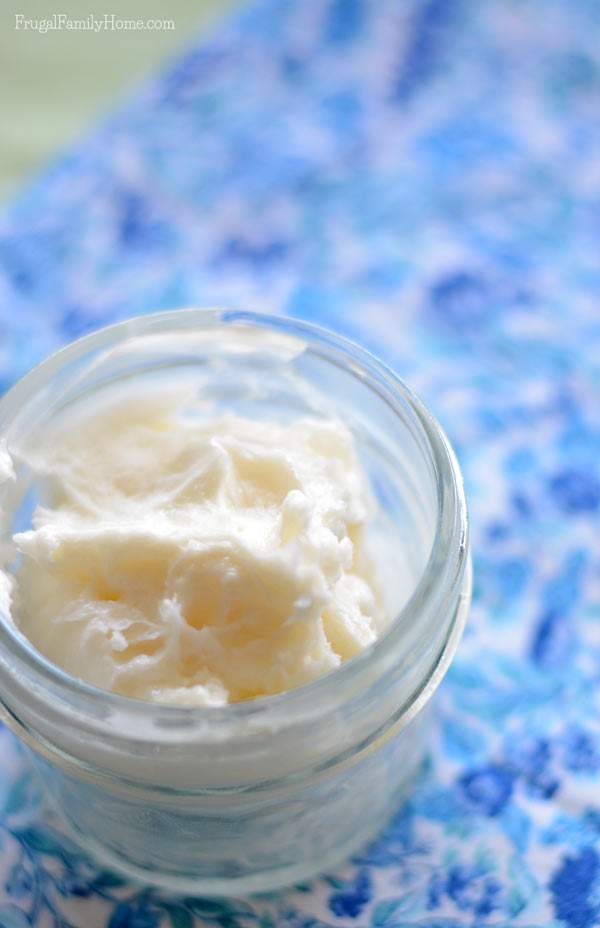 Steps to Make the Whipped Body Butter
Step 1
Place the shea butter and sunflower oil into a bowl. I use one of my pyrex mixing bowls because they are easy to clean greasy items out of them.
Step 2
Whip the shea butter and sunflower oil with a hand mixer. It might be a little hard to get the shea butter incorporated with the sunflower oil at first but keep whipping.
Step 3
Whip the mixture until the butter and oil is fluffy and well incorporated. The mixture should look well mixed without any lumps of shea butter and no oil in the bottom of the bowl.
Step 4
Transfer to a clean glass jar with lid to store. I use small jelly canning jars to store my whipped body butter in with these plastic lids.
We use this body butter in place of lotion. It makes the skin feel great and works really well on my kids dry patches of itchy skin.
Here's the printable recipe,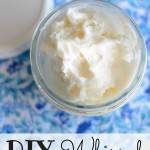 Print
Whipped Body Butter Recipe
Ingredients
1/3

cup

Shea Butter

1

tablespoon

Sunflower Oil

1

drop of Scent

optional (I skip the scent in ours)
Instructions
Place the shea butter and sunflower oil in a bowl. If the shea butter is too firm microwave for 10-30 seconds, just to soften it but not melt it.

Whip the shea butter and oil mixture with a hand mixer until it fluffy.

Place into a clean glass jar with lid.

Use as you use lotion.
What's your favorite kind of lotion to use? Do you make it yourself?
[signoff]
If you like this recipe you'll want to check out these other homemade beauty recipes,