Since I made my first batch of sugar scrub I have been in love with it. My very first recipe for sugar scrub was rose scented sugar scrub. It's a great one to make. Since then I've made other recipes for sugar scrubs and we have enjoyed all of them. I want to show you how easy it make a batch of coffee sugar scrub.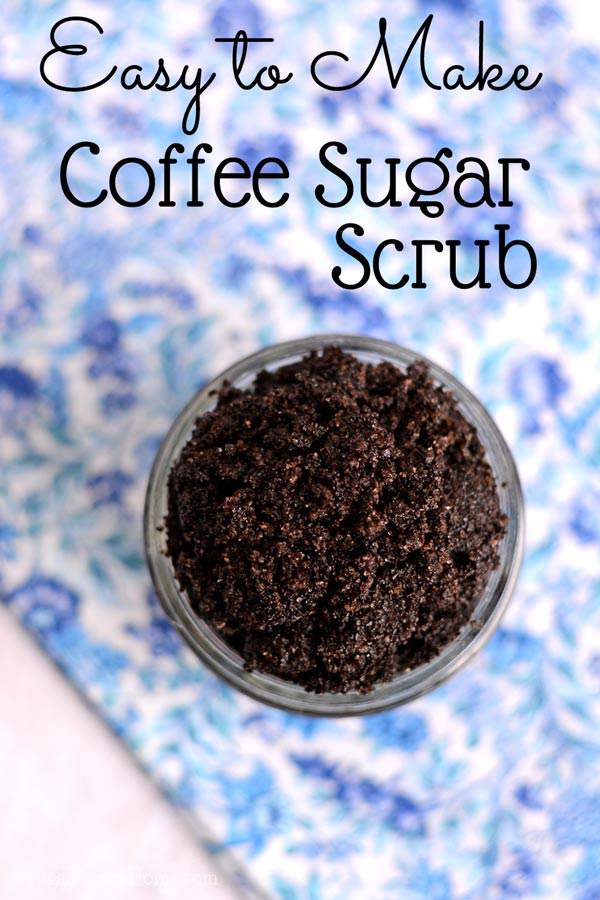 In this recipe, you can use, used coffee ground if you have some on hand. I usually add any used coffee ground we get to our blueberry plants but I think I need to save some out every once in a while to make this coffee sugar scrub.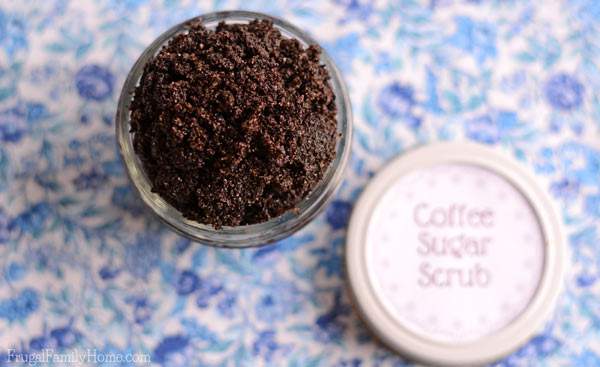 Just so you know, some of the links below are my referral links. When you use them I might make a little money at no extra cost to you. Thanks for your support in this way. You can read my disclosure page for more information.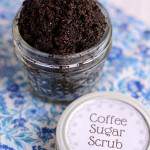 Print
How to Make Coffee Sugar Scrub
Ingredients
1/2

cup

Coffee Ground

used grounds are fine

3

tablespoons

Sugar

1/4

cup

Coconut Oil
Instructions
In a medium to large bowl add the sugar and coffee grounds. Stir to combine

In a microwave safe bowl, add the coconut oil and microwave at 30-second intervals until it is melted. This can also be done in a pan on the stovetop over medium heat.

Once the coconut oil is melted add it to the coffee mixture.

Stir well to combine. Making sure all of the sugar and coffee are coated with oil. The mixture will be lumpy, but the sugar shouldn't be dry.

Add to a clean glass jar with a lid to store.

To use, while in the shower, scoop some of the sugar scrub into your hand and rub on the skin. Rinse off with water.

Use caution when using the sugar scrub in the shower as it can make the tub or shower floor slippery. Making it easier to fall in the shower or tub.
Try Using Flavored Coffee
I had some Starbucks caramel coffee on hand so I used it in this recipe. I also used fresh coffee since no one in our house drinks coffee. I know we are weird. I love the smell of coffee but I just can't handle the taste. Hence, the reason why I love this sugar scrub.
When you use a flavored coffee it can add additional scent to the sugar scrub, other than the coffee and coconut oil. Making for an even better smelling coffee sugar scrub.
Tips for Making the Coffee Sugar Scrub
Mix the coffee ground with the sugar. If you are using used coffee ground let them dry before a little adding them to the sugar.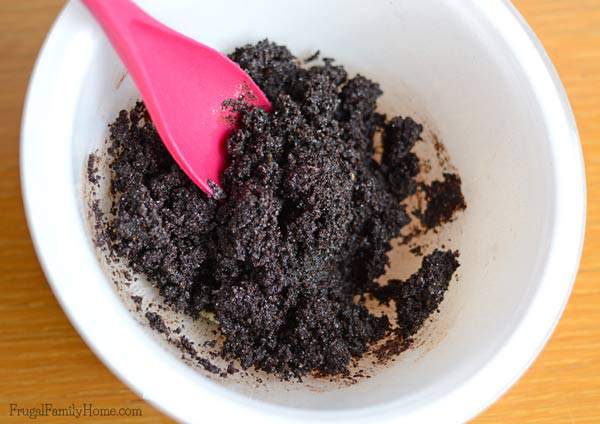 Add the melted coconut oil and mix until well combined. Make sure the coconut oil is coating both the sugar and the coffee grounds.
I found storing my sugar scrubs in a glass canning jar works well. I like to purchase the plastic lids that fit the canning jar. But if you are using the two piece lids with the canning jars, you can insert a tag to dress them up a bit.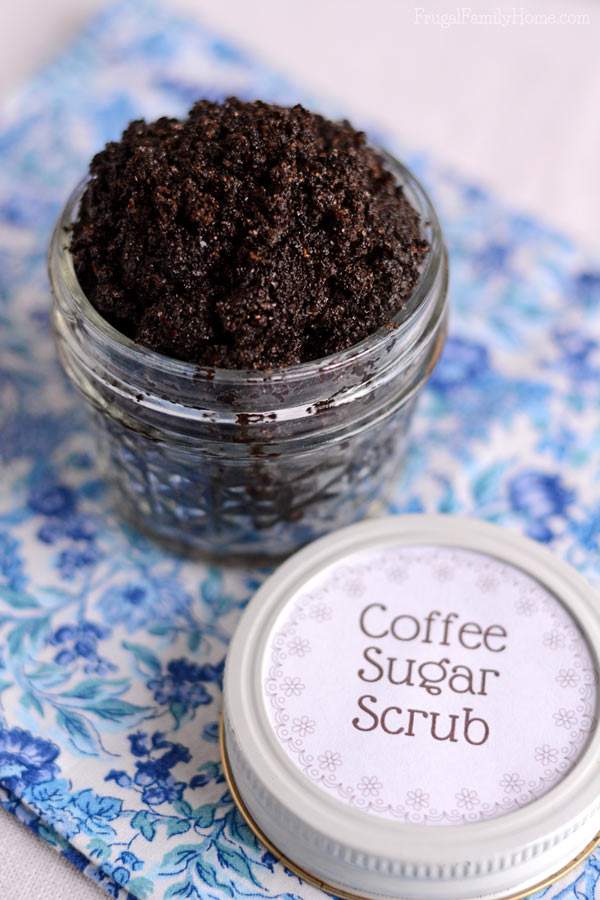 Giving The Sugar Scrub as a Gift?
If you'll be giving this sugar scrub as a gift and using the two piece jar lids, you can print off these cute Coffee Sugar Scrub labels to add between the two lids. Add a bow and you have a great looking gift to give.
Other Sugar Scrub Recipes to Try
Rose Scented Sugar Scrub
Vanilla Mint Sugar Scrub
Sugar Scrub Cubes
Have you ever tried making your own sugar scrub? If you did what kind did you make and how did you like it? I'm so glad to have discovered sugar scrubs my skin hasn't ever felt better.