Clutter it can be so invasive. It can sneak in when you least suspect it. It comes in as a gift or a neat item on sale, that you just have to have. One little thing here and one little thing there until the closets and counters are stuffed full. Full of stuff that doesn't even really get used. Things that are really not needed. It seems to be an unending battle, but I've got a few tips to help you banish clutter for good.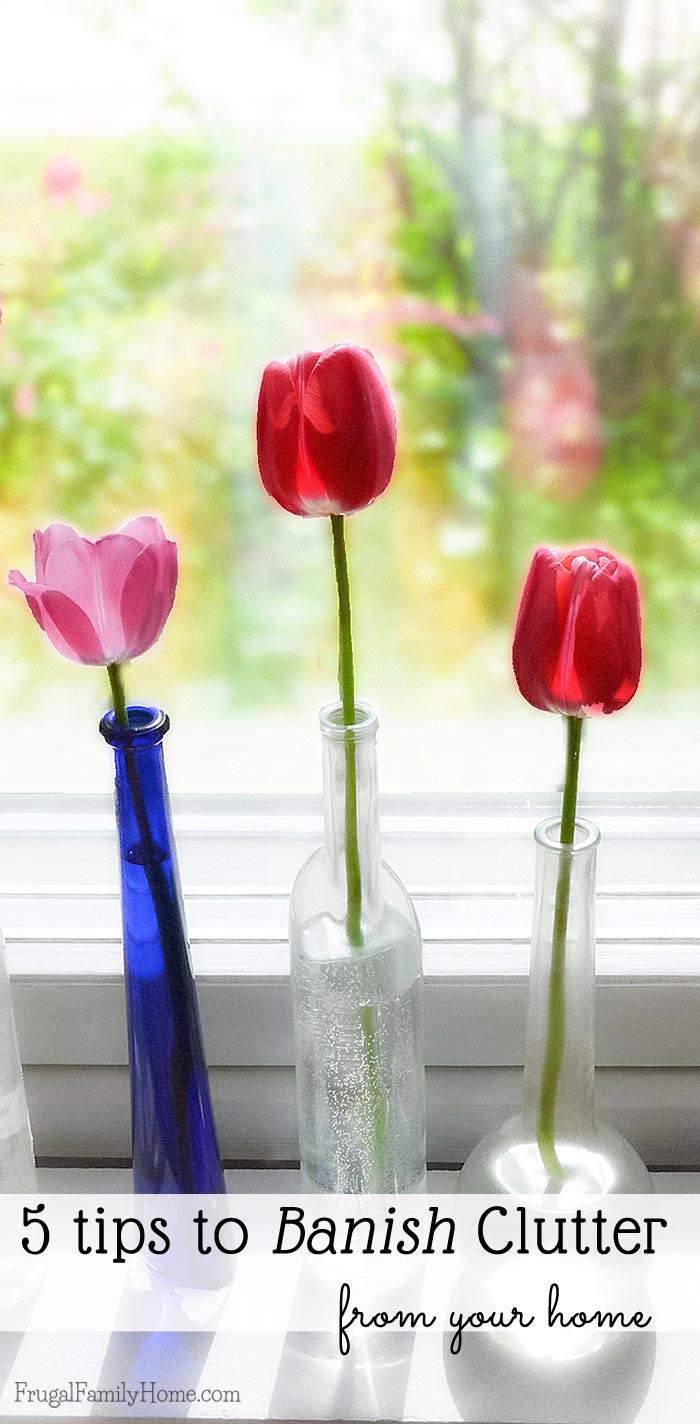 You see I started out as a saver and keeper. I kept everything, because you know I might need it someday. Or the item was my mom's or my grandma's and now they are gone and I need to hold onto those items so I don't forget. Like I would ever forget them. But you know what I mean. I finally decided enough was enough and I was going to clear out the clutter once and for all.
I took a year to tackle my home. But after the first few months I knew I had a problem. The areas of my home that I had just worked so hard to declutter were starting to get cluttered up again. I need to figure out a way to keep the clutter out once and for all.
These 5 tips to banish clutter below are what I use regularly to keep my possessions in check. Do I follow them all for everything, no. There are a few things I break a few of these rules for but, in general, I try to stick to these rules to keep clutter out of my home.
5 Tips to Banish Clutter
Have Only What You Use
This might seem simple to just keep what you use regularly. It just seems very logical. But think about your own house right now. What is hanging out on the counters that you haven't used in awhile? What about those cupboards and closets? Do they contain items you haven't used in a long time? It's easy to tuck things away for someday, but then someday just never seems to come.
When doing a de-cluttering session, take the time to think about each and every item you have. If you really don't have a use for it, it might be time to pass it onto someone who will truly love and use it. You'll have more space and fewer items to clean and take care of. You can also be a blessing to someone else by passing the item along.
Make Do or Borrow When Needed
When you only keep what you truly need there might be a time when you need an item for a project or a recipe that you just don't own. When this happens, don't go out to purchase the item right away. Check with your family and neighbors to see if anyone has the item needed. See if you can borrow it to use.
I know we will borrow and lend items with our neighbors all of the time. It's nice for all of us since we don't have to own each item ourselves and it builds friendships with others too.
At times when we can't borrow what we need, we try to make do with what we have. I know I don't own a springform pan, but I occasionally I will make dairy free cheesecake. Instead of owning another pan for those 2-3 occasions a year when I make cheesecake, I just use my pie pan instead. It works fine. Yes, maybe the cheesecake would be a little prettier if I had a springform pan, but the taste is the same.
One in One Out Principle
I think this one tip alone saves me so much clutter. When we bring an item into the house, I will take one item out. Sometimes more than one item will leave. Even with my kids we will do a big purge of clothing and toys right before birthdays and Christmas. It's easier for the kids to let go of outgrown items and share them with others when they know they are making room for something new.
The one in one out rule works great for things like linens, dish towels, bath towels and things you might have multiples of that wear out. By employing this rule, you can keep those items to a reasonable amount, without even having to think about it.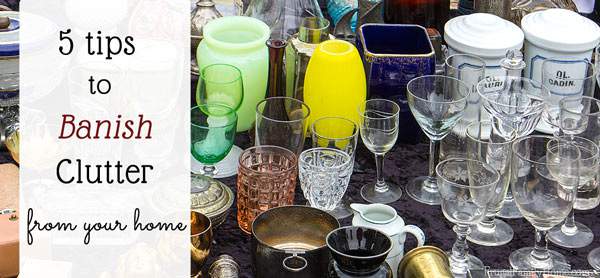 Buy Quality
This is one rule I learned from my grandparents. They would buy the best quality they could afford. Because they bought quality items the items they owned didn't need to be replaced very often.
I know nowadays it might be hard to find really good quality items. Items just don't last like they used to. We do the best we can by checking reviews, checking consumer reports, and asking friends for suggestions.
When you buy quality items and they last, it saves time and money in the long run. You save time having to do research on purchasing a new item You can save money because you're only purchasing the item once since you are buying a quality items instead of a cheaper one that just won't last.
Purge Often
I don't think you can purge too often. We purge clothing about twice a year, around birthdays and Christmas. When we are transitioning from summer/fall weather to winter/spring. I'll look through our clothing and see if something is just too worn out to keep for the next year. I'll take out items my kids have outgrown or just barely fit into and get them out.
When I'm cleaning I think about each item as I'm cleaning. If there is something I just keep moving to clean but never really take the time to enjoy it. It might as well go.
Paper clutter gets purged once a week at our house when the recycling is picked up. If there are papers I need to keep they get put away in their proper spot. Papers that aren't necessary get taken out each week and recycled.
In our home, these 5 tips really help to keep the clutter down. I think once you get started on letting go of the items you don't really love or use, it becomes easier. Use these tips in the areas of your home you have already de-clutter to keep them clean and clutter free.
What is a tip you could add to help other banish clutter from their home? I'm alway open to new secrets that work to keep clutter down and I would love to have you share your ideas in the comments below.
[signoff]
If you found this helpful, I would love it if you could share it with others. You can scroll down and use the social media sharing buttons for an easy way to share with your friends and family. Thanks so much for sharing.
Have you missed any posts in this frugal simple living series? You can see all the updates by following this link.