When you have an organized kitchen, it's easier to work in and get the tasks you need to do, done. In this podcast, I'm sharing tips on how to organize your kitchen.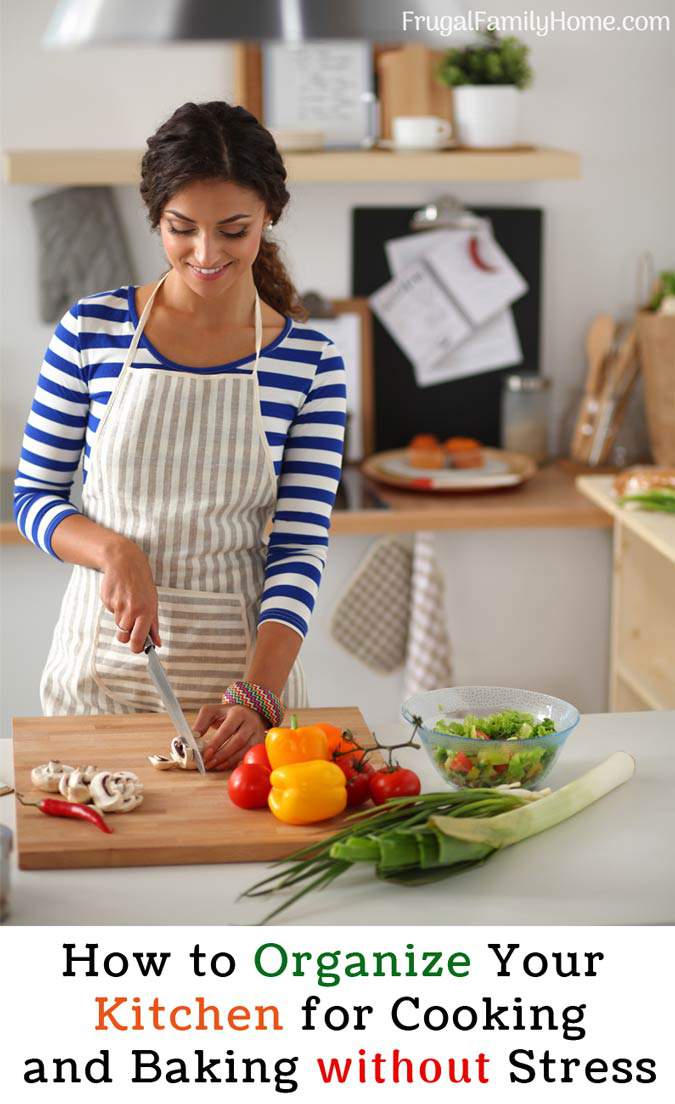 Do you struggle with cooking? Do you notice a little twinge of dread when you think about having to cook dinner? Does it seem like you have to struggle to get anything done in your kitchen?
You might think, you need to remodel your kitchen. Or maybe you are thinking you don't like cooking. But it might the setup of your kitchen that is the problem.
When you are trying to work in the kitchen to cook or bake but your kitchen is working against you, it makes your tasks so much harder. And less enjoyable.
When you organize your kitchen to the best of its ability, cooking can be easier and dare I say more enjoyable. There can be less struggle and more relaxation.
How to Organize your Kitchen
In this episode of the Frugal Family Home podcast, I'm sharing how to organize your kitchen to make it easier to cook and bake in. Just a few little changes can make a difference. Have a listen…
Podcast: Play in new window | Download | Embed
Subscribe: Apple Podcasts | RSS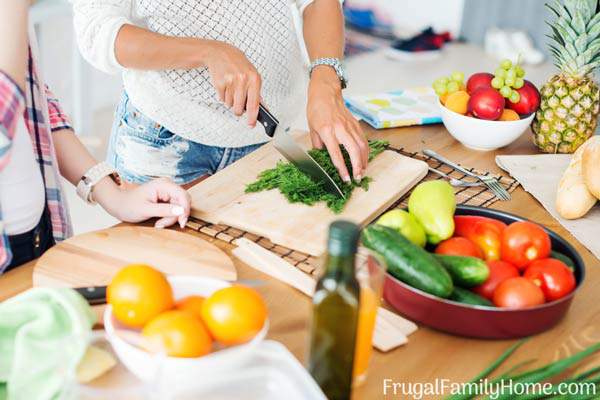 Kitchen Organizing Tips
Below are the main tips I shared in the podcast above. Listen to the podcast for more on each tip.
1. Everything Needs a Place
When there is clutter on your countertops and there is nowhere to work, cooking and baking will be a struggle. Clear your countertops first.
Look at your countertops and clean out the clutter and make sure everything has its own place
2. Make Stations in the Kitchen
Whether you are cleaning up, cooking dinner, or baking a cake having areas organized to do those tasks can make them so much easier.
The less time you spend going back and forth across the kitchen the easier and the more enjoyable it will be.
Taking a slight amount of time to organize can help make it easier to work in the kitchen.
3. Keep Your Most Used Items Accessible
Hiding away tools you need to use in the cupboard way in the back will deter you from taking the time to get them out. It will be a mental block and can keep you from working in the kitchen. Keep your most used items accessible.
The easier an item is to get to when you need it the less mess and stress you'll have while cooking.
4. Layout your Kitchen for the Best Workflow
When you organize your kitchen for like tasks, it can be easier to work. If you only have to take one step or two when doing a task in the kitchen it will be easier. Especially if you are working with others in the kitchen.
Even if your kitchen isn't ideally set up. Look around and see what you might change to make it even easier to work in the kitchen. Make the best of what you have to make cooking easier for you.
5. Put Things Away and Keep them Tidy
When putting items away, be sure to put them back in their place for the next time. Stack them neatly or nestle them to keep them organized.
It's easy to swiftly put items in their proper place and neatly stacked or nestled. It can help you maximize your space and keep your stress down the next time you go to cook.
When you have an organized kitchen cooking and baking can be so much easier and less stressful. I hope these kitchen organizing tips were helpful to you.
If you enjoyed the podcast, I would love to have you share this post on Facebook with your friends.
Thanks and be sure to subscribe!
Other Helpful Organizing Tips for the Kitchen and Elsewhere in the Home
Keep Your Counters Clear
10 Minute Organizing and Decluttering Sessions
Getting Organized to Save Money
SaveSave