Think it's too early to get ready for the holidays? Think again, it really isn't. It's probably the best time. I'm sharing 14 tips to for a stress free holiday season.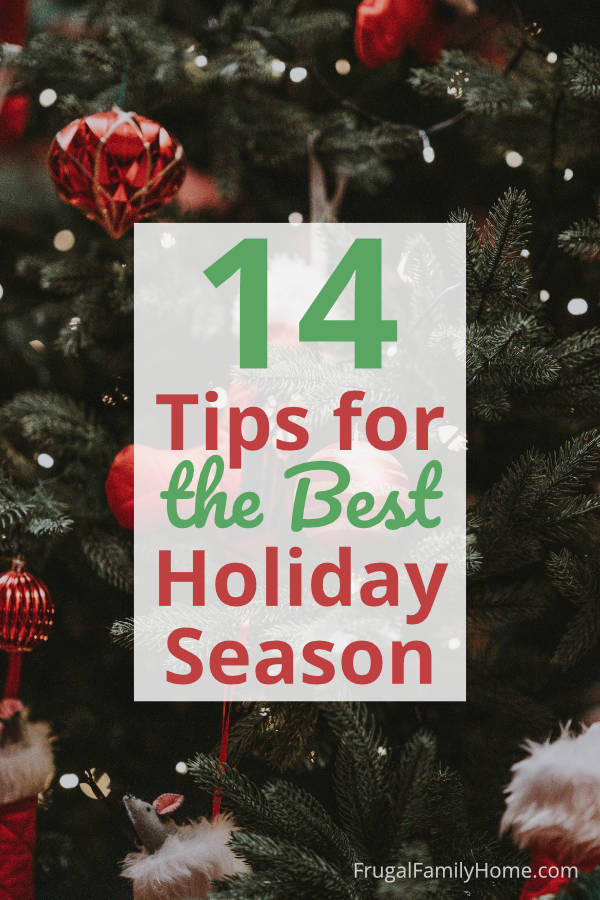 Wouldn't it be great to have a peaceful and relaxing holiday season? It's true you can, but you need to think ahead now when things aren't hectic and get ready.
Just doing a few of the 14 tips below can greatly cut your holiday stress and help you have a better holiday season. With less debt, less stress, and more family time. And isn't that what the holidays really should be about, family?!
Listen to the Podcast to learn the 14 tips that can help you cut holiday stress and have a more peaceful holiday season too.
Podcast: Play in new window | Download | Embed
Subscribe: Apple Podcasts | RSS
Show notes…
Find out how you can get the Holiday Planner for free. Click the button below…

14 Tips for a Stress Free Holiday Season
1. Purge
Before the holidays even start now is the time to purge what you don't use. Go through the kid's toys and remove any old toys they aren't using anymore and donate them.
Look for broken toys and throw those away. And go through the closets, too. Purge any clothes that are too small or worn out.
If your child has a t-shirt they just can't let go of try making it into a pillow for their bed. It's really quite easy to do.
2. Make a Budget
It's easy to get carried away with buying gifts. Setting a budget early can help keep you on a budget. You know how much you have to spend on each person. And you can start looking early to find the perfect gift at the perfect price for your budget.
Instead of waiting until the last minute and buying something to give, that may be way over budget for you.
Your future self will thank you when January rolls around and you don't have any Christmas credit card debt lingering into the new year.
3. Plan Your Meals Now for the Holiday Season
If you'll be hosting the holiday meal or meals, now is the time to start planning them. If you plan and make your shopping list, you'll be able to stock up on non-perishable items as you see them on sale.
Buying a little here and there helps to take the blow out of buying everything for the meal at once. And when it comes time to cook, you'll have everything you need. No last-minute trip to the store to get something.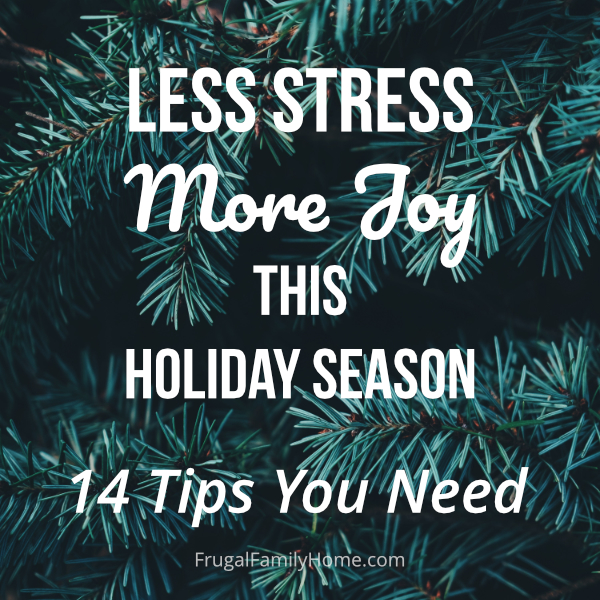 4. Take Christmas Card Photos Now
I know it might seem a little early, but now is a great time to take a Christmas card photo. You can have the photo ready and waiting for those great Christmas photo card deals when they come along.
No more hurrying to take a photo at the last minute before the coupon code expires.
5. Get Labels for Christmas Cards
I used to hand address all of my Christmas card envelopes. It would take forever and by about the 20th one, my hand would get tired and the writing would look sloppy. Not what you want on your Christmas cards.
But I have a solution. Buy labels you can print on. I purchased a package from the Dollar Store, but you can get them at any office supply store or even Amazon.
There are templates you can use to print the labels, just look at your package to see where to get a template.
Add the addresses on the template, hit print and viola! You have your address labels ready to go on your cards.
Plus, if someone moves, all you need to do is correct it on your template before you print it.
6. Look for Sales
Sure there is Black Friday and Cyber Monday, but wouldn't it be great to have all your shopping done before those sales?!
Start now looking for the items you want to buy for gifts and get them on sale. Before the holiday rush.
Then when Black Friday and Cyber Monday rolls around, you can finish your shopping and maybe even find a few gifts to put away in your gift closet.
7. Stock Gifts
It's nice to have items on hand for gifts. If you see a great sale pick up one or two and put them away. Think about universal toys that the kids always love.
Think about gifts of winter clothing like hats and gloves. Consumable items are also popular, like bath bombs, body wash, lotions.
When you see a great sale and tuck them away, you'll always have gifts on hand to give. No need to run out to the store.
And you will have stocked your gift closet on the cheap.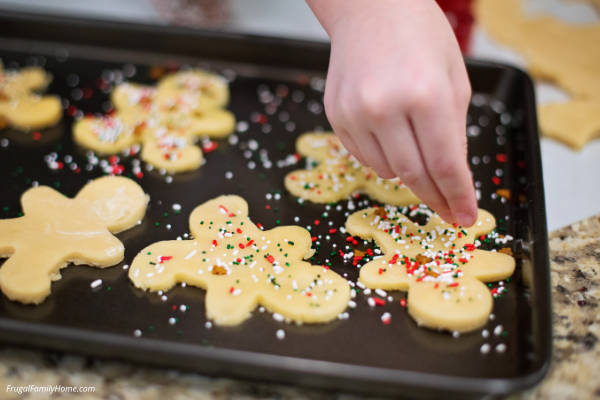 8. Bake Ahead
If you'll be making cookies or candy to give away during the holidays, make them now. You can freeze the dough for most cookies like peanut butter, chocolate chip, and have the dough ready to go in the freezer.
Then right before you'll be giving away the cookies, you can have a baking session and get them ready quickly. Because all the mixing is already done.
And candy like fudge and cherry creams can be made ahead and frozen. They keep really well in the freezer.
You can have part of your holiday baking out of the way early. 
Need a few tried and true candy and cookie recipes for Christmas? Get the Sweet Treats ebook.
9. Meal Plan
While you are getting ready for the holidays and as they get closer, days will get busier. Do yourself a favor and make a list of easy to make meals your family loves.
Pick out about 21 meals that are easy to make. Then when it comes time to plan your meals and it's been a long day, you'll have ideas ready and waiting.
Taking one task off your mind and making it easy to get everyone fed.
10. Clean the House
Give your house a good deep cleaning now, before the holiday start. Then each week set aside an hour to maintain it.
It so much easier to keep a clean house clean. And you'll have the big job of cleaning out of the way early and checked off your list.
No last minute deep cleaning for you.
11. Make a Sinking Fund
Now is the time to set up regular saving towards holiday gifts. You might not have enough time to save up all the money needed for this year, but once you get the habit set up, you can continue it.
Saving money all year long towards the holiday meals and Christmas gifts. Next year you'll have a fund ready and waiting for you. No stressing about where the money will come from.
12. Give the Gift of Service
So many parents and grandparents buy what they need when they need it. And have everything they want. But could use help from time to time.
Instead of giving them something they don't need or want, like the 10 scarf they never wear, give them help.
Offer to help mow the lawn, or clean the house. Pick up groceries for them once a week. Or trim the trees or bushes around the house. Or do some painting doing small tasks can really be a help and a much better gift to them.
Giving the gift of help can be so appreciated and really make their life a lot easier. You can print gift coupons to give to them too.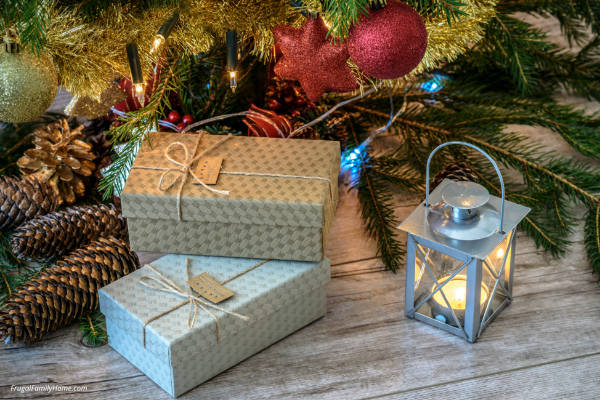 13. Wrap As You Go
Wrapping gifts as you get them is the way to go.
As soon as a gift is purchased, wrap it. Then it can be tucked away until Christmas.
By doing this, you'll never get overwhelmed with so many gifts to wrap. No more staying up until the wee hours of Christmas eve to get all those present wrapped.
And your family who loves to search for the Christmas presents early will only find wrapped gifts. Which can deter them?
Well, that is unless you have kids like my son. Who one year resorted to stuffing dog food into the folds of the wrapped gifts to get the dog to tear it open to see what was inside.
Yes, this really happened at my house. I have to give him points for ingenuity.
14. Plan for Family Time for the Holiday Season
It's easy around the holidays to get busy with so many things that the fun little things can be pushed aside. Instead of running here and there to every little thing, make a plan for the really important activities you want to do.
Talk with your family to see what is important to them. Maybe it's venturing out to get a Christmas tree. Or going to see Christmas lights.
Get those on the calendar now before all the time is taken with other events.
That's 14 tips for a stress free holiday season. Try putting a few of these into practice and your holiday season can be so much simpler. 

What a favorite activity of your family to do around the holidays? I'd love to hear it in the comments below.