An easy plan to prep ahead a romantic date night dinner at home to save money.
Date nights are great to have with your honey, but what if you can't afford to go out?
Prep Ahead Romantic Dinner at HomeYou can still have a nice romantic dinner at home and not have to work all day to prepare it. You can prep your meal ahead of time.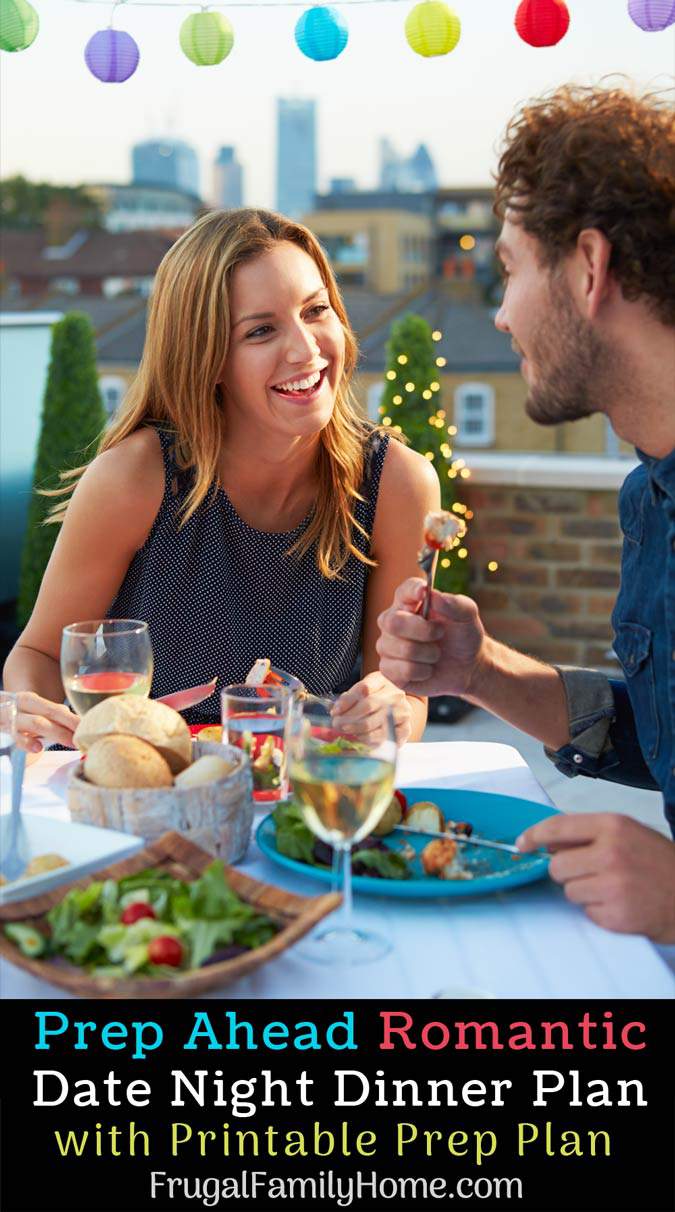 Prep Ahead Date Night Dinner Plan
Whether it's a holiday, like Valentine's day or your regular date night. You can make getting your dinner ready easy when you plan ahead and prep ahead too.
Having a nice romantic dinner out is nice but it can be so expensive too. If your budget is tight but you still want to have a special dinner with your special someone you can prep the dinner ahead of time.
Prepping the dinner ahead of time means less time in the kitchen on your date night and more time with your spouse.
If you are new to getting your dinner ready ahead of time no worries, I'll walk you through the process I use and I've made a handy prep ahead sheet for you to download too.
Keep on reading and before you go, be sure to grab the printable.
Plan Your Date Night Meal
You'll want to decide what you'll be having for dinner. Think about what your honey and yourself like to eat. Think about what can be made ahead of time.
When I make a prep ahead meal for a special date, I'll pick a meal that most items can be made ahead and then cooked the day of the date. Or even cooked ahead of time and reheated.
Example Menu
Brown Sugar Steaks, prep them the night before or months in advance when you find steak on sale and freeze them for use later.
Garlic and Chive Mashed Potatoes, These are simple to make ahead of time and reheat the night of the date.
Salad, you can prep ahead salad and then throw it together in minutes the night of the date.
Chocolate covered strawberries make a simple and easy dessert. These have to be made only the day before but they only take a few minutes to make.
Make your Prep Ahead Strategy
There are many ways to prep your romantic date night dinner ahead of time. You can make the side dishes earlier that week and hold out extra for the date night.
This works great if you are serving the same side dishes the day before or two nights ahead of the date for dinner. Just make extra and reheat when ready to eat.
If you make the dish a night or two before, make sure it's a dish you know will keep well. Things like mashed potatoes, salad, steamed vegetables will keep a day or two in the refrigerator with no problems.
But some desserts like the chocolate covered strawberries should be made and consumed the day of or made only one day in advance. Be sure you know how long the dishes you make will keep.
I like to make the main dish a marinated meat of some sort. It's easy to prep ahead the day before by placing the meat in the marinade, then grill, broil, or bake the night of the date.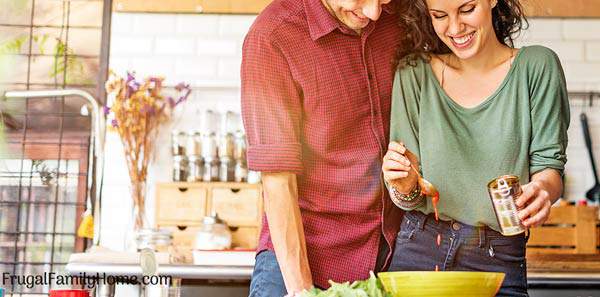 Tips to Help You Prep Your Date Night Dinner Ahead of Time
Have everything ready to go so you are spending a minimum amount of time is the kitchen is important. Here are a few tips to help you get your meal ready a few hours ahead of time or a few days in advance.
A few tips…
Salad, if you wash your salad ahead of time like I do, it only takes a few minutes to add it to the bowls and dress it up with fruit, other veggies, or nuts.
Meat, If you are cooking your main dish in the oven and you have your side dishes ready to go they can all cook in the oven together. Giving you free time to enjoy your date while it cooks.
If you are cooking on the grill, be sure to pre-heat the grill ahead of time and then set a timer when it's time to flip the meat. You don't want to lose track of time and have it burn.
You can also grill your main dish a little early then wrap it in foil, and place in the oven to keep it warm.
Side dishes, I like to make the side dish ahead of time or at least prep it ahead of time if it will bake in the oven with the main dish.
Roasted potatoes and vegetables can cook alongside the meat for a sheet pan meal.
Roast sweet potatoes can be prepped ahead and placed in the oven to cook. And mashed potatoes can be made in advance and heated when you are ready to eat.
Be sure to prep your side dishes a day ahead or in the morning so all you need to do is slide them in the oven and wait for them to bake on their own.
Dessert, This depends on what you'll be enjoying. Pies and cakes can be made a few days before the date and sliced and served when you are ready.
Fruit desserts, like chocolate covered strawberries, can be dipped in the morning or the night before. Then stored in the refrigerator until you need them. Since they don't keep long.
Other fruit desserts like berries and shortcake can be prepped ahead and then assembled when ready to serve.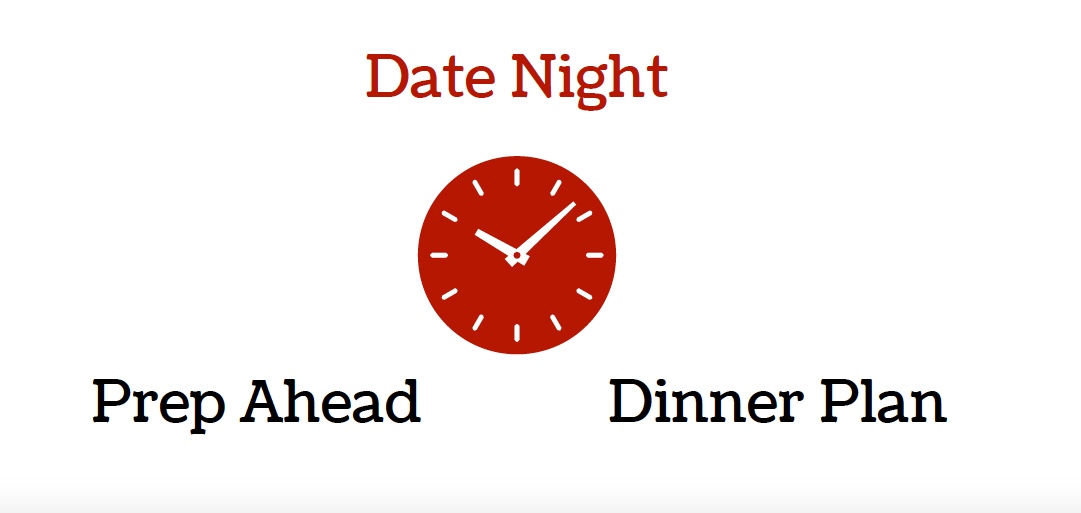 Grab the Prep Ahead Meal Plan Sheet with Example Menu and Recipe Links
If you'd like a full romantic date night dinner plan with recipe links and day by day steps to take to prep ahead your romantic dinner, click the button below and you can download a copy. 
Relax and Enjoy Your Date Night Dinner
You can make a great date night dinner at home with your honey with just a few minutes here and there a day or two before the date.
It can make for a lovely dinner for the two of you without the expense, hassle, and fuss of eating out.
Make your plan, prep your meal ahead of time and once it's heating up or cooking in the oven, relax and enjoy your spouse.
Having a tight budget doesn't mean you can't have a great date night dinner when you prep your meal ahead of time it can mean a great meal in minutes.
What would be your favorite meal to prep ahead for your next date night?
Need something to do on your date night at home? Try one of these two player games.
SaveSave
SaveSave