This is a delicious side dish recipe for garlic and chive mashed potatoes. It's simple but tastes so great your family will love it.
Mashed potatoes are a side dish we have often but having the same dish over and over can get boring. That's why I like to dress up those standard dishes to make them just a little different and more delicious.
Plus it helps to keep us out of the same old dinners rut.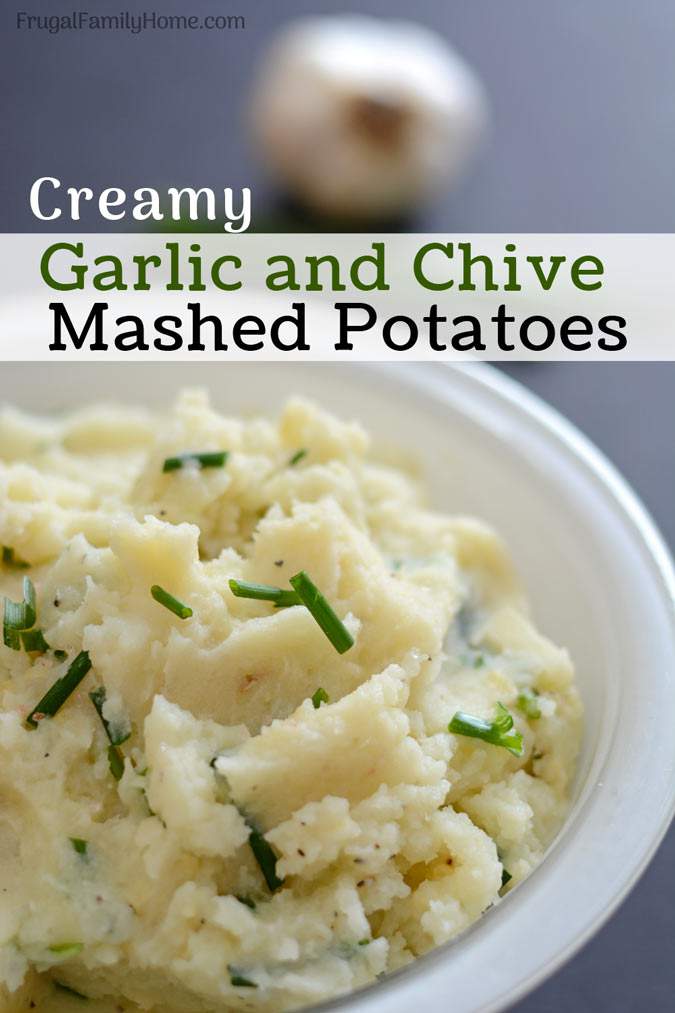 I make this recipe for garlic mashed potatoes off and on when we are bored with the same old mashed potatoes. But they are also great for holiday dinners.
Making the garlic mashed potatoes for a holiday dinner is easy. They don't take oven space, can be made pretty quickly and everyone seems to love them. This recipe is a winner all the way around.
What You'll Need to Make Garlic Mashed Potatoes
Garlic
Potatoes
Butter or Butter Substitute
Chive, dried or fresh
Milk or Milk Substitute
Salt
Pepper
Watch the quick video of this recipe or keep scrolling for the recipe and tips.
Garlic and Chive Mashed Potato Recipe Tips
If you have garlic cubes in the freezer these work great. It's easy to grab out of the freezer when you need a little garlic.
If I'm making the garlic mashed potatoes before my chives are growing in the garden, I'll use dried herbs. If I have them growing I'll grab some chives out of our garden. If you don't have fresh herbs using dried herbs are fine.
Russet potatoes are a great potato for mashed potatoes. I think they come out the fluffiest. Yukon Gold potatoes are also good but not as fluffy.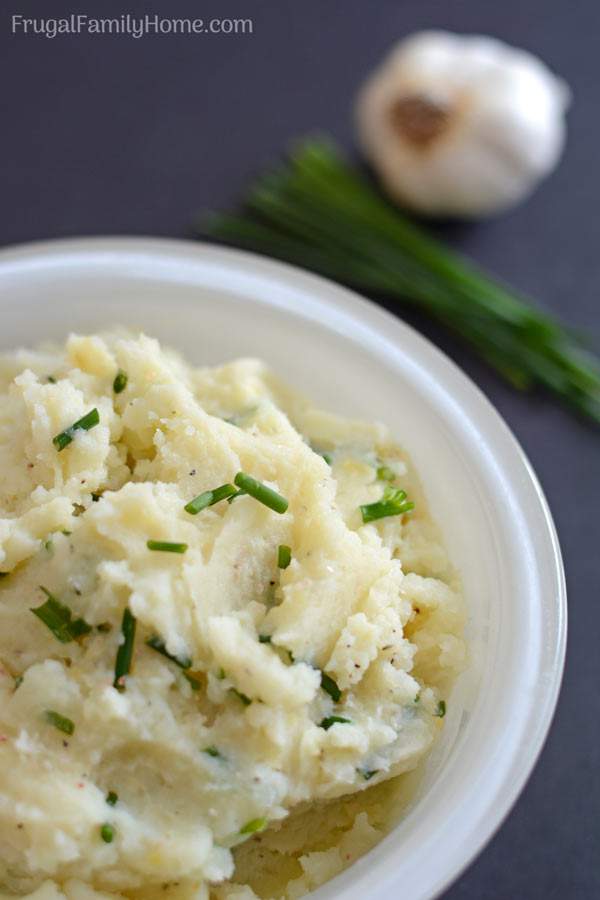 Make the Mashed Potatoes Dairy Free
Since we need to eat dairy free I use a milk substitute and butter substitute in our mashed potatoes. I prefer to use Nucoa margarine and soy milk but if you don't need to eat dairy free regular milk and
How to Make Garlic and Chive Mashed Potatoes
✳︎ You'll make these garlic and chive mashed potatoes just like any other mashed potatoes. Peel and cut up the potatoes and then boil them until tender. Set them aside.
✳︎ In a small skillet add the butter and the garlic sauté the garlic until it becomes fragrant and turns golden but don't let it burn. If it burns the garlic will be bitter.
I like to prepare the garlic in the butter while the potatoes are cooking.
✳︎ Add the garlic butter to the potatoes along with the chopped or dried chives, chopped and salt and pepper to taste.
✳︎ Mash and add enough milk to get the consistency you like.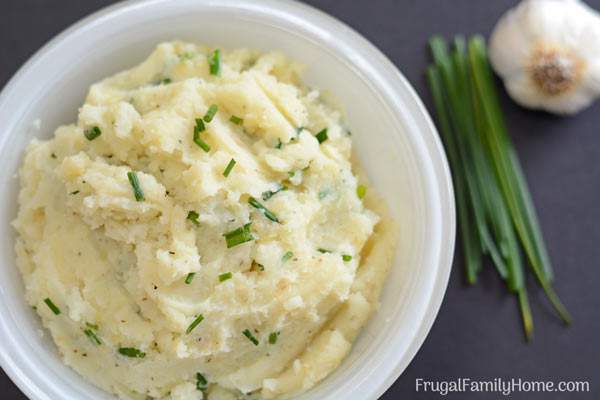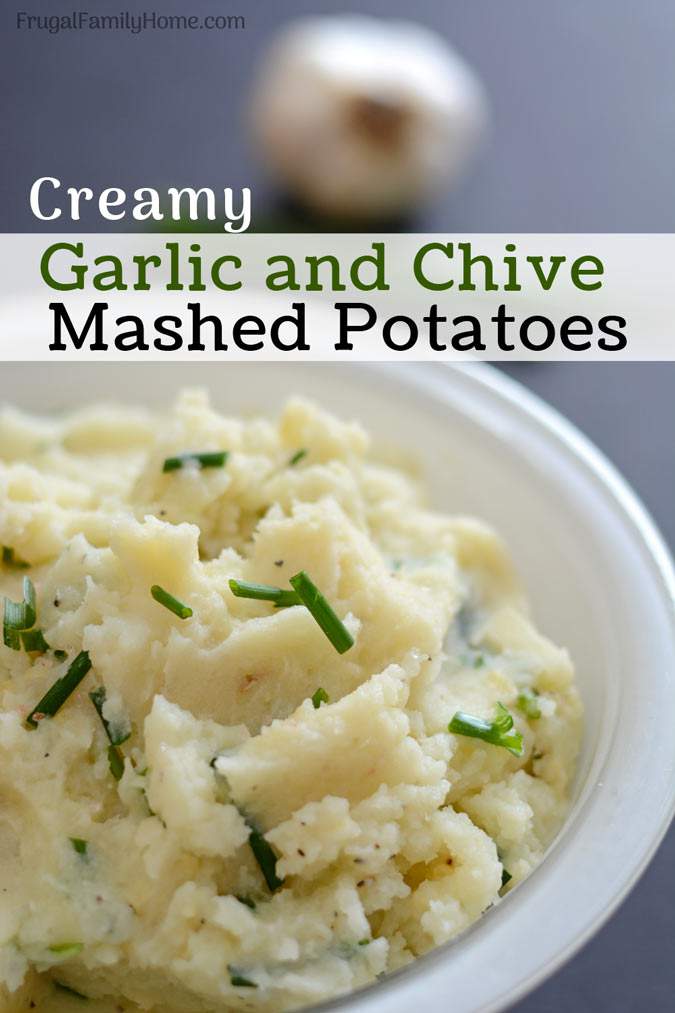 Easy Creamy Garlic and Chive Mashed Potatoes
Ingredients
4

medium Potatoes

peel and cut into squares

1-2

tablespoons

Garlic

minced

1

tablespoon

Chives

minced

2

tablespoons

Butter or Margarine

Salt and Pepper to Taste

Milk

enough for the consistency you like
Instructions
Place the potatoes into a medium saucepan, cover with water and boil until tender about 10 minutes.

While the potatoes are cooking, melt the butter in a small saucepan and add the garlic. Saute over medium-low heat until fragrant but don't let the garlic burn.

Once potatoes are done, drain them and add the garlic butter, chives, salt, and pepper. Mash to break up.

Add enough milk to achieve the consistency of mashed potatoes you prefer and mash until all lumps are gone.

Sprinkled with a little extra chives.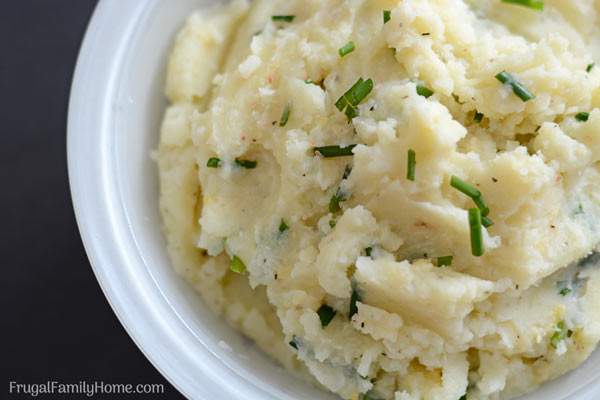 Make Baked Garlic Chive Potatoes Instead
To make a delicious twice baked garlic potato, you can bake the potatoes instead of boiling them. Then scoop the centers out, add the other ingredients and mash. Spoon the potatoes back into the potato skins.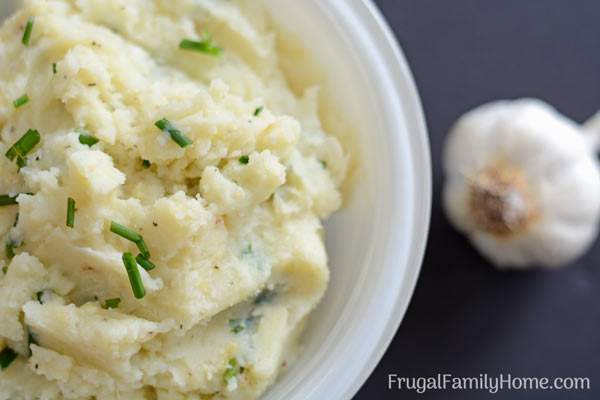 This garlic and chive mashed potato recipe is delicious and so easy to make. It's the perfect addition to a holiday dinner like Easter. Instead of serving plain mashed potato try these garlic mashed potatoes instead. My family raves about them.
What your favorite addition to mashed potatoes?
Other Yummy Side Dishes to Try
Roasted Sweet Potatoes
Easy Coleslaw
The Best Macaroni Salad