Eat more salads. It's easy to do when you prep ahead salad for the whole week. Here's how to do it without your lettuce getting soggy.
Eating more fruits and vegetables can be a struggle. You know you need to eat more but you don't always have the time to wash and prepare them in time for dinner.
When you are in a hurry getting a meal on the table, it's easy to let the vegetables go and just eat.
After all isn't it hard enough to get the main dish planned and prepared? What if you could make a salad for your family in a minute or two? Do you think you would eat more of them?
With spring here and summer coming, lots of fresh fruits and vegetables will be available to enjoy. I know I'm looking forward to them. Plus when the produce is in season it's less expensive too.
But it takes time to prepare the fruits and vegetables. All that prep time can make getting them on the table each night a little daunting. All the washing, spinning, chopping, and slicing takes time and some days, you just don't have the time to do all that.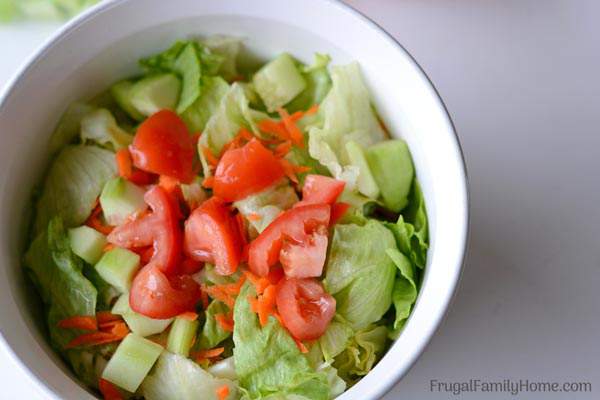 That's why I love to prep ahead salads. In a few minutes, I can prep ahead everything I need to make a salad in a minute or two. Literally just a minute.
Having everything ready to go in the refrigerator makes it so much easier to prepare a salad and we eat more vegetables too.
I've been making prep ahead salads for years, that's why salads are on our menu plans so much. When I take the time to prep ahead salad we eat more salads and less of our vegetables go to waste.
And if you've seen the price of a head of lettuce, just saw it at Winco Foods for $1.99 a head, you'll want to make sure to use it all and not let any sit in the crisper drawer and become limp, sad, and soggy.
How to Prep Ahead Salad for the Whole Week
Some of the links below are my referral links. Thanks for your support in this way!
Preparing salad ahead doesn't take too much time. You do have to wash the lettuce, chop or slice the vegetables but when you do enough for the whole week, it's done. You don't have to think about it again.
How to Prep the Lettuce
I prep different kinds of lettuce in different ways. In the video above I prepared iceberg lettuce for the week. But you can prep ahead leaf lettuce too.
For head lettuce, I core the head of lettuce by hitting the core on the counter and then pulling it out. I don't like to use a knife because often that will cause the lettuce to turn brown.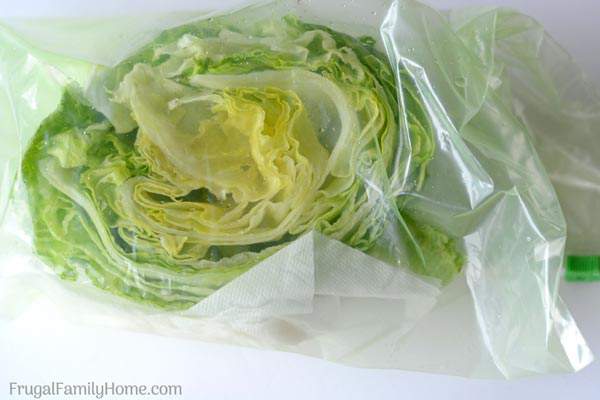 After the head lettuce is cored, I'll rinse the outside and the inside leaves, then let it drain the water out in a colander while I prepare the rest of the salad toppings.
For leaf lettuce, I will rinse each leaf of lettuce to remove any dirt or debris. Then add them to the salad spinner and spin it as dry as I can.
One the lettuce is clean and drained or dry. I store the full head or leaves in a zipper bag with a paper towel in the bottom. The paper towel absorbs any extra water and helps to keep the lettuce from getting soggy.
All that is left to do when you are ready to make a salad is to cut or tear the lettuce leaves up and place them in a bowl.
How to Prep the Salad Toppings
Now you might like to eat a plain lettuce salad but I find my family likes salad at least with a few toppings on it. After the lettuce is prepped ahead, I also wash and prep our toppings too.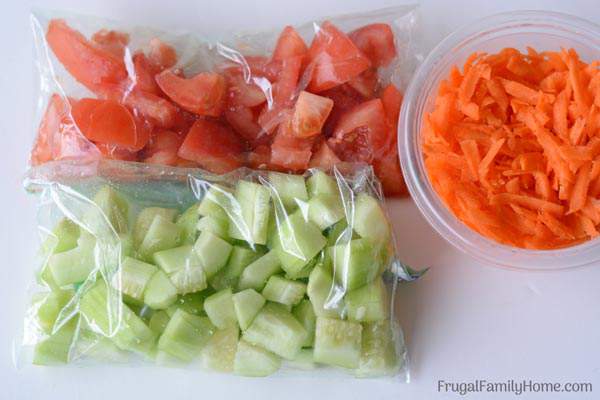 Tomatoes
If you purchase cherry or grape tomatoes, you might only need to wash them and store them in a zipper bag or in a covered container.
If you purchase a larger tomato you'll likely need to cut it up. To prepare tomatoes for the salad, wash and core the tomato first. Cut in half and remove the seeds if desired.
You can cut them into slices or dice the tomatoes. I usually large dice our tomatoes and then place them in a zippered bag or into a covered container and store them in the refrigerator.
Cucumbers
If the cucumbers you purchase from the store are waxy, you might want to peel them. But if you grow them in your garden or if they aren't waxy you may want to leave the peel on them. If they are waxy feeling I'll peel them, if they don't feel waxy I leave the peel on.
After you peel the cucumber, cut the cucumber in half lengthwise. Then cut it in half lengthwise again. This makes it easy to run your knife along each wedge and remove the seeds.
I remove the seeds if there are any big seeds in the cucumber if there aren't any seeds I won't bother with removing them. I rough chop each of the 4 pieces of cucumber and place them in a container or a zipper bag.
Carrots
You'll have to decide which way your family likes to enjoy carrots in salad. I don't like to dice or slice the carrots because they seem to always fall to the bottom of the salad bowl. Instead, I'll shred our carrots.
To prepare the carrots, wash and peel them if desired, and cut off the ends. Cut or shred the carrots and then place in a zippered bag or container. I like to pack ours into a small ziplock reusable container. It's easy to get them out and they don't stick to the side of the bag that way.
Those are the main three toppings I prepare for our salad. If I find sweet peppers on sale, I'll prepare them by dicing them. Olives is another addition we enjoy occasionally on our salad. I buy the whole olives and dice or slice them.
Once all the toppings and the lettuce is prepared. I'll store them in my crisper drawer and they are ready when I'm ready to make a salad.
All that is left to do is to cut the lettuce and add the topping. The salad can be made in about a minute or two. Making it so much easier to get a salad made for a side dish.
Plus with most of the chopping and cutting done the kids can help prepare the salads too.
That's how to prep ahead salad for the whole week. I think you'll find it really does make getting salad on the table at dinner so much easier.
What food items do you like to prep ahead for the whole week?
Other Make Ahead Items to Save Time and Money
Cooked Chicken for the Freezer
8 Easy Chicken Freezer Meals in an Hour
8 Easy Pork Freezer Meals in an Hour
Pin It for Later….